Graphic Design job websites have become one of the most common things you can find online.
It's because the Graphic Designer role has become one of the most in-demand jobs in the world.
According to research, employment prospects for Graphic Designers are expected to increase at a rate of 5% from 2016 to 2026, roughly the same as the average for all occupations.
Graphic Designers' work will continue to be essential in product promotion throughout the economy.
The main reason the employment prospects for Graphic Designers is increasing is that we live amid a digital and technology era.
Thus, companies want to continue to increase their digital presence by creating a visually appealing and effective layout for their digital platforms.
Hence, we can say that demand for Graphic Designers will only increase in the coming months and years.
So, if you are someone who has an interest in working as a Graphic Designer but still wondering which website provides lots of Graphic Designer vacancies, this article is for you.
Because in this article, you will find plenty of websites that can help you to land your next dream job as a Graphic Designer.
So, what are you waiting for?
Let's read more and find a suitable website for you.
To make things short, here are the top websites that can help you to find your next Graphic Designer job or internship.
Top websites to find a Graphic Design job (Updated in 2022)
1. 9cv9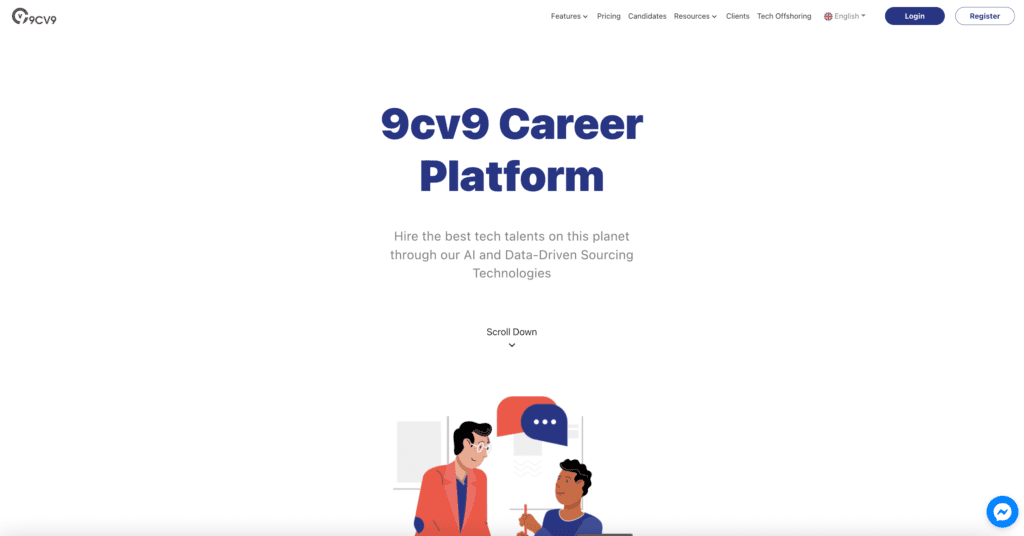 If you are looking for a Graphic Designer job in Southeast Asia, look no further than using the 9cv9 website.
It is because 9cv9 has many Graphic Designer vacancies in the world, and especially in Southeast Asia.
Some of them are remote, or some are onsite at the company.
The best part is 9cv9 enables their companies and clients to "headhunt" you directly on the platform. All you need to do is to switch on your "job-finding" switch at the top-right of the browser when you login to your account.
According to many hired job seekers, it is so easy to use this website since you just have to build your own profile, and then with one click, you can apply for your dream job.
Aside from that, you can attach your portfolio's website when you build your profile on the 9cv9 website.
So, you don't have to worry about the HR team not seeing the amazing job that you've put on your portfolio. 
2. Designhill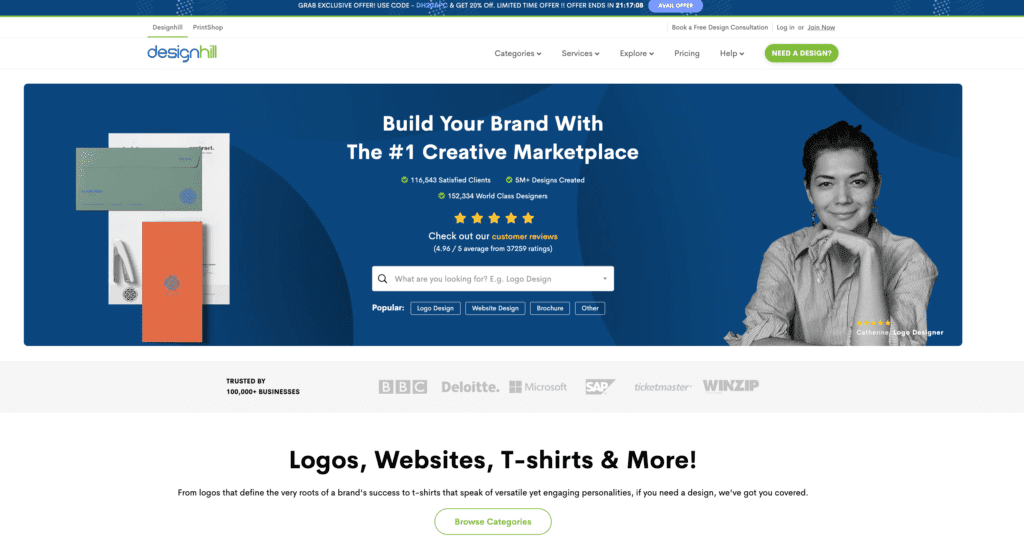 If you want to work as a Graphic Designer freelancer, we think this website is good for you.
Designhill was made exclusive only for Graphic Designers that are looking for a job. 
Designhill specializes in jobs for Graphic Designers because it only provides job vacancies for the Graphic Designer positions.
This website is unique because this website offers five different methods for offering projects.
You don't have to worry about getting in trouble using this website.
Because you just have to build your profile and submit your portfolio.
The portfolio is then checked and approved by the in-house consultants. Once the portfolio is approved, you can be a part of the Designhill freelance team and dig more on that website to find a job that suits you.
It's easy, right?
3. SimplyHired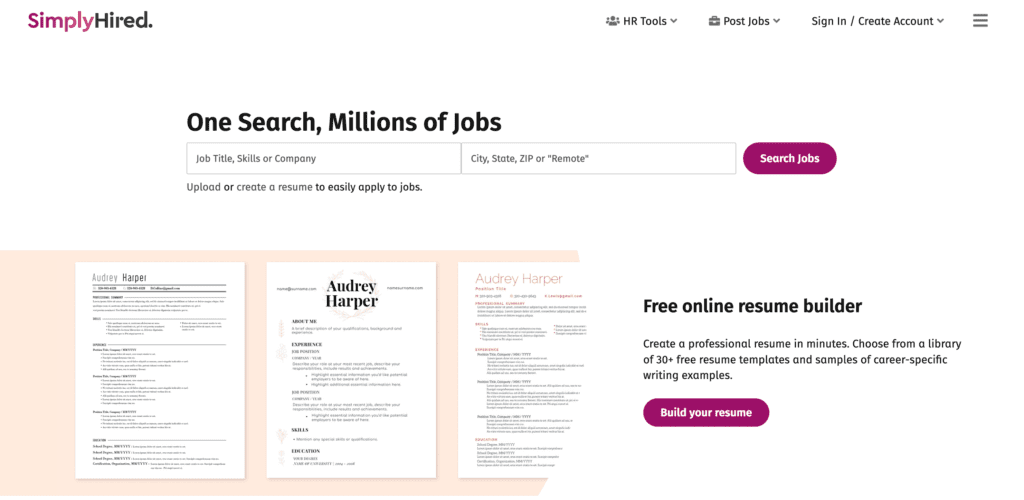 If you're a fresh graduate and Graphic Designer is a job you like to choose to start your career, then we suggest you use this website.
SimplyHired is a user-friendly website, thus, it is suitable for a Graphic Designer newbie.
Another good thing that you will get if you use this website is you don't have to pay for anything because it's a free website.
However, this website constantly has a large number of Graphic Designer job vacancies. As a result, you can explore it for plenty of specific Graphic Design jobs.
This website also provides resume writing and cover letter writing features that help job seekers apply for a Graphic Design job.
4. Fiverr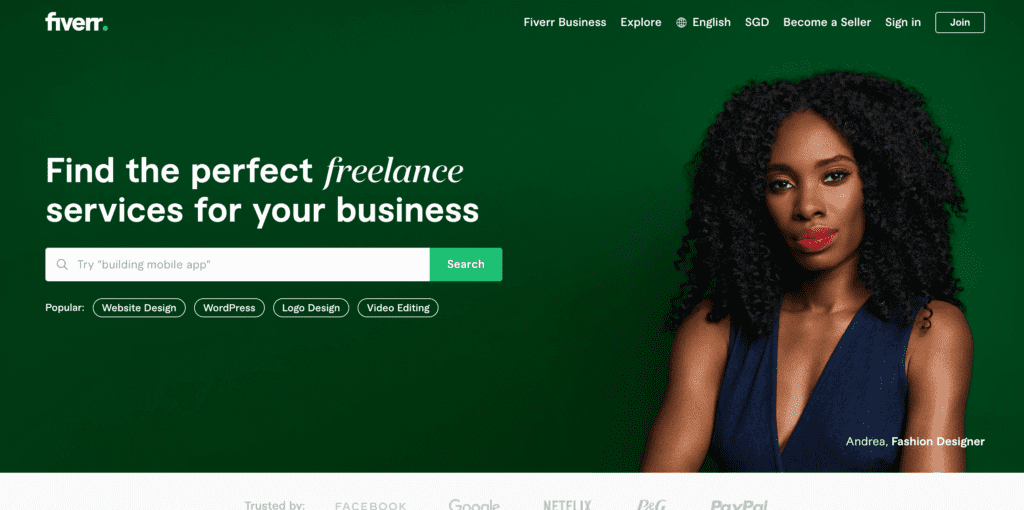 Fiverr is not only a website that provides job vacancies, but you can promote your Graphic Design portfolio on this website.
Maybe right now, you are wondering what's Fiverr actually?
Well, Fiverr is an Israeli marketplace that provides freelance services in many different categories all around the world.
In Fiverr, you will find not only Graphic Designer vacancies, but also other professions such as writing and other things.
Good if you are also considering to explore other career paths (other than being a Graphic Designer)
This website offers a category feature for a service type such as basic, standard, and urgent.
It makes this website more convenient for both Graphic Designer freelancers and clients. Because this feature allows clients to choose the type of Graphic Design service that best suits their Graphic Design needs.
The good thing that this website offers is they offer lots of freelance Graphic Design jobs, thus you can still earn lots of money from your comfy bed.
Interested? We all say Amen.
5. Krop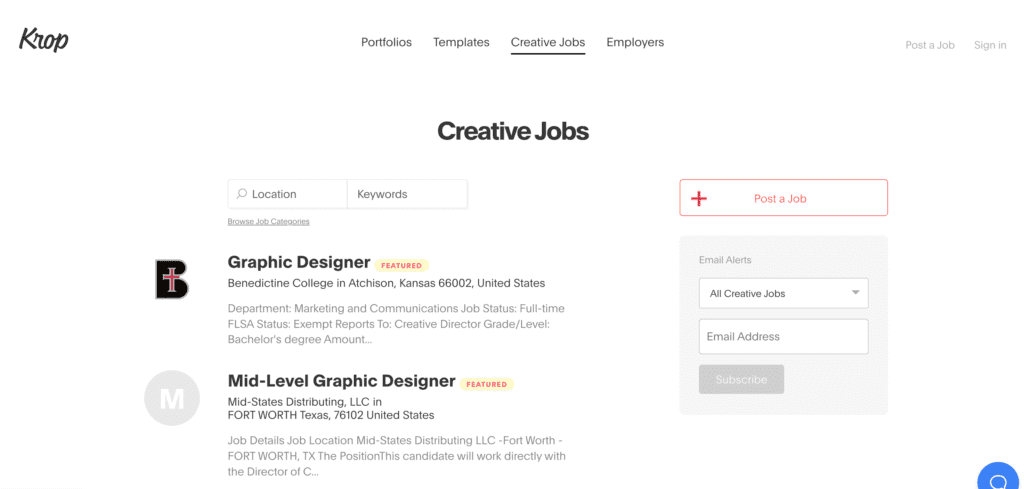 Krop is one of the Graphic Design job websites that provide a lot of cool vacancies in the Graphic Design industry field.
Thus, this website is suitable for those who have a passion for graphic designing, copywriting, making illustrations, or web designing.
Krop is a portfolio website builder, to allow people in the Graphic Design industry to showcase their creative portfolio.
After signing in, you will be directed to a free trial in which you can choose your Krop URL for your Graphic Design portfolio.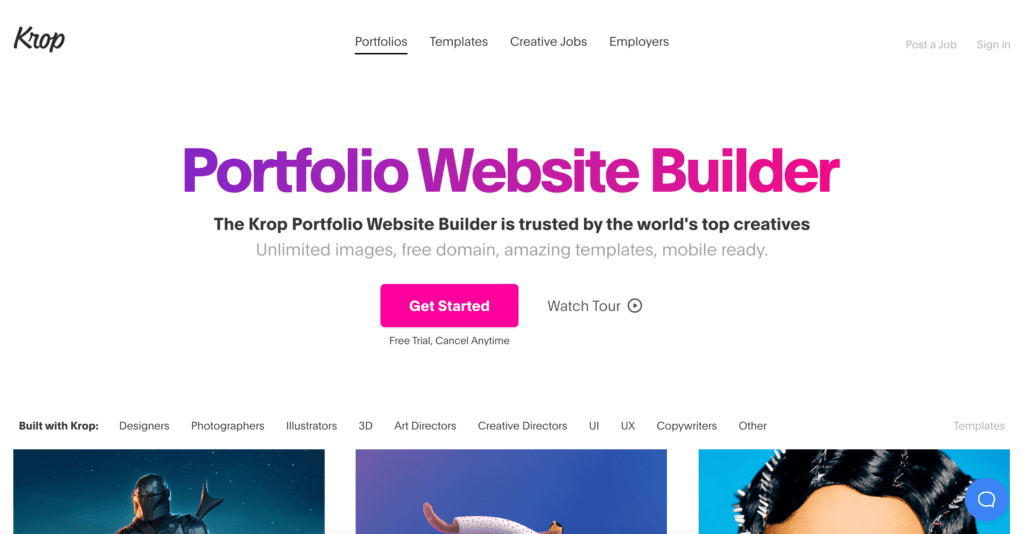 Other than that, employers can also use this website to share Graphic Designer job vacancies, but they have to pay a fee.
Krop has a catchy design that makes millennials interested in using this Graphic Design job website. Also, this is a user-friendly website, so everyone can easily use this website to find a Graphic Design job.  
6. Dribbble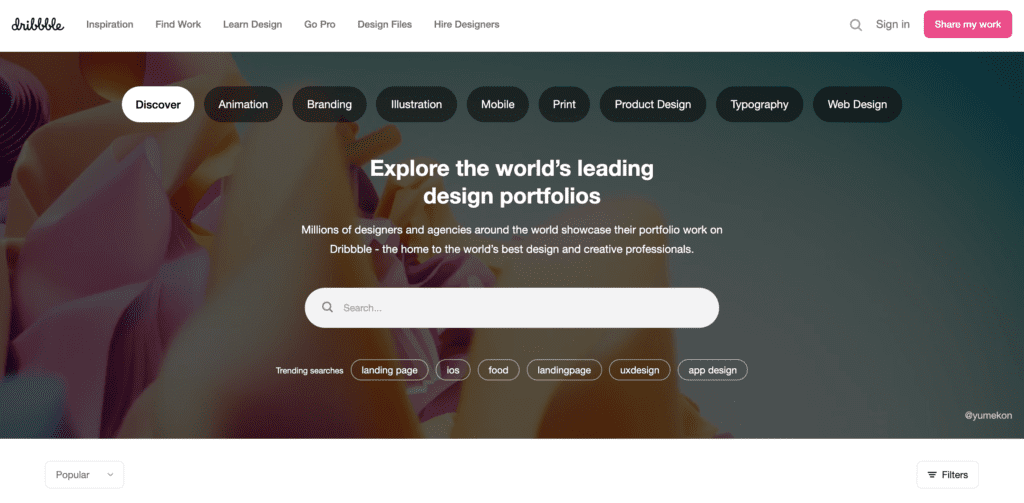 Dribbble has a large number of Graphic Designer users and it makes Dribbble becoming one of the largest websites for Graphic Designing in the world.
Not only does Dribbble provides a portfolio builder service, but Dribbble also provides job vacancies for those of you who have an interest in working in the Graphic Design industry field.
They have many freelance vacancies for Graphic Designers that you can choose from based on your design capabilities and salary.
We know, freelancing might not be everyone's cup of tea, but you don't have to worry about it.
It is because Dribbble also provides full-time Graphic Design vacancies that you can choose to apply for.
Another good thing is that it has a lot of remote Graphic Design vacancies, so you can still earn lots of money while doing your Graphic Design project from your lovely home. 
It offers vacancies for start-ups, digital agencies, and even corporate companies.
The Graphic Design jobs listed on Dribbble seem to be updated frequently and reveal recent openings from top Graphic Design companies all around the world.
Most of the jobs are located in the United States, with some located in Europe and also in Asia. We have noticed a number of remote-friendly Graphic Design job openings at the website as well.
7. The Design Kids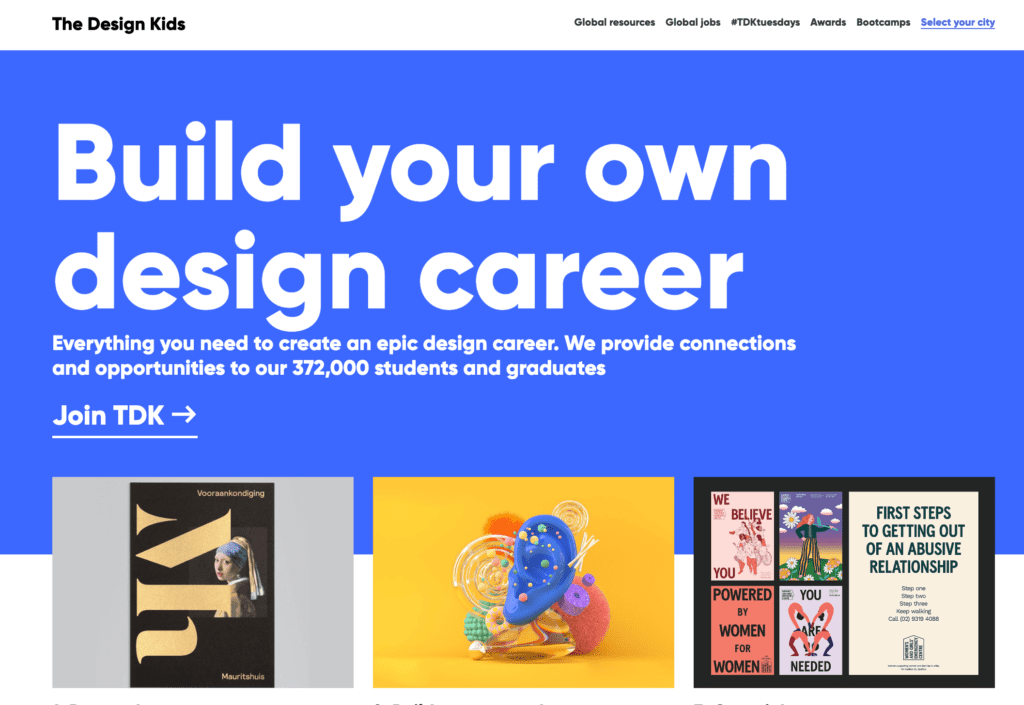 The Design Kids is another job website that is suitable for fresh graduates, even for students who are seeking professional experience in Graphic Designing.
Most vacancies come from Los Angeles, New York, London, Singapore, and Melbourne.
This website is a great place for young designers to discover entry-level jobs, design fellowships, and internships to help advance their Graphic Design careers.
Besides that, this website also offers boot camps so an entry-level designer can learn many things about Graphic Design.
The Design Kids also have interesting blogs that contain tricks and tips to help entry-level Graphic Designers in achieving their dream Graphic Design job. 
8. AIGA Design Jobs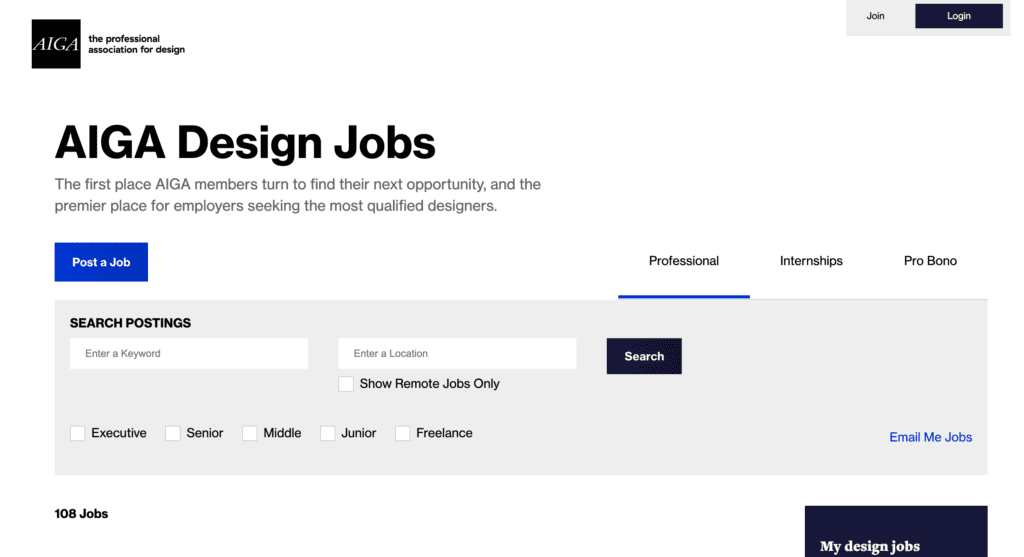 Another website that can help you to land your dream job as a Graphic Designer is AIGA.
AIGA stands for American Institute of Graphic Arts, and is said to be one of the oldest design organizations for design and creative professionals in the industry.
AIGA was first created in New York City, United States in the year of 1914 by a small group of entrepreneurial designers.
On this website, you can filter the vacancies by the kinds of opportunities based on what you need, such as professional, pro-bono, or internship.
They also offer remote working setup or even onsite setup with like-minded colleagues.
Other than that, you can find Graphic Design vacancies based on your level of design.
There are lots of Graphic Design roles that you can choose whether you're a senior level, middle, or even junior designer.
Aside from that, you can also find several freelance Graphic Design vacancies by clicking on the "freelance" filter.
To use this website, you just have to build your own profile, and don't forget to attach your Graphic Design portfolio to it. 
9. Google Design Jobs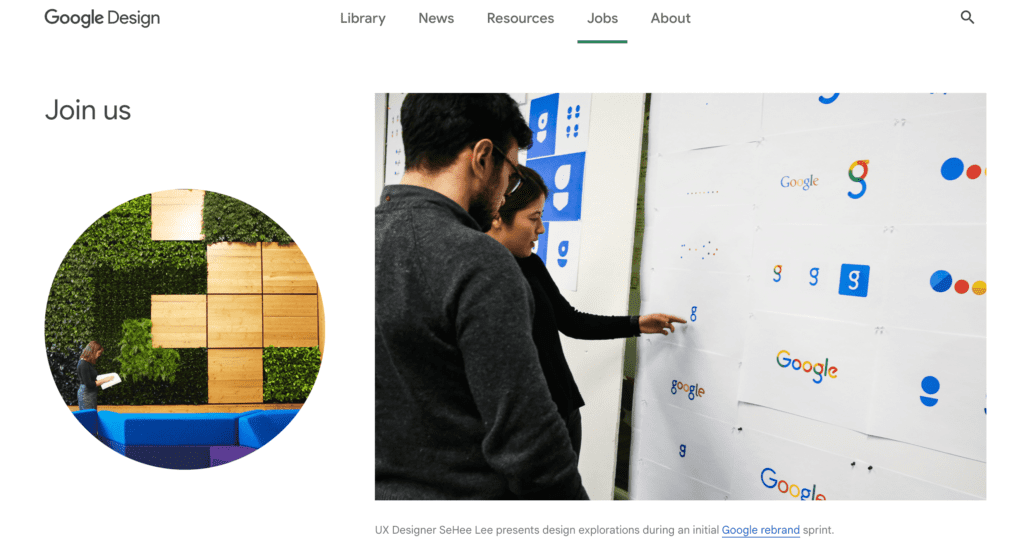 Interested in working on the biggest search engine in the world? Well, this website is for you, then.
To keep their website up to date and not out of date, Google is always hiring Graphic Designers and UI/UX designers.
It is easy to apply for a job to Google Design Team.
You just have to visit their career page, and apply for it.
If you want to apply for a job at Google, make sure that you've prepared your best portfolio since applying for a job at Google has become one of the most difficult job application to undergo.
10. Authentic Jobs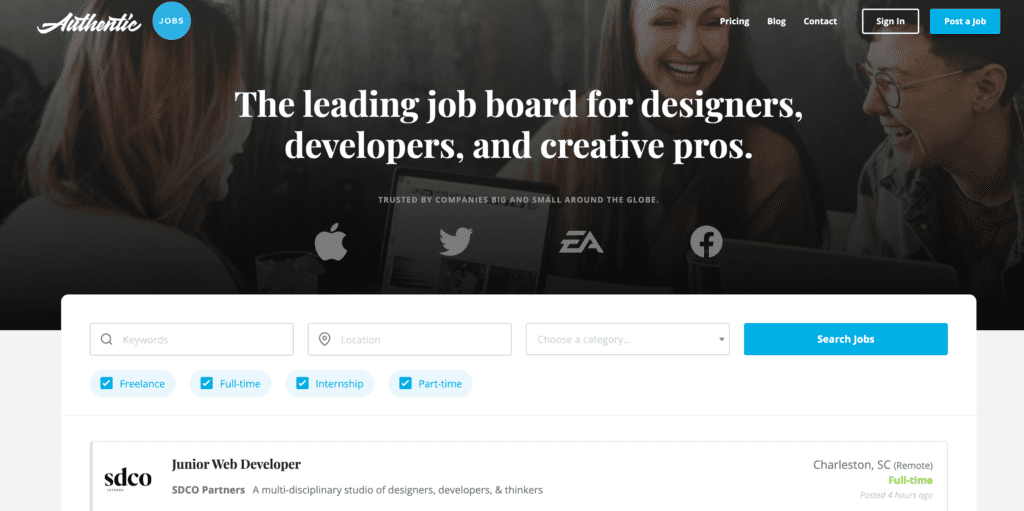 Authentic Jobs is a website that provides vacancies for Graphic Designers, developers, and creative professionals mainly in the United States.
According to Authentic Jobs' LinkedIn page, "Since 2005, qualified candidates have been applying for great opportunities at Apple, Comcast, Facebook, frog design, Meetup.com, HBO, HUGE, MSNBC.com, Backcountry.com, Fluidesign, Magnani Caruso Dutton, ESPN, The Motley Fool, Estee Lauder, Turner Sports Interactive, Phinney Bischoff, Garmin, Sony BMG, Electronic Arts, HP, and many other companies large and small."
We think those companies are top-notch companies that Graphic Designer professionals should take a second look at and to then, head over to Authentic Jobs to apply for Graphic Design jobs there.
Occasionally, you might find a Graphic Design role that invites applicants from all around the world on a remote basis (see image below)

In this website, you can find various types of vacancies such as freelance, full-time, freelance, and even internship.
If you want to work for a company or agency outside of your own country, you can use this website to apply for your next Graphic Design gig.
You don't have to be worried if you don't get the Graphic Design job if you use this website because the Graphic Design job vacancies are updated frequently.
11. Coroflot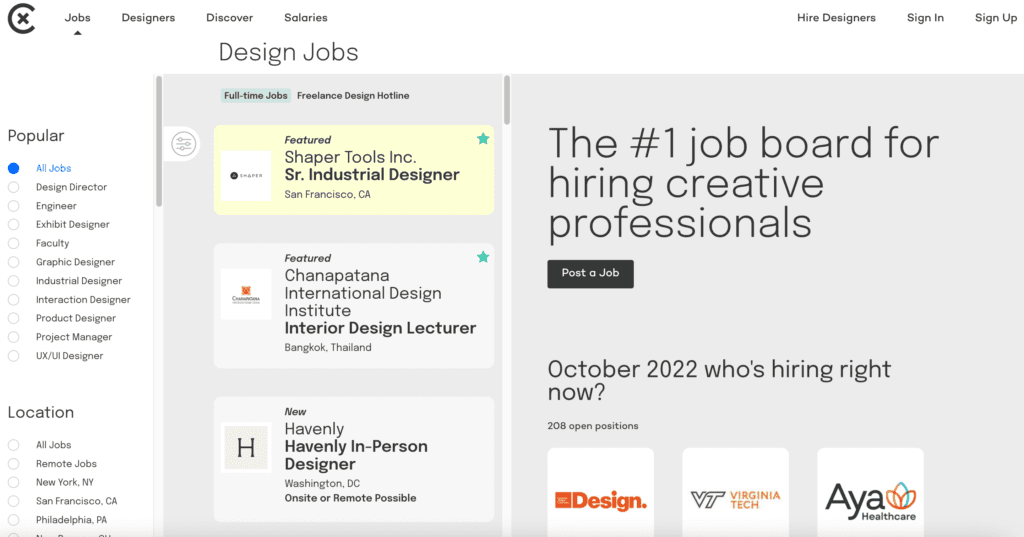 Coroflot is arguably the longest running career design community to connect Graphic Designers with top Graphic Design jobs and internships at companies all around the world.
Coroflot has been in the matching role for over 20 years now, making it an experienced service provider in delivering Graphic Design jobs to aspiring and mid-career Graphic Designers.
At Coroflot, you are able to find jobs such as Design Director, Graphic Designer, and even UX/UI Designer. Most of its Graphic Design jobs are based in the United States with some of them located in other locations such as in Thailand.
This Graphic Design job website is suitable as it only list design-related jobs and internships, making sure that your search is focused and direct.
In the month of October 2022, there appeared to be 208 open design positions, with roles coming from organisations such as the Carnegie Mellon University's School of Design, Aya Healthcare, and the Chanapatana International Design Institute in Bangkok, Thailand.
12. Design Jobs Board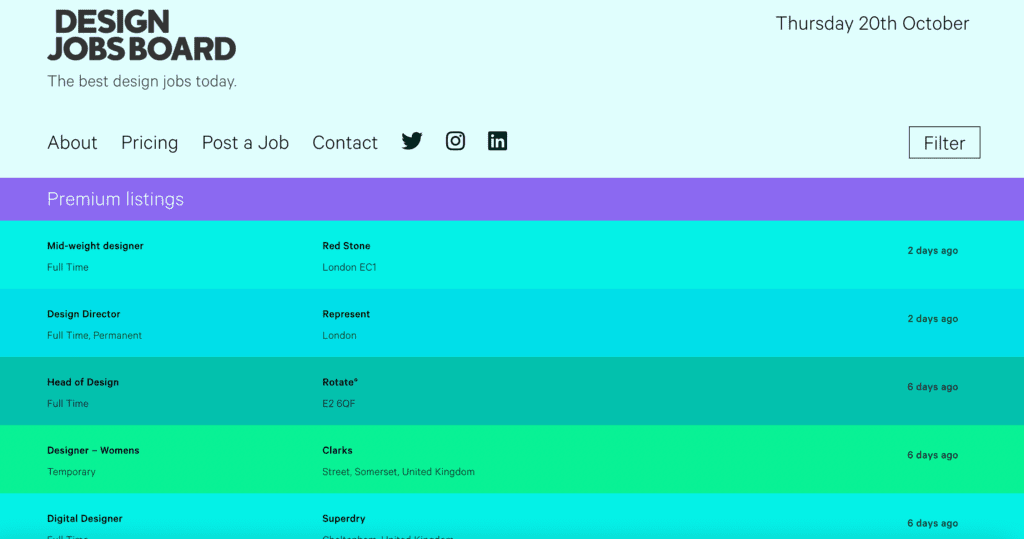 Design Jobs Board is as what it is: A job board for Design Jobs.
The eponymous website contains a wide gamut of design jobs, from Junior Product Designer to Head of Design. It also has many openings for UX/UI Designers and Graphic Designers as well.
Most of the job openings are based in London, United Kingdom and a few openings available on a remote basis.
One thing we like about their user interface is the sorting of jobs with the latest openings shown at the top. This enables Graphic Design job applicants to quickly zoom in on the "freshest" design vacancies available in the design industry.
Design Jobs Board offers designers and creative professionals the best Graphic Design jobs mainly in the United Kingdom region.
13. Creative Guild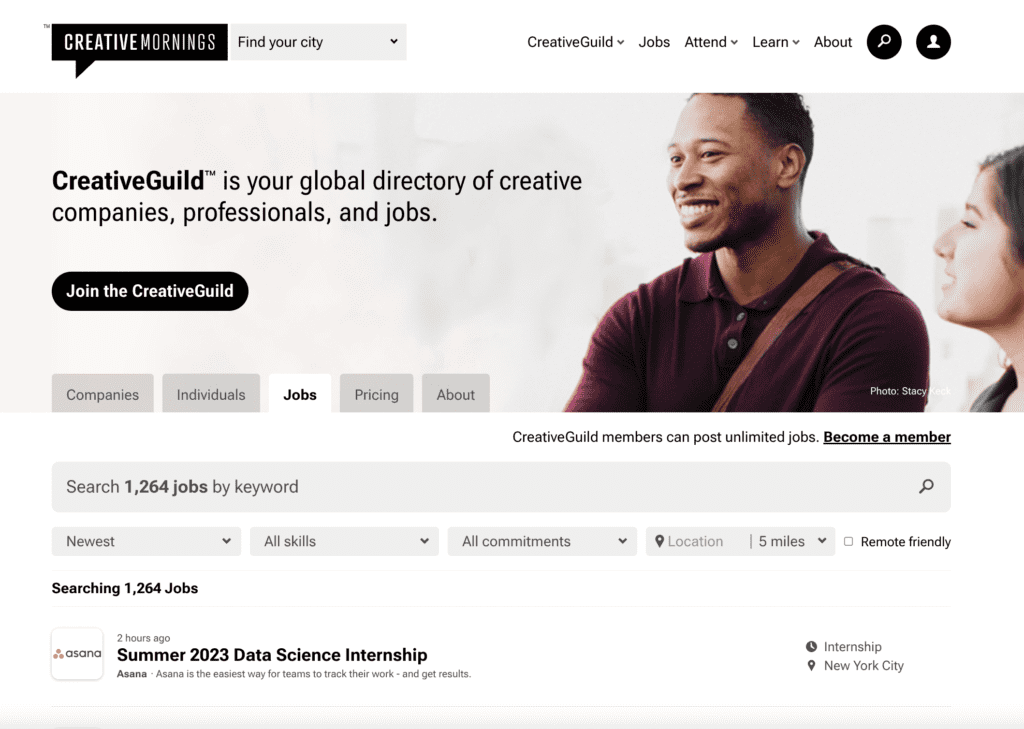 CreativeGuild is a design job board created by Creative Morning, a free monthly breakfast lecture series designed for creative communities.
At CreativeGuild, there appeared to be around 1,200+ jobs (as of October 2022), with openings ranging from Visual Designer, Product Designer to Lead UX Strategist.
Some of its companies include WeWork, Nava PBC, SDCO partners and more.
Most of its job openings are based in the United States with some of them available on a remote and on a contract basis.
14. We Work Remotely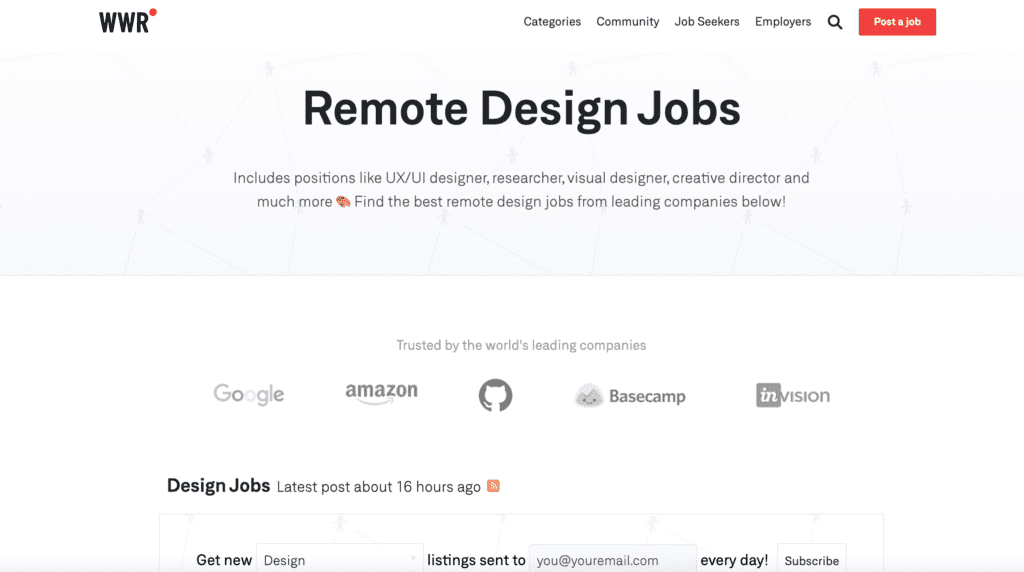 If working remotely for your Graphic Design career is your cup of tea, then search no further than We Work Remotely.
We Work Remotely is a job board focused on remote job openings from around the world.
Plus, it also caters to a burgeoning group of companies hiring for Graphic Designers as well.
Thus, the job board of We Work Remotely lists Graphic Design jobs that are fully remote.
Some of the companies hiring there include Atlas Obscura, TestGorilla, Power Home Remodeling in the US, and jam.gg.
You can also sign up for their newsletter that will send new job listings to you every day.
Graphic Design Job + Remote Working?
Sign us up now.
15. Behance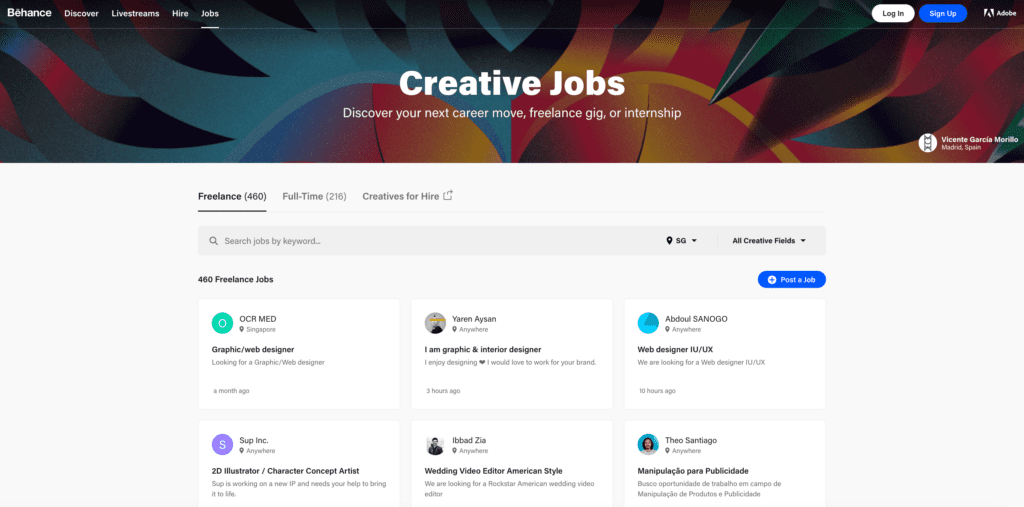 Behance by Adobe, is one of the biggest websites for design professionals to list their portfolios and to find their next Graphic Design job or gig.
Behance showcases a wide range of design job openings from Graphic and Web Design roles, to 2D illustrator and video editing gigs.
It has nicely segregated all the job openings into either a Freelance type or a Full-time type so the search for design job is more focused and tidy.
Some of the companies posting on the Behance's job board include Stratgeist from Singapore, Tiktok from Singapore, Zuju Digital from Singapore, etc
It also have Graphic Design jobs that are available for work anywhere and remotely around the world, with companies such as Jogg, COLOR, Pushstart Creative, amongst others, leading the charge.
Summary
So, those are top websites in the world that you can use to apply for your next Graphic Design job, internship or gig.
Which sites do you want to try first?
Gentle note that if you want to apply for your Graphic Design job, ensure that you already have a Curriculum Vitae ("CV").
Else, you can use urbancv.com to build your own Graphic Design CV. Because, UrbanCV contains all the copywriting and formatting you need to pass that Graphic Design interviews and get hired. Plus, you just need 10 minutes to build your amazing CV.
If you are looking for tips that are related to professional work, you can also visit the 9cv9 blog since that blog provides lots of tips and tricks that can help you to stand out more than other candidates.
Good luck with your upcoming journey.
If you find this article useful, why not share it among your Graphic Design friends, colleagues and network, and also leave a nice comment below?
We at 9cv9 Research Team strive to bring the latest and most meaningful data, guide, and statistics to your doorstep.
Was this post helpful?
Let us know if you liked the post. That's the only way we can improve.