The advert of the Coronavirus disease 2019 ("Covid19") at the turn of the decade has brought about sweeping changes to work, relationships, businesses, and life.
Due to the virus's contagious nature, people are advised to keep a safe distance from each other.
As such, hiring remotely is becoming a norm in today's world.
So why hire remote workers? And how do we get about doing it?
Read on to learn more about the remote hiring scene!
What is remote hiring and why remote hire?
Remote hiring is the hiring of workers who either work at home, in co-working spaces or resides in other countries.
A report has shown that the number of remote workers in the U.S. had increased by about 159% from 2005 to 2017, and has so signs of slowing down. 
Hiring remote workers for Singaporean companies is becoming increasingly prominent as well due to the Covid-19 situation that has encouraged the majority of citizens to stay at home.
Remote hiring is becoming essential due to the Covid-19 situation.
Currently, there are government policies set in place for Singapore to support telecommuting so as to educate crowds on public transport.
Not only that, but technological advances have created a much faster telecoms structure of 5G that advances communication strategy to meet higher demands and allow for easier online communication.
There are many benefits to remote hiring.
Research has shown that working from home with flexible hours allows employees to be more efficient and have higher levels of happiness.
This increases productivity and work satisfaction, while at the same time resulting in greater efficient use of company resources.
A Global Workplace Analytics report stated that businesses can save up to $11,000 per person per year by allowing them to work from home.
Another positive point about remote workers is that we can employ talents that are not residing in Singapore.
With work being done online, Singaporean companies can employ talent from other countries and yet be able to extract good work output from them.
In this case, the addressable talent pool is larger as the candidates can be hired from anywhere around the globe instead of only one country.
In other words, hiring is not impeded by the physical boundaries of a single country.
The company will be reducing costs while having some form of control and supervision of remote workers.
It would be similar to having full-time employees but everything is done online and with fewer expenses (if the talents are hired from countries with relatively lower wages).
There are many SMEs and startups that are looking for tech talents and for the latter, it is a good type that is suitable for remote working.
How to start Remote Hiring of workers in Singapore?
Here are 6 simple steps to kickstart your Remote Hiring of workers in Singapore
1. Know and decide what you want in a remote employee.
To make the process easier, be certain of what kind of candidates you are looking for.
Being unable to physically supervise, remote employees will definitely be hard to control.
Create a list of skills and personality traits you want them to possess so as to make the screening process easier.
2. Create a remote job listing
Remember to write a proper and accurate job description. Since you know the skill sets and characteristics you want in an employee, please state them clearly in the listing. This is to ensure that you attract the right kind of talent that will suit your company.
You can post them on popular sites like LinkedIn and Indeed. However, these websites do not cater to remote-specific jobs. Thus you have to emphasize that it is a remote job and what the job scope entails.
3. Screen the candidates
After knowing what you want, look through their applications to see if they meet your requirements. Assess if they possess remote-specific skills such as communication and productivity. Ideally, the candidate should know how to use important online communication tools like Zoom and Microsoft Teams.
4. Conduct online interviews
Interviews are important to know more of how the candidates are as a person. Ensure that they are able to communicate effectively online since all communication will be online and not in person. Find out if they will be productive working from home and how they manage their time and tasks.
5. Evaluate the candidates and choose the most suitable ones.
After getting to know them better, evaluate the candidates from their personalities and skills. From the pool of candidates you have interviewed, decide who will suit your company best.
6. Follow up with the candidates.
Always follow up with candidates to notify them of the outcome. Let them know whether or not you want them to move onto the next step in the hiring process. Not giving them a confirmed answer will reflect badly on your company.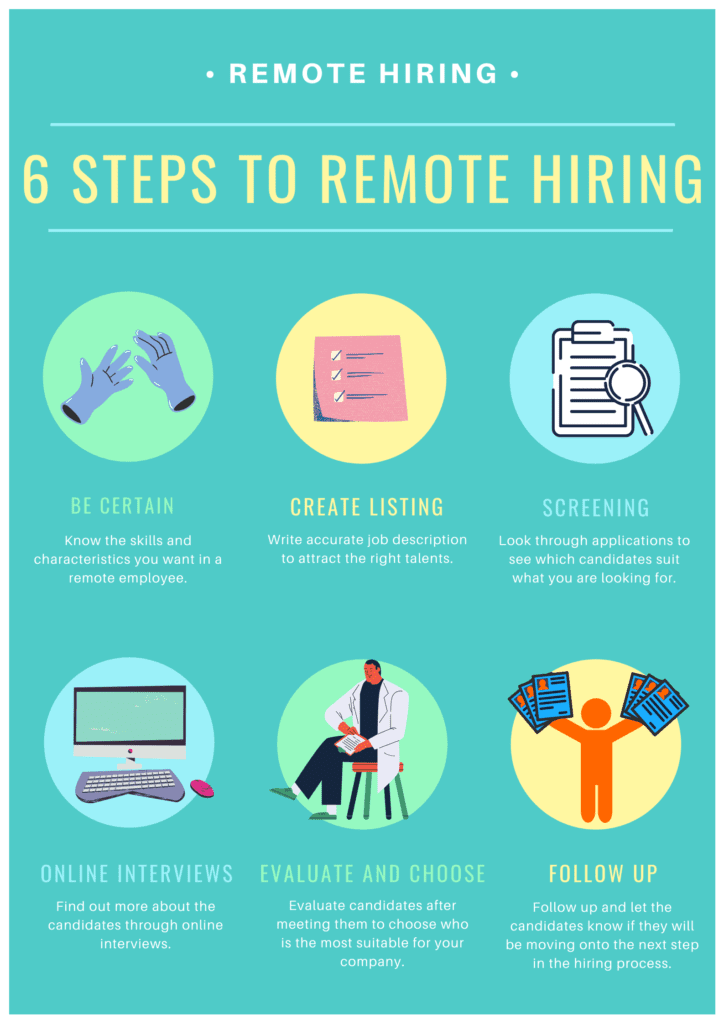 These are 6 simple steps in the process of hiring remote workers for Singaporean companies.
Where to remote hire?
However, despite listing the job openings, it is difficult to expose them to the right audience. This is where remote recruitment agencies come in. The optimal way is to hire through a remote recruitment agency. They will help to promote your job opening to talents worldwide who are specifically looking for remote jobs. Not only that, but can also assist you in integrating remote employees into your company.
Remote recruiters have a more in-depth understanding of the remote worker markets. They have the skills and expertise to select the best suited and qualified applicants for you. A remote recruiting agency have the capacity and experience to search for remote candidates that have the required qualities and skills while being able to adapt to your company's values and vision.
9cv9 is Vietnam's Number 1 Career Platform based in Ho Chi Minh City, Vietnam. We are the top online platform to look for remote jobs and internships which connects companies and candidates. We started off with the aim of empowering and enhancing the employability of our users, career development and inspiration with the concentration of internships and jobs for students, fresh grads and junior job-seekers.
By joining our platform, you can get access to more than 2000 talented candidates. Currently, we have 400 companies on our platform. Some of our trusted clients include Lazada VN, Fossil group and Honest Bee. You can definitely trust 9cv9 to help you choose the best talent suited for your company.
So what are you waiting for? Head on over to 9cv9 now and start hiring remote workers for Singaporean companies from the best talent pool!
9cv9 blog will be posting more helpful and in-depth content on remote working, so do keep a lookout for that!
Find this useful? Remember to like this post and follow 9cv9 blog for more!
Was this post helpful?
Let us know if you liked the post. That's the only way we can improve.