Sending endless number of job applications, and waiting on end for a reply, yet always ending up with no answer whatsoever.
Sounds familiar?
Writing a good CV is crucial in giving a positive first impression to attain that job interview.
According to a Harvard Business Review article, the first 15-20 words of your resume are the most important because that is how long you will have the recruiter's attention span.
So how do you make sure your CV and resume will catch the attention of recruiters out of the millions of CVs out there?
Here are 6 important tips to write a good CV and Resume
1) Format
Ensure that you use an appropriate format.
It should depend on the job you are applying for.
For example, if you are applying for a marketing or design role that emphasizes on creativity, then you should use colours and aesthetics to spruce it up.
Likewise if you apply for something like accounting, you should go with the professional traditional black and white.
It is important to select a suitable CV format and aesthetics that best suits the job nature and that represents you as a person.
Your CV should be pleasing to the eyes.
There are multiple one page CVs that just state your achievements in black and white.
Your CV will be just one of the CVs.
As much as you can by personalising and designing it yourself, it immediately stands out from the rest, making recruiters give your CV a second glance.
It is best for you to design it by yourself, but if you need help, you can utilise UrbanCV for some free templates to start you off.
However, as many people can get their template from UrbanCV as well, so of course, try to make your own as much as you can.
So, when writing a good CV, remember to select the best suited format and aesthetic.
2)Use Action Words
The way you portray yourself in your CV is important as it is the first thing a recruiter sees when you apply for a job.
Using the correct action words is crucial in getting across the achievements you have made.
To portray yourself as someone credible, use action words that depicts your reliability and experience.
Using words like "I lead/plan/organised" will emphasize how reliable you are in carrying out tasks.
Try to cater your CV to the job description by including keywords that fit what they want in an employee for that particular job scope.
This will allow recruiters to know that you have the particular skills and credibility they want for that position.
The words you use are extremely important so remember to use the appropriate ones.
3)Humanise it
Make the recruiter feel like your CV is a person.
Express yourself as a person by show what you are interested and passionate about, so as to allow to recruiter to understand you as a person and if you are a good fit for the company.
Highlight activities that you do other than academics or work to show what you enjoy to do in your free time.
Companies now tend to hire employees who are holistic, not just only focusing on grades.
They want to know the values you stand for, your personality, and whether or not it suits their company values.
Some things you should include in your CV to humanise it:
Interests
Personality
Passion
Personal values
Humanisation is important when writing a CV so as to show your uniqueness from other candidates, so remember to do that when writing a good CV.
4)Online Presence
Show your online presence as well by including your online portfolio and LinkedIn link.
LinkedIn
LinkedIn is no longer just a online resume but is your online presence.
There is only so much your CV can display to the recruiter.
However LinkedIn will allow others to see your network, your interests and much more.
It is a platform to get to know you further than just your CV.
More and more recruiters are turning to social media to do checks on candidates to find out more about them.
In a survey conducted in 2012, 63% of employers who use social media to recruit utilises LinkedIn.
Your LinkedIn presence is very important and can be the deciding factor in a recruiter's first impression of you.
Having a good online presence will allow recruiters to know more about you as a person.
This will allow them to determine that you are a good fit for the job.
Thus, it is important for you to present your online presence to the recruiter.
Online portfolio
To substantiate your past works, you should link your portfolio for easy viewing.
For example if you are applying for a marketing position, it would be good to compile any past works you have together in an online portfolio.
After creating that, do insert that link in your CV.
In a 2015 survey, 23% of recruiters would pay more attention if a CV includes the candidate's online portfolio or website.
So remember to grasp that extra bit of chance that recruiters would give more attention to your CV by just simply adding the links to your online portfolio.
This shows how crucial your online presence is, so including it when writing a good CV is definitely important.
5)Quantify your achievements
When mentioning achievements in your work history, use figures to support your claim.
This proves that you have legitimately accomplished specific goals in the workplace.
Instead of saying you increased overall sales, say that you have increased the amount of sales by 60%.
The substantiation will make employers impressed about what you have achieved and want to meet you.
It shows that you are accomplished at work and you are good at your job.
This will definitely be beneficial when writing a good CV to attract recruiters' attention.
6)Proofread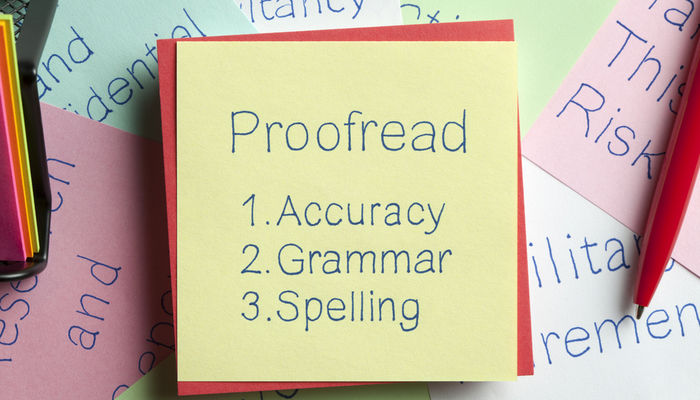 Please remember to proofread your CV.
Check and check again to ensure there are no mistakes in clarify, spelling and grammar.
This may seem simple, but if any mistakes are detected, you may be deemed unprofessional.
Your CV may then just be thrown aside.
Recruiters might think of you lacking an eye for detail.
So, remember to proofread your CV.
Getting someone else to check it for you would be even better.
More pairs of eyes will ensure that there are no errors.
Equipped with these tips when writing a good CV, what are you waiting for?
Spruce up your CV, and start sending away.
If you need any more tips, head on over to UrbanCV to find out more ways to boost your CV.
If you feel that there are any more useful tips or if you want to know more about any certain topics, do comment to let me know!
Find this useful? Remember to like this post and follow 9cv9 blog for more!
Sources:
Hunt, R. (2012, April 18). Thirty-Seven Percent of Companies Use Social Networks to Research Potential Job Candidates, According to New CareerBuilder Survey. Retrieved from http://press.careerbuilder.com/2012-04-18-Thirty-Seven-Percent-of-Companies-Use-Social-Networks-to-Research-Potential-Job-Candidates-According-to-New-CareerBuilder-Survey
Lorenz, M. (2015, August 13). Half of Canadian Employers Have Caught Lies on CVs, According to CareerBuilder.ca Survey. Retrieved from http://press.careerbuilder.com/2015-08-13-Half-of-Canadian-Employers-Have-Caught-Lies-on-CVs-According-to-CareerBuilder-ca-Survey
Was this post helpful?
Let us know if you liked the post. That's the only way we can improve.