Recruitment agencies, also known as headhunters, are organizations that specifically find employees for companies or firms.
Recruitment or manpower agencies provide you with suitable candidate endorsement that fits snugly into your job requirements. This helps you to accelerate the recruitment process and get the right candidate faster and in a less risky process.
Speed is of the essence here when you are looking to engage a Recruitment Agency to hire top talents.
Unfortunately, there could be scammy or low-quality recruitment agencies that are out to grab your money and do not deliver as per promised.
That is why the 9cv9 Research Team takes it upon ourselves to research, analyze, and to bring the top 10 Recruitment Agencies in Indonesia.
Before we venture on to share some of the top recruitment agencies, here is something about our credentials and why we are the best people to write on this topic.
About Us
Having more than 5 years of experience in recruitment in Indonesia, 9cv9 has seen it all, heard it all, and done it all. In this article, the 9cv9 research team has condensed and distilled all our learnings in producing some of the best recruitment agencies we have come across.
Indonesia, being one of the most populous countries in the world, has a wide array of recruitment agencies, recruitment consultants, and human resource staffing entities.
If you are a local or international talent acquisition executive, a founder looking for your first hire, or C-Level management, then this article is perfect for you to understand the top 10 Recruitment Agencies in Indonesia in 2022.
Also, if you are a job applicant looking for your next job, you would want to partner with a recruitment consultant who can help you find a proper and high-salaried job in the shortest amount of time. Then this article is perfect for you to start placing your career bets with the right Recruitment Agency.
In This Article
1. 9cv9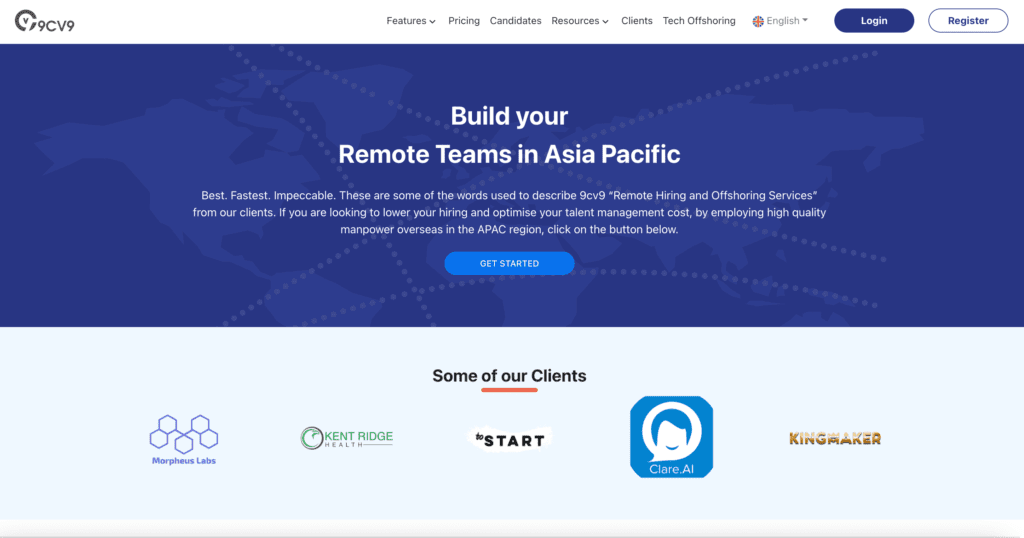 If you are hiring urgently, and are looking for one of the best recruitment agencies and headhunters, then look no further than 9cv9.
(Humble brags coming)
9cv9 partners with some of the top job boards to also push your hiring to, at no additional costs. Some of them are also on this list, such as Neuvoo, Jobble, and Recruit.net.
In addition, 9cv9 uses HR technologies to drive top talent acquisition for 3,500+ companies so far.
Its sister brands are Jobsrefer, a decentralized HR system connecting your hiring posts to 12,000+ recruiters and freelance referrers in the world, and UrbanCV, a modern CV Builder that has over 10,000+ top CVs on it so far and growing rapidly per day.
9cv9 is one of Asia's biggest HRtech companies in the world.
9cv9 is also endorsed by Enterprise Singapore (of the Government of Singapore) for the latter's GTTA program. While this is targeted mainly at hiring talents in Vietnam, it says a lot that the Government of Singapore trusts 9cv9 enough to endorse it for its GTTA program. For more information on tech offshoring, please inquire here.
Further, 9cv9 is heavily reviewed and approved by third-party review sites as well. If you do not believe it, have a read here at GroveHR on the 20+ most popular job posting sites in Southeast Asia.
2. Consult Group
Consult Group provides manpower recruitment and HR Business Process Outsourcing services for companies in Asia-Pacific.
Its head office in Indonesia is at World Trade Center 1 Kav 29 – 31 Lantai 16, Jl. Jenderal Sudirman, RT.8/RW.3, Kuningan, Karet, Kecamatan Setiabudi, Kota Jakarta Selatan, Daerah Khusus Ibukota Jakarta 12920, Indonesia.
Consult group is more focused on recruiting workers at the middle, senior, and executive management levels.
Their complete services include executive search, market intelligence, recruitment process outsourcing, project recruitment, outplacement service, and payroll service.
Their focus fields of work are corporate & administration, general & executive management, IT & telecommunication, commodities, FMCG, manufacturing, chemicals, banking & financial services, and natural resources.
You can go to the consult group website and choose as a job seeker or employer.
If you intend to find a job, please enter as a job seeker, and if you want to work together to hire people, just click the request talent or need to hire button.
3. JAC Recruitment Jakarta
The company was first established in London in 1975.
JAC now has an office in 12 countries there are Indonesia, the UK, Singapore, Malaysia, Vietnam, India, Germany, Thailand, China, Japan, Hong Kong SAR, and Korea.
JAC has more than 1200 professional consultants worldwide, especially in Asia and Europe.
The company address in Jakarta is Millennium Centennial Center, 6th floor, units A and H, Jl. General Sudirman kav 25, Kuningan, South Jakarta.
JAC focused a lot on talents in these sectors:
Finance: accounting and finance, banking & financial including investment services and insurance.
Business: business process outsourcing and global business service, FMCG, education training, entertainment, and luxury goods and jewelry
Marketing: sales, marketing & advertising.
Tech: information technology.
Engineering: aerospace, oil & energy, automotive, engineering & manufacturing, renewable & environments, and semi-conductors.
Building: architecture & planning, building & construction, real estate,
Medical: pharmaceuticals, biotechnology, health care & life sciences, chemical, and medical devices.
Supply chain: logistics and supply chain, and retail.
Services: hospitality & tourism, human resource, consultancy, environmental benefit, legal service, food & beverage, transportation and non-profit organization.
The JAC website is also open for job seekers of all levels, from fresh graduates to professionals.
4. Michael Page Indonesia
Michael Page is part of the Page Group headquartered in Weybridge, UK.
The company is founded in 1976 in London and has 140 offices across 36 countries with 6,750 staff.
Michael Page Indonesia has won the award three times in 2015, 2017, and 2018 from LinkedIn as the most socially engaged recruitment company.
Its Indonesia office is on level 12 of the One Pacific Place Sudirman Central Business District, Jl. Jenderal Sudirman kav 52-53 Senayan, South Jakarta.
Michael Page offers permanent, temporary, fixed-term, and interim contracts and its focuses are from middle management to leadership levels and specialists.
The fields of work that it specialized in include finance & accounting, banking & financial service, engineering & manufacturing, executive search, healthcare, human resources, legal, life sciences, marketing, procurement & supply chain, property & facilities management, retail, sales, information technology, and oil & gas.
The webpage has a lot of information on tips and job advice. In addition, there is also an expected salary feature in the job search column.
Michael Page also has a salary survey report in Indonesia that can be accessed as a reference.
5. PT Lansima
One of Indonesia's most popular recruitment agencies, namely PT Lansima, was established in 1982, focusing on the Middle East and Asia Pacific region.
Head office of PT Lansima is in Jl. Tegal Parang Utara No.41, RT.7/RW.4, Mampang Prpt., Kec. Mampang Prpt., South Jakarta City.
It also has many branches, offices, training & educational centers spread all over the country.
Having large client partners such as Yasref, Intercontinental Hotel Group, The Oberoi Madina Saudi Arabia, Dolphin Energy, Hilton, Crowne Plaza Hotel & Resorts, Awaliv International, Musbah, etc.
There are three service options offered by PT Lansima, namely, local recruitment, international recruitment, and labor training.
Its focused areas are construction, oil and gas, hospitality, security guard, nursing, and crewing in airlane and marine.
You can log in as an employer looking for workers or a job seeker looking for work.
6. Robert Walters
Robert Walters is a global recruitment company that has offices in 31 countries, including Indonesia.
It has an office at World Trade Center 3, 18th Floor Jl. Jen. Sudirman Kav. 29-31 Jakarta.
These recruitment agencies focus on conducting searches at the manager level to the head of the section.
The fields of work that Robert Walters specialized in are accounting & finance, banking & financial services, general management, human resources, tech & transformation, legal, marketing, sales, supply chain, procurement & manufacturing, F&B, education, and retail.
Clients from large companies that use Robert Walters' services include Grab, Thiess, Naos, Rodl & Partners, Red Doorz, and INA (Indonesia Investment Authority).
Their website provides a place for jobseekers to find work and also for companies looking for workers.
They also share many articles about career advice and recruitment solutions.
And some webinars and podcasts are useful for increasing knowledge in various fields.
7. Talent Search Recruitment
Talent Search Recruitment is based at Menara Topas (Four Points by Sheraton) – Jl. MH. Thamrin Kav. 9, 15th Floor, Menteng, Jakarta.
Besides recruitment and headhunting, they also offer consulting services, training, and office set-up.
Their focused area are on accounting & finance, automotive, banking, retail, e-commerce, education & healthcare, energy & natural resources, F&B, FMCG, insurance, manufacturing, media, mechanical & electrical, transport & distribution, leisure, travel, tourism and property
Some clients have collaborated with Talent Search Recruitment including OYO, BWP Premiere Best Western, Gojek, Philips, TATA, sleeker, asiapaints, indofood, IndoCRP, and Larsen & Toubro.
The talent search recruitment website only provides services for companies seeking talent.
8. Reeracoen Indonesia
This recruitment agency was founded in 2013 with the aim of helping companies and jobseekers to find their dream jobs and internships.
It is a subsidiary of the Neo Career Group which is based in Japan and currently has seven branches in Asia – in these countries, Indonesia, Thailand, Singapore, Philippines, Malaysia, Taiwan, Hong Kong, and India.
Reeracoen Indonesia's address is at World Capital Tower, 12th Floor units 09 & 10, Jl. Dr. Ide ​​Anak Agung Gde Agung Lot D, Jl. Mega Kuningan Barat, Jakarta.
Reeracoen Indonesia focuses a lot on Japanese companies in Indonesia (since its parent company is from Japan and naturally has close connections with the Japanese head honchos)
Their career consulting services promise to provide useful interview tips & tricks and support successful candidates in getting a job or career advancement.
The level of workers that they have helped hired so far, ranges from fresh graduates, to experienced, inexperienced juniors, and managers.
The industry focus is on IT, Fintech, web mobile gaming, F&B, retail, hospitality, tourism & leisure, call centers, healthcare, education, manufacturing, finance, FMCG, trading firm, logistics, consulting, property, construction, plantation, mining, oil & gas, power plant & energy, government & non-government organization.
Their available languages ​​are English, Japanese, and Indonesian.
9. Persolkelly Indonesia
Recruitment agency, Persokelly Indonesia is one of the largest recruitment companies in Asia Pacific.
Its address is at Mayapada Tower, Lt. 6 units. 06, Jl. Jenderal Sudirman No.01, RT.4/RW.2, Karet, Special Capital Region of Jakarta.
Apart from Indonesia, Persolkelly has presence in other countries, namely Australia, China, Hong Kong, India, Malaysia, New Zealand, Singapore, South Korea, Thailand, and Vietnam.
Persolkelly Indonesia is looking for candidates from staff to managerial levels.
Specialized in the sought-after fields, including accounting finance, banking & financial service, call center, engineering, executive/management, industrial, IT, office support, outsourcing and consulting, professional support, and scientific.
10. RGF HR Agent Indonesia
RGF HR Agent is a large recruitment agency that recruits globally and has offices in 8 countries – namely, Indonesia, India, Hong Kong, Singapore, Thailand, Vietnam, China, and Japan.
RGF HR Agent's address in Indonesia is located at Graha Pratama, P1(21st) Floor, T. Haryono No.KAV15, Jalan Tebet Dalam II E, RT.11/RW.5, Tebet Bar, City of South Jakarta.
It mainly looks for workers in the field of staff, specialist, and managerial. In addition, focus on finding Japanese-speaking talent for companies in need.
The industry focuses that are sought include, among others, financial services, healthcare, technology/online, import/export/trading, conglomerates, consumer/retail, services, industrial, energy, and business process outsourcing.
Jobseekers can create an account and complete personal data before applying, and employers can contact you directly to get career advice.
Final Words
If you need to hire top talents and manpower, then you need a recruitment agency. Else, you will be wasting your time and resources (which can be spent better elsewhere) on hiring.
The top 10 best agencies in Indonesia have many large and trusted clients.
They also choose clients who are qualified with the support of professionals.
Read more about job search on the 9cv9 blog and find your dream job on 9cv9.
If you find this article useful, why not share it among your recruitment and talent acquisition counterparts, and also leave a nice comment below?
We at 9cv9 Research Team strive to bring the latest and most meaningful data, guide and statistics to your doorstep.
Was this post helpful?
Let us know if you liked the post. That's the only way we can improve.