Language learning is one of the things that you do as you grow in your environment. But if you're trying to learn an unknown foreign language, chances are you'll have a hard time.
Fortunately, there are many apps that are great for learning languages. Here are 10 of them: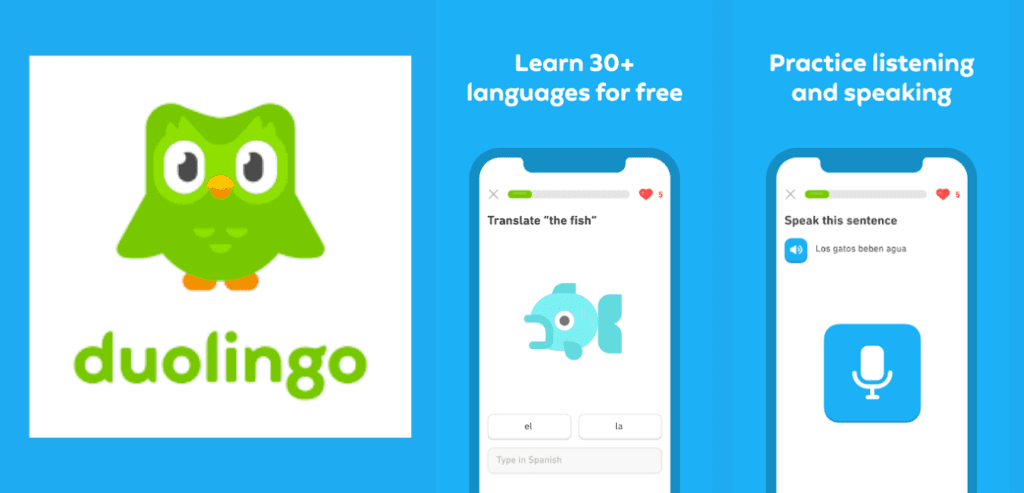 Duolingo is a free mobile language learning app. It offers an astonishing number of 35 languages that you can learn.
It is perhaps the most well-known language learning app on the web.
Duolingo offers languages such as Arabic, Chinese, Czech, Danish, Dutch, Greek, Indonesian, Japanese, Korean, and many more.
You can do one or several exercises every day using the courses available. These courses take about four minutes on average.
After you've finished one course, you can go to the next level or even skip some challenges if you're up for the challenge.
There are in-app purchases if you want to proceed faster, but you definitely can go around without having to pay or access the full version, Duolingo Plus.
Duolingo offers many lessons that cover writing, reading, listening, and speaking. It primarily uses English as the main language and the language you're learning as the second language.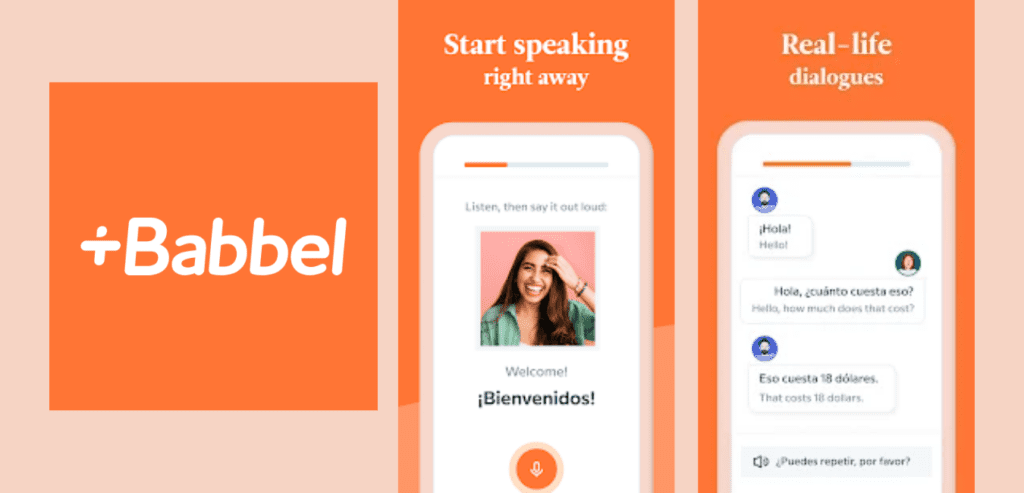 Babbel is a monthly-subscription based language learning app available on mobile.
It offers 14 languages that you can learn organized in several curriculums. There are Danish, Dutch, Portuguese, Russian, Swedish, Turkish, and other languages.
You can try one free lesson on each course for the first time as a trial before deciding to purchase it.
Babbel is intended for beginners to intermediate learners and offers easy lessons that can be accessed whenever. You can start from learning and memorizing vocabulary and can gradually move up to more challenging lessons.
Babbel offers a combination of audio-visual quizzes with interactive dialogues that makes the lesson more interesting.
For a reasonable price of around 13$ for a one-month subscription, you can learn writing, reading, listening, and speaking skills on the go on your phone.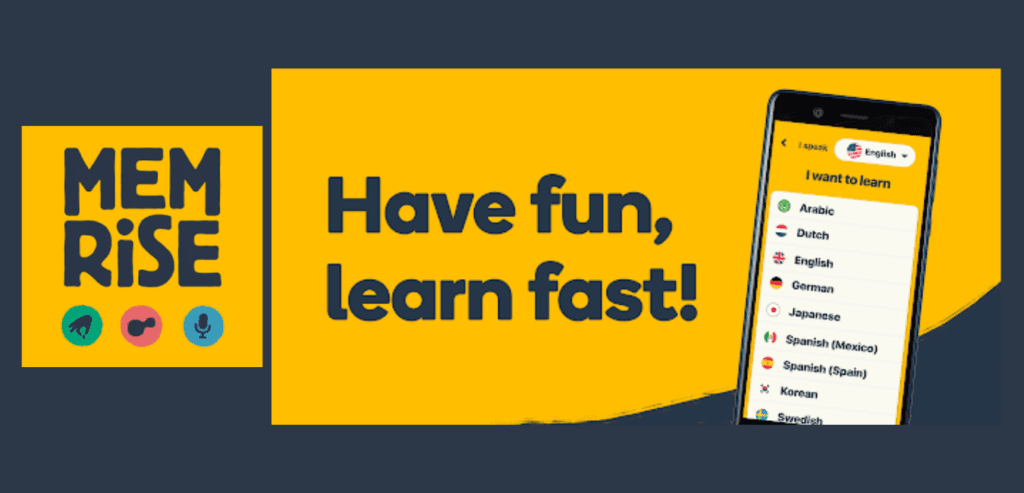 Memrise is a free language learning app that offers 22 languages to learn. Their languages include French, Spanish, Korean, Portuguese, Italian, English, and many more.
Memrise is qualified to be one of the best language learning apps as it has won Google Play Awards in 2017.
Memrise is great for visual learners because the method it's using is connecting matching pictures associated with the words so new learners can easily remember the words and expressions.
This is especially useful for beginners who are learning the language for the first time.
Because it focuses on memorizing words by picture, it essentially is a vocabulary learning app.
There are plenty of levels for every language. And also, it has a recording voice from native speakers so it makes the language easier to memorize and pronounce.
There is the full version called Memrise Plus and it starts at $8.99 for monthly subscription. But if you'd like, the free version already offers everything you need for your learning.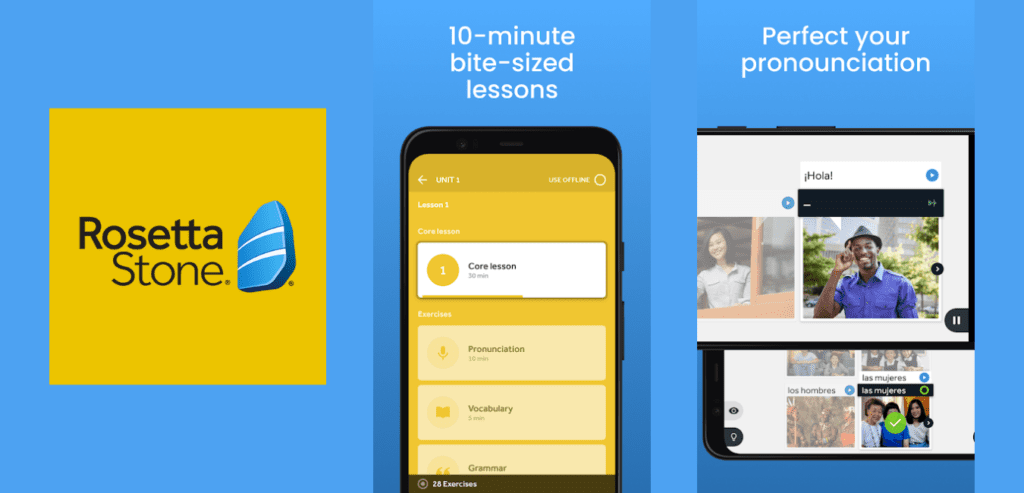 Rosetta Stone is a subscription-based language learning app available on mobile and online. It offers 13 languages ranging from Arabic, Spanish, French, Italian, Russian, Mandarin, and many more.
If many language apps uses English as the primary language, Rosetta Stone is unique and starts from the target language (language you're learning).
Its method is trying to emulate the realistic experience of going into a new country and learning the language first-hand without translation.
But don't worry, as Rosetta Stone is still easy on beginner because lessons that can be taken slowly and easily.
One example of its features is learning vocabulary with flashcards containing images. This method has always been the classic way to easily memorize vocabulary.
Rosetta Stone starts at $35.97 per three-month subscription for one language and while there are critics of its price, it's still a great and extended app to learn a language.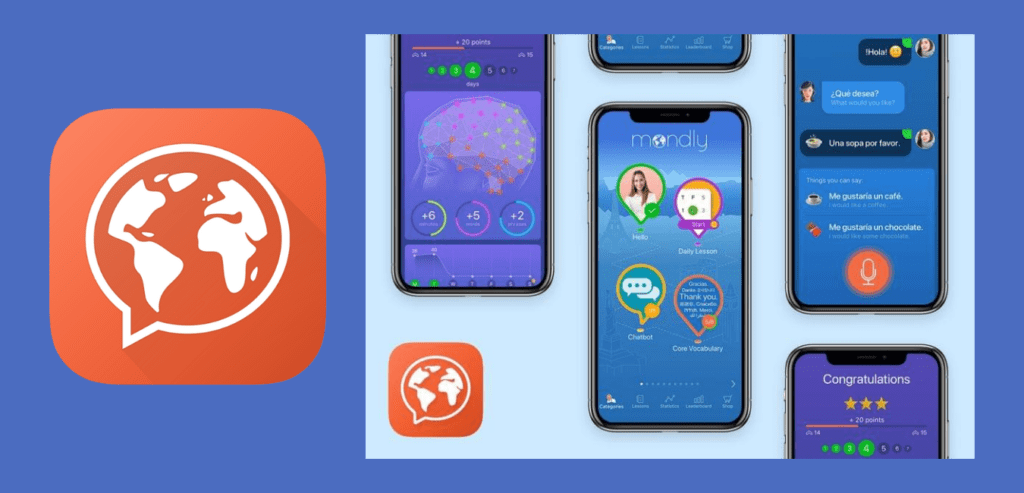 Mondly is a free language learning app that also offers a paid subscription to unlock more content.
It has a great variety (40 languages) to learn language from. Their languages include Vietnamese, Latin, Chinese, Japanese, Polish, Slovak, and Croatian for example.
Similar to many language apps, Mondly offers short lessons that you can take daily. It also translates the target language with your native language first.
Mondly has several features such as daily lessons with game-like quizzes, the chatbot that you can type your conversations, and augmented reality.
This augmented reality can generate a CGI teacher in your room while you're learning the language. It is perhaps its most unique feature and learners can emulate the feeling of being in a class while staying at home.
The free plan consists of 6 free lessons and a few vocabularies and Chatbot conversations.
The features on the free plan are quite limited compared to other apps. If you'd like, you can get the premium plan that is reasonably priced at $9.99.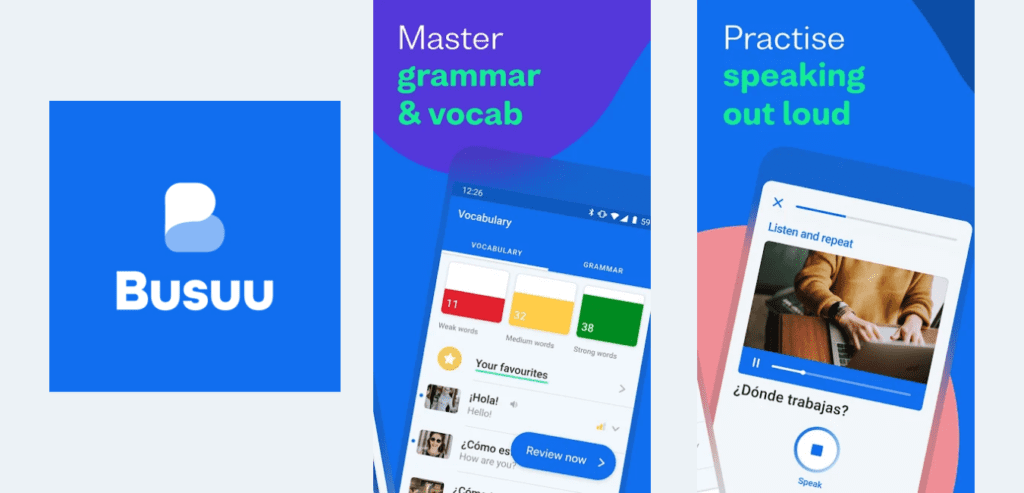 Busuu is a free language learning app available on mobile that also offers a paid version.
It has 12 languages to learn and while the numbers might not look much, the lessons are extensive and complete.
When you start using Busuu, you can place yourself at a level that is suitable for you.
Busuu offers a wide selection of topics such as travel or culture, so you can choose what interests you.
It also offers lessons like flashcards (matching the pictures with the dialogues) and matching sound clips with the associated picture.
The premium service can be used for more upper-intermediate or advanced learners as it has more complex tailored lessons.
There are 2 premium plans for Busuu: Busuu Premium and Busuu Premium Plan.
Busuu Premium starts at around $11.69 per month and Busuu Premium Plus starts at around $12.85 per month.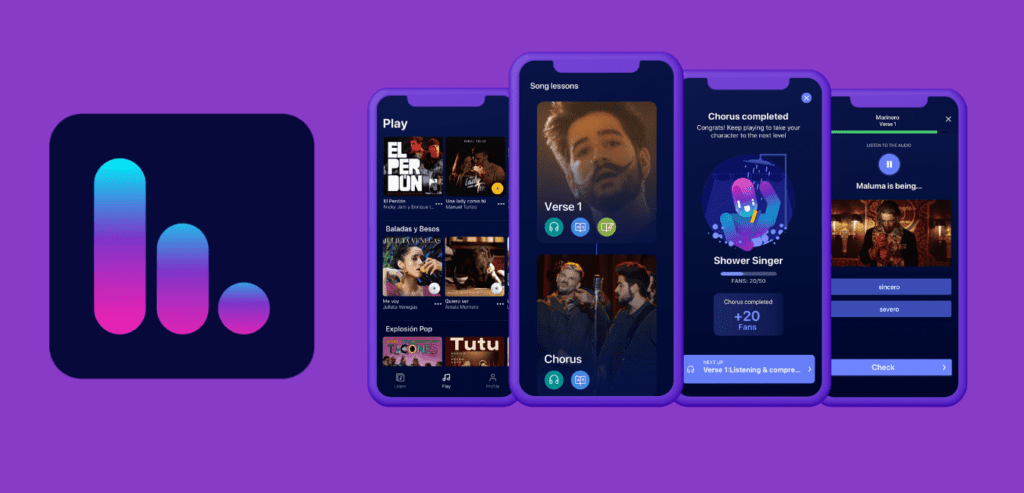 Lirica is a free mobile language learning app that offers in-app purchases for full access.
It mainly focuses on learning 1 language which is Spanish. While it might not have any other language, Lirica offers a fun way to learn a new language.
Lirica lets you learn Spanish through music.
With this approach, you can use two modes in the app.
Play mode lets you play the music video while learning the lyrics and the vocabulary. Meanwhile, lesson mode is more of classic text-based learning with the song's lyrics.
There are several levels you can choose based on your capability in this app. Lirica offers features such as matching the words in the lyrics for their meaning, arranging lyrics, and others. It is suitable for anyone ranging from kids to adults.
If you want full access to the app, Lirica offers a paid subscription of $8/month and it includes a one-month free trial.
Pimsleur is a paid language learning app on mobile. It has a selection of fifty-nine languages and even covers regional dialects.
What's unique about Pimsleur is that the method of teaching is through listening with minimal to no visual.
The exercises in the app include filling in vocabulary and responding correctly to the conversation.
It also teaches vocabulary by pronouncing it per syllable instead of just putting the word on the screen, which helps the learners memorize through sounds.
Pimsleur lets you replay the audio and the lesson often, so you can try to break down the lesson little by little if you're still a beginner.
Pimsleur offers a 7-day free trial and a monthly subscription plan that costs $14.95 per month. Pimsleur also sells its lesson through digital MP3 and CDs because they're audio lessons.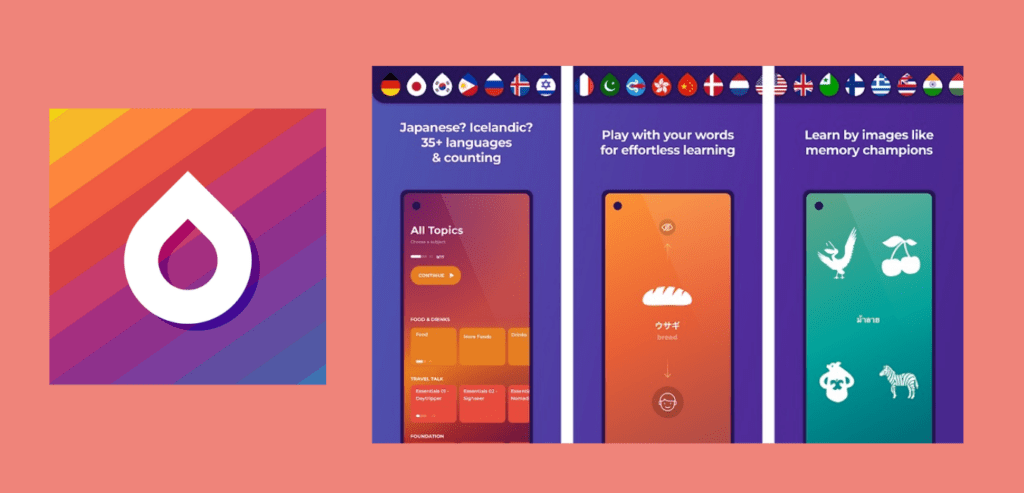 Drops is a mobile language learning app with in-app purchases.
It offers 30 languages to learn like Thai, Vietnamese, Cantonese, Brazilian Portuguese, Italian, Japanese, and many more.
Drops is said to be focusing on learning to be a fun experience. Thus, it uses games to let you learn the language.
You can do a daily exercise that is around 5 minutes. By using Drops, you can expand your vocabulary while playing games essentially.
Using simple icons or graphics, Drops also offers a visual dictionary that has a nice interface that's easy to look at.
If you want to access the full version, Drops offers a premium plan for 10$/month or $3/year, or $160 for a lifetime. This premium plan erases all the ads in the app and lets you access the whole features.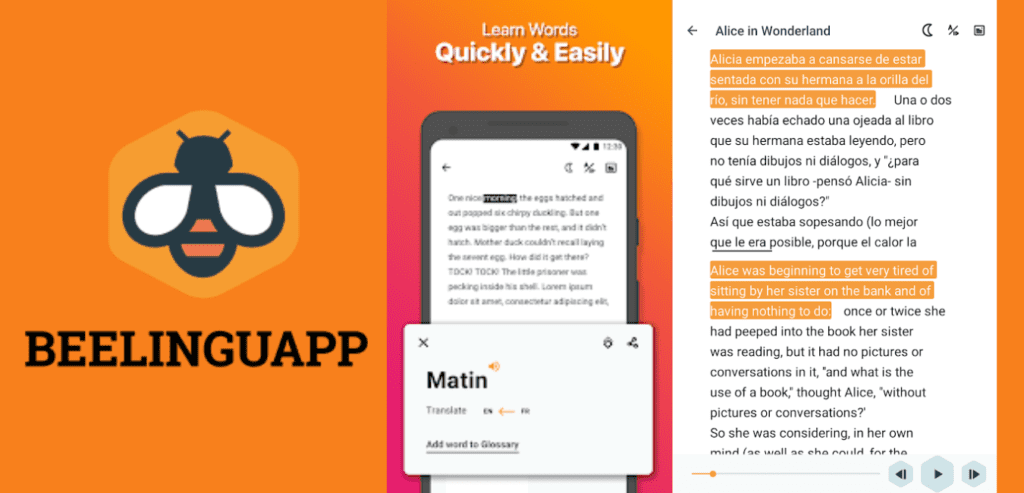 Beelinguapp is a free mobile language learning app that offers 14 languages to learn like Spanish, German, English, Korean, and many more.
This app focuses more on reading and reading comprehension.
Beelinguapp offers you to read stories in 2 languages at once, making you remember the vocabularies through written texts.
You can improve your reading skills, listening comprehension, and build your vocabulary through Beelinguapp.
Its selection includes stories like Snow White or Sherlock Holmes, kids' books, news articles, or even culture guides.
If you would like no ads when using Beelinguapp, you can purchase the in-app offers that act as subscriptions. But it's not necessary as you've been given many features with just the free version.
And that's all the 10 apps you can use to learn new languages.
You can add the languages you've mastered to your skills list. It might come to use later for you in the future when you're hunting for jobs.
In case you need more tips about your career and job, you can also try reading our blogs, 9cv9 Blog.
And if you've added new languages to your skills and want to apply for jobs, you can go to our job platform: 9cv9.
Was this post helpful?
Let us know if you liked the post. That's the only way we can improve.