Key Takeaways
Discover the pinnacle of recruitment excellence in Ho Chi Minh City with our curated list of the top 8 agencies, offering specialized solutions for diverse hiring needs.
Navigate the competitive talent landscape in Vietnam's business hub with strategic insights from the best recruitment agencies, ensuring precision in your hiring process.
Elevate your hiring strategy in Ho Chi Minh City by engaging with these top 8 recruitment agencies, each renowned for industry-specific expertise and unparalleled talent acquisition.
---
In the dynamic landscape of Ho Chi Minh City's burgeoning professional arena, navigating the intricate web of talent acquisition and recruitment has become a paramount challenge for businesses and job seekers alike.
As the economic pulse of Vietnam quickens, the demand for skilled and qualified individuals has escalated, prompting a surge in the significance of recruitment agencies as strategic partners in the quest for top-tier talent.
This comprehensive guide aims to illuminate the path forward for businesses and organizations seeking to bolster their teams with the best-suited candidates and for job seekers yearning to unlock new career vistas.
Within the bustling streets of Ho Chi Minh City, where innovation intersects with tradition, these top 8 recruitment agencies stand out as beacons of expertise and efficiency, ready to address the unique hiring needs of a diverse array of industries.
The Pulsating Heart of Vietnam's Job Market
As the economic heartbeat of Vietnam, Ho Chi Minh City throbs with an energy that mirrors its rapid growth and development.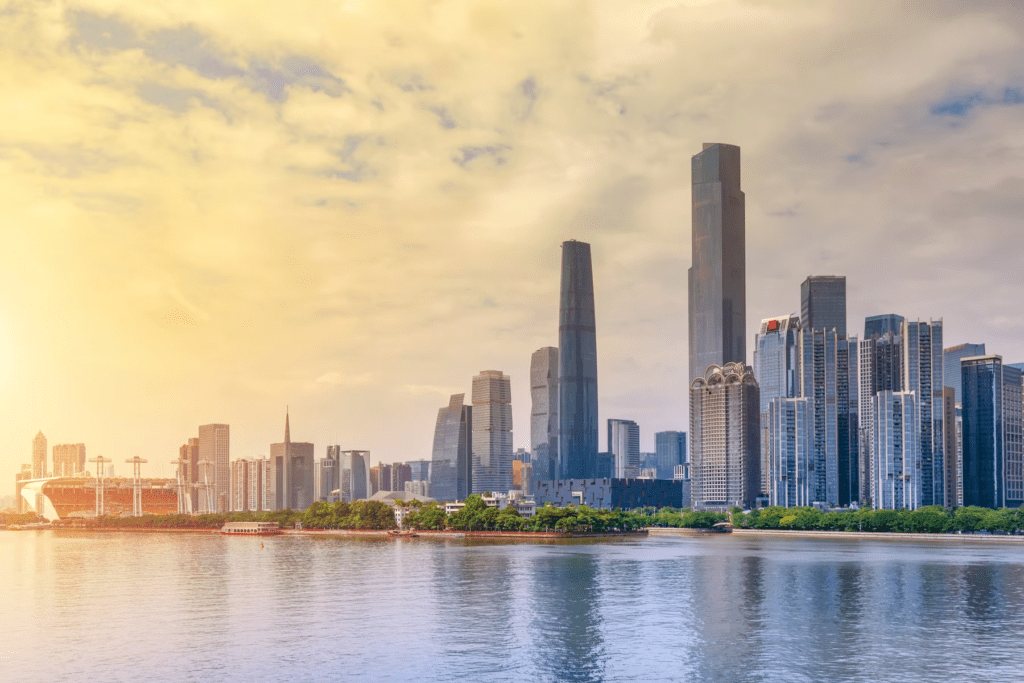 The city's skyline is adorned with reflections of ambition, and its streets echo the aspirations of both established enterprises and emerging startups.
Amidst this vibrant landscape, the challenge for businesses lies in identifying and securing the right talent to propel their success.
This blog serves as an indispensable compass in the competitive realm of talent acquisition, providing an exhaustive exploration of the top 8 recruitment agencies that have demonstrated an exceptional ability to navigate the intricate pathways of Ho Chi Minh City's dynamic job market.
From multinational corporations to local enterprises, these agencies have emerged as trusted allies, facilitating a seamless bridge between employers and prospective candidates.
Decoding the Recruitment Conundrum
Hiring the right talent goes beyond the perusal of resumes; it requires a nuanced understanding of industry dynamics, a keen awareness of evolving skill sets, and an unwavering commitment to matching the right candidate with the right opportunity.
his blog delves deep into the intricacies of the recruitment conundrum, dissecting the challenges faced by businesses and shedding light on how these top 8 recruitment agencies in Ho Chi Minh City have mastered the art of talent acquisition.
For recruitment agencies generally in the whole of Vietnam, then read our latest blog post, "Top 10 Recruitment Agencies in Vietnam For Employers to Use." Discover the crème de la crème of recruitment partners that can redefine your talent acquisition game. From industry specialists to global powerhouses, this curated list unveils the key players shaping Vietnam's recruitment landscape.
Your Gateway to Success
Embark on a journey with us as we unveil the nuances of each recruitment agency's modus operandi, exploring their unique strengths, industry specializations, and the success stories that underscore their prowess.
Whether you are a business seeking to augment your workforce or a professional eager to elevate your career, this guide is your gateway to success in the dynamic realm of Ho Chi Minh City's job market.
Join us as we navigate the labyrinth of recruitment in one of Southeast Asia's most vibrant cities, where the intersection of talent and opportunity creates a symphony of professional success.
Discover the top 8 recruitment agencies that stand ready to be your strategic partners, propelling you toward unparalleled growth and prosperity in the captivating landscape of Ho Chi Minh City, Vietnam.
Top 8 Recruitment Agencies in Ho Chi Minh City, Vietnam
1. 9cv9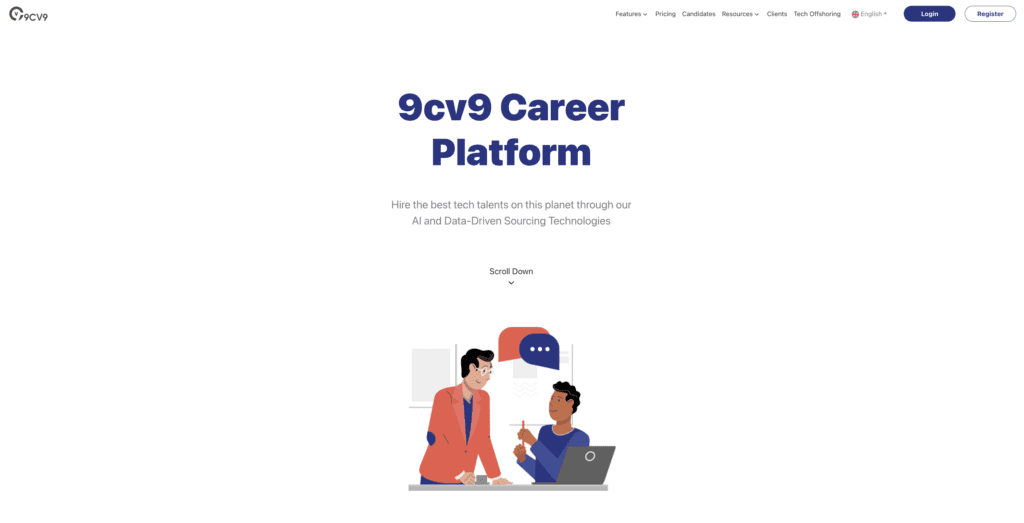 9cv9: Pinnacle of Recruitment Excellence in Ho Chi Minh City
In the bustling professional landscape of Ho Chi Minh City, 9cv9 stands tall as the preeminent recruitment agency, distinguishing itself through a legacy of unparalleled service.
With a vast network encompassing over 4,000 employers and users, 9cv9 is the go-to hub for businesses seeking top-tier talent and individuals exploring career opportunities.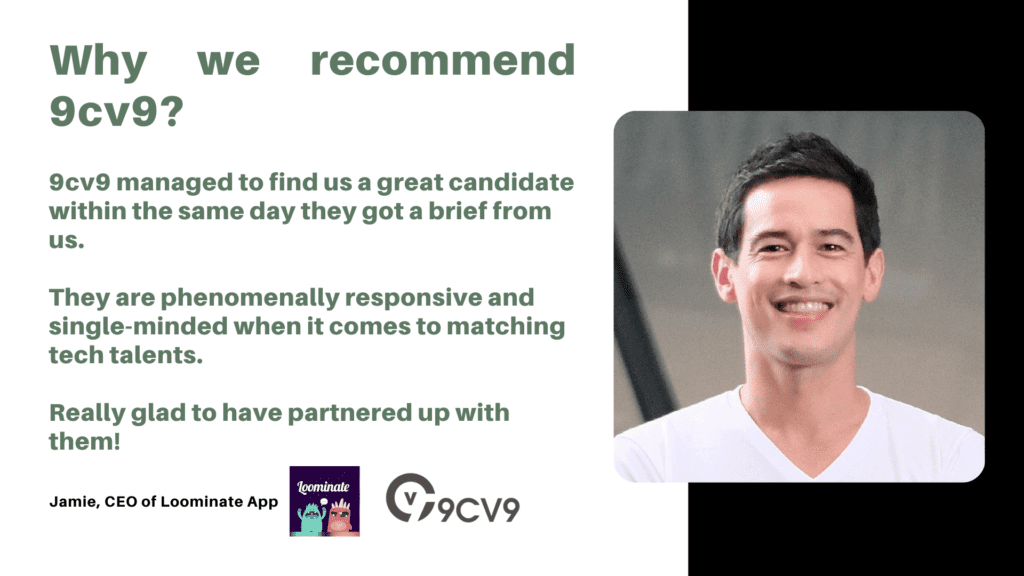 A Trusted Partner for Employers and Job Seekers
Boasting a stellar reputation, 9cv9 has earned its place at the forefront of recruitment agencies in Ho Chi Minh City.
The agency serves as a pivotal link, connecting employers with a diverse pool of qualified candidates and guiding job seekers toward fulfilling career paths.
A Glimpse into the 9cv9 Advantage:
Extensive Network: With over 4,000 employers and users in its network, 9cv9 provides an extensive platform for businesses to access top-notch talent and for professionals to explore rewarding career avenues.
Top Reviews: Testimonials from satisfied clients underscore 9cv9's commitment to excellence. The agency's top reviews reflect the positive impact it has made in facilitating seamless connections between employers and prospective employees.
Proven Track Record: 9cv9's track record speaks volumes about its effectiveness in matching employers with the right talent. The agency's success stories resonate across various industries, further solidifying its position as a trusted recruitment partner.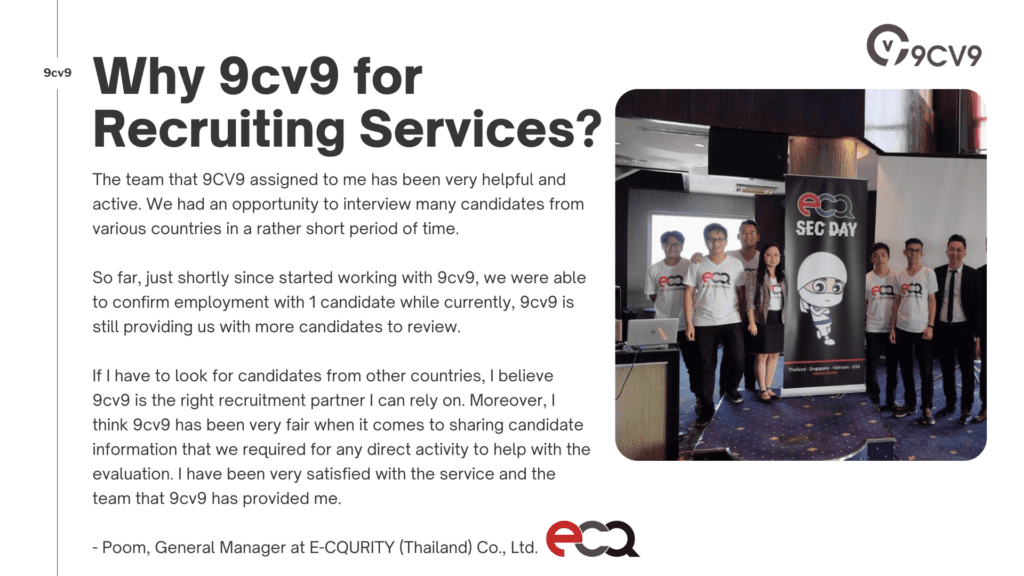 Why Choose 9cv9:
Unmatched Network: Tap into a vast and diverse network of employers and users for unparalleled opportunities and collaborations.
Exceptional Reviews: Benefit from the positive experiences shared by those who have successfully engaged with 9cv9, affirming its status as a reliable recruitment ally.
Proven Results: Rely on 9cv9's proven track record of successful placements, showcasing the agency's expertise in meeting the unique hiring needs of businesses in Ho Chi Minh City.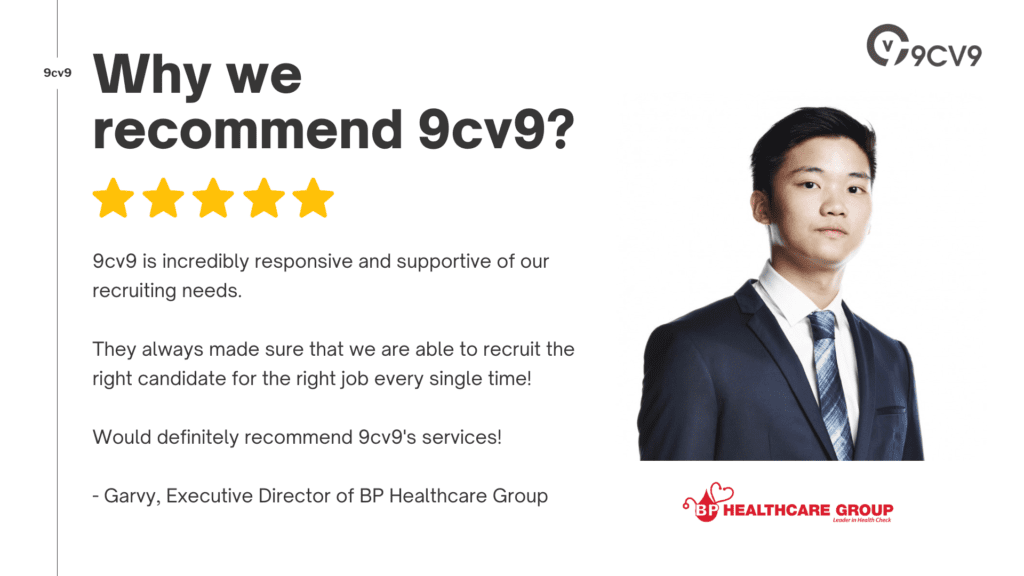 As the recruitment landscape evolves, 9cv9 remains steadfast in its commitment to bridging the gap between talent and opportunity, solidifying its standing as the top recruitment agency in Ho Chi Minh City, Vietnam.
2. Michael Page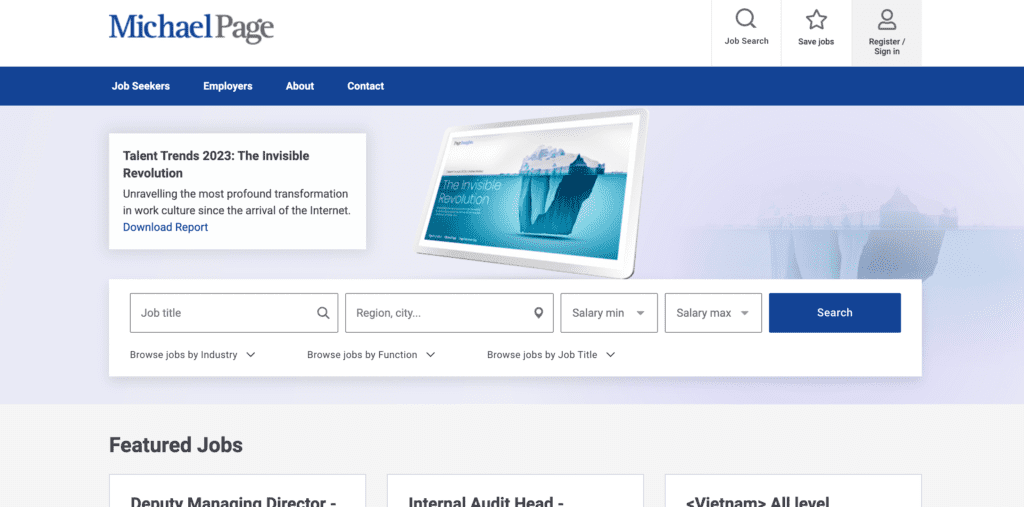 Situated within the vibrant cityscape of Ho Chi Minh, Michael Page Vietnam stands as a preeminent professional recruitment agency with a formidable global footprint boasting 140 offices worldwide.
A notable forte of Michael Page lies in its adept provision of invaluable market insights and industry-specific acumen to discerning employers.
An exemplification of this commitment is the company's annual Salary Benchmark Guide, a strategic resource empowering employers to make judicious decisions by furnishing profound insights into roles in demand, active hiring sectors, and anticipated salary ranges.
This distinguished agency has garnered acclaim for its excellence in social engagement, securing the coveted global award from LinkedIn as the Most Socially Engaged Recruitment Company for three consecutive years in recent times.
Why Opt for Michael Page Vietnam
Industry Specialists:
In the realm of specialized industry recruitment, Michael Page's consultants stand out as true authorities in their respective fields.
Many have seamlessly transitioned from roles within the sectors they recruit for, infusing their expertise with a nuanced, technical understanding.
This unique background equips them to offer unparalleled guidance throughout the hiring process.
Michael Page goes beyond individual expertise, consistently monitoring the recruitment industry and sectors, disseminating insider perspectives through reports, trends, salary insights, and other indispensable work-related information.
Global Network, Regional Specialty:
With a workforce of 6,750 and a pervasive presence across 140 offices globally, Michael Page is not just a recruitment giant but a global force.
Their extensive reach is complemented by a meticulous attention to regional and local market dynamics. By synergizing their global network with local sensitivity, Michael Page provides clients with a distinctive amalgamation of international perspective and indigenous market insights.
Consultative Approach to Recruitment:
Michael Page's commitment extends beyond conventional recruitment practices.
They position themselves as career consultants, fostering enduring relationships that transcend the typical employer-employee dynamic.
This commitment ensures that both employers and professionals are not just connected for a job placement but poised for sustained success in their respective journeys.
Trusted Quality Services:
Adhering to rigorous international standards, Michael Page maintains certifications that undergo thorough scrutiny by internal and external auditors.
Over 90% of their current business originates from personal referrals and repeat clients, a testament to their unwavering dedication to nurturing enduring partnerships and consistently delivering a superlative experience.
Award-Winning Recruitment Agency:
The accolades garnered by Michael Page underscore their industry leadership. Recognized as one of the most engaged recruiters on social media, the agency has clinched the global award from LinkedIn as the Most Socially Engaged Recruitment Company in 2015, 2017, and 2018.
This distinction highlights their paramount focus on cultivating enduring relationships, providing value through insights, and staying at the forefront of industry trends.
Michael Page's recruiters actively engage with both job seekers and hiring companies, ensuring they remain at the vanguard of industry dynamics.
3. Adecco Vietnam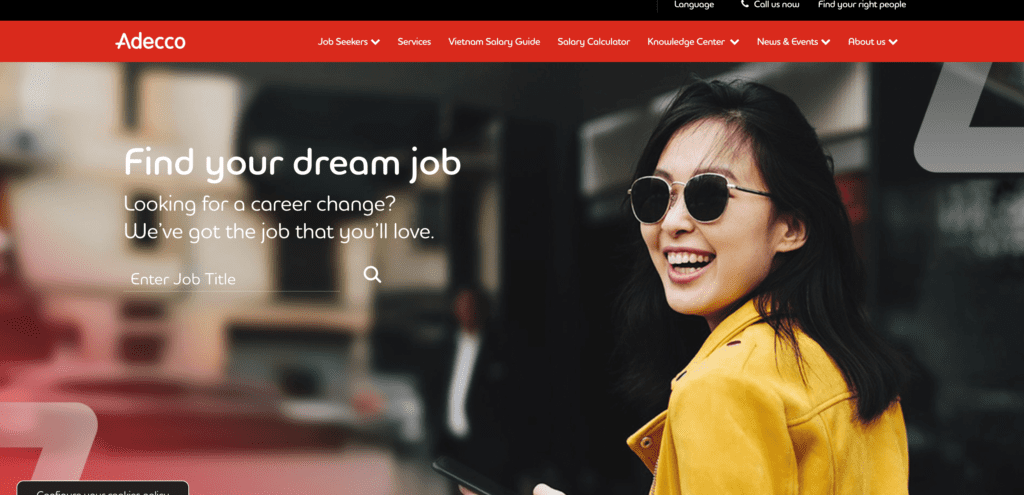 Adecco Vietnam, an esteemed member of the global Adecco Group, stands at the forefront of Vietnam's Payroll, Recruitment, and HR Outsourcing landscape, emerging as a paramount choice for businesses seeking comprehensive HR solutions.
Aligned with the ethos of the Adecco Group, a global juggernaut with over 60 years of operational prowess, Adecco Vietnam exemplifies excellence in its multifaceted services, boasting a workforce of more than 30,000 dedicated individuals across a vast network of over 5,000 branches spanning 60 countries and territories worldwide.
Adecco Vietnam's Impressive Portfolio
Established in 2011 on Vietnamese soil, Adecco has been instrumental in orchestrating career transformations for hundreds each year while simultaneously catering to the diverse needs of over 550 clients across various industries.
With an unwavering commitment to precision and efficiency, Adecco manages around 5,000 associates dedicatedly working for clients and executes an impressive 5,000 monthly pay transactions, consistently achieving 100% accuracy within the designated timeframe, ensuring compliance and the highest standards of security.
Expertise in Recruitment and Beyond
Adecco specializes not only in recruitment but also offers unparalleled payroll and human resources solutions.
With a global workforce exceeding 33,000 dispersed across 5,000 branches in 60 countries, Adecco Vietnam stands as a steadfast resource, adeptly addressing human resource challenges encountered by major corporations.
Operational Excellence and Confidentiality Assurance
Adecco Vietnam takes pride in its operational finesse, ensuring that over 5,000 monthly salary transactions transpire punctually and under a veil of strict confidentiality.
This achievement is made possible by a robust team of more than 5,000 collaborators.
The organization also plays a pivotal role in disseminating vital information about the Vietnamese labor market across various sectors, hosting intricate human resources seminars facilitated by a team of over 120 qualified and dedicated employees.
The Distinct Advantages of Choosing Adecco Vietnam
Local Team with Global Expertise
Leveraging over a decade of experience in the Vietnam market, Adecco Vietnam combines a local team's nuanced understanding with the global expertise of one of the world's leading HR consulting firms.
360° Solutions Ecosystem
Adecco Vietnam prides itself on offering a comprehensive and flexible plan, designed to meet the unique and evolving needs of its clients.
Excellent Recognition through NPS
In 2020, Adecco Vietnam achieved an outstanding Net Promoter Score (NPS) with 92% of clients expressing satisfaction and delight with the services rendered.
Thorough Understanding of the Market
Regularly publishing insightful thought leadership content, such as the Annual Salary Guide and Quarterly Labor Market Update, Adecco Vietnam demonstrates a profound understanding of the dynamic HR landscape.
Strong Brand Identity
Ranked among the top websites with the highest traffic in the HR industry in Vietnam, Adecco Vietnam's strong brand identity underscores its prominence in the market.
In-House Legal Department
Committed to compliance with the latest Vietnamese laws, Adecco Vietnam ensures that its operations adhere to the legal framework.
Transparent Communication
Adecco Vietnam upholds transparent communication, providing clients with clear guidance and detailed reports to keep them abreast of developments.
Qualified and Dedicated Team
Demonstrating a commitment to continuous improvement, Adecco Vietnam invests in its people and proudly holds certification as a Great Place to Work.
4. Robert Walters Vietnam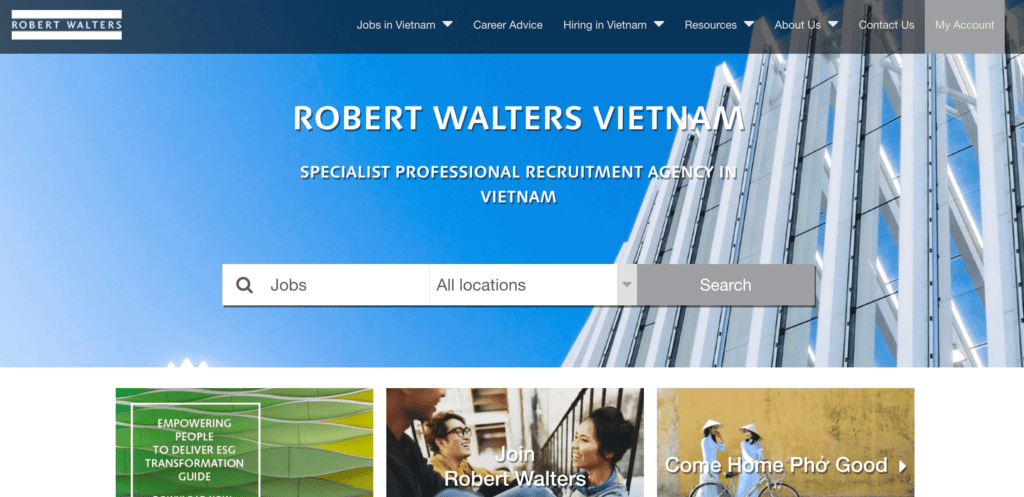 Nestled in the vibrant metropolis of Ho Chi Minh City, Robert Walters Vietnam stands as a distinguished entity specializing in permanent specialist recruitment, focusing on mid-level to senior positions across a spectrum of industries.
Positioned as one of the foremost international recruitment consultancies in Vietnam, Robert Walters meticulously identifies and secures highly qualified candidates for blue-chip companies, multinational corporations, and local enterprises spanning diverse sectors, including accounting and finance, supply chain, engineering, legal, human resources, technology and digital, sales and marketing, and technical healthcare.
Pinnacle of Recruitment Excellence
Strategically headquartered in Ho Chi Minh City, Robert Walters Vietnam has solidified its standing as a premier recruitment agency within the country.
A pivotal component of an international recruitment group spanning 31 countries globally, the agency specializes in ten critical areas of hiring: Accounting & Finance, Banking & Financial Services, Engineering, Human Resources, Legal, Marketing, Sales, Supply Chain, Procurement & Logistics, Technical Healthcare, and Tech & Transformation.
Elevating Professional Trajectories
With an unwavering focus on placing mid to senior-level professionals across diverse sectors, Robert Walters plays a pivotal role in driving the growth and success of organizations navigating Vietnam's fiercely competitive job market.
As a testament to its eminence, the agency is revered as Vietnam's leading recruitment authority, a status underscored by the consummate professionalism of its consultants, their steadfast dedication to candidates, and their nuanced insights into the dynamic job market landscape.
A Holistic Approach to Recruitment
Engaging with Robert Walters unfolds as a strategic move, offering manifold benefits.
The agency's consultants are not just adept recruiters; they are partners invested in the professional trajectories of their candidates and attuned to the pulse of the job market.
Their proficiency spans beyond mere placements, extending to insightful contributions that shape the contours of Vietnam's evolving professional landscape.
A Recommendation for Strategic Networking
For those navigating the intricate terrain of career transitions or organizations seeking to secure the right talent, Robert Walters emerges as a beacon of expertise.
The agency's consultants, epitomizing professionalism and market acumen, are invaluable allies in navigating the nuanced dynamics of the contemporary job market.
Seizing Opportunities with Robert Walters
Whether you are a professional exploring new horizons or a company keen on securing top-tier talent, seizing the opportunity to engage with Robert Walters and their seasoned consultants is not just a prudent move; it's a decisive step toward success.
Reach out to Robert Walters for a prompt and insightful conversation, and unlock the doors to a realm where strategic partnerships redefine the contours of career trajectories and organizational success.
5. Manpower Group Vietnam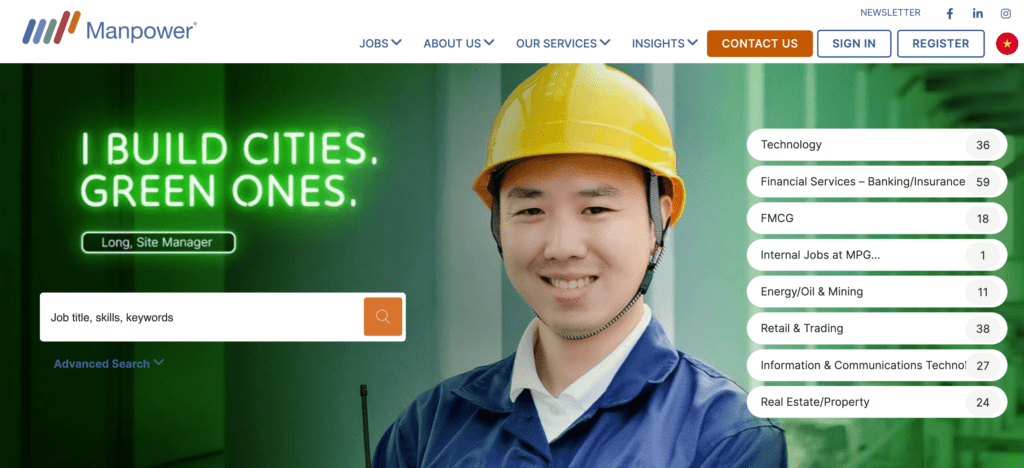 Established in 2008 with a significant infusion of 100% Manpower Group investment capital, Manpower Vietnam stands as a vanguard in delivering comprehensive labor solutions, HR consulting, and recruitment services.
Distinguished from conventional headhunters, Manpower's focus is uniquely honed, centering its expertise on staffing solutions within specific niche industries.
These encompass insurance, banking, pharmacy, manufacturing, hospitality, and food service, areas where Manpower has exhibited remarkable prowess, particularly in the placement of high-level professionals.
Pioneering Staffing Solutions
Manpower takes the helm as the industry leader in both contingent and permanent staffing, presenting a spectrum of staffing solutions designed to enhance business agility and foster competitiveness for organizations of varying sizes.
With a rich legacy spanning over 70 years and a global presence extending across more than 75 countries, Manpower has consistently demonstrated a commitment to shaping the employment sector.
Precision in Talent Delivery
Setting itself apart, Manpower excels in the art of talent delivery, orchestrating seamless matches between individuals and roles, expedited with a precision that yields superior business outcomes.
This success is underpinned by a profound understanding of staffing trends and a reservoir of highly qualified candidates that runs deep.
Niche Expertise
What distinguishes Manpower is its deliberate focus on niche industries.
By concentrating efforts on sectors such as insurance, banking, pharmacy, manufacturing, hospitality, and food service, Manpower has not only carved a niche for itself but has also emerged as a preferred choice for organizations seeking staffing solutions tailored to their unique demands.
Global Legacy
Rooted in a legacy that spans more than seven decades, Manpower's global footprint is a testament to its enduring impact on the employment landscape.
Operating in over 75 countries, the company's longevity underscores a sustained commitment to shaping the workforce dynamics on a global scale.
The Manpower Advantage
Manpower's advantage lies in its ability to swiftly and effectively match talent with opportunity, offering organizations a competitive edge in securing the right personnel for their specific needs.
This advantage is fortified by a profound comprehension of the evolving staffing landscape and an extensive reservoir of highly qualified candidates.
In the intricate tapestry of recruitment, Manpower emerges not merely as a service provider but as a strategic partner, guiding organizations towards unparalleled success through astute staffing solutions.
For those navigating the complexities of talent acquisition, Manpower's legacy of experience and global reach positions it as an invaluable ally in the pursuit of workforce excellence.
6. JAC Recruitment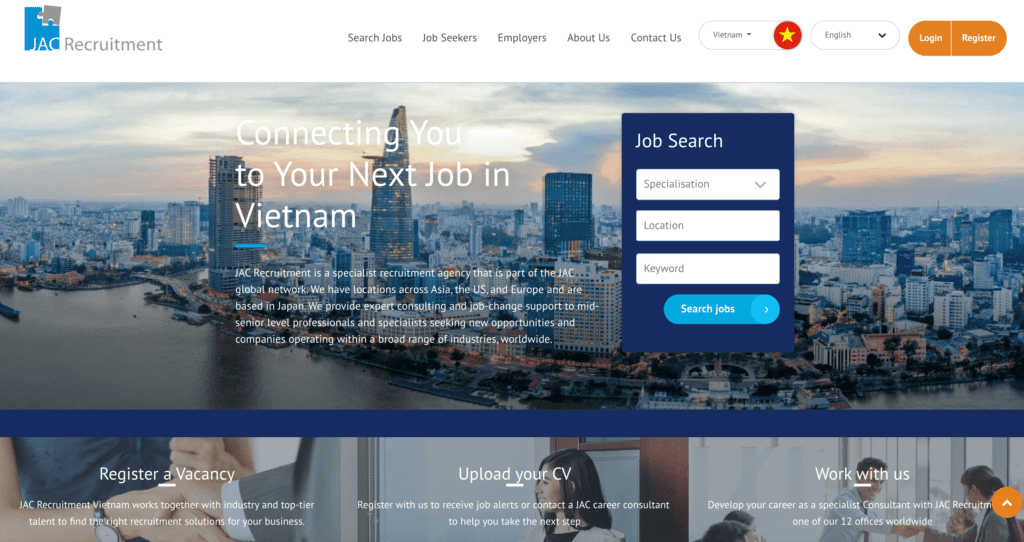 Situated as a pivotal entity in the recruitment realm of Vietnam, JAC Recruitment Vietnam, headquartered in the bustling Ho Chi Minh City, emerges as a formidable player with a distinctive footprint in the industry.
Since its inception in May 2013, the company has swiftly gained recognition nationwide, boasting two strategically positioned offices in Ho Chi Minh City and Hanoi City.
Specialized Expertise Across Key Sectors
JAC Recruitment Vietnam distinguishes itself through its expertise in six critical sectors: IT & Telecom, Engineering & Manufacturing, Construction, Hospitality & Tourism, SCM & Logistics, and Top-Level Management.
This nuanced specialization forms the cornerstone of the company's approach, ensuring the delivery of bespoke recruitment solutions finely attuned to the distinctive needs of each sector.
A Global Network of Influence
With a global footprint spanning 12 countries, JAC Recruitment harnesses the collective prowess of its 1,300 consultants.
These seasoned professionals serve as conduits of comprehensive consulting services, offering insightful guidance for career development to both individuals and companies aspiring to navigate new growth opportunities.
Unveiling JAC Recruitment's Unique Identity
A hallmark of JAC Recruitment's identity is its unwavering commitment to specialization, a trait that sets it apart in the recruitment landscape.
This focused approach enables the company to consistently provide top-tier recruitment solutions, a testament to its dedication to precision and excellence.
Professional Excellence in Vietnam
JAC Recruitment Vietnam's impact extends beyond its corporate roots, resonating throughout the country. The professional and dedicated consultants stationed in Ho Chi Minh City's Head Office, specifically at the 19th Floor of Doji Tower, 81-83-83B-85 Ham Nghi, District 1, Ho Chi Minh City, Vietnam, form dynamic teams that have become synonymous with specialist recruitment services in their respective regions.
Enduring Legacy of Success
Established on the premise of delivering excellence, JAC Recruitment Vietnam has carved a niche for itself in the dynamic Vietnamese job market. With a steadfast focus on IT & Telecom, Engineering & Manufacturing, Construction, Hospitality & Tourism, SCM & Logistics, and Top-Level Management, the company has become an indispensable ally for those seeking strategic personnel placement and career advancement.
In navigating the intricate landscape of career development and organizational growth, JAC Recruitment Vietnam stands as a beacon of expertise, steering individuals and companies alike toward unprecedented success.
With its legacy of professional excellence, global influence, and specialized approach, JAC Recruitment Vietnam continues to shape the contours of recruitment in Vietnam's dynamic professional arena.
7. JT1 Vietnam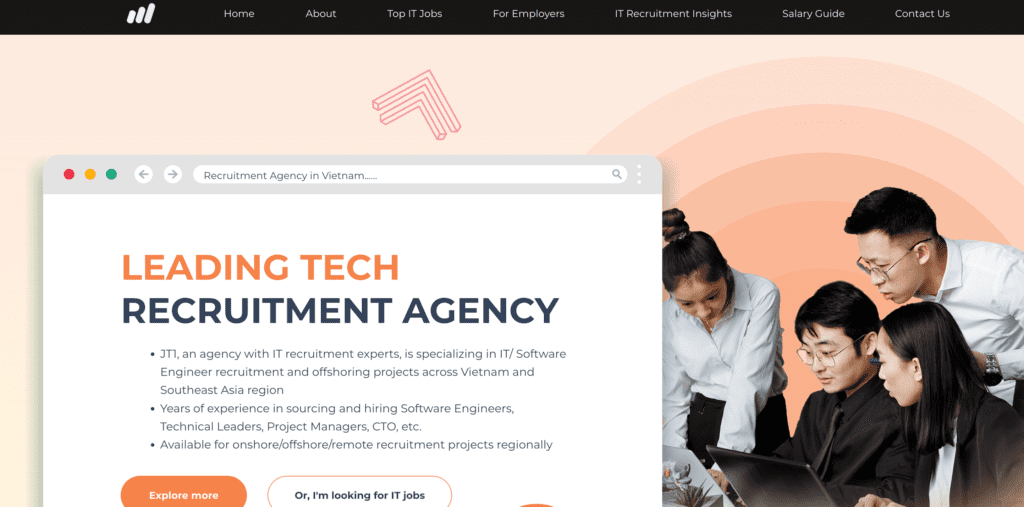 Founded in 2018, JT1 has swiftly ascended to the zenith as a premier outsourcing, payroll, and recruitment agency in Vietnam, showcasing an unwavering commitment to constant development and the delivery of optimal HR solutions tailored for diverse industries.
Pioneering HR Solutions
At the core of JT1's mission is the relentless pursuit of excellence in providing HR solutions.
Positioned as one of the top employment agencies in Vietnam, JT1 stands out by curating a pool of elite programmers, distinguished by their profound skills, extensive experience, and an unwavering enthusiasm for their craft.
This strategic approach positions JT1 as a key player in fostering seamless collaborations between domestic and international businesses, facilitating the integration of exceptional Vietnamese talent into a myriad of work cultures.
Candidate-Centric Approach
What sets JT1 apart is not merely the act of matching candidates with opportunities, but a dedicated commitment to the ongoing development and success of those they place.
The agency adopts a comprehensive approach, providing support to candidates at every stage, extending their assistance beyond the initial onboarding phase.
Ongoing Improvement for Partner Interests
JT1 places paramount importance on the continual enhancement of its operations, a commitment forged to safeguard the best interests of its partners.
This relentless pursuit of excellence has firmly established JT1 as one of the most reliable entities within the realm of recruitment companies in Vietnam.
Specialized Expertise
JT1's areas of specialization extend across crucial domains:
Software Engineer Recruitment: JT1 excels in the recruitment of software engineers, leveraging a discerning eye for talent and a meticulous understanding of the evolving tech landscape.
Manpower Augmentation/Staffing/BOT: Offering a strategic approach to manpower augmentation, staffing, and Build-Operate-Transfer (BOT) solutions, JT1 contributes to the seamless scaling of workforce resources.
Payroll: With a dedicated focus on payroll management, JT1 ensures precision and efficiency in handling the intricate financial aspects of human resource management.
In essence, JT1 emerges as a dynamic force in the Vietnamese recruitment landscape, characterized by its commitment to excellence, candidate-centric ethos, ongoing improvement initiatives, and a specialized portfolio that resonates with the evolving needs of the business ecosystem.
For those seeking reliability and strategic HR solutions, JT1 undoubtedly stands as a beacon among recruitment companies in Vietnam.
8. Navigos Search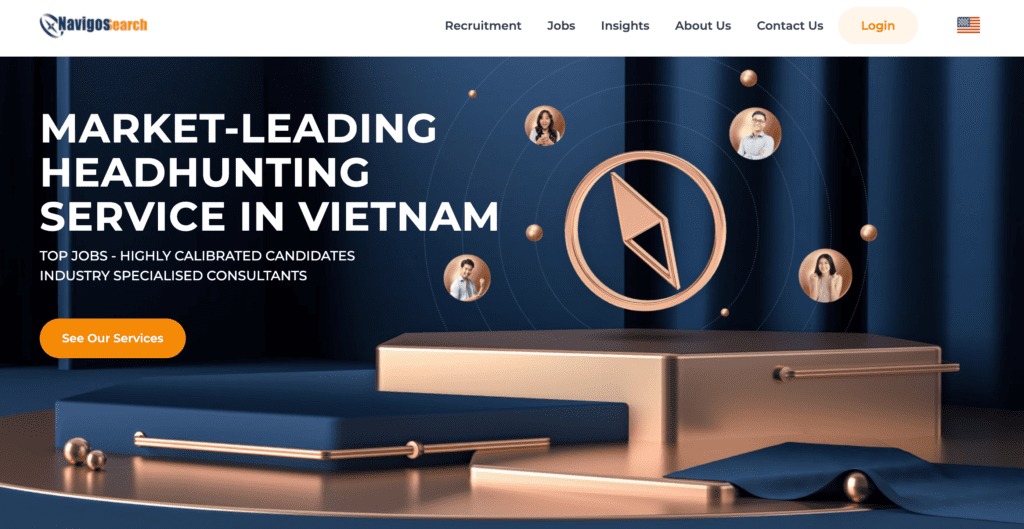 In the realm of professional recruiting services, Navigos Group emerges as a stalwart corporation dedicated to realizing the dreams of individuals and companies alike.
At the helm of this commitment are the leading brands in Vietnam's recruitment landscape, notably VietnamWorks—an online recruitment portal—and Navigos Search, recognized as Vietnam's preeminent service for middle and high-level talent recruitment.
Pinnacle of Recruitment Expertise
With two decades of unwavering operation in Vietnam, Navigos Group, particularly through Navigos Search, boasts the most substantial and comprehensive candidate database—a testament to its enduring influence.
The cornerstone of their success lies in a robust service culture and a management philosophy centered on people, attributes that have firmly positioned them as the foremost recruiting service provider since their establishment in 2002.
Navigos Search: A Beacon of Executive Search
Established in 2003, Navigos Search stands as the leading and largest provider of Executive Search Services and HR Solutions in Vietnam.
The suite of talent acquisition solutions spans contingent permanent recruitment, retained executive search, recruitment process outsourcing, and management consultancy.
A Commitment to Dreams
Navigos Group, underpinning its operations with the mission of helping people and companies achieve their dreams, goes beyond the conventional role of a recruitment partner. Instead, they position themselves as catalysts for success, embodying their mission in every facet of their existence.
Core Values as Pillars of Excellence
Staying true to their five core values—WOW Service, Improve It, Own It, Straight Talk, and Integrity—Navigos Group has consistently delivered exceptional service to both job-seekers and recruiting companies since their inception.
En-Japan Collaboration: A Vision for Holistic Support
As part of en-japan, an international powerhouse with profound expertise in HR and recruitment, Navigos Group has embraced the unique 3E method—Employment, Education, and Evaluation.
While currently dominating the employment sector in Vietnam, the organization is actively incorporating Education and Evaluation aspects to complete this holistic method. Termed "success after joining," this visionary approach reflects their commitment to supporting professionals and companies at all stages of recruitment, extending into the post-recruitment development journey.
Navigos Group, guided by this visionary trajectory, not only envisions organizational development but also aims to make a substantial and meaningful contribution to the Vietnamese labor market.
In every facet, they embody their commitment to being not just recruiters but catalysts for lasting success.
Conclusion
In the dynamic and competitive professional landscape of Ho Chi Minh City, Vietnam, navigating the complexities of talent acquisition is a strategic imperative for businesses aiming to thrive.
As we conclude our exploration of the "Top 8 Best Recruitment Agencies in Ho Chi Minh City, Vietnam," it becomes abundantly clear that the right partnership can redefine the trajectory of your hiring endeavors.
The recruitment agencies highlighted in this comprehensive guide stand as beacons of expertise, each contributing a unique blend of industry knowledge, global reach, and specialized services to cater to the diverse needs of businesses in this thriving metropolis.
1. 9cv9: The Leading Champion of Recruitment
9cv9, based in Ho Chi Minh City, Vietnam, emerges as a prominent recruitment agency, serving as a pivotal link between employers and job seekers in the dynamic professional landscape of the country. With an extensive network encompassing over 4,000 employers and users, 9cv9 stands as a go-to platform for businesses seeking top-tier talent and individuals exploring diverse career opportunities.
2. Michael Page Vietnam: Setting the Standard for Excellence
Michael Page Vietnam emerges as a powerhouse, not just in recruitment but as a holistic career consultant. With a legacy of global presence and industry-specific insights, Michael Page is synonymous with quality, excellence, and a consultative approach that transcends the conventional realms of hiring.
3. Adecco Vietnam: Bridging Global Resources with Local Expertise
Adecco Vietnam stands at the crossroads of global influence and local sensitivity, offering a 360° solutions ecosystem. Boasting a strong brand identity, transparent communication, and a commitment to compliance, Adecco emerges as a trusted ally for businesses navigating the intricate landscape of human resource management.
4. Robert Walters Vietnam: Precision in Placements Across Diverse Sectors
In the realm of specialized recruitment, Robert Walters Vietnam takes center stage. With a consultative approach, a global network, and a focus on placing mid to senior-level professionals, Robert Walters is instrumental in shaping the growth and success of organizations across varied sectors.
5. JAC Recruitment Vietnam: Niche Expertise and Global Prowess
JAC Recruitment Vietnam's prowess lies in its niche expertise across key sectors, coupled with a global network that harnesses the collective strength of its consultants. As a dynamic force, JAC Recruitment is committed to steering individuals and companies towards unprecedented success in Vietnam's professional landscape.
6. JT1: Strategic HR Solutions and Unparalleled Talent Delivery
In the realm of outsourcing, payroll, and recruitment, JT1 is a rising star, marked by its strategic approach to talent delivery and ongoing improvement initiatives. With a focus on specialized expertise, JT1 positions itself as a partner for success, offering bespoke solutions finely attuned to the evolving needs of businesses.
7. Manpower Vietnam: Industry Specialists Driving Operational Excellence
Manpower Vietnam, with a deliberate focus on industry specialization, exemplifies operational excellence. A trusted name in contingent and permanent staffing, Manpower's approach to talent acquisition is characterized by precision, efficiency, and a dedication to safeguarding the best interests of its partners.
8. Navigos Search: Executive Search Excellence and a Commitment to Dreams
Navigos Search emerges as a beacon of executive search excellence and comprehensive HR solutions. With a commitment to realizing dreams, Navigos Search's strategic approach encompasses contingent permanent recruitment, retained executive search, recruitment process outsourcing, and management consultancy.
In the mosaic of recruitment agencies in Ho Chi Minh City, each entity showcased in this guide brings a unique set of strengths to the table.
As businesses embark on the journey of engaging recruitment agencies for their hiring needs, the key lies in understanding their distinctive offerings and aligning them with organizational objectives.
Whether it's industry specialization, global reach, consultative prowess, or a commitment to ongoing improvement, the right recruitment partner can be a catalyst for organizational success in this vibrant Vietnamese business landscape.
Choosing from the top 8 agencies highlighted here is not just a strategic move; it's an investment in the future growth and prosperity of your business.
If your company needs HR, hiring, or corporate services, you can use 9cv9 hiring and recruitment services. Book a consultation slot here, or send over an email to [email protected].
If you find this article useful, why not share it with your hiring manager and C-level suite friends and also leave a nice comment below?
We, at the 9cv9 Research Team, strive to bring the latest and most meaningful data, guides, and statistics to your doorstep.
To get access to top-quality guides, click over to 9cv9 Blog.
People Also Ask
How much is the recruitment fee in Vietnam?
Recruitment fees in Vietnam vary, typically ranging from 15% to 30% of the candidate's first-year gross salary. The exact percentage depends on the complexity of the role, the industry, and the specific services offered by the recruitment agency.
How to hire talents in Ho Chi Minh City, Vietnam?
To hire talents in Ho Chi Minh City, Vietnam, engage reputable recruitment agencies, utilize online job portals such as 9cv9, attend industry events, and leverage professional networks. Clearly define job requirements, offer competitive packages, and understand local employment laws for a successful recruitment process.
Where to hire talents in Ho Chi Minh City, Vietnam?
Hire talents in Ho Chi Minh City, Vietnam, through leading recruitment agencies like 9cv9 Vietnam, Adecco Vietnam, and Navigos Group. Utilize online platforms such as 9cv9 and attend industry events for networking. Tap into local universities and professional networks for a diverse talent pool.
Was this post helpful?
Let us know if you liked the post. That's the only way we can improve.