Key Takeaways
Streamline your hiring process with the top 10 recruitment agencies in Vietnam, ensuring access to a vast network of top talent.
Benefit from industry expertise and market insights provided by these agencies to make strategic hiring decisions.
Partnering with these agencies can save time and resources while finding the best candidates to drive your business success in Vietnam.
---
In today's highly competitive business landscape, recruiting and retaining top-tier talent is paramount for any organization's success.
With the rapid economic growth and flourishing job market in Vietnam, employers face the challenge of navigating a sea of candidates to identify the most qualified professionals who can drive their businesses forward.
This is where recruitment agencies play a pivotal role, acting as catalysts in connecting employers with exceptional talent.
Welcome to our comprehensive guide to the top 10 recruitment agencies in Vietnam for employers.
Whether you are a multinational corporation or a small and medium-sized enterprise (SME), partnering with a reputable recruitment agency can streamline your hiring process, save valuable time and resources, and ensure access to a pool of qualified candidates.
In this blog post, we will delve into the intricacies of Vietnam's recruitment industry and present an exclusive list of the most reliable and proficient recruitment agencies in the country.
By combining our extensive research with SEO optimization, we aim to provide you with valuable insights and in-depth information about these agencies, empowering you to make informed decisions when it comes to talent acquisition.
Before we embark on this journey, let's take a moment to understand why outsourcing your recruitment needs to specialized agencies in Vietnam can be a game-changer for your organization.
Expertise in Local Talent Market: Vietnam boasts a vibrant workforce, comprising highly skilled professionals across diverse industries. However, tapping into this talent pool can be a daunting task for employers unfamiliar with the local market. Recruitment agencies possess an in-depth understanding of Vietnam's employment landscape, enabling them to identify and attract candidates who possess the right skills, experience, and cultural fit for your organization.
Time and Cost Efficiency: Navigating the recruitment process from sourcing candidates to conducting interviews and background checks can be time-consuming and resource-intensive. Engaging the services of a recruitment agency allows you to focus on your core business activities while the agency takes care of the intricate hiring details. By leveraging their expertise, agencies streamline the recruitment process, saving you valuable time and costs associated with advertising, candidate screening, and onboarding.
Access to a Wide Talent Network: One of the key advantages of partnering with recruitment agencies is gaining access to their extensive talent networks. These agencies have built robust relationships with a diverse range of candidates, from fresh graduates to seasoned professionals, ensuring a wider pool of potential hires. With their established networks, agencies can connect you with the most suitable candidates, even those who might not be actively seeking new opportunities.
Confidentiality and Discretion: In certain cases, employers may require confidentiality during the recruitment process, especially when seeking candidates for sensitive positions or when handling internal restructuring. Recruitment agencies offer a layer of confidentiality, ensuring that your recruitment activities remain discreet and your organization's reputation remains intact.
Now that we have explored the benefits of engaging recruitment agencies, let us unveil the top 10 recruitment agencies in Vietnam that have consistently proven their excellence in talent acquisition.
Our list encompasses agencies that have demonstrated exceptional performance, robust industry knowledge, extensive networks, and a track record of successfully matching employers with top talent.
Stay tuned as we dive into the details of each agency, providing an overview of their core competencies, specialized industries, and unique approaches to talent acquisition.
From established industry leaders to emerging players, we will present a diverse range of recruitment agencies that cater to various sectors and organizational needs.
Embark on this enlightening journey with us as we unveil the top 10 recruitment agencies in Vietnam, allowing you to make informed decisions when it comes to choosing the right partner for your talent acquisition endeavors.
Let's discover the gateway to exceptional talent together.
What are Recruitment Agencies and their importance to the hiring employer
Recruitment agencies are organizations that specialize in finding and matching job candidates with job openings for employers.
They serve as a middleman between employers and job seekers, helping to streamline the hiring process and ensure that the best candidates are selected for the job.
For more information on what recruitment agencies do, read our latest article "What Do Recruitment Agencies Do? (And Tips for Choosing One)".
For employers, recruitment agencies offer a number of benefits.
First and foremost, they save time and resources in the hiring process.
Rather than having to sift through hundreds of resumes and conduct multiple rounds of interviews, employers can rely on recruitment agencies to do the initial screening and present them with a shortlist of qualified candidates.
Recruitment agencies also have access to a wider pool of candidates than many employers do.
They often have extensive networks and databases of job seekers, and they may have partnerships with universities or training centers to source candidates with specific skills or backgrounds.
In addition, recruitment agencies can help employers to navigate the complexities of the hiring process, including legal requirements and best practices.
They can advise on issues such as salary negotiation and employee benefits and can ensure that the hiring process is fair and transparent.
Conversely, we never encourage companies to just rely on internal recruiters as that will be shortchanging themselves and exposing themselves to hiring risks.
Overall, partnering with a recruitment agency can be a smart move for employers who want to find the right talent quickly and efficiently, while minimizing the costs and risks associated with the hiring process.
So, without further ado, let's dive into the profiles of the top 10 recruitment agencies in Vietnam and discover how they can revolutionize your hiring process, bringing exceptional talent to your doorstep.
Top 10 Recruitment Agencies in Vietnam For Employers to Use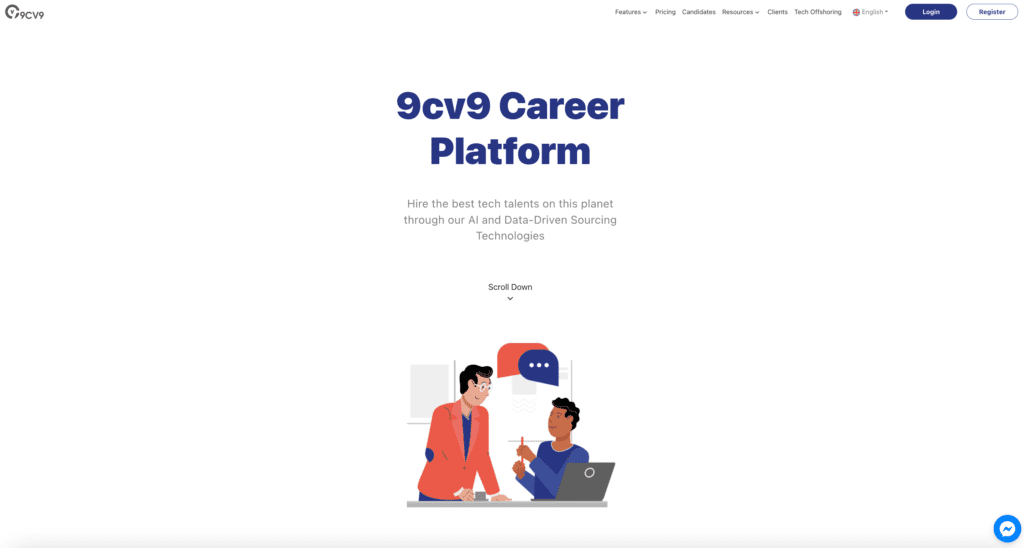 If you are hiring urgently, and are looking for one of the best recruitment agencies and headhunters in Vietnam, then look no further than 9cv9.
(Humble brags coming)
9cv9 partners with some of the top job boards to also push your hiring to, at no additional costs.
In addition, 9cv9 uses HR technologies to drive top talent acquisition for 3,500+ companies so far.
Its sister brands are Jobsrefer, a decentralized HR system connecting your hiring posts to 14,000+ recruiters and freelance referrers in the world, and UrbanCV, a modern CV Builder that has over 13,000+ top CVs on it so far and growing rapidly per day.
9cv9 is one of Asia's biggest HRtech companies in Vietnam.
9cv9 is also endorsed by Enterprise Singapore (of the Government of Singapore) for the latter's GTTA program.
For more information on tech offshoring, please inquire here.
Further, 9cv9 is heavily reviewed and approved by third-party review sites as well. If you do not believe it, have a read here at GroveHR on the 20+ most popular job posting sites in Southeast Asia.
Reviews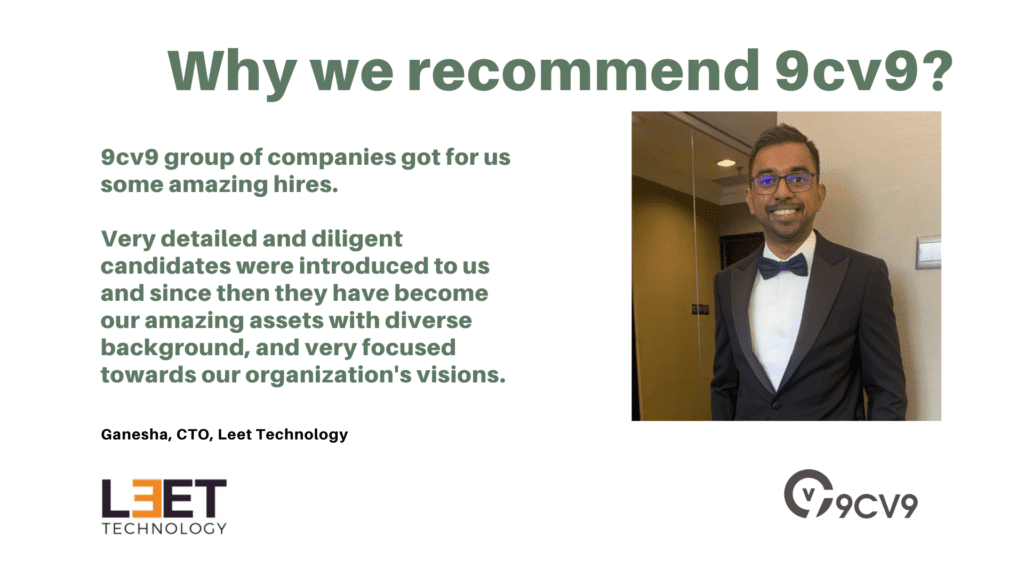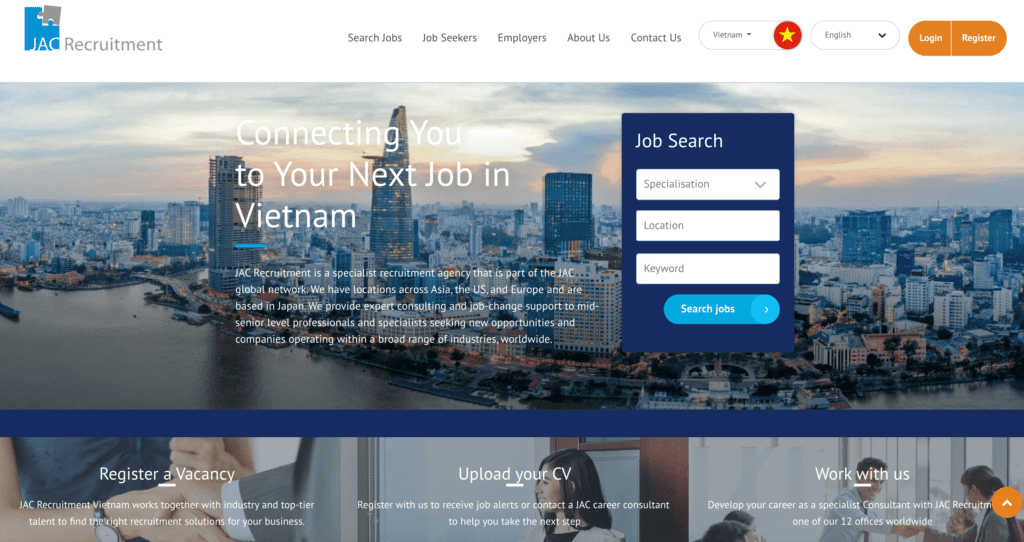 Since its establishment in May 2013, JAC Recruitment Vietnam has emerged as a prominent player in the country's recruitment landscape.
With offices strategically located in Ho Chi Minh City and Hanoi City, this esteemed agency has garnered a strong reputation for its exceptional services.
Led by a team of dedicated and experienced consultants, JAC Recruitment Vietnam specializes in offering tailored recruitment solutions across a diverse range of industries, ensuring that employers find the right talent for their organizations.
Areas of Specialization:
JAC Recruitment Vietnam has carved a niche for itself by focusing on several key sectors.
Their expertise extends to the following domains:
IT & Telecom: Recognizing the ever-growing importance of the technology sector, JAC Recruitment Vietnam has established a strong foothold in IT and Telecom recruitment. From software developers to network engineers, their team excels at identifying top-tier talent in this dynamic field.
Engineering & Manufacturing: With Vietnam's flourishing manufacturing sector, JAC Recruitment Vietnam stands out as a trusted partner in sourcing skilled professionals for engineering and manufacturing roles. Their consultants possess in-depth knowledge of this industry, enabling them to identify candidates with the right technical expertise and industry-specific experience.
Construction: The construction industry in Vietnam has witnessed rapid growth, creating a demand for specialized talent. JAC Recruitment Vietnam's consultants understand the nuances of the construction sector, catering to the needs of employers seeking professionals such as architects, project managers, and civil engineers.
Hospitality & Tourism: Vietnam's vibrant hospitality and tourism industry requires exceptional individuals who can provide outstanding customer experiences. JAC Recruitment Vietnam recognizes this demand and excels in sourcing qualified candidates for roles in hotels, resorts, travel agencies, and other related sectors.
SCM & Logistics: Efficient supply chain management and logistics are crucial for businesses operating in today's global marketplace. JAC Recruitment Vietnam's consultants possess a deep understanding of this field, connecting employers with talented professionals in areas such as procurement, inventory management, and logistics operations.
Top Level Management: Recognizing the significance of effective leadership, JAC Recruitment Vietnam offers specialized services for top-level management recruitment. Their consultants meticulously evaluate the leadership qualities, industry experience, and strategic mindset of candidates, ensuring employers secure executives who can drive their organizations towards success.
By focusing on these key areas of specialization, JAC Recruitment Vietnam has established itself as a go-to agency for employers seeking outstanding professionals across various industries.
With their extensive networks and comprehensive understanding of the Vietnamese job market, they consistently deliver top-tier recruitment solutions to meet the unique needs of their clients.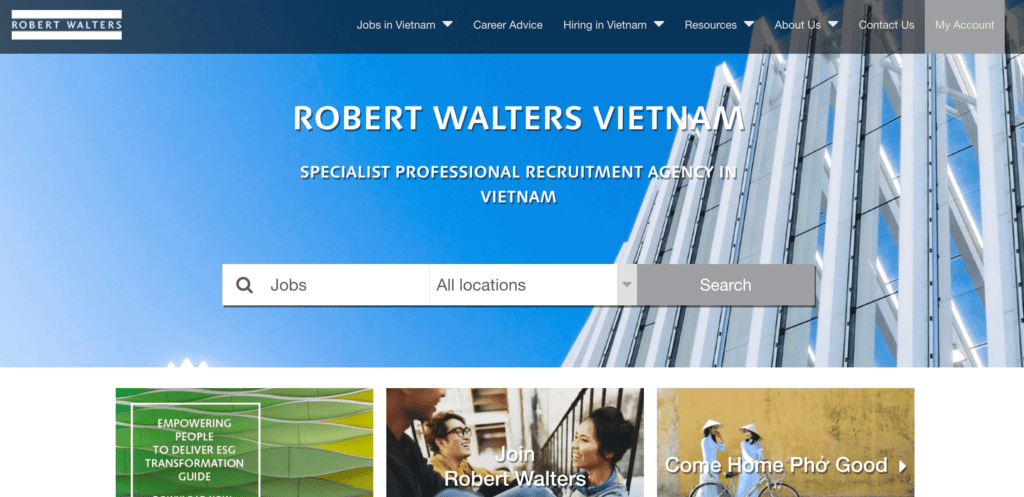 Operating from its headquarters in Ho Chi Minh City, Robert Walters Vietnam has established itself as a prominent player in the recruitment industry.
With a focus on permanent specialist placements for mid-level to senior positions, this agency offers a comprehensive range of services across various sectors.
As one of the largest international recruitment consultancies in Vietnam, Robert Walters Vietnam possesses the expertise and resources to connect employers with highly qualified professionals in areas such as accounting & finance, supply chain, engineering, legal, HR, Tech & Digital, sales & marketing, and technical healthcare.
Specialization and Expertise:
Accounting & Finance: Robert Walters Vietnam understands the critical role that finance professionals play in driving organizational success. With their in-depth industry knowledge, they source talented individuals with expertise in areas such as financial analysis, auditing, taxation, and corporate finance.
Supply Chain: In the ever-evolving world of supply chain management, Robert Walters Vietnam excels at identifying professionals who can optimize operations, streamline processes, and enhance overall efficiency. Their expertise extends to roles encompassing procurement, logistics, demand planning, and inventory management.
Engineering: Recognizing the importance of engineering talent in various industries, Robert Walters Vietnam is well-equipped to meet the recruitment needs of employers seeking skilled professionals in this field. Their consultants possess a deep understanding of engineering disciplines, ranging from mechanical and electrical engineering to civil and industrial engineering.
Legal: The legal landscape requires highly specialized professionals who can navigate complex regulations and provide sound advice to businesses. Robert Walters Vietnam has a dedicated team with expertise in legal recruitment, ensuring that employers gain access to qualified lawyers, legal counsels, and other legal professionals.
HR: Human resources is a critical function for any organization's success. Robert Walters Vietnam specializes in sourcing HR professionals who possess a comprehensive understanding of talent management, organizational development, employee relations, and HR strategy.
Tech & Digital: With the rapid advancement of technology, Robert Walters Vietnam recognizes the increasing demand for Tech & Digital professionals. They cater to the recruitment needs of employers seeking individuals with expertise in areas such as software development, data analytics, cybersecurity, and digital marketing.
Sales & Marketing: The success of any business relies heavily on effective sales and marketing strategies. Robert Walters Vietnam helps employers find sales and marketing professionals who can drive revenue growth, develop compelling marketing campaigns, and foster strong customer relationships.
Technical Healthcare: In the healthcare industry, Robert Walters Vietnam understands the importance of recruiting skilled healthcare professionals. From doctors and nurses to medical researchers and technicians, their consultants possess a thorough understanding of the technical healthcare field and its unique requirements.
As a leading international recruitment consultancy in Vietnam, Robert Walters Vietnam has a strong presence in Ho Chi Minh City.
Their specialization in permanent specialist placements across a wide range of industries allows them to cater to the diverse recruitment needs of employers.
With expertise in accounting & finance, supply chain, engineering, legal, HR, Tech & Digital, sales & marketing, and technical healthcare, they ensure that businesses have access to highly qualified professionals.
By connecting blue-chip firms, multinationals, and local firms with top-tier talent, Robert Walters Vietnam contributes to the growth and success of organizations in Vietnam's competitive job market.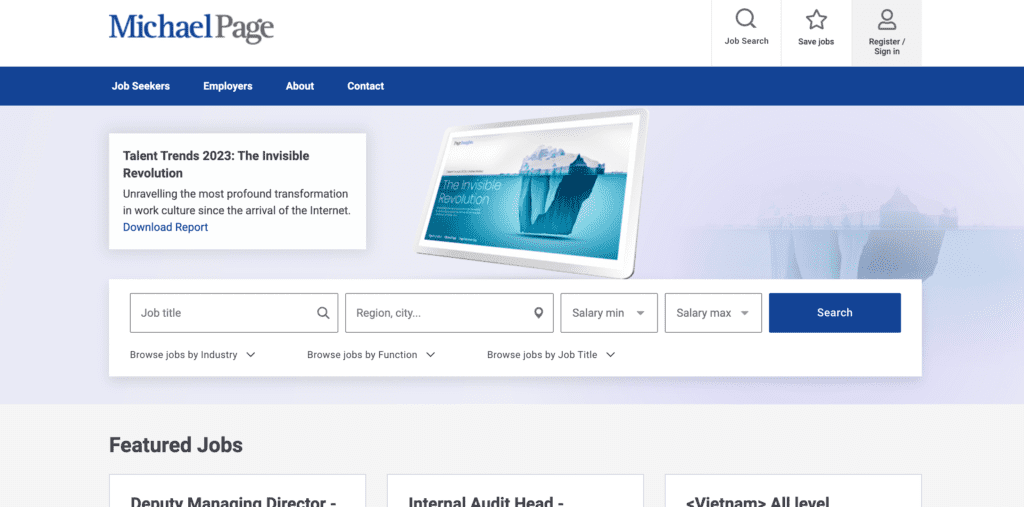 Michael Page, one of the foremost professional recruitment agencies in Vietnam, has built a reputation for facilitating connections between exceptional talent and some of the world's largest corporations.
Beyond their core function of headhunting, Michael Page also provides invaluable market insights across diverse sectors.
As Vietnam's e-commerce industry continues to experience rapid growth, the agency highlights the increasing demand for skill sets such as data analytics, digital transformation, and software engineering, particularly within the local startup ecosystem.
Market Insights and Expertise:
Vietnam's Booming E-commerce Industry: Recognizing the immense potential of Vietnam's e-commerce sector, Michael Page offers comprehensive market insights for this rapidly evolving industry. They understand the specific talent requirements and emerging skill sets necessary to thrive in the e-commerce landscape, enabling employers to secure candidates who possess the skills needed to drive success.
Sought-after Skill Sets: In Vietnam's dynamic job market, talent in data analytics, digital transformation, and software engineering is highly sought after. Michael Page has identified these skill sets as crucial for meeting the demands of local startups and other forward-thinking organizations. By understanding the evolving needs of employers, the agency can effectively match these sought-after professionals with the right opportunities.
Annual Salary Benchmark Guide: Michael Page's annual Salary Benchmark Guide offers in-depth insights into specific roles in high demand, sectors experiencing active hiring functions, and projected salary ranges for entry- to management-level staff. This invaluable resource equips companies with the information they need to adapt their recruitment strategies, ensuring they stay ahead of the curve and remain competitive in attracting top talent.
As a leading professional recruitment agency, Michael Page plays a vital role in connecting exceptional talent with prominent corporations in Vietnam.
Beyond their expertise in headhunting, they provide valuable market insights and industry-specific knowledge. With Vietnam's e-commerce industry experiencing rapid growth, the agency recognizes the increasing demand for skill sets such as data analytics, digital transformation, and software engineering, particularly within the local startup ecosystem.
By offering their annual Salary Benchmark Guide, Michael Page empowers employers to make informed decisions by providing deep insights into roles in demand, active hiring sectors, and projected salary ranges.
With their commitment to excellence and comprehensive industry knowledge, Michael Page helps businesses in Vietnam adapt their recruitment strategies and secure top talent to thrive in a highly competitive market.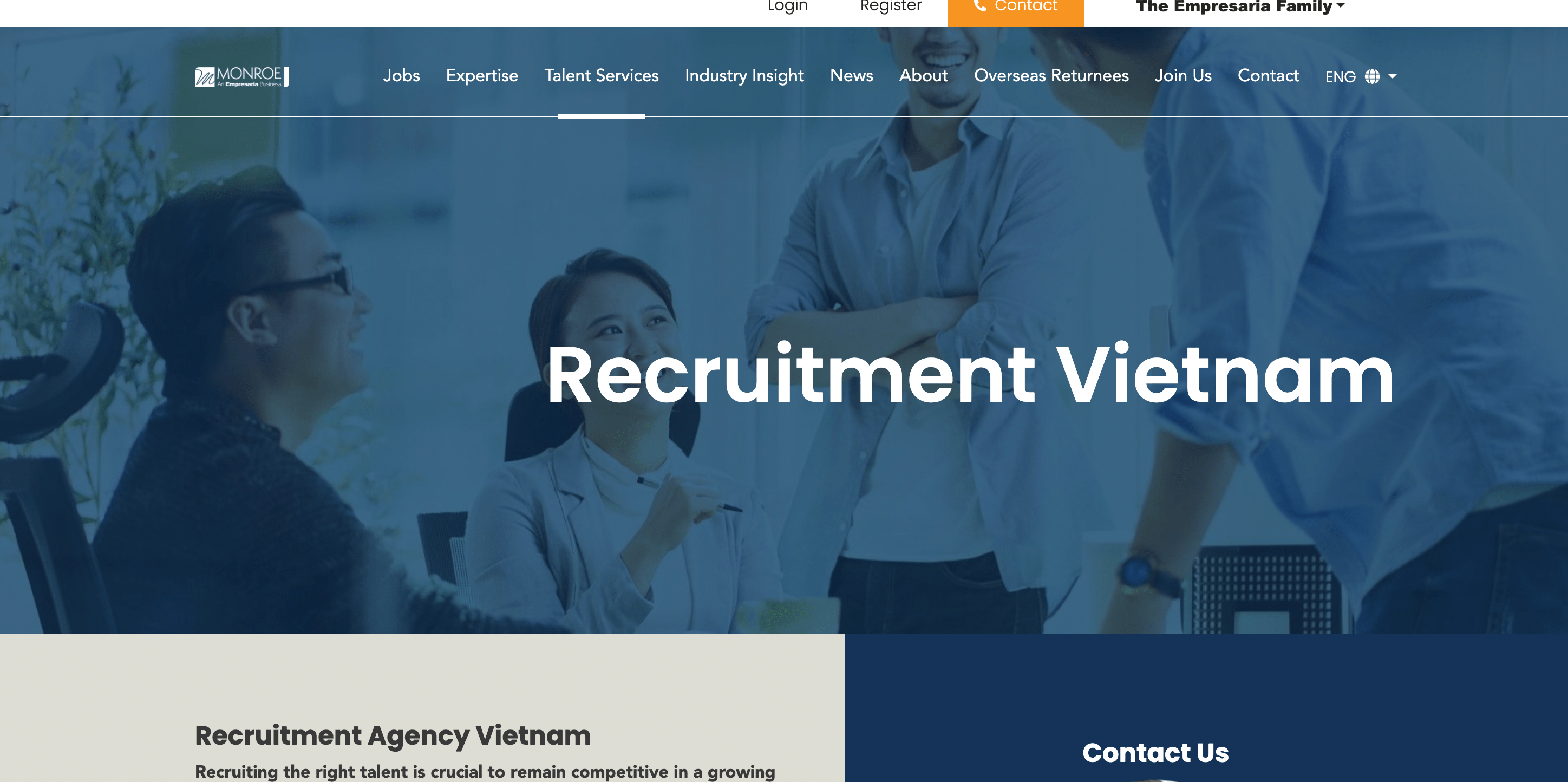 In the face of an increasingly competitive global marketplace, organizations recognize the significance of recruiting top talent to drive their success.
However, with candidates having more options than ever before, organizations must embrace innovative recruitment approaches to attract and retain sought-after professionals.
Vietnam, a country experiencing rapid growth, particularly in industries like information technology and e-commerce, demands strategic recruitment plans and partnerships to ensure organizations can secure the right individuals and accelerate their growth.
Monroe Consulting Vietnam, a reputable recruitment agency, is dedicated to meeting these evolving recruitment challenges and devising effective solutions that deliver the right candidates within the stipulated timeframe.
By leveraging the latest recruitment methods and technology, they craft sourcing strategies capable of identifying, qualifying, and placing candidates who will bring optimal value to your organization.
Recognizing the unique nature of each recruitment challenge, Monroe Consulting Vietnam's expert recruitment consultants develop a personalized approach for every project.
They meticulously consider the technical skills, experience, knowledge, and organizational fit required for each role.
This holistic approach ensures that the market is approached in a manner that garners maximum interest in the positions and fosters strong relationships with candidates throughout the recruitment process.
By prioritizing candidate experience and fit, Monroe Consulting Vietnam achieves a high retention rate among their hires, ensuring that candidates are well-prepared and equipped to excel in their new roles.
As the global marketplace becomes increasingly competitive, recruitment agencies play a pivotal role in helping organizations secure top talent.
In Vietnam, a country experiencing rapid growth across industries like information technology and e-commerce, the demand for skilled professionals is on the rise.
Monroe Consulting Vietnam excels at meeting these recruitment challenges head-on and developing effective solutions to deliver exceptional candidates within the expected timeframe.
Leveraging cutting-edge recruitment methods and technology, they design sourcing strategies that identify, qualify, and place candidates who bring significant value to organizations.
With a personalized and holistic approach, Monroe Consulting Vietnam ensures a high retention rate among their hires and fosters positive candidate experiences, ultimately contributing to the success and growth of their clients in Vietnam's thriving job market.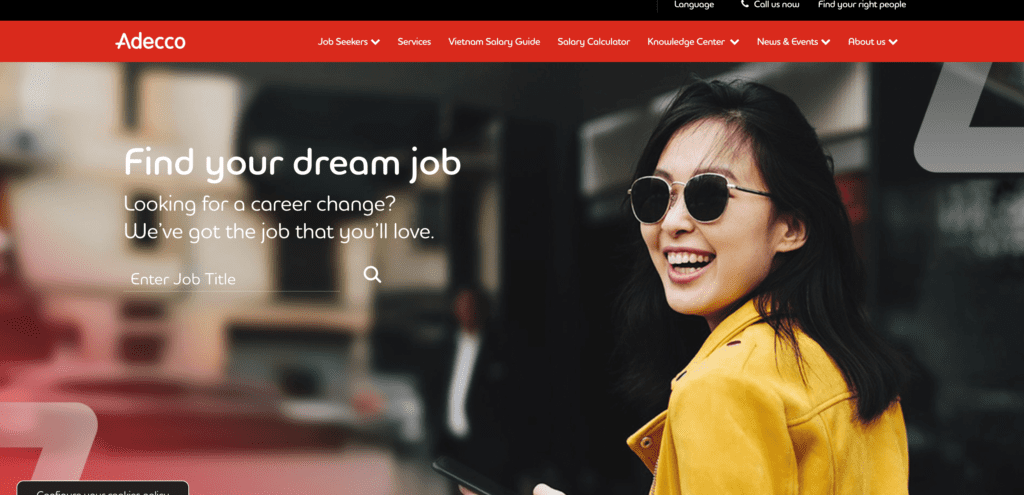 Adecco Vietnam, a prominent member of The Adecco Group, holds a leading position as the Payroll, Recruitment, and Headhunting Agency in Vietnam.
With a strong focus on providing comprehensive Human Resources solutions, Adecco Vietnam serves as a one-stop destination for all your HR needs.
Leveraging over 60 years of experience, The Adecco Group boasts a global presence with more than 30,000 dedicated employees in over 5,000 branches across 60 countries and territories worldwide.
Established in Vietnam in 2011, Adecco Vietnam has successfully guided numerous individuals towards exciting new career opportunities, while servicing over 550 clients spanning various industries.
Currently, the agency has approximately 5,000 associates actively applying their skills and expertise, facilitating around 5,000 payroll transactions each month, all delivered with 100% accuracy, compliance, and confidentiality.
Drawing from the extensive expertise gained on a global stage, coupled with a dedicated team of over 140 professionals, Adecco Vietnam is well-equipped to provide fully integrated HR solutions that support the development and growth strategies of organizations.
With a strong presence in both Ho Chi Minh City and Hanoi, the agency remains committed to connecting individuals with suitable job opportunities and facilitating smooth job placements.
Faro Vietnam, a prominent provider of human resource services, has garnered 17 years of experience in the field.
With a deep understanding of the Vietnamese market and legislation, the agency has successfully supported numerous clients over the years.
Faro Vietnam prides itself on delivering practical and compliant advice and solutions in a professional manner, offering clients peace of mind and freeing their hands to navigate the constantly evolving business environment in Vietnam.
At Faro Vietnam, the mission goes beyond delivering premier quality services.
The agency is dedicated to ensuring client satisfaction by providing comprehensive support that goes beyond the scope of the services they engage.
By offering added-value support, Faro Vietnam aims to exceed client expectations and establish long-term partnerships.
Faro Vietnam takes pride in its professional management team, comprising individuals with extensive knowledge and experience.
This team is highly committed to delivering comprehensive and flexible HR solutions tailored to the specific needs of clients in the local market.
Leveraging their deep understanding of Vietnamese market dynamics, Faro Vietnam's team is well-equipped to navigate the complexities of the business landscape and provide effective solutions to HR-related challenges.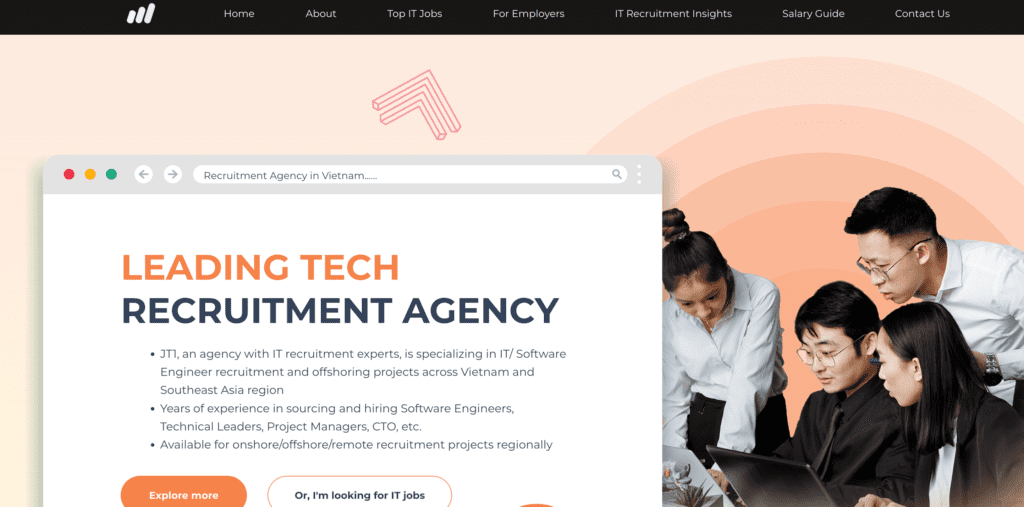 Established in 2016, JT1 has emerged as a leading recruitment, payroll, and outsourcing agency in Vietnam, dedicated to delivering optimal HR solutions across various industries.
With a strong focus on technology, JT1 leverages its exceptional experience to provide highly skilled and experienced programmers who demonstrate remarkable enthusiasm.
Every year, JT1 collaborates with both domestic and international enterprises to identify exceptional Vietnamese professionals who possess the ability to adapt to diverse work cultures.
Furthermore, JT1 is committed to ensuring a seamless experience for the candidates it matches, providing ongoing support even after the onboarding process.
As a company, JT1 places a strong emphasis on continuous improvement, constantly striving to uphold the best interests of its partners.
The agency's professional consultant team is dedicated to putting their skills to work, processing payroll transactions each month with a commitment to punctuality, compliance, and maintaining 100% confidentiality.
With unwavering confidence, JT1 positions itself as the optimal choice that can lead to your success.
By leveraging their expertise and industry knowledge, combined with their commitment to delivering exceptional HR solutions, JT1 stands ready to support businesses in achieving their goals and objectives.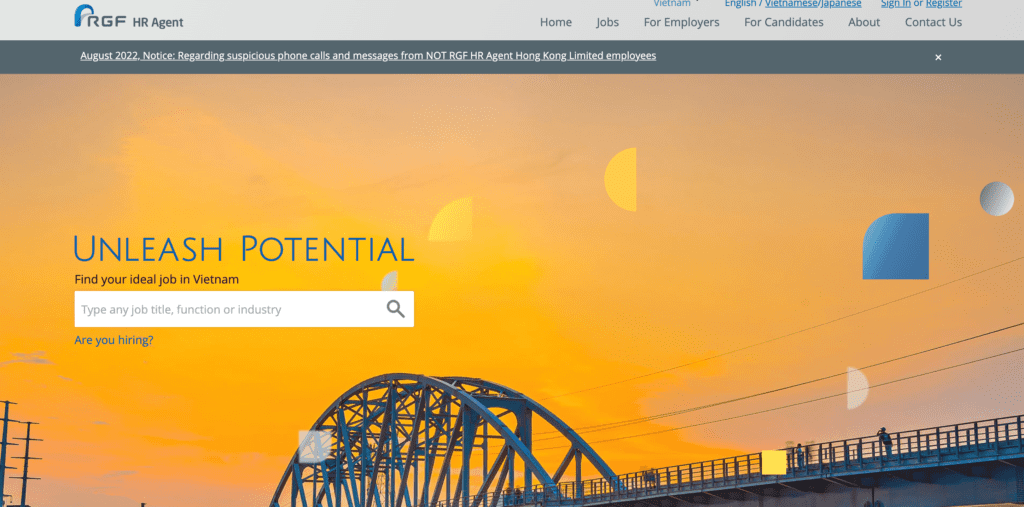 RGF, which stands for RECRUIT GLOBAL FAMILY, is a globally recognized brand affiliated with Recruit Holdings Co., Ltd., Japan's largest recruiting and information service company.
This brand was established to capitalize on over 50 years of industry experience and an extensive business network held by Recruit Group, aiming to bring new opportunities to clients across the region.
Within the RGF brand, RGF HR AGENT serves as the business entity responsible for general recruitment services.
The agency offers total human resource solutions to clients, covering all stages of staff placement, including evaluation, remuneration, and staff training.
Simultaneously, RGF HR AGENT assists job-seekers in finding suitable positions based on their individual preferences and experiences.
Beyond full-time staff recruitment, the agency also provides support services for Recruitment Process Outsourcing (RPO) and contract-based/temporary recruitment needs.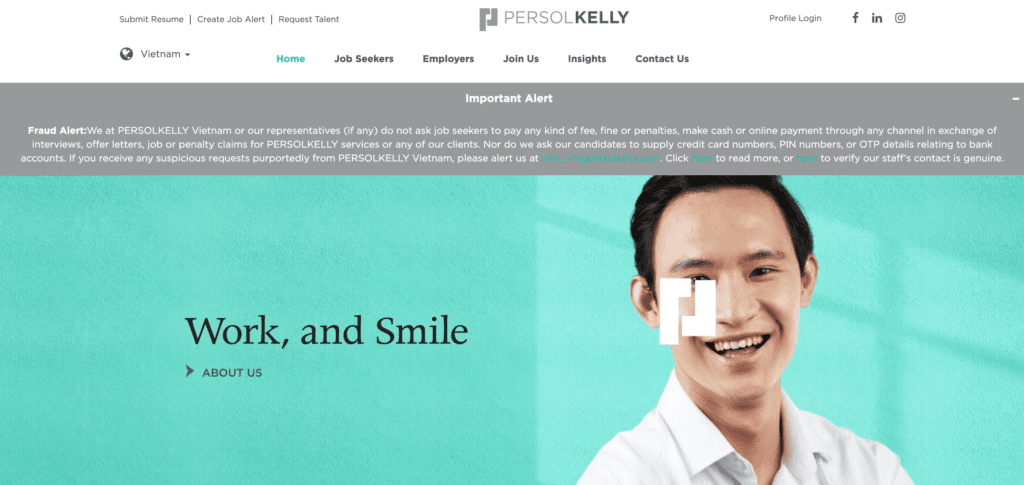 In the ever-evolving world of work, businesses need to adapt and stay ahead to thrive.
PERSOLKELLY recognizes this need and offers the strength and support of an organization that has a proven track record of delivering exceptional results and seamless experiences for partners across 13 markets in the Asia Pacific region.
PERSOLKELLY takes pride in being a pioneer in Vietnam's recruitment landscape, with a history spanning over 20 years.
As one of the first recruitment firms to establish its presence in the country, the company operates from both Ho Chi Minh City and Hanoi, strategically positioned to cater to the diverse needs of clients.
With a team of over 130 proactive problem-solvers, PERSOLKELLY is equipped to tackle any workforce challenge that arises.
At PERSOLKELLY, clients are the top priority.
The company operates with the mindset that whatever the workforce challenge may be, addressing and resolving it becomes their utmost focus.
With nine specialized teams of consultants, PERSOLKELLY combines industry expertise with human insight to provide comprehensive solutions across various sectors.
By leveraging their in-depth knowledge and understanding of specific industries, the team at PERSOLKELLY empowers clients to achieve more and reach their goals.
PERSOLKELLY offers a reliable and experienced partner for businesses seeking to navigate the dynamic world of work.
With their established presence in Vietnam, a dedicated team of problem-solvers, and specialized industry knowledge, PERSOLKELLY is committed to delivering superior results and helping clients overcome their workforce challenges.
By choosing PERSOLKELLY, businesses gain a strategic advantage and the assurance of working with a trusted recruitment partner.
Conclusion
When it comes to finding the right talent for your organization in Vietnam, partnering with a reputable and reliable recruitment agency can make all the difference.
In this blog post, we have highlighted the top 10 recruitment agencies in Vietnam that employers can confidently rely on for their hiring needs.
These agencies have proven track records, extensive networks, and industry expertise to connect employers with top-notch candidates across various sectors.
From established agencies like 9cv9 Vietnam and Michael Page Vietnam to emerging players like Monroe Consulting Vietnam and Adecco Vietnam, each agency brings unique strengths and specializations to the table.
Whether you are in need of IT professionals, engineering experts, finance and accounting specialists, or sales and marketing talents, these agencies have dedicated consultants who understand the local market and can deliver tailored solutions.
Furthermore, agencies like Faro Vietnam, JT1, RGF HR Agent Vietnam, 9cv9, and PERSOLKELLY Vietnam offer comprehensive HR services, including payroll management, outsourcing, and recruitment process outsourcing (RPO), providing employers with end-to-end solutions for their human resource needs.
With their deep understanding of the Vietnamese market, these agencies can assist employers in navigating the intricacies of local regulations and attracting the right talent.
Moreover, the expertise and services offered by these top recruitment agencies go beyond candidate sourcing.
They provide valuable market insights, salary benchmarking guides, and industry trends, helping employers stay informed and make strategic decisions in their recruitment strategies.
By leveraging their vast networks, these agencies can connect employers with passive candidates who may not be actively seeking job opportunities but possess the desired skills and experience.
When selecting a recruitment agency, it is essential to consider factors such as industry expertise, track record, client testimonials, and the agency's ability to understand your specific hiring requirements.
Additionally, look for agencies that prioritize communication, transparency, and a client-centric approach to ensure a seamless and productive partnership.
In a rapidly evolving job market, finding the right talent is crucial for business success.
By partnering with one of these top recruitment agencies in Vietnam, employers can save time, resources, and ensure access to a pool of qualified candidates.
Whether you are a multinational corporation or a local startup, these agencies offer the expertise and resources to streamline your recruitment process and connect you with the talent that will drive your organization's growth.
By leveraging the services of the top recruitment agencies in Vietnam, employers can tap into a vast network of professionals, gain access to market insights, and ultimately find the perfect candidates to fuel their success in the dynamic business landscape of Vietnam.
So, take the leap and collaborate with one of these leading recruitment agencies to elevate your hiring efforts and propel your organization toward new heights.
If your company needs HR, hiring, or corporate services in Vietnam, you can use 9cv9 hiring and recruitment services in Vietnam. Book a consultation slot here, or send over an email to [email protected].
If you find this article useful, why not share it with your hiring manager and C-level suite friends and also leave a nice comment below?
We, at the 9cv9 Research Team, strive to bring the latest and most meaningful data, guides, and statistics to your doorstep.
To get access to top-quality guides, click over to 9cv9 Blog.
People Also Ask
How to find the best recruitment agency in Vietnam?
To find the best recruitment agency in Vietnam, consider factors like industry specialization, track record, client reviews, and range of services offered. Look for agencies with a strong network, market knowledge, and a proactive approach. Assess their expertise, communication, and cultural understanding to make an informed choice for successful hiring.
How do recruitment agencies in Vietnam work?
Recruitment agencies in Vietnam work by connecting employers with qualified candidates. They source, screen, and assess potential candidates based on client requirements. Agencies use their networks, advertise job openings, conduct interviews, and present shortlisted candidates to clients. They facilitate the hiring process, negotiate offers, and provide ongoing support for a seamless recruitment experience.
What are the steps to employ a recruitment agency in Vietnam?
Employing a recruitment agency in Vietnam involves several steps. First, define your hiring needs and criteria. Research and shortlist reputable agencies based on expertise and track record. Contact the selected agencies, discuss your requirements, and evaluate their services. Finally, select the agency that aligns with your needs, sign a contract, and collaborate closely throughout the recruitment process.
Was this post helpful?
Let us know if you liked the post. That's the only way we can improve.