Candidates and jobseekers often lament on how hard it is to find jobs, especially during in the Covid19 pandemic period. Instead of looking for jobs at job boards or on Linkedin, why not harass the power of social media to post your personal profile, and thereafter, get your friends and ex-colleagues to share and support your job finding journey?
In this article, we will talk about 9cv9 latest new feature: Profile Sharing.
How it works?
1) Login to your Candidate Account here.
2) Next click to your Profile.
3) At the top right hand corner, there is a button "Share Profile". Click on it and you will see these options:
There are 4 different ways you can share your profile:
Shortlink: Click on the Shortlink field, and it will be copied to your clipboard for pasting usage anywhere and everywhere. Some use cases can be pasting directly on any social media platforms such as "Facebook" or "Linkedin" whereby their social graphs can extract your meta picture, meta title and meta description (we will explain on each of them below).
Facebook: Directly connecting to Facebook and posting your profile there
Linkedin: Directly connecting to Facebook and posting your profile there
Twitter: Directly connecting to Twitter and posting your profile there
An example post will look like this on Facebook: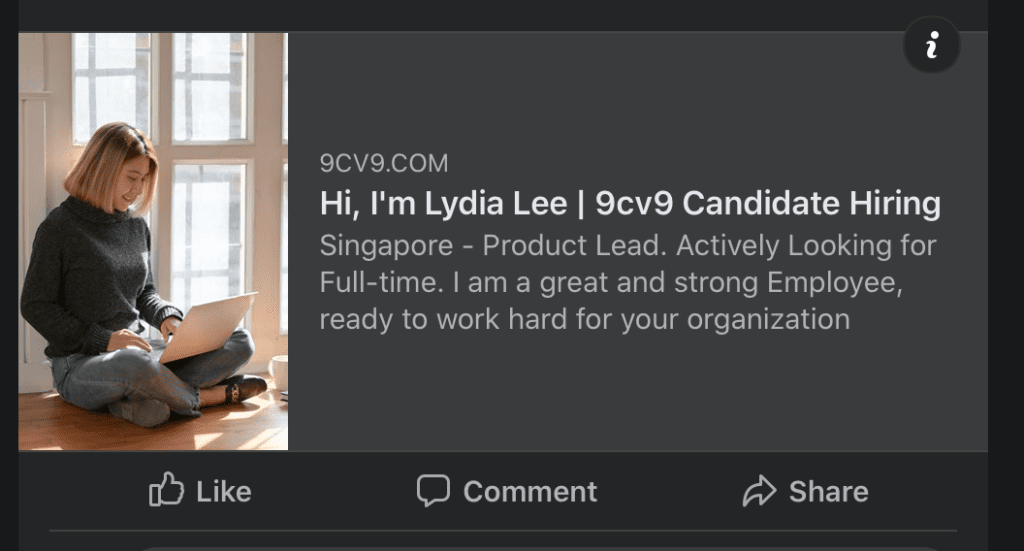 In the post above, there are several elements that are extracted from your meta tags.
Picture: This is taken from your Profile Picture meta tag.
Title: It is structured as "Hi, i'm <Your Full Name> | 9cv9 Candidate Hiring".
Description: It is structured as "<Country you are from> – <Your Role>. Actively looking for <What you are looking for>. <Summary>.
By editing on the <> fields, you are able to change the meta tags and the post elements.
That's it.
Kickstart your job searching journey here at 9cv9 Job and Career Platform.
FAQs
What are Meta Tags?
To read more on meta tags, you can check out this article here.
Was this post helpful?
Let us know if you liked the post. That's the only way we can improve.