Finding a job is tough.
Getting hired is tougher.
Getting hired during Covid19 period is arguably the toughest in modern time.
That's why 9cv9 has created several features that help you get a job quickly, one of which is a "Getting Headhunted Feature".
Instead of reaching out to job portals and hiring companies, which can be pretty tedious, 9cv9 allows companies and hiring managers to headhunt you instead and invite you to apply for their jobs.
How to turn on this feature?
1) Login to 9cv9 Candidate Portal.
At your top right, you should be able to see the job switcher very clearly.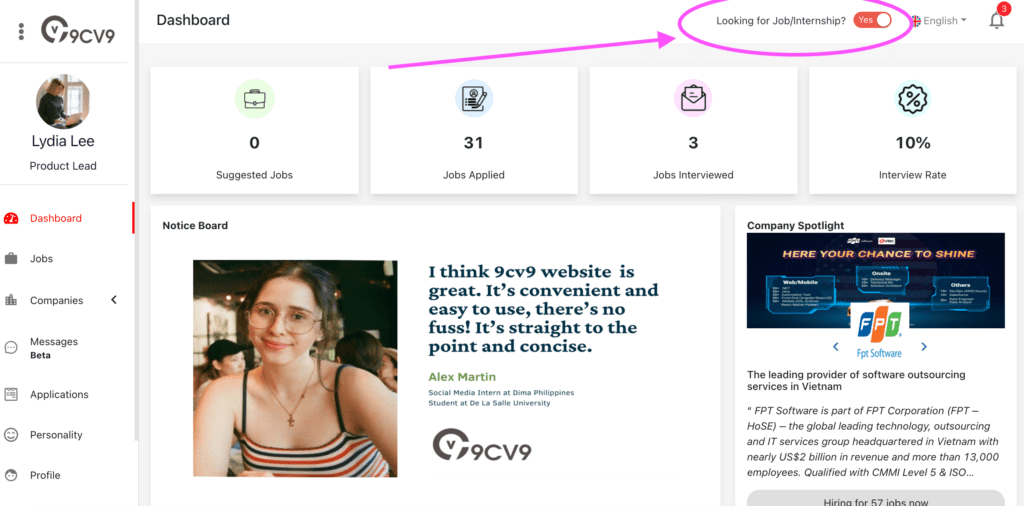 You need to click on it to make it "Yes".

However, before you are allowed to click to "Yes", there are some basic information that you need to fill in.
Basic Required Information
Avatar
Your Name
Expected Salary in USD
Address
Notice Period (days)
Years of working experience
Looking for (This is located at the Basic Tab)
At least one skill
Date of birth
CV in PDF or Docx Format
The reason why all these information are needed is because upon switching on the switcher, we allow companies and hiring managers to directly headhunt you for their job.
To enable a productive and high-quality candidate list for them, these are the bare minimum information needed.
After all, we are helping you to present your profile in a much better light so as to enhance your suitability and ultimately to be hired.
To kickstart being headhunted by companies, register for an account or login at 9cv9 or 9cv9 Indonesia (Indonesian version) or 9cv9 Vietnam (Vietnamese version).
Was this post helpful?
Let us know if you liked the post. That's the only way we can improve.