Key Takeaways
Innovative Design Tools for 2024: Explore cutting-edge features and capabilities of the 7 top 3D architecture software options, revolutionizing design and visualization in the architectural landscape.
Seamless Collaboration and Precision: Dive into a world of collaboration with Cloud-based solutions, precision design transitions, and real-time rendering. Learn how these tools redefine teamwork and elevate project precision.
Architectural Future Unveiled: Stay ahead in 2024 with a deep dive into industry giants like AutoCAD, Revit, and SketchUp. Discover how these tools shape the future of architecture, offering versatility, realism, and unparalleled creative control.
---
Welcome to the forefront of architectural design innovation.
In the ever-evolving realm of 3D architecture, staying abreast of the latest software is not just a trend but a necessity.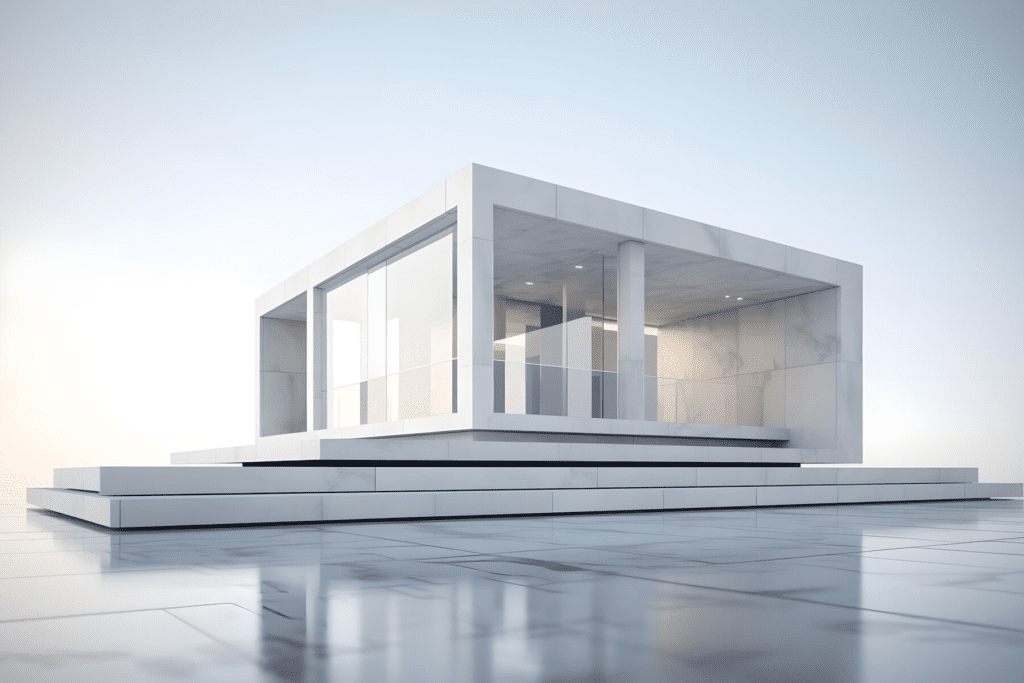 As we step into 2024, the demand for cutting-edge tools that seamlessly blend precision, creativity, and efficiency has reached new heights.
Architects and designers, both seasoned professionals and aspiring enthusiasts, find themselves at the crossroads of choice, seeking the perfect 3D architecture software to elevate their projects.
In this comprehensive guide, we embark on a journey through the digital landscape to unveil the "7 Top and Best 3D Architecture Software for 2024 You Need to Know."
Whether you're envisioning futuristic structures, redefining urban landscapes, or simply honing your design skills, this blog is your compass in navigating the dynamic world of architectural software.
What is 3D Architecture Software?
D architecture software is a specialized toolset designed to facilitate the creation, visualization, and manipulation of architectural designs in three-dimensional space.
Architects, designers, and construction professionals use these software applications to translate their ideas into immersive and realistic models.
These tools enable users to construct detailed 3D representations of buildings, interiors, and landscapes, offering a dynamic platform for design exploration and communication.
With features ranging from precise modeling and rendering to collaboration and data integration, 3D architecture software plays a pivotal role in the modern architectural workflow, allowing professionals to bring their visions to life with accuracy and efficiency.
To learn more about 3D architecture software, read our top guide: What is 3D Architecture Software? A Deep Dive into its Top Features.
Why the Buzz Around 3D Architecture Software in 2024?
Before we dive into the specifics, let's explore the driving forces behind the escalating buzz surrounding 3D architecture software this year.
The architectural landscape is witnessing a paradigm shift, with an increasing emphasis on immersive, visually compelling designs that transcend traditional boundaries.
As stakeholders demand more realistic visualizations and efficient project execution, architects are turning to advanced 3D tools to meet these evolving expectations.
The significance of 3D architecture software extends beyond mere aesthetics; it's a catalyst for enhancing precision and streamlining workflows.
Designers now leverage sophisticated software not only to breathe life into their concepts but also to communicate seamlessly with clients, collaborators, and stakeholders.
In essence, the right 3D architecture software has become the cornerstone of successful and future-ready architectural endeavors.
Why Does Your Choice of 3D Architecture Software Matter?
The architectural landscape is diverse, and so are the software solutions available.
Your choice of 3D architecture software can make or break your design process.
It's not just about keeping up with the latest trends; it's about choosing a tool that aligns with your unique workflow, caters to your design preferences, and empowers you to bring your visions to life.
In this blog, we go beyond the surface, delving into the key criteria you should consider when selecting the ideal 3D architecture software.
From user interface and feature set to compatibility with industry standards and integration capabilities, we leave no stone unturned.
Your choice should not only meet the current demands of your projects but also position you for success in the dynamic landscape of architectural design.
Embarking on a Deep Dive: The 7 Top and Best 3D Architecture Software for 2024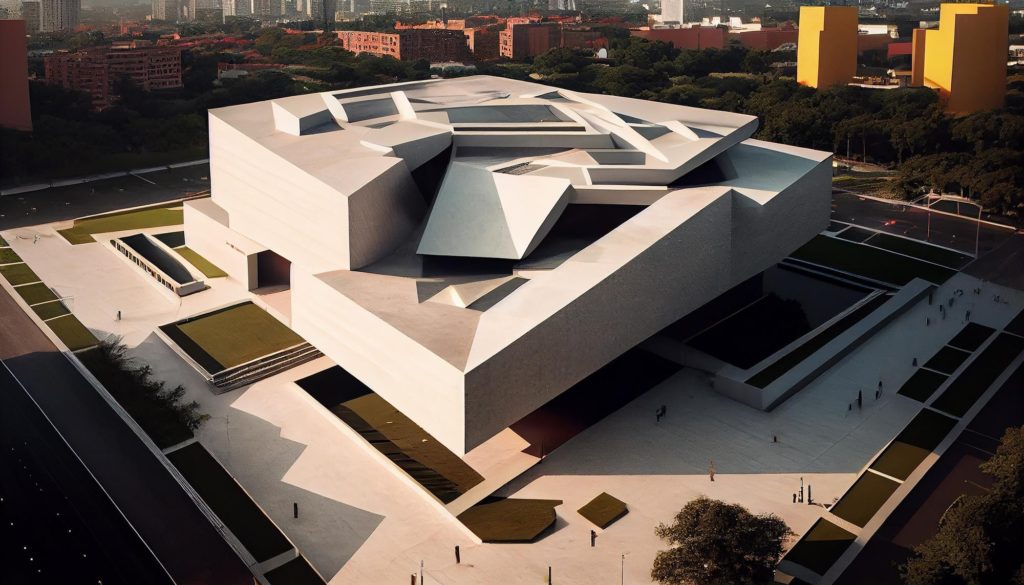 Now, let's embark on a comprehensive exploration of the crème de la crème – the top 7 3D architecture software offerings for 2024.
Each software package is a universe of its own, with a unique set of features, strengths, and user experiences.
Through detailed reviews, we'll unravel the intricacies of each, providing you with valuable insights to make an informed decision.
Join us as we dissect the key features, weigh the pros and cons, and present real user testimonials to offer a holistic view of each software.
Whether you're a seasoned architect looking to upgrade your toolkit or a novice eager to plunge into the world of 3D design, this guide is your compass, steering you toward the software that best suits your needs.
What Sets This Guide Apart?
This blog transcends the realms of a mere listicle; it's a roadmap crafted with a dual purpose – to inform and empower.
Beyond showcasing the top 3D architecture software, we aim to guide you through a thoughtful decision-making process.
Our comparative analysis and recommendations are tailored to help you make choices based on your specific requirements, ensuring that you not only keep up with the trends but also pave the way for your unique design journey.
What Lies Beyond 2024?
As we explore the present landscape, we also cast our gaze into the future.
What trends and advancements await architects and designers in the years to come? What emerging technologies will shape the architectural design process?
This blog doesn't just stop at the present; it offers a glimpse into the future, providing you with the foresight needed to stay ahead in an ever-evolving industry.
Get ready to embark on a journey that transcends the conventional, where pixels meet blueprints, and creativity converges with technology.
The world of 3D architecture software awaits, and we are here to be your guide, your companion, and your source of inspiration. Let the exploration begin.
Before we venture further into this article, we like to share who we are and what we do.
About 9cv9
9cv9 is a business tech startup based in Singapore and Asia, with a strong presence all over the world.
With over six years of startup and business experience, and being highly involved in connecting with thousands of companies and startups, the 9cv9 team has listed some important learning points in this overview of the guide on the 7 Top and Best 3D Architecture Software for 2024 You Need to Know.
If your company needs recruitment and headhunting services to hire top-quality 3D Architecture software employees, you can use 9cv9 headhunting and recruitment services to hire top talents and candidates. Find out more here, or send over an email to [email protected].
Or just post 1 free job posting here at 9cv9 Hiring Portal in under 10 minutes.
7 Top and Best 3D Architecture Software for 2024 You Need to Know
1. Bluebeam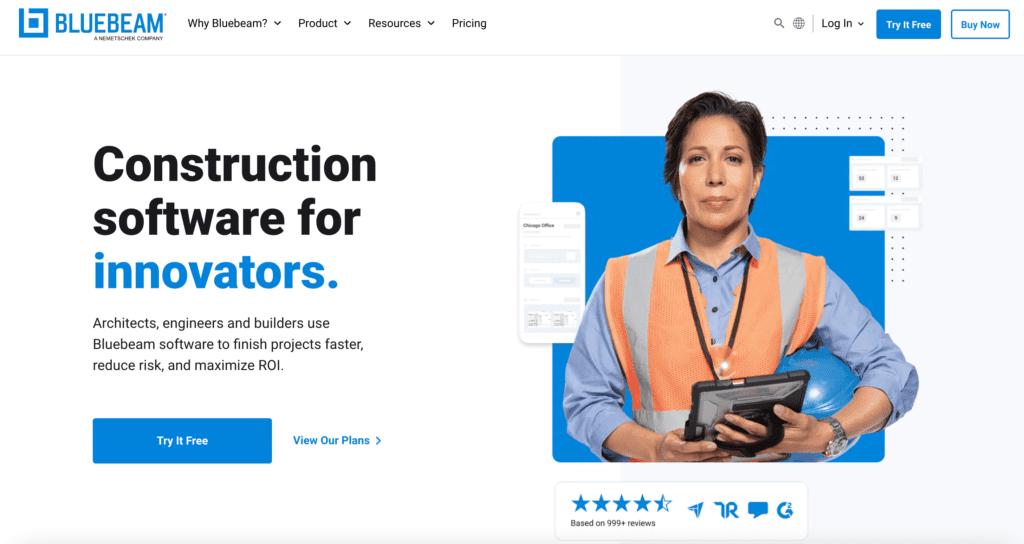 Renowned as a distinguished leader in pioneering, collaborative, Cloud-based software technologies that streamline construction planning and building projects, Bluebeam has consistently set the benchmark for excellence since its inception in 2002.
Trusted by architecture, engineering, and construction teams spanning over 130 countries and boasting a user base exceeding 2 million, Bluebeam has emerged as the go-to solution for providing technical tools essential for project advancement, budget refinement, and real-time collaboration on the minutiae of any construction site.
At the core of the company's offerings are Bluebeam Revu® and Bluebeam Cloud®, flagship solutions designed to empower users to achieve more in less time.
These powerful tools encompass features such as robust PDF creation capabilities, seamless multi-format uploads, intuitive markup solutions, real-time tracking of annotations, and on-the-go reporting, catering to team members ranging from on-site personnel to top-tier executives.
A recent addition to Bluebeam's suite of Cloud-based solutions, Bluebeam Cloud® seamlessly integrates with documents and toolsets in Bluebeam Revu®.
With Cloud®, users can work effortlessly from anywhere through web browsers or iOS devices, eliminating the need for setup or installation.
The platform's Markup Editor facilitates easy commenting and collaboration on project documents, while its Field Tools capabilities enable effective management and tracking of punch, Request for Information (RFI), and submittal workflows on the move.
With Bluebeam, the trajectory of your projects seamlessly extends from bidding and takeoff creation to the final stages of construction.
For construction teams where real-time collaboration is imperative, Bluebeam ensures an instantaneous connection for global project partners.
It's time to experience the advantages of a go-to collaborative tool that keeps your construction and architecture projects on a trajectory of success.
Embark on a transformative journey by initiating your free 30-day trial through the download of Bluebeam Revu® or Bluebeam Cloud® at Bluebeam.com.
Originating from a single office in Pasadena, CA, Bluebeam has steadily expanded its global presence with office locations spanning the globe. Bluebeam proudly operates as part of the Nemetschek Group.
Key Features:
Manage Projects Anywhere:

Desktop and cloud collaboration solutions built on open standards, facilitating seamless document access on any device, whether on-site or off.
Bluebeam Revu® offers powerful, highly customizable document management, markup, and automation tools with an integrated collaboration space, Studio.
Log in to any desktop with Revu installed to access projects and toolsets.
Collaborate in real-time with teammates using Studio for markup and measurement.
Share the latest drawings and documents with field teams using Bluebeam Cloud.

Bluebeam Cloud:

Connect office and field seamlessly, completing workflows on the go with Bluebeam Cloud.
Work from anywhere on any device with no setup or installation required.
Access toolsets and Studio Project files from Revu effortlessly.
Invite team members to collaborate in real-time with the Markup Editor.
Manage punch, RFIs, and submittals on the go with Field Tools.
Services:
Unlimited secure centralized cloud storage (as part of Studio and Bluebeam Cloud).
Access to Bluebeam University training courses at no additional cost.
Technical support via email and phone.
Geolocational insights to help visualize, connect, and organize data.
2. Autocad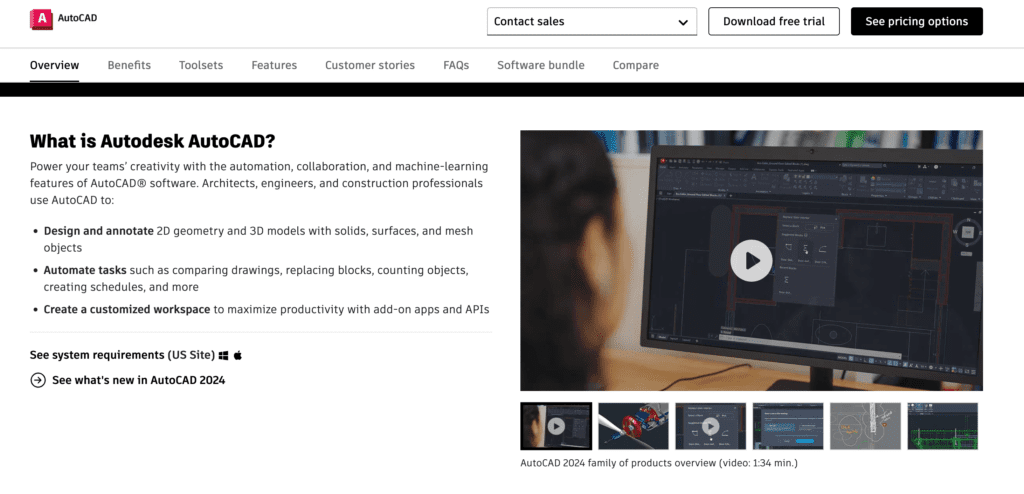 Introducing Autodesk AutoCAD, a dynamic software empowering teams with a spectrum of capabilities, seamlessly blending automation, collaboration, and machine-learning features.
Architects, engineers, and construction professionals harness the prowess of AutoCAD to:
Design Precision:

Craft intricate 2D geometry and elaborate 3D models featuring solids, surfaces, and mesh objects.

Task Automation:

Automate a plethora of tasks, from comparing drawings and replacing blocks to object counting and schedule creation, enhancing efficiency and reducing manual effort.

Customized Workspaces:

Tailor your workspace for maximal productivity by integrating add-on apps and leveraging APIs to suit your specific workflow requirements.
Why Opt for AutoCAD?
Acceleration in Design:

Expedite your design processes, whether in 2D or 3D, leveraging AutoCAD's robust automation and customizable features.

Collaboration Across Platforms:

Safely share and annotate drawings across teams and devices, ensuring seamless collaboration through desktop, web, or mobile interfaces.

Fidelity and Compatibility Assurance:

Trust in Autodesk's exclusive TrustedDWG® technology, a hallmark of AutoCAD, ensuring unwavering fidelity and compatibility for your DWGs.
AutoCAD's Diverse Offerings in 3D Architecture:
AutoCAD stands as a venerable pioneer in the realm of 3D architecture software, boasting an array of products tailored for specific use cases and professions.
Take, for instance, AutoCAD Architecture, a multifaceted tool offering sketching, 2D drafting, rendering, and more.
Noteworthy is its compatibility with Revit and its collaborative orientation.
AutoCAD facilitates the seamless interplay of solid, surface, and mesh modeling tools, allowing the creation of realistic plans and models, both in two and three dimensions.
Advantages of AutoCAD:
Versatility in Features:

AutoCAD unfolds an extensive repertoire of features and tools, catering to diverse needs and objectives across architectural domains.

Fluid Transition between 2D and 3D:

Enjoy the flexibility to effortlessly switch between 2D and 3D representations or even integrate both seamlessly into your design workflow.

Integration Capabilities:

Extend AutoCAD's capabilities by seamlessly connecting it with other solutions, amplifying its utility and adaptability to specific project requirements.
In essence, Autodesk AutoCAD emerges as a stalwart, offering not only a rich set of tools for diverse design needs but also a bridge between the realms of 2D and 3D, coupled with an innate capacity for collaborative innovation.
3. Revit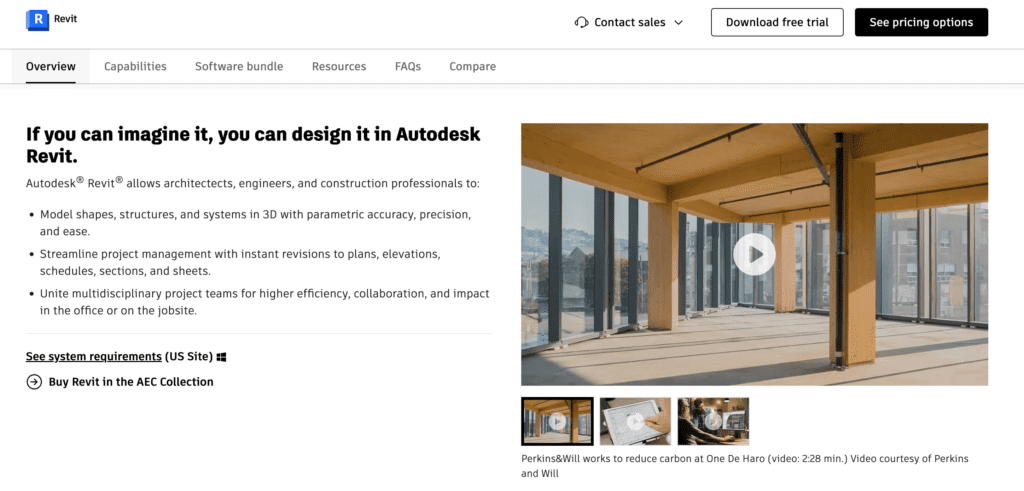 In the realm of architecture software crafted by Autodesk, Revit stands as a prominent exemplar.
Renowned for its prowess in rendering, modeling, and construction functionalities, Revit transcends mere design tools by seamlessly integrating a collaborative dimension.
This collaborative aspect ensures real-time awareness across the entire project team, fostering a dynamic environment where changes and design updates are instantly communicated.
Notably, Revit is AutoCAD-compatible, offering a robust toolkit encompassing both 2D and 3D modeling capabilities, alongside an array of other indispensable features.
Autodesk® Revit®: Empowering Architects, Engineers, and Construction Professionals
Parametric 3D Modeling:

Model shapes, structures, and systems in 3D with unparalleled parametric accuracy, precision, and ease.

Efficient Project Management:

Streamline project management through instantaneous revisions to plans, elevations, schedules, sections, and sheets.

Multidisciplinary Collaboration:

Unite multidisciplinary project teams, enhancing efficiency, collaboration, and impact both in the office and on the jobsite.
Advantages of Revit:
Detailed Model Creation:

Boasting meticulous model creation capabilities, Revit empowers users with a depth of design intricacy.

Extensive Integrations:

With a multitude of integrations with various solutions and information types, Revit emerges as a comprehensive and versatile architectural solution.

Versatility:

The solution's versatility is a hallmark, accommodating a spectrum of design needs and project requirements.

Customer Support Excellence:

Revit's customer support is commended for its excellence, ensuring users receive the necessary assistance and guidance.
Key Features:
Design Intent Development:

Revit provides tools for sketching, scheduling, sharing, annotating, and visualizing, fostering effective collaboration among architects, engineers, and contractors.

Team Alignment:

Autodesk supports the collaborative dynamics of AEC project teams, whether in the office or on the go. Revit's cloud worksharing and BIM Collaborate Pro facilitate seamless collaboration and a unified data environment.

Better Building Delivery:

Equipped with integrated analysis tools and the ability to amalgamate diverse datasets and file types, architects and engineers leverage Autodesk Revit to design with confidence, delivering superior buildings for all stakeholders.
In essence, Revit transcends the conventional boundaries of architecture software, not merely as a design tool but as a dynamic collaborative platform, embodying precision, versatility, and an unwavering commitment to delivering architectural excellence.
4. SketchUp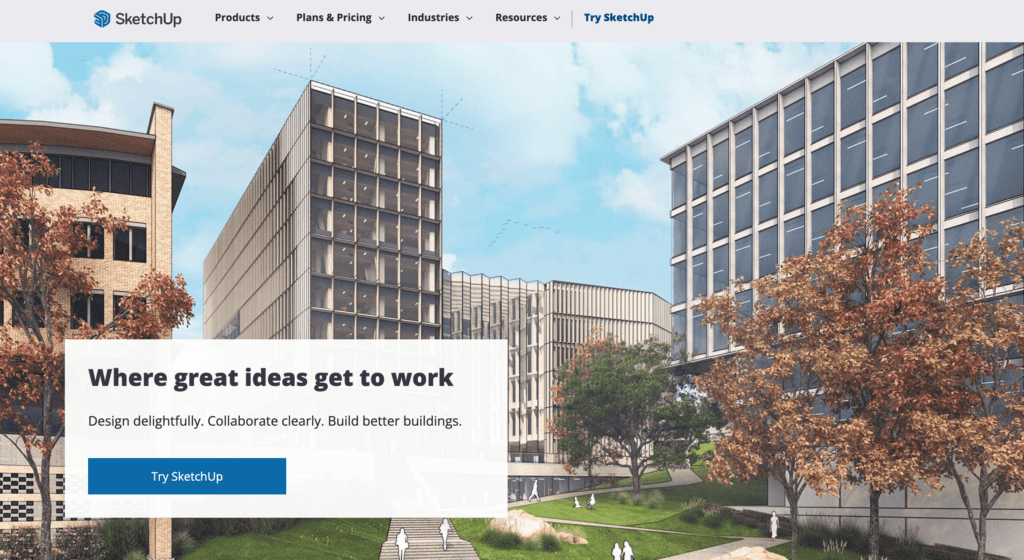 In the realm of architectural drawing software, SketchUp stands as a widely recognized and versatile tool, renowned for its adaptability to various applications.
Its distinguishing feature lies in a vast library of extensions that afford users the ability to tailor SketchUp to their preferences.
This unique flexibility positions SketchUp as a cost-effective alternative to full-fledged Building Information Modeling (BIM) software, providing BIM-like features without the hefty price tag.
Key Attributes of SketchUp:
Extension Library:

SketchUp's strength lies in its extensive library of extensions, allowing users to customize the software to their specific needs. This adaptability extends to offering BIM-like functionalities at a fraction of the cost associated with dedicated BIM software.

Drawing Styles and Rendering Engines:

Offering a spectrum of drawing styles, from photorealistic renders to promotional graphics, SketchUp's versatility is further augmented by multiple rendering engines available as extensions. This integration allows users to leverage the full potential of SketchUp's extension library.
SketchUp Pro: A Comprehensive Desktop Modeler
3D Modeling:

The epitome of intuitive design, documentation, and communication in 3D, SketchUp Pro serves as a full-featured desktop modeler, unleashing creative possibilities.

Iterative Design in 3D Space:

Empowering users to work through ideas in 3D space, SketchUp expedites project development, fostering rapid iteration and refinement.

Accurate and Detailed Models:

Precision is paramount, and SketchUp ensures accuracy from project inception to completion, enabling comprehensive design, definition, and planning.

Interoperability:

Seamlessly integrating with other tools in the design toolbox, SketchUp promotes a collaborative environment where various software components work in concert.

Extensibility:

Leveraging the Extension Warehouse, users can tailor SketchUp to meet their specific requirements, enhancing functionality and adaptability.

Objects and Customization:

Smartly designed objects and a customizable project style contribute to a tailored and unique visual identity for each project.

Generate Reports:

Equipping stakeholders with detailed reports, SketchUp facilitates effective communication and decision-making throughout the project lifecycle.

Inferencing:

Harnessing inferencing, SketchUp optimizes accuracy and speed, streamlining the design process.
Advantages of SketchUp:
Extensive 3D Object Library:

SketchUp boasts a vast library of 3D objects, enriching the design process with a diverse array of elements.

User-Friendly Interface:

Recognized for its intuitive design, SketchUp's interface enhances user experience and accessibility.

Versatile Modeling Tools:

Offering an exceptionally versatile set of modeling tools, SketchUp caters to a wide range of design needs.

Collaboration Capabilities:

Facilitating collaboration through Trimble Connect, SketchUp ensures seamless communication and coordination among project stakeholders.
In essence, SketchUp emerges not merely as a software but as a dynamic platform, empowering architects and designers with the tools and flexibility needed to bring imaginative concepts to life.
5. 3ds Max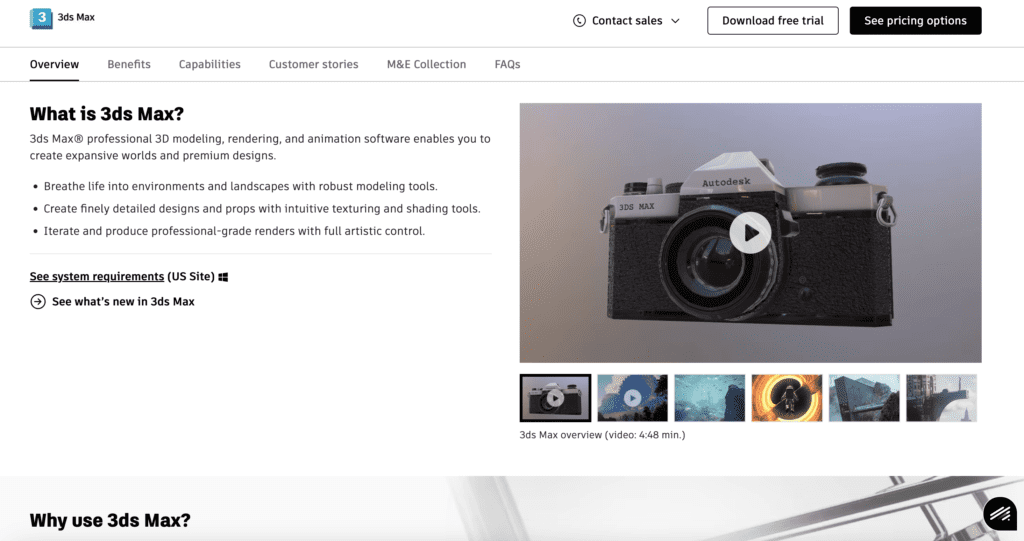 Introducing 3ds Max®, an advanced 3D modeling, rendering, and animation software by Autodesk, designed to empower creators to craft expansive virtual worlds and premium designs with unparalleled precision and creativity.
Key Features of 3ds Max:
Robust Modeling Tools:

Unleash creativity and breathe life into environments and landscapes using powerful modeling tools that cater to intricate design needs.

Intuitive Texturing and Shading:

Craft finely detailed designs and props with ease using intuitive texturing and shading tools that enhance the visual richness of your creations.

Professional-Grade Renders:

Iterate and produce professional-grade renders with complete artistic control, ensuring your visions are translated into stunning visual representations.
3DS Max in Context: A CAD-Related Software by Autodesk
Distinctive from AutoCAD:

3DS Max, while sharing some similarities with AutoCAD, finds its niche in the video game industry, excelling in pre-visualization capabilities. Its versatility extends to addressing general architectural needs, and its widespread popularity facilitates easy access to online courses, providing free tutorials for mastering the software.
Fueling Creativity with Easy-to-Use Tools:
Worldbuilding and Asset Creation:

Power creativity with easy-to-use tools, fostering the development of expansive virtual worlds and asset creation with seamless precision.

Productivity Boost through Automation:

Boost productivity by automating repetitive, time-consuming tasks, ensuring deadlines are met without compromising on quality.

Rich and Flexible Toolset:

Enjoy a rich and flexible toolset within an artist-friendly UI, fostering a creative flow that enhances the overall design experience.
Creating Realistic 3D Designs:
Versatile Modeling Toolset:

Whether constructing expansive gaming worlds or visualizing intricate architectural designs, 3ds Max offers a versatile modeling toolset that breathes life into 3D assets.

High-Quality Renders with Arnold Renderer:

Produce high-quality renders with the built-in Arnold renderer, handling the complexity of characters, scenes, and effects, from light mixing to color correction.
Advantages of 3ds Max:
Easy Collaboration and Integration:

Facilitate seamless collaboration and integration between disciplines, ensuring a cohesive workflow across diverse creative teams.

Abundance of Useful Features:

Benefit from a plethora of useful features, including 2D pan zoom snap and 3D animation capabilities, enhancing the software's utility for various design needs.

Exceptional Rendering Quality:

Acknowledge the software's prowess in delivering exceptional rendering quality, a testament to its ability to bring designs to life with unparalleled visual fidelity.
In essence, 3ds Max emerges as a dynamic and indispensable tool for creators, offering a versatile set of features and capabilities that transcend conventional boundaries, fueling creativity and precision in 3D design and visualization.
6. Lumion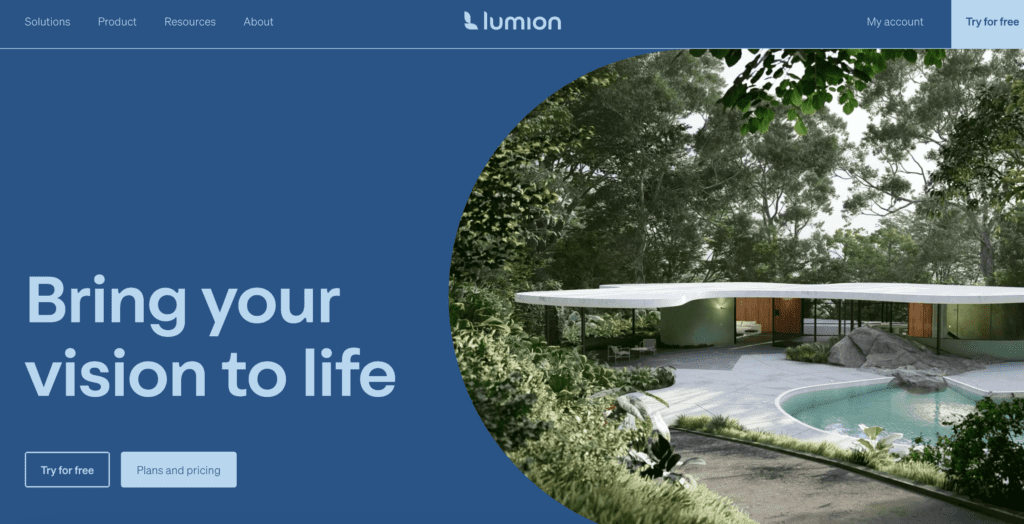 Enter Lumion, a dedicated architectural software that transcends traditional boundaries, placing visualization and 3D rendering at the forefront of its capabilities.
Unveiling compatibility with models from a spectrum of modeling systems—including Revit, 3DS Max, Rhino, and ArchiCAD—Lumion positions itself as a powerhouse, boasting stylish effects, realistic models, and an extensive array of materials and objects curated within its built-in content library.
Empowering Architectural Vision:
Seamless Workflow Integration:

Lumion seamlessly integrates into your workflow, compatible with major CAD or 3D modeling software, ensuring a harmonious synergy with your existing design processes.

LiveSync Real-Time Connection:

Lumion LiveSync establishes a real-time connection with your CAD software, enabling swift rendering of images, videos, or 360 panoramas while you refine your design. It facilitates a dynamic and iterative design process.

No Architectural Skills Required:

A distinctive feature of Lumion is its accessibility, allowing individuals without architectural skills to dive into 3D rendering. This democratization of the design process empowers everyone to effortlessly create panoramas and images.
Comprehensive Architectural Rendering:
Complete Solution, Not a Plug-In:

Lumion differentiates itself as a comprehensive architectural rendering solution, not a mere plug-in. It enables the shaping of entire landscapes, precise control over lighting and weather conditions, material application, and intricate detailing with an extensive library of objects, characters, and nature elements.

Material Customization and Realism:

Lumion unfolds with a plethora of high-quality materials, customizable through surface decals, weathering effects, and soft edges. The material editor in Lumion 2023 offers effortless control over texture, relief, roughness, reflectivity, metalness, opacity, and emissivity of Physically Based Rendering (PBR) materials.
Advantages of Lumion:
Gaming Engine-Like Navigation:

Lumion's interface mimics the structure of gaming engines, facilitating intuitive navigation for those familiar with video game environments. This design choice enhances user experience and ease of navigation.

Astounding Render Quality:

The render quality delivered by Lumion is nothing short of astounding, capturing the intricacies and nuances of architectural designs with unparalleled visual fidelity.

Effortless Import and Handling of Revit Files:

Lumion simplifies the import and handling of Revit files, streamlining the transition from architectural design to immersive, high-quality rendering.
In essence, Lumion emerges not only as a software but as a creative ally for architects, offering a gateway to articulate and visualize architectural visions with ease, realism, and precision.
Whether you are a seasoned professional or a novice, Lumion opens the door to a world where architectural expression knows no bounds.
7. Concept3D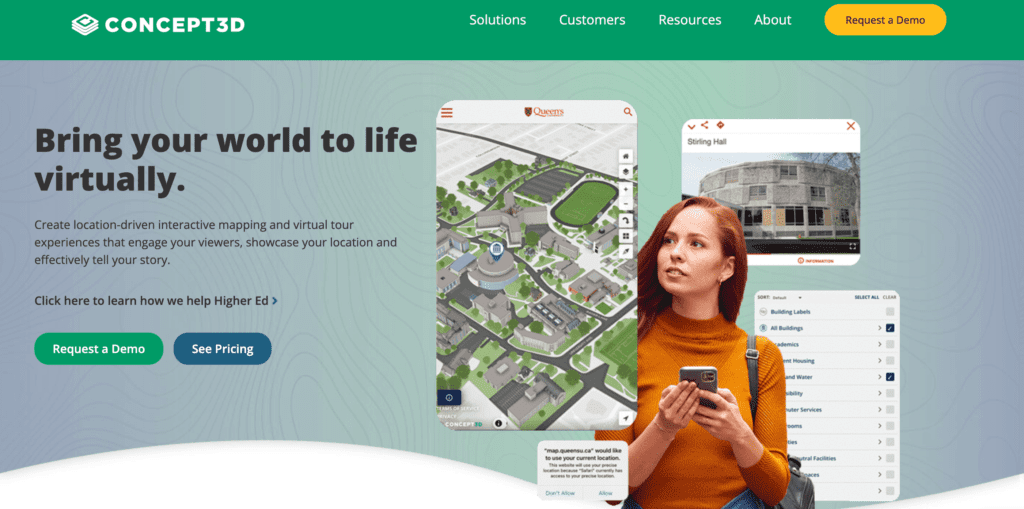 Enter Concept3D, an expansive software platform that transcends conventional boundaries, offering a multifaceted suite of tools that includes 3D renderings of interactive maps and immersive VR-enabled tours.
Positioned as a comprehensive architecture planning software, Concept3D goes beyond mere visualization, providing robust features such as wayfinding, virtual engagement, accessibility customization, and seamless integration of advanced data.
Key Features of Concept3D:
Interactive 3D Renderings:

At its core, Concept3D empowers users with interactive 3D renderings, elevating the visualization of architectural plans to a dynamic and engaging level.

VR-Enabled Tours:

Dive into the immersive realm of virtual reality with Concept3D's VR-enabled tours, offering a captivating and realistic exploration of architectural spaces.

Multifunctional Architecture Planning:

Serving as a multifunctional architecture planning software, Concept3D extends its capabilities beyond visualization, encompassing crucial aspects such as wayfinding, virtual engagement, and accessibility customization.

Advanced Data Integration:

Concept3D stands out for its prowess in advanced data integration, ensuring seamless connectivity and utilization of data for informed decision-making.

Responsive Customer Support:

The Concept3D team takes pride in its responsiveness and helpfulness, offering unwavering support to clients at a moment's notice, fostering a collaborative and client-centric approach.
Advantages of Concept3D:
Extensive Customization Capabilities:

Concept3D excels in providing extensive customization capabilities, allowing users to tailor their architectural visualizations to specific needs and preferences.

In-depth Customer Support:

The customer support provided by Concept3D extends throughout and after the onboarding process, ensuring that clients have a reliable and responsive partner at every stage.

Efficient Map Updates:

An additional advantage lies in the efficiency of map updates, with Concept3D streamlining the process to ensure that changes are quick and easy to perform, maintaining the accuracy and relevance of architectural representations.
In summary, Concept3D emerges not merely as a software platform but as a dynamic solution shaping the future of architecture planning.
With a rich array of features, from interactive 3D renderings to responsive customer support, Concept3D stands as a comprehensive ally for architects and planners, providing a canvas where architectural visions come to life with precision, customization, and immersive engagement.
Conclusion
Navigating the intricate realms of architectural design and visualization in 2024 demands not only innovation but also a keen understanding of the most advanced and cutting-edge tools at your disposal.
The seven 3D architecture software options outlined in this comprehensive guide stand as beacons of technological prowess, each offering a unique blend of features, capabilities, and advantages.
As we delve into the intricate landscape of architectural software, it becomes abundantly clear that the tools mentioned—AutoCAD, Bluebeam, Revit, SketchUp, 3ds Max, Lumion, and Concept3D—are not merely utilities but transformative instruments that empower architects, designers, and construction professionals to push the boundaries of creativity and efficiency.
AutoCAD, an industry stalwart, continues to set the gold standard in precision design and documentation, seamlessly transitioning between 2D and 3D realms.
Bluebeam, with its Cloud-based solutions, epitomizes collaboration, providing a real-time conduit for teams across the globe to work seamlessly on construction projects.
Revit, a robust BIM-centric software, stands as a testament to Autodesk's commitment to pushing the envelope in design development and project management.
SketchUp, revered for its intuitive interface and versatility, bridges the gap between creativity and functionality, allowing for easy customization through its extensive library of extensions.
3ds Max, another marvel by Autodesk, emerges as a 3D modeling powerhouse, offering artistic control and efficiency in rendering that is second to none.
Lumion, with its gaming engine-like navigation and astounding render quality, brings architectural visions to life with unparalleled realism.
Concept3D, a multifunctional platform, transforms the architectural planning landscape by providing interactive 3D renderings and VR-enabled tours, coupled with extensive customization capabilities and responsive customer support.
As we stand on the cusp of 2024, the architectural world is poised for a transformative journey, fueled by the capabilities of these top 3D architecture software solutions.
The intricacies of design, collaboration, rendering, and planning have never been more accessible or sophisticated.
It is incumbent upon architects and professionals in the field to carefully evaluate their specific needs, project requirements, and creative aspirations to choose the software that aligns most seamlessly with their vision.
In the ever-evolving tapestry of architecture, these tools serve as indispensable brushes, allowing creators to paint immersive landscapes, construct intricate structures, and bring their designs to life with unprecedented precision.
The year 2024 beckons a new era in architectural innovation, and with the knowledge of these top 3D architecture software solutions, architects are well-equipped to shape the future of design with unparalleled creativity and efficiency.
If your company needs HR, hiring, or corporate services, you can use 9cv9 hiring and recruitment services. Book a consultation slot here, or send over an email to [email protected].
If you find this article useful, why not share it with your hiring manager and C-level suite friends and also leave a nice comment below?
We, at the 9cv9 Research Team, strive to bring the latest and most meaningful data, guides, and statistics to your doorstep.
To get access to top-quality guides, click over to 9cv9 Blog.
People Also Ask
What software is used for 3D architecture?
Popular software for 3D architecture includes AutoCAD, SketchUp, Rhino, Revit, ArchiCAD, and Blender. These tools offer diverse features, from precise modeling and rendering to collaborative workflows, empowering architects to create immersive and detailed designs.
Which is the best software for 3D modeling?
Determining the best 3D modeling software depends on specific needs. AutoCAD, Blender, SketchUp, and Rhino are renowned for their versatility. Revit excels in architectural design, while ZBrush is favored for intricate organic modeling. Ultimately, the "best" choice aligns with individual project requirements and user preferences.
How to create 3D architecture?
To create 3D architecture, use specialized software like AutoCAD, SketchUp, or Rhino. Begin with a 2D floor plan, then extrude and manipulate elements in 3D. Incorporate textures, lighting, and details for realism. Practice and explore the software's features to master the art of 3D architectural design.
Was this post helpful?
Let us know if you liked the post. That's the only way we can improve.