The development of technology and communication, which is currently increasingly high, requires every individual to have email as an identity and transaction tool to connect to all platforms.
According to Hubspot, there are 4 billion daily email users. Given that the world population is around 8 million people. That means, every day, 50% of the world's population is using email.
Not only individuals are now required to have an email as an identity, but companies and startups must also have an email to be able to connect with their clients and customers.
An email is also an important tool for a company in running its business.
It is the most fundamental for any business to have a basic and professional identity.
Whether they are in the Business-To-Consumer (B2C) or Business-To-Business (B2B) businesses, an email is essential to service their users, clients, and customers.
Emails can be used for these purposes
To send to your business contacts and clients about new promotions
To inform your customers about e-commerce order status updates, stock notifications, logistics updates
To notify them about your business hours and business closure for the holidays
Due to the demand for a business email from companies and startups, many email service providers are in the world to offer their best features.
The 9cv9 Research Team then feels obligated to list and present our research on the top five best email providers for businesses in this article.
To sweeten the deal of reading this article, we will provide recommendations for email providers that provide reliable business emails (in addition to their premium services).
Before discussing further free email service providers, you must first know what types of emails you have.
Email is divided into 2 types, namely, client email and webmail.
An email client is an email service provider application that is downloaded to an electronic device such as your computer to manage email to be sent and received by users and can be accessed offline.
Examples of email clients such as Outlook, iCloud Mail, and Thunderbird.
Webmail is an email service provider such as a website that can be accessed through a device browser such as Chrome, Mozilla, or Safari that is connected to the internet.
Examples of webmail such as Gmail, Yahoo!, AOL, and other email service providers.
In choosing the top email providers, we have chosen to omit those that offer email hosting as a by-product rather than their primary form of service.
This means we excluded companies such as Bluehost, Dreamhost, and most hosting companies.
Top 5 Best Free Email Providers for Businesses in 2022
1. Zoho Mail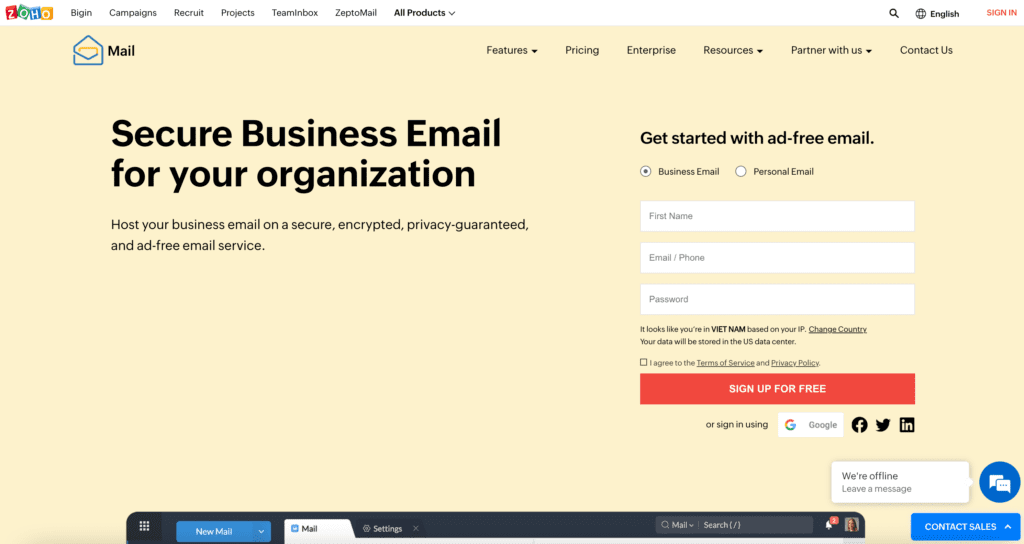 Price: Free
Features of Free Plan for Zoho:
5 user accounts
5GB storage/user
Email Attachments up to 25MB
File upload limit: 1GB
Two-factor Authentication
Email hosting for a single domain
The winner for all business email providers in 2022.
Hands down.
Why? Because it is free.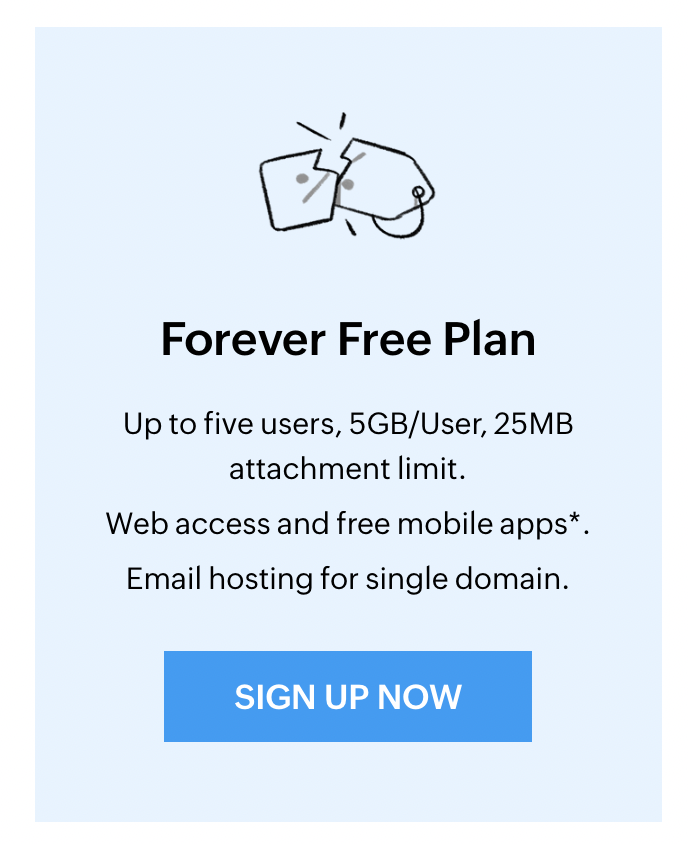 Zoho Mail is an email service provider that offers free plans to businesses, so it's highly recommended for small companies or start-ups.
Unlike all other business email providers, the free plan lasts forever. That means you can be still using their free email plan even two or three years into your fledgling business or startup.
Perfect for your business to reduce unnecessary costs early in your growth stage.
The business email feature from Zoho Mail means to change the company email address according to the company name without involving a name tag from Zoho and can create email addresses of up to 5 users from your company.
One noteworthy feature is the guarantee of privacy because Zoho mail has implemented several privacy and security features. According to Zoho mail, their facilities contain strong security all year round, with video monitoring, biometric access, and advanced fire, flood, and theft monitoring systems.
Zoho Mail is known for its ease of use, meaning that it is generally user-friendly and easy to use its email features.
Zoho Mail also integrates with many other platforms such as Zoho Docs, Google Drive, Box, One Drive, Calendar, Notes, and other file management platforms, making it easy to complete daily tasks.
Another feature that Zoho Mail has is the ease of migrating emails from previous email service providers with its built-in tools.
The "streams" feature as in social media features, makes it easy to communicate with the team and clients, can categorize attachments by type, provides reminders if an email message is not sent, is ad-free, does not scan email boxes for advertising purposes, integrates with other Zoho applications.
Zoho Mail also has an expense tracker feature, tagging people and sharing shared folders, bulk deleting and archiving emails, and a search feature, and is accessible to all devices and supports IOS and Android users.
Do note that for the free plan, IMAP/ POP/ Active Sync is not included. This means that you cannot connect your Zoho mail to an email client, such as Apple Mail, or Outlook on your computer.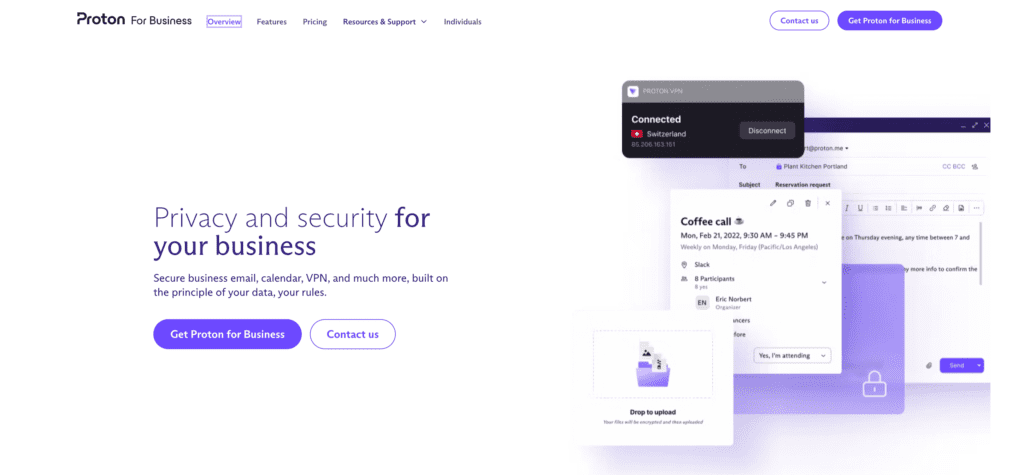 Proton is an email service provider from Switzerland.
Proton is considered very suitable for businesses that do not want their email addresses to be known, especially for hackers.
Proton has a feature that can't read user emails and doesn't ask for user information data when creating an account.
So that the privacy of Proton email service users is guaranteed.
It is also supported by an open-source encrypted feature created by CERN which is known as the European Organization for Nuclear Research, thereby providing users with the benefits of the legal and privacy policies of Switzerland.
Even though it has the advantage of good security features, Proton still provides free service packages for its users, so you don't have to pay to be able to access email services on Proton.
In addition, Proton can also be accessed through any device and is supported by IOS and Android users.
Another feature that Proton has is, the capacity reaches 20 GB and can attach a sending file for each email up to 25MB or up to 100 files.
It can also set email expiry dates, can import contacts from CSV or VCF-type files.
In addition, it can share files and folders stored on Drive and can share via secure URL, switch multiple proton accounts easily, automatically filter spam messages and block lists, and support desktop alerts feature, so users can receive notifications from desktop services and be free from ads.
3. Mail.com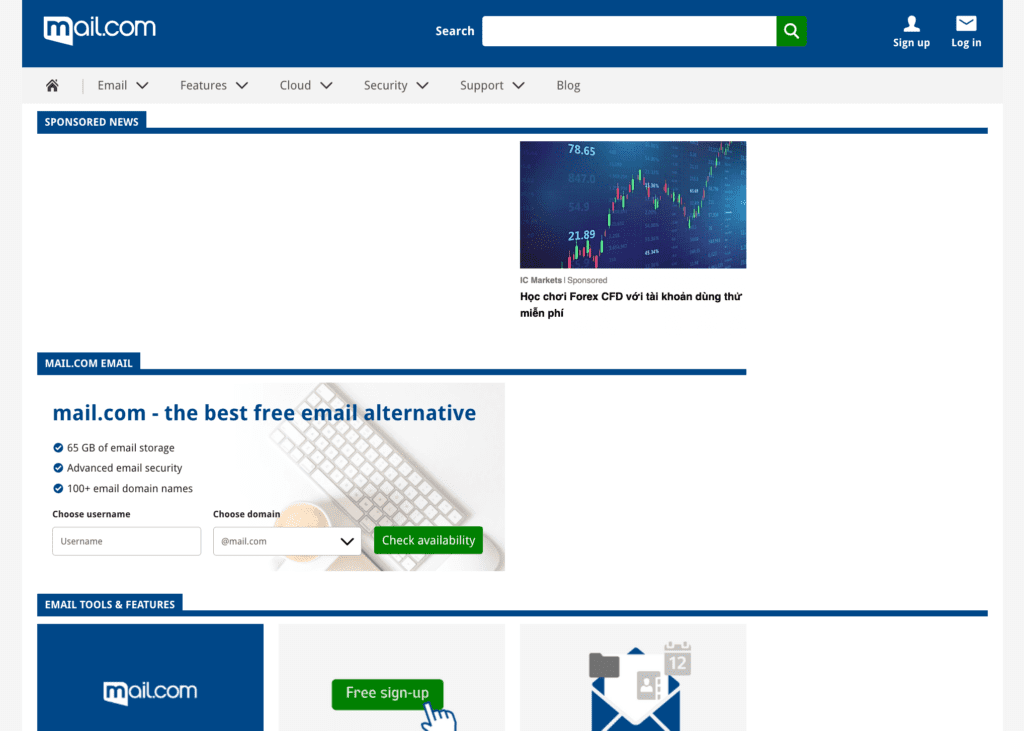 Mail.com is an email service provider that offers to create free emails for your business, maybe you don't have a personal domain, therefore Mail.com is highly recommended for small companies or start-ups.
The main features offered by Mail.com are privacy security, such as two-factor authentication, spam filters, antivirus, and security with passwords.
Mail.com offers a free email address that your business can use.
However Mail.com also offers up to 100 domain names that you can choose from, you can also create up to 10 free email addresses in just one account at Mail.com.
Mail.com also has other features like free online (cloud) document storage of 2GB but you can increase it up to 110GB and can attach files up to 100MB which makes it easy to send important files, but if you need to attach larger files Mail.com has a sharing function with free storage cloud files.
Mail.com is also integrated with tools that make it easier for you to do business, such as creating, opening, editing, and saving documents, spreadsheets, online presentations, and calendars that make it easy for you to schedule schedules with clients in an instant.
Mail.com also supports a contacts feature that makes it easy for you to import and sync your contacts with contacts from other addresses, and powerful search and filter functions to manage the right contacts for your business.
In addition, Mail.com can also be accessed from any device and is supported by IOS and Android users.
4. Outlook for Business (Microsoft 365)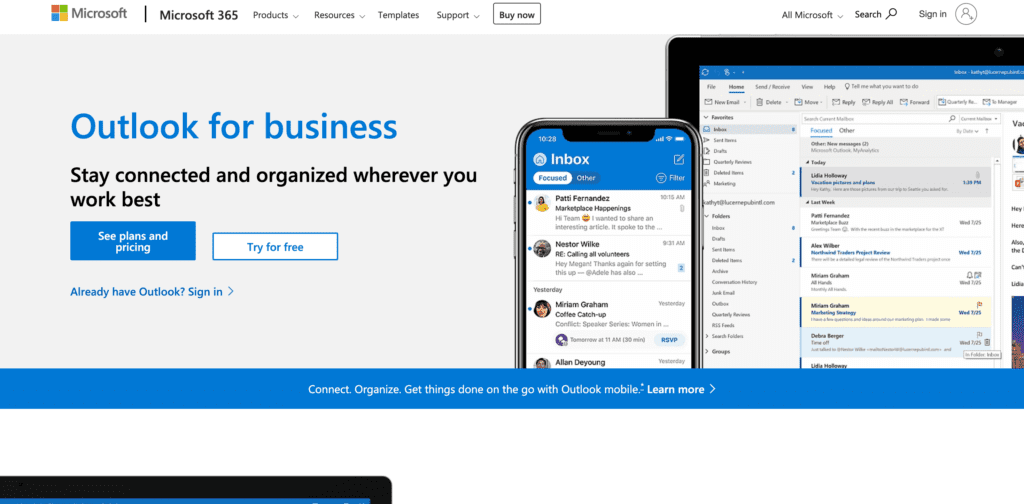 Outlook is an email service provider owned by Microsoft.
Outlook is known as an email service provider with an easy-to-use interface.
It can be integrated with several communication applications such as Skype, and Facebook, as well as integrated with task management platforms such as Trello.
Outlook is possibly one of the most helpful and preferred email service providers because it makes work easier with non-Outlook users.
This is what makes Outlook included in the provision of email services as an email client, because of its convenience to stay connected with non-outlook users.
Although this service provider is not completely free, you can try the free offer for one month.
If you are suitable, you can choose the available premium packages that you can customize for your business, but if you are not suitable you can cancel at any time to avoid billing fees.
The features you get for the free trial are 15GB mailbox storage capacity, privacy security features, and spam filters, 5GB one drive (cloud) storage, access to Microsoft's official premium applications via the web such as Word, Excel, PowerPoint, and others. so on, and your Outlook email account can be accessed by up to 25 users, making it easier for you to work with employees or teams.
Outlook can also be accessed by all devices and supports iOS and Android users.
In addition, Microsoft Outlook also offers features that can hide the real email address and use the original address, can recover deleted email messages, organize emails automatically, and have a good search feature.
As well as having different settings from other email service providers, Outlook has a function similar to the function that Microsoft has, namely by using the right-click panel, there are options to move, delete, and search for other emails from the same sender.
5.  Google Workspace (Gmail for Business)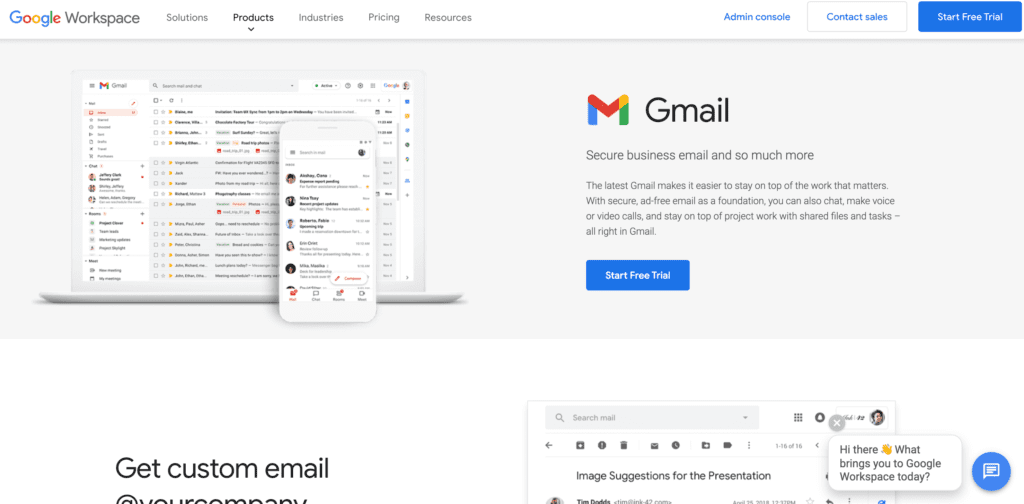 Google Workspace is one of the right email service providers for business owners, who want the Google experience to get a free email account through Gmail.
Google Workspace has the main features that are suitable for businesses, namely the complete suite of business productivity and collaboration tools owned by Google such as Google Docs, Google Sheets, Google Slides, Google Hangouts, and business email via Gmail and other Google tools.
In addition, collaboration features are also available to allow each user to work on tasks together with the same tool. This makes it easier for you and your team to work together.
Although Google Workspace does not completely provide free access for users, to provide the best experience for first-time users, Google Workspace delivers a free trial for 14 days.
You can try this offer for 14 days with the features that Google Workspace has. However, after the trial, there will be a monthly billing fee according to Google Workspace's available package prices, which you can adjust according to your business.
Other features possessed by Google Workspace are, a special secure business email, the number of video participant access starting from 100 participants, diverse storage (cloud) space, as well as security and management controls.
In addition, Google Workspace can also be accessed from various devices that make it easy for users from desktops to low-level mobile devices, as well as Google Workspace support for IOS and Android users.
Final Words
Emails are important to businesses as it serves as their main mode of communication with their clients, users, customers, and stakeholders.
For new businesses or other companies who want to migrate to better business email providers, the 9cv9 research team has scanned and analyzed all the business email providers and come up with the top 5 business providers in 2022.
If you find this article useful, why not share it among your recruitment and talent acquisition counterparts, and also leave a nice comment below?
We at 9cv9 Research Team strive to bring the latest and most meaningful data, guide, and statistics to your doorstep.
Source:
Was this post helpful?
Let us know if you liked the post. That's the only way we can improve.