With most countries facing an acute shortage of tech talent, several countries have offered solutions to solve the tech talent supply conundrum.
One of those countries is Indonesia.
However, without clear data, and facts on the salaries, experience, and other important information, one will be hard-pressed to find success in hiring tech talents in Indonesia.
This is where the 9cv9 Research Team comes in.
Having more than 5 years of experience in tech talent recruitment in Indonesia, 9cv9 has seen it all, heard it all, and done it all. In this article, the 9cv9 research team has researched, dug deep and discover 13 interesting statistics on hiring tech talents in Indonesia.
If you are a local or international talent acquisition executive, a founder looking for your first hire, or a tech talent in Indonesia curious about your salary vis-a-vis your counterparts in the labor market,
Then this article is perfect for you to understand the 13 Interesting Hiring Tech Talents in Indonesia Statistics.
13 Interesting Hiring Tech Talents in Indonesia Statistics (Editor's Pick)
1. Average salary of tech talents in Indonesia is around USD 1,400 or IDR 21.8 million a month
The average salary of tech talents is around United States Dollars ("USD") 1,400 or Indonesian Rupiah ("IDR") 21.8 million. This cut across all roles from junior level to senior level positions and roles in Indonesia. Compared to the average salary of tech talents in Singapore, which is around USD 4,900, the average salary in Indonesia for tech talents is approximately 72% lower. For companies in Singapore, this makes good financial sense to hire tech talents in Indonesia to save on salary and hiring costs.
How does it compare to the salary of tech talents in Vietnam? Indonesia is more affordable with around 30% lower salary ranges as compared to those salaries earned by tech talents in Vietnam.
2. Tech Talent in Indonesia Age is 29.7 Years Old
Indonesia is 4th in the world for population ranking. Indonesia's demographics are dominated mainly by productive young people with an average age of 29.7 years old. Fresh university graduates in Indonesia are usually 22 years old and have started to enter entry-level coding and software jobs. This bodes well for tech companies who are hiring software developers, as younger and arguably hungrier coders can be found in Indonesia. Younger tech talents also confer benefits such as a longer runway to train them and promote them within the company.
3. CEOs of tech startups in Indonesia earn around USD 2,000 or IDR 31.2 million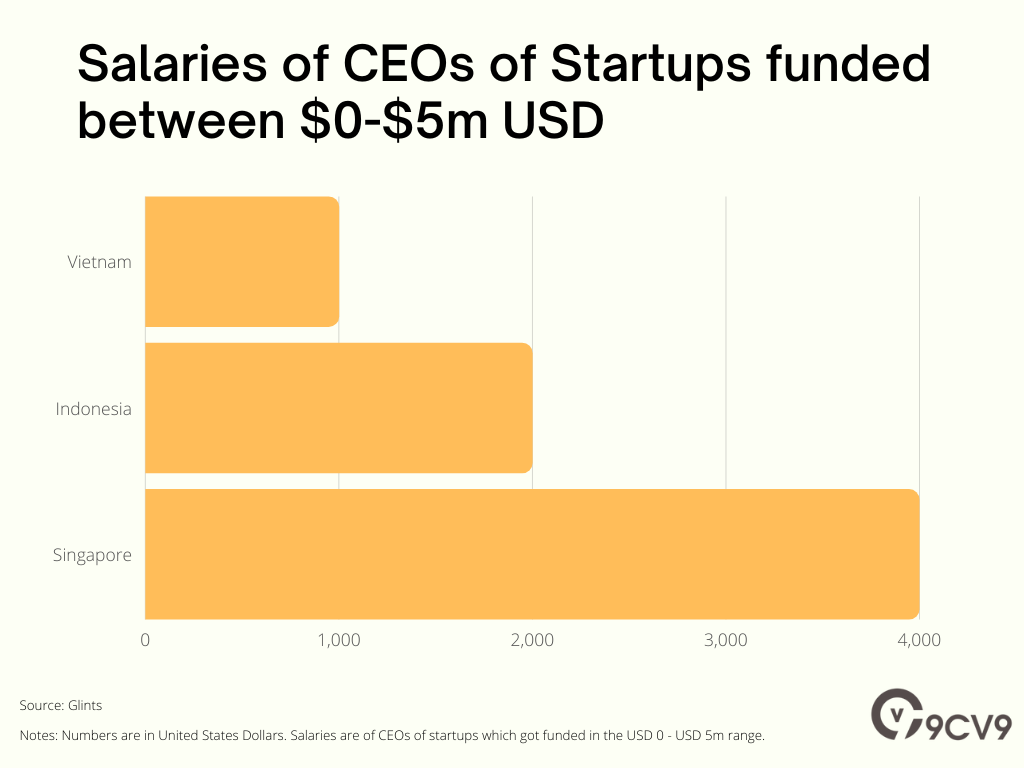 We find that the median salary of a typical CEO of startups being funded between USD 0 to USD 5 million stages is around USD 2,000. Due to the low cost of living in Indonesia, such salary levels could be amenable and sustainable for CEOs living in Indonesia to drive their tech startups. Interestingly, the salary of a tech startup's CEO in Indonesia is around 30% higher than the average tech talent's salary. This means if a typical tech talent were to venture out and be funded as a CEO of his/her own tech startup, he/she will see an uplift of only 30% in terms of a salary earned.
4. 41% of the tech talents work in Jakarta, the capital of Indonesia
No surprises there as most of the tech talents in Indonesia reside in Jakarta, the capital of Indonesia. The next top two locations to find tech talents in Indonesia are Bandung (34%) and Yogyakarta (14%). Jakarta attracts tech talents due to the presence of multinational companies, banks, funded startups, and most firms. Bandung, being just 3 hours away by train (as of writing and perhaps could be just 40 minutes in the near future due to the high-speed train), has one of the best, if not the best tech university in Indonesia, Institut Teknologi Bandung. Yogyakarta, being a low-cost city and also has one of the best tech universities in Indonesia, Gadjah Mada University.
5. Junior software developers can see an uplift of 223% to their salary when promoted to a senior software developer
Junior software developers (typically with 1-2 years of experience) earn on average USD 650 a month whereas a senior software developer (typically with 3-6 years of experience) can earn an average of USD 2,100 a month. Therefore, junior-level developers can expect an increase of around 223% to their salary base when they are promoted to a senior level on average during their time period as a senior-level software developers. The increase in salary is the highest among all the other tech roles and it could be due to higher demand and higher premiums being placed on software developers with strong coding experiences in Indonesia.
6. Salaries of tech talents in Indonesia grew 10% year-on-year
According to our salary sample from 2016 to 2020, we find that tech talents in Indonesia can expect an average yearly growth of 10% in their salary level. This could set a good benchmark and guideline for tech talents in salary negotiation or for human resource staff in the company to impose an increase in the salary level for the tech team. In terms of a compound annual growth rate, we find that salaries grew 7.36% CAGR over a four-year period.
7. Java and Javascript are the two most popular coding languages with 83% and 73% of tech talents possessing them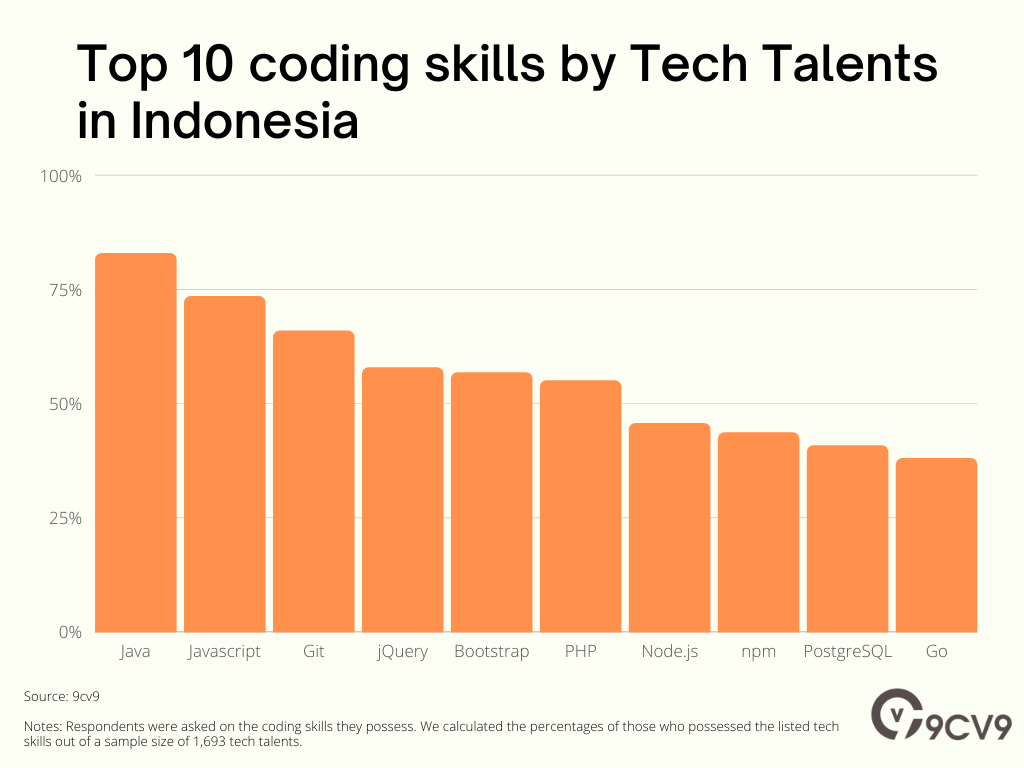 According to the 9cv9 database, we find that 83% of the tech talents surveyed have knowledge of Java and 73% of them are proficient in Javascript. If your company or startup uses Java as the backend language or Javascript libraries, frameworks such as React, Vue, or Angular, then you are well placed to start hiring some great tech talents in Indonesia.
8. 9cv9 is among the most-used IT recruiting channels in Indonesia
9cv9 has over 6 years of IT and Tech Hiring experience in Indonesia. 9cv9 has a wide array of HR technologies such as Jobsrefer, and its own modern CV Builder for Tech Developers, UrbanCV. With clients such as Allianz, HydraX, Morpheus Labs, Brick, E-cqurity cybersecurity, Defy Labs Web3, and many more, 9cv9 is reputed to be one of the best in finding and hiring top tech talents in Indonesia.
Some other websites for hiring tech talents in Indonesia are Jobstreet, LinkedIn, Karir.com, Jobs id, Glints, and finally Kalibrr.
9. Around 20% of tech talents in Indonesia want a fully remote working environment
During the 2020 pandemic, many companies have implemented the WFH (work-from-home) system. In the WFH system, the tech talents can stay at their home and use their WIFI to connect to the Internet and code online. Transportation costs and traveling time can be saved in a WFH working model. After the government announced the partial uplift in pandemic controls, most companies are back to implementing the WFO (work from the office) system. We find that only around 20% of the talents in IT, Technology, Digitalisation, and Automation want to work fully remotely. Interestingly, this is similar to the data of the "Indonesian population who have been avoiding going to work during the COVID-19 outbreak", which is around 20% at the start of 2022.
10. 25% of the students in Indonesia graduate as tech talents, software developers, and programmers
Most of the tech talents in Indonesia are graduates of the IT department. It says on the Ministry of Labour website in 2022, 430.000 people graduated from the IT department. If it is calculated, every year, there are 1.7 million people who get a bachelor's degree from every campus in Indonesia. So that means there 25% of fresh graduates from the IT department every year.
11. Tech talents in Indonesia earn about 50% more than the average salary in all industries
We find that tech talents in Indonesia are very well paid, arguably the highest in the whole country. This could be because of the higher premium being placed on their skillsets from companies and startups facing a shortage of tech talents in their own domestic countries. Tech talents' skills in software development are country agnostics and are applicable in most, if not, all industries.
12. Tech talents in Indonesia are ranked 45 in the world
Indonesian tech talent is ranked at position 51 compared to the rest of the world. Several metrics are evaluated in the ranking which includes the score of students taking the international Programme for International Student Assessment ("PISA") – Math, level of international experience, presence of foreign highly-skilled personnel, the management of cities, level of digital/technological skills, and net flow of international students. We find this to closely mirror our hiring experience of tech talents in Indonesia as their level of software development is relatively lower than those tech talents in Vietnam.
Read also, our earlier article on why we recommend hiring Vietnamese tech developers.
13. Engineering managers in Indonesia can earn up to IDR 70m a month
We find that engineering managers in Indonesia with 3 – 5 years of experience can earn up to 37m IDR to 70m IDR a month. This is around 2.2 times the average salary earned by a tech talent in Indonesia. Still, it pales in comparison to engineering managers in Singapore, who can earn up to 278m IDR a month (around 3 times more than engineering managers in Indonesia).
Final Words
Indonesia is usually not included in the search for tech talent countries like in Singapore, Vietnam, or Thailand.
However, in recent times, with the high number of funded startups in Indonesia, and the hiring of local Indonesian developers powering the tech startups, we see some of the spotlights shifting to tech talents in Indonesia.
Many tech companies are entering Indonesia, starting from unicorns, tech-based start-ups, telecommunications banks, etc.
Also, Indonesia has a few unicorn companies made by Indonesian people like Gojek, Tokopedia, Treveloka, Ajaib, and many more.
They can help tech talents in Indonesia to develop.
If you find this article useful, why not share it among your recruitment and talent acquisition counterparts, or your tech developer friends and network, and also leave a nice comment below?
We at 9cv9 Research Team strive to bring the latest and most meaningful data, guide, and statistics to your doorstep.
People Also Ask
Why are so many people recruiting talent from Indonesia?
Most of the reason is that Indonesia has a lot of young people who are productive to work. In addition, the wages are quite affordable, and most employees now have a good education from good universities in Indonesia.
How do I start to hire tech talents in Indonesia?
Generally, it is the same as looking for a regular candidate, but you must also pay attention to the law on finding workers in Indonesia. Write down the desired requirements by considering the quality, detailed job description, and also salary range to attract candidates. After that, you can post your job advertisement on Indonesia's most frequently used job portals or work with professional headhunters. We highly recommend posting 1 job free on 9cv9 to get started or to use 9cv9 IT headhunting services.
How many hours do Tech Talents from Indonesia work?
Indonesian workers work 40 Hours per week, with a scheme like this: 8 working hours per day from Monday to Friday Or 7 working hours per day from Monday to Saturday
What Benefits Should Be Provided To your Tech Talents in Indonesia?
Benefit allowances that need to be considered following Indonesian labor law:
13-Month Pay: Paid during Eid or Christmas (if not a Muslim). The terms of payment are one week before the religion day.
Annual Leaves: The company gives annual leaves for 12 days a year if the employee has worked for a maximum of one year.
Sick Leaves: Leave given when workers are sick and cannot enter the office. There must be a report letter from the doctor as proof.
Maternity Leaves: Leave for 3 months for female workers who give birth.
Paternity Leaves: 2 days leave for fathers who have just had children.
There are a few more, such as employee marriage leaves for two days and many more. The company also pays health insurance for workers and taxes.
What are some companies that are hiring or have hired Indonesian tech talents?
There are so many tech-based companies, start-ups, and unicorns that recruit tech talents in Indonesia, to help them develop software technology, products, etc. Some large foreign companies such as Shopee, Grab, Google, IBM, Microsoft, Amazon, Oracle, Gojek, Tokopedia, Nielsen, Traveloka, and many more.
What is the average salary in Indonesia?
The average salary of employees in Indonesia in 2022 is around 3,312,002 IDR. This is taken from the Central Statistics Agency of Indonesia in the month of February 2022.
Sources
We give our gratitude and appreciation to all our data sources herein:
Statista (Share of Indonesian population who have been avoiding going to work during COVID-19 outbreak from February 2020 to July 2022)
Was this post helpful?
Let us know if you liked the post. That's the only way we can improve.