Hiring tech talents, engineers, and software developers in Vietnam can be like betting all your money on the Roulette wheel.
You don't know what their salary level is like, their hiring practices are structured, and even whether they can speak good English.
Yet, with inflation soaring in countries like Singapore, Australia, the UK, the US, Japan, and South Korea, many companies and businesses are looking for greener pastures to hire human resources and talents to reduce salaries and hiring costs.
And Vietnam is one of the rising candidates for the top country to hire tech talents.
In this article, we bring you all the latest statistics and data you need to know when hiring tech talents in Vietnam
Key Stats on Hiring Tech Talents in Vietnam
1. The average salary of a software developer is USD 2,000 a month
(9cv9)
Top developers can earn a lot in Vietnam with some earning up to USD 6,000 a month, working in high-growth areas like Blockchain and Web3. The majority however are earning less than USD 2,000 a month, with some of them working for Vietnamese companies and software houses, and the rest for foreign companies.
On average, we find USD 2,000 to be a sweet spot for offering Vietnamese Tech Talents their monthly salary.
2. 54% of tech talents in Vietnam are 20-29 years old
(TopDev)
Developers in Vietnam are young and energetic. Most software developers, engineers, and tech talents in Vietnam are in the range of 20-29 years old. According to TopDev, 54% of software developers are between the age of 20-29 years old. This means they have a greater runway to be groomed, and trained to take key tech leadership positions in your nascent and fledgling tech startup.
3. 46% of tech talents in Vietnam have coding experience of at least 4 years
(9cv9)
Due to a substantial number of software agencies, and development shops setting up shop in Vietnam since 2016, we see that most tech talents and software developers in Vietnam have an average of at least 4 years of coding experience. This means for your tech projects are in safe hands (no pun intended) and coding fingers.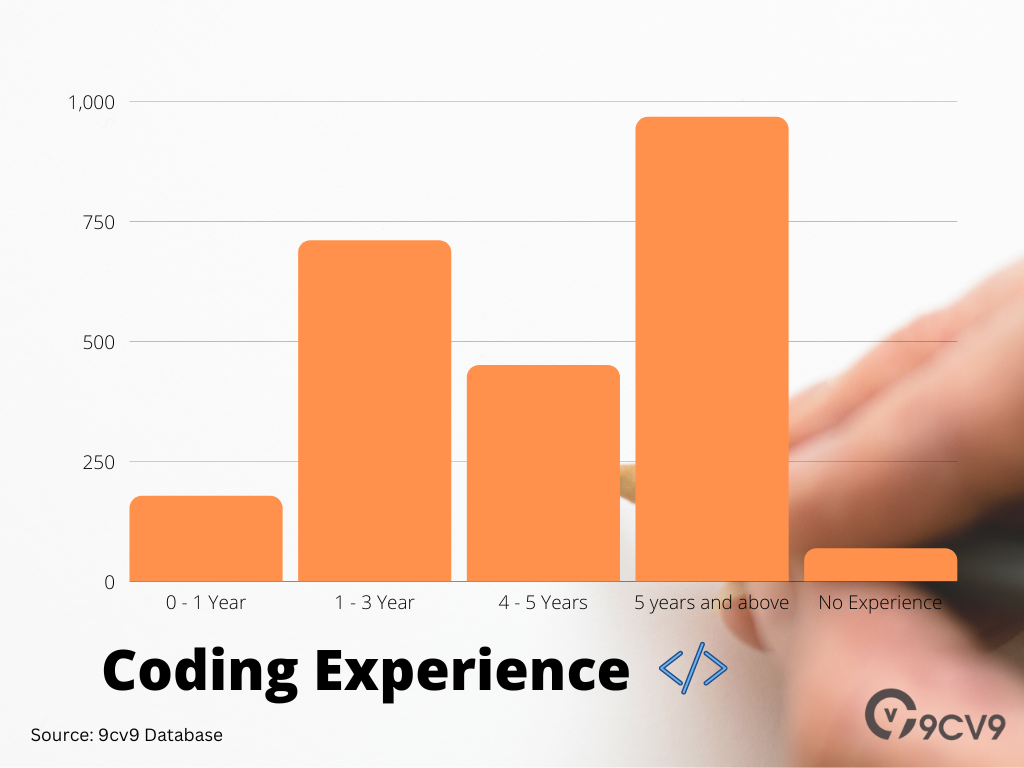 4. 65% of tech talents in Vietnam reside in Ho Chi Minh City
(9cv9)
No surprises there. Ho Chi Minh City (or Saigon) is the living, breathing business hub of the country. Most companies and startups thrived in the business-friendly setting of Ho Chi Minh City. From the ease of entry and situated near the developed country of Singapore and fast-developing countries of Indonesia, Thailand, Malaysia, and the Philippines, Ho Chi Minh City is the new hub of the Southeast Asia Tech Ecosystem.
Based on the 9cv9 database, 65% of tech talents in Vietnam reside in Ho Chi Minh City and 24% of the software engineers reside in Hanoi, the capital of Vietnam. The rest are spread around the country in Da Nang, Can Tho, Nha Trang, etc. So, start booking that air ticket to Ho Chi Minh City soon.
5. 91% of tech talents in Vietnam are male
(TopDev)
Guys dominate the software development industry in Vietnam. While we do see a growing number of females joining the tech coding career, they are still far and few between. According to TopDev Survey 2022, 91% of the developers surveyed are male and 9% are females. This statistic might be helpful for your company to plan your employment benefits, in terms of paternity leaves, etc.
6. React is the most popular frontend library amongst tech developers in Vietnam
(TopDev)
32% of the tech talents profess that they use React as their frontend tech stack, as compared to 27% using Angular and 16% using Vue. React, with several benefits such as high speed, flexibility, and performance, is widely used among frontend developers in Vietnam. If your tech projects use React, then hiring tech talents in Vietnam is your best bet.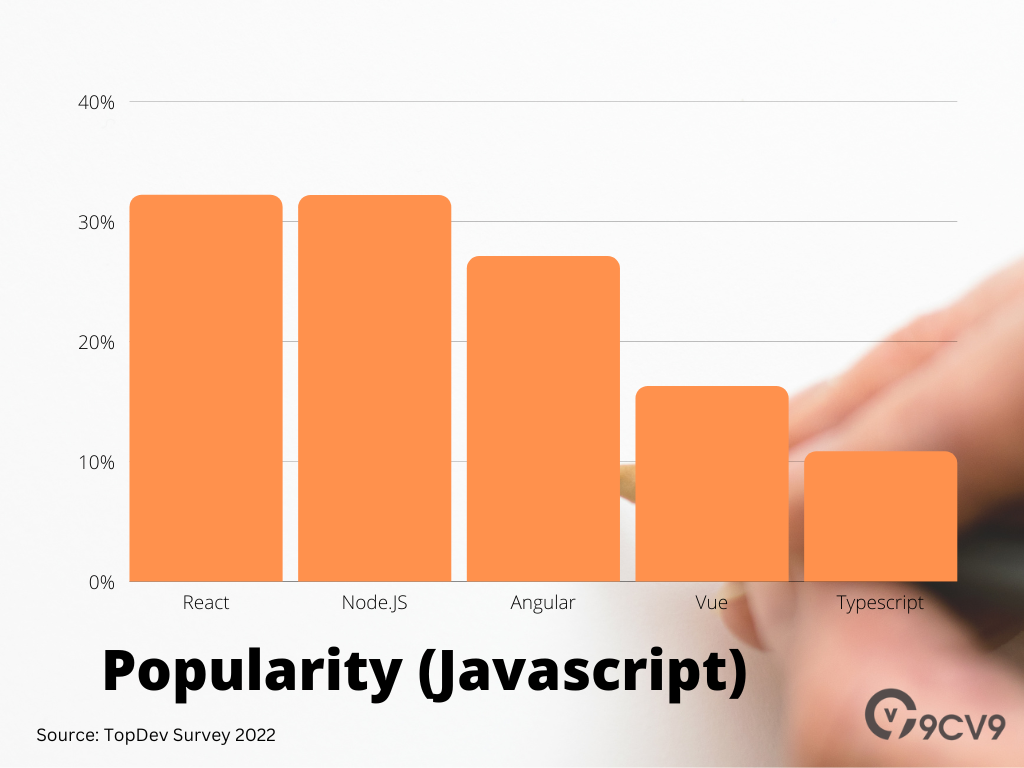 7. 58% are well versed in using MySQL
(TopDev)
MySQL is an open-source relational database management system. According to the tech developers surveyed, more than half said they are good in MySQL compared to 19%, who said they are good in MongoDB, a different database structure. If your tech products use MySQL, then you can find several amazing tech talents who are well-versed in MySQL in Vietnam.
8. 9cv9 is among the most-used IT recruiting channels in Vietnam
(9cv9)
9cv9 has over 6 years of IT and Tech Hiring experience in Vietnam. 9cv9 has a wide array of HR technologies such as Jobsrefer, and its own modern CV Builder for Tech Developers, UrbanCV. With clients such as Allianz, HydraX, Morpheus Labs, Brick, E-cqurity cybersecurity, Defy Labs Web3, and many more, 9cv9 is reputed to be one of the best in finding and hiring top tech talents in Vietnam.
9cv9 is also endorsed by Enterprise Singapore for their GTTA program.
The other recruitment channels used by companies are ITVIEC, TopDev, etc.
9. 87% of tech talents in Vietnam prefer some form of remote working
(TopDev)
When asked about the type of working method they prefer, 25.51% prefer to work remotely for 1-2 days a week, whereas 28.89% like the idea of working half of their working hours at the office and the other half remotely.
The majority, however, at 32.90% prefer to work 100% remotely. This is consistent with the mindset of most IT developers all around the world as well. Due to the lack of a need to be physically present at the company, and with surging transportation costs and perennial air pollution issues, most tech talents in Vietnam prefer to work remotely.
10. 44% of tech talents in Vietnam start to learn coding at the university in a computer science major
Most software developers (44%) in Vietnam started to learn coding at a local university and graduated with a computer science major. The rest of the software developers learned it in college (27%), intensive Bootcamp style (15%), in vocational education training (10%), and online training programs (4%).
11. 43% work in outsourcing companies and 51% work in product companies
(TopDev)
Product companies own the hiring field in Vietnam. According to a survey done in 2022, 51% of tech talents are hired by product companies in Vietnam. Due to the increased number of tech funding for startups in Asia, most are relocating their product and tech departments to Vietnam and hiring to build a tech product team in Vietnam.
12. Labor productivity in Vietnam grew at a CAGR of 15%
(Statista)
Labor productivity is a massive positive in Vietnam. Hiring tech talents can energize, accelerate and boost your tech development and processes. According to Statista, labor productivity in Vietnam from 2015 to 2021 increased at a compounded annual growth rate of 15%.
Not too shabby we say. By hiring tech talents in Vietnam, you can be sure to reap great dividends from them.
13. Tech talents in Vietnam are ranked 66 in the world for English proficiency
(EF)
English is not the strongest suite for tech developers in Vietnam. The native language of software engineers in Vietnam is Vietnamese. That said, most software developers can read and write in English pretty well (as the coding manuals, libraries, and help guides are mostly in English). The only issue is the pronunciation as Vietnamese is a tonal type of speaking language. Hence, we recommend hiring managers and project managers to utilize communication software tools like Slack, Trello, Asana, and even Zalo to communicate with
Summary
Tech Talents in Vietnam are amongst the most sought-after in the world. With strong technical coding skills and robust mathematical fundamentals, software engineers in Vietnam have been the backbones of many tech companies and startups, building amazing tech products.
If you find this article useful, why not share it among your recruitment and talent acquisition counterparts, and also leave a nice comment below?
We at 9cv9 Research Team strive to bring the latest and most meaningful data, guide, and statistics to your doorstep.
People Also Ask
How do I start to hire tech talents in Vietnam?
First, you need to ask yourself whether you want to hire or outsource. Then, learn how to write a good job description and requirements for your tech openings. Thereafter, post the JD on relevant job portals or use specialized headhunters for it. Read more on the complete guide to hire IT developers in Vietnam here.
Do I need to pay the 13th-month bonus to the Vietnamese tech talents?
Yes and no. Legally, it is not obligated and it is not needed by law. But, it is common practice among all the companies in Vietnam and those who do not pay are often shunned by the applicants and employees. As a result, you might have a high turnover rate in your company and competitors are happy to poach these developers off your hands.
What are some companies that are hiring or have hired Vietnamese tech talents?
There are many unicorn startups and big companies in the world that have hired Vietnamese tech talents to build tech products or offer tech services on their payroll. Companies such as Grab, VNG, VNLife (VNPay), M_Service (Momo), Sky Mavis, Manulife, Carousell, Shopback, Ninja Van, etc.
Source:
Was this post helpful?
Let us know if you liked the post. That's the only way we can improve.