Key Takeaways
Discover the Best Platforms: Our guide highlights the top free job posting sites in Hong Kong, providing valuable insights into the platforms that effectively connect employers with top talent.
Streamline Your Recruitment: By leveraging these job posting sites, you can streamline your hiring process, save time, and attract qualified candidates, ensuring a seamless recruitment experience.
Maximize Visibility and Reach: Optimize your job listings on these platforms using SEO best practices to enhance visibility and reach a wider audience of job seekers in the competitive job market of Hong Kong.
---
Welcome to our comprehensive guide on the top free job posting sites in Hong Kong.
If you're an employer or recruiter looking to hire talented individuals in the vibrant city of Hong Kong, you've come to the right place.
In this article, we will explore the best online platforms that connect job seekers and employers, providing you with a hassle-free way to post job vacancies and find the perfect candidates.
Hong Kong, known for its bustling economy and thriving business environment, is a hub for professionals seeking new career opportunities.
With a diverse pool of talent and a highly competitive job market, it's essential for employers to have access to reliable job posting sites that reach a wide audience of potential candidates.
Fortunately, there are numerous platforms available that cater specifically to the Hong Kong job market.
By leveraging these free job posting sites, you can maximize your recruitment efforts without breaking the bank.
Whether you're a multinational corporation, a local startup, or a small business owner, these platforms offer a cost-effective way to advertise your job openings and attract top talent.
Moreover, they provide user-friendly interfaces and robust features to streamline the hiring process, saving you time and effort.
In this guide, we will walk you through the top free job posting sites in Hong Kong, highlighting their unique features, user benefits, and best practices for optimizing your job listings.
We have carefully curated this list based on their popularity, user feedback, and effectiveness in connecting employers with job seekers.
Throughout the article, we will cover a wide range of job posting platforms, including industry-specific websites, general job boards, government portals, and more.
Each platform has its own strengths and target audience, so you can choose the ones that align best with your organization's needs and industry focus.
Whether you're looking to hire professionals in finance, technology, marketing, hospitality, or any other field, our guide will provide you with a comprehensive overview of the platforms that cater to your specific niche.
We understand the importance of finding the right candidates who possess the necessary skills, experience, and cultural fit to thrive in your organization, and our recommended job posting sites will help you achieve just that.
Additionally, we will share valuable tips and strategies to optimize your job listings for maximum visibility and applicant engagement.
From crafting compelling job descriptions to utilizing keywords and leveraging social media, we will provide you with actionable insights to enhance your recruitment efforts and attract top-notch talent.
So, if you're ready to explore the top free job posting sites in Hong Kong and take your hiring process to new heights, let's dive in.
With our comprehensive guide by your side, you'll have all the information you need to find the best talent and drive your organization's success in the dynamic job market of Hong Kong.
Why Hire Talents in Hong Kong?
Hong Kong, known for its thriving economy and bustling business environment, offers a wealth of opportunities for employers seeking to hire top talent. With its strategic location, international connectivity, and a diverse pool of skilled professionals, Hong Kong has become a magnet for both local and global talent.
In this section, we will explore the compelling reasons why hiring talents in Hong Kong can unlock success for your organization.
Strategic Gateway to Asia-Pacific Markets: Hong Kong serves as a strategic gateway to the lucrative Asia-Pacific markets. With its robust infrastructure, pro-business policies, and proximity to Mainland China, Hong Kong offers unparalleled access to a vast consumer base and emerging markets. Hiring talents in Hong Kong enables your organization to tap into these opportunities, expand your business footprint, and foster growth in the region.
Example: A technology company looking to expand its operations in the Asia-Pacific region can leverage Hong Kong's exceptional talent pool to recruit skilled professionals in areas such as software development, data analytics, and digital marketing. This allows the company to establish a strong presence in the region and capitalize on the growing demand for technology solutions.
Global Financial Hub: Hong Kong is renowned as a global financial hub, home to numerous multinational corporations, financial institutions, and professional services firms. The city boasts a robust financial ecosystem, making it an ideal destination for organizations operating in the finance, banking, and investment sectors. Hiring talents in Hong Kong gives you access to a highly skilled workforce with expertise in areas like finance, accounting, risk management, and compliance.
Example: An investment firm expanding its operations to Asia can benefit from hiring finance professionals in Hong Kong who possess in-depth knowledge of the local financial landscape and regulatory requirements. These talents can help the firm navigate the complexities of the market and drive its financial strategies effectively.
Multilingual and Multicultural Workforce: Hong Kong's multicultural environment fosters a workforce with diverse language skills and cultural backgrounds. English and Chinese (both Mandarin and Cantonese) are widely spoken, making communication seamless in international business settings. This linguistic advantage allows organizations to engage with clients and customers from different regions and cater to a global audience.
Example: A luxury retail brand entering the Hong Kong market can hire talents who are fluent in both English and Cantonese, enabling effective communication with local customers and creating personalized shopping experiences. This linguistic and cultural fluency enhances customer engagement and strengthens the brand's position in the market.
Highly Educated and Skilled Professionals: Hong Kong boasts a world-class education system and produces a pool of highly educated and skilled professionals. Its universities are renowned for their academic excellence and research capabilities, fostering talent in various fields such as finance, technology, engineering, and design. Hiring talents in Hong Kong allows you to tap into this talent pipeline and access individuals with specialized knowledge and expertise.
Example: A technology startup seeking innovative minds can benefit from Hong Kong's vibrant ecosystem of universities and research institutions. By hiring local talents with advanced degrees in computer science or engineering, the startup can drive technological advancements, develop cutting-edge products, and stay competitive in the rapidly evolving tech industry.
Entrepreneurial Spirit and Work Ethic: Hong Kong's entrepreneurial spirit and strong work ethic are key factors that make it an attractive destination for employers. The city's competitive business landscape fosters a culture of innovation, resilience, and dedication to achieving excellence. Hiring talents in Hong Kong means bringing onboard individuals who are driven, adaptable, and willing to go the extra mile to contribute to your organization's success.
Example: A startup looking to build a dynamic and ambitious team can find like-minded talents in Hong Kong who thrive in fast-paced environments. These individuals are eager to take on challenges, embrace innovation, and contribute to the company's growth trajectory.
Hiring talents in Hong Kong offers a multitude of advantages for organizations looking to expand their operations, establish a presence in Asia, and tap into a diverse and skilled workforce.
With its strategic location, financial prowess, multicultural environment, highly educated professionals, and entrepreneurial spirit, Hong Kong provides a conducive environment for success.
By harnessing the talents in Hong Kong, your organization can unlock opportunities, drive innovation, and achieve sustainable growth in the dynamic and vibrant job market of Hong Kong.
To learn more about how to hire top employees in Hong Kong, refer to this guide "How to Hire Employees in Hong Kong: The Complete Guide".
Benefits of using free job posting sites in Hong Kong
Using free job posting sites in Hong Kong can provide several benefits for businesses looking to fill their job vacancies.
Here are some of the main advantages:
Cost-effective: One of the primary benefits of using free job posting sites in Hong Kong is that it can save businesses money. Instead of paying a fee to post a job ad, businesses can use a free job posting site to reach potential candidates without incurring any costs.
Wider reach: Free job posting sites often have a large and diverse audience, which means businesses can reach a broader range of potential candidates. This can be especially beneficial for small businesses or startups that may not have a large network of candidates.
Diverse candidate pool: Free job posting sites can also help businesses reach a more diverse pool of candidates. By posting job openings on sites that are popular with a wide range of job seekers, businesses can increase the likelihood of finding candidates with diverse backgrounds and experiences.
Easy and convenient: Many free job posting sites have user-friendly interfaces that make it easy for businesses to create and post job ads quickly. This can save time and make the hiring process more efficient.
Improved employer branding: By posting job openings on the free job posting sites, businesses can increase their visibility and improve their employer branding. This can help attract top talent and position the business as an attractive place to work.
Overall, using free job posting sites in Hong Kong can be a cost-effective and efficient way for businesses to find the right candidates and fill their job vacancies.
Top Free Job Posting Sites in Hong Kong: The Only Guide You Need to Know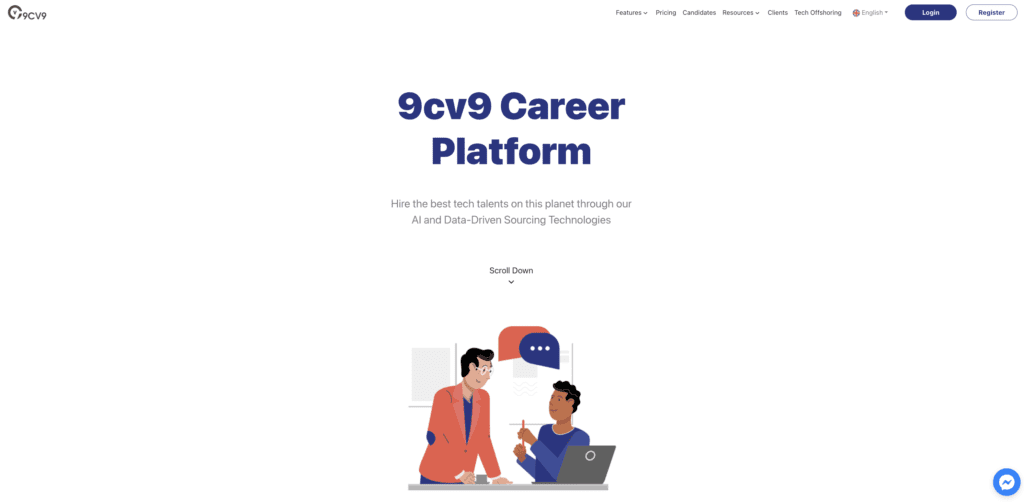 One of the career platforms based in Hong Kong is 9cv9.
It is an innovative and fast-growing startup and has already spread its wings toward Asia countries such as Indonesia, Malaysia, Thailand, and the Philippines.
The main advantage that you get if you use this site to help you get a job is that 9cv9 uses data science and artificial intelligence to match the applicant and the employer.
Since the beginning, nearly 1 million+ job seekers have chosen this platform to find the best jobs and internships in Asia-Pacific.
9cv9 Hong Kong Jobs and Career Platform works with over 4,000 companies around the world to help you find your dream job or internship.
Its sister brands are Jobsrefer, a decentralized HR system connecting your hiring posts to 12,000+ recruiters and freelance referrers in the world, and UrbanCV, a modern CV Builder that has over 10,000+ top CVs on it so far and growing rapidly per day.
9cv9 is one of Hong Kong's biggest HRtech companies in Hong Kong.
9cv9 is also endorsed by Enterprise Singapore (of the Government of Singapore) for the latter's GTTA program. While this is targeted mainly at hiring talents in Vietnam, it says a lot that the Government of Singapore trusts 9cv9 enough to endorse it for its GTTA program.
For more information on tech offshoring in Hong Kong, please inquire here.
Further, 9cv9 is heavily reviewed and approved by third-party review sites as well. If you do not believe it, have a read here at GroveHR on the 20+ most popular job posting sites in Southeast Asia.
2. HK Slash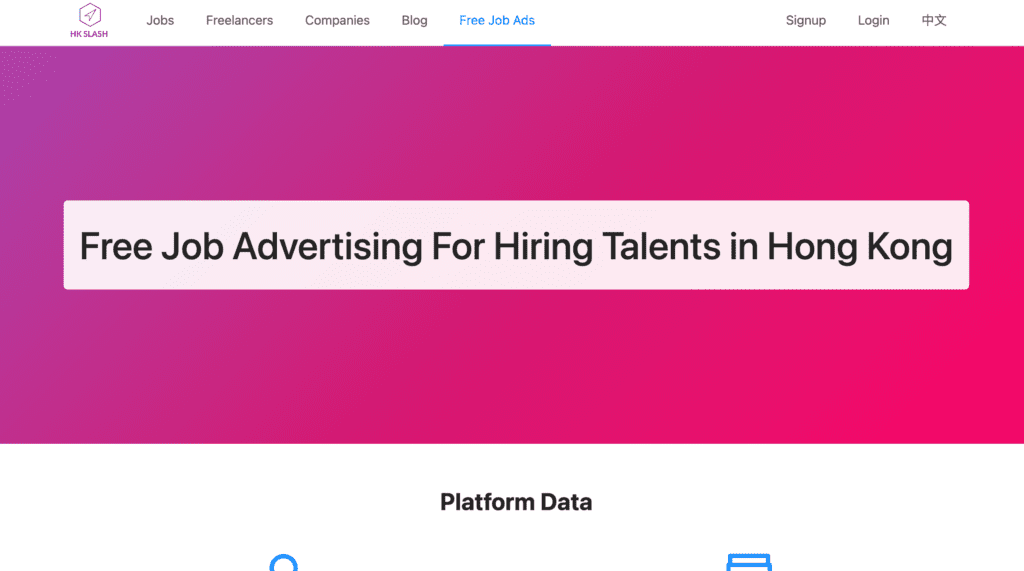 Founded in May 2018, HKSlash is a team dedicated to fostering excellent leadership and providing robust support to its members.
In June of the same year, HKSlash launched its online platform, driven by the belief that the Slash lifestyle is the epitome of the future, continuously attracting individuals from various walks of life.
With a firm commitment to promoting the Slash lifestyle, HKSlash established an employment platform aimed at helping people transition into this unique way of life.
The mission of HKSlash revolves around the advocacy and propagation of the Slash lifestyle.
Recognizing that Rome wasn't built in a day, the team strives to utilize their platform to guide individuals away from traditional work models and embrace the multifaceted nature of Slash work.
By offering a holistic approach to work and life, HKSlash aims to revolutionize the high-pressure working culture prevalent in Hong Kong.
One prominent aspect of HKSlash's services is the provision of free job advertising that enables employers to assess candidates based on job-specific criteria.
By facilitating a comprehensive understanding of potential job candidates, HKSlash helps employers make informed decisions that reduce risks, save time, and minimize high costs for both job seekers and employers alike.
As part of their commitment to supporting businesses of all types, HKSlash offers free job advertisements to companies across various industries.
With HKSlash's platform, employers gain access to a wide range of talented individuals, while job seekers benefit from an efficient and user-friendly interface that maximizes their exposure to potential employment opportunities.
By bridging the gap between employers and job seekers, HKSlash strives to create a harmonious and mutually beneficial environment for all parties involved.
3. Jobomas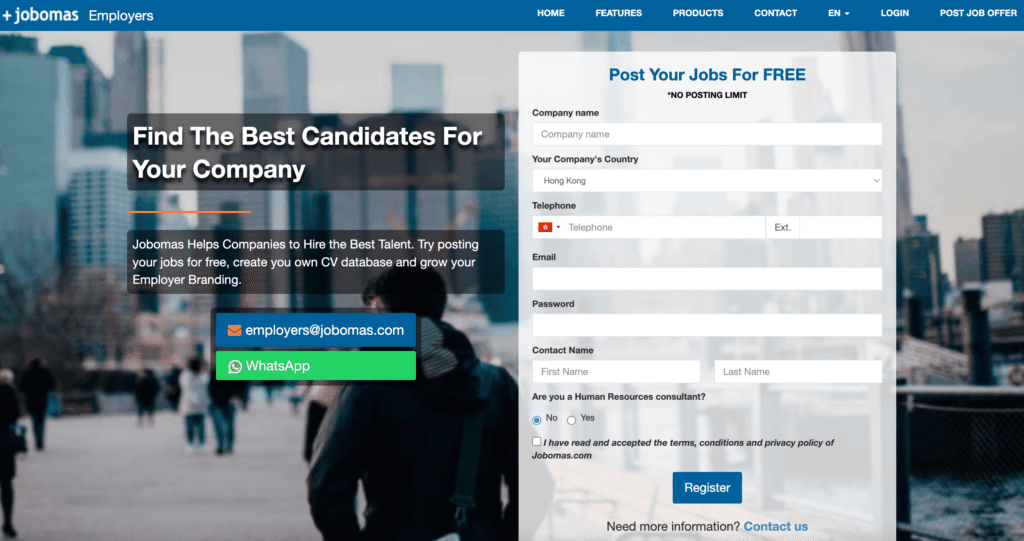 Jobomas, a leading job board in Hong Kong and a rapidly expanding platform globally, offers employers the opportunity to post jobs for free, making it an ideal choice for companies seeking to attract top talent.
With a strong presence in numerous countries across the globe, Jobomas has established itself as a dominant force in the job search industry.
Its reach extends to various Latin American countries, including Argentina, Brazil, Chile, Colombia, Mexico, Peru, Uruguay, and Venezuela.
Moreover, Jobomas has expanded its services to encompass over 60 countries worldwide, including Australia, Canada, France, Germany, Hong Kong, India, Italy, New Zealand, Singapore, South Africa, the entire United Kingdom, and the United States.
This extensive coverage positions Jobomas on the path to becoming the leading job search engine globally.
Jobomas offers more than just a traditional job board.
In addition to job posting services, the platform provides a range of exclusive features and services for its clients.
Employers can utilize simple, highlighted, and premium ads to make their job offers stand out and attract the attention of potential candidates.
Furthermore, Jobomas boasts an extensive international database of resumes from professionals around the world, enabling employers to search for and connect with qualified candidates on a global scale.
By leveraging Jobomas, employers gain access to a diverse pool of talent from different countries and industries, ensuring that their job vacancies receive maximum exposure.
The platform's user-friendly interface and comprehensive search functionalities make it easy for employers to navigate and find the ideal candidates for their organizations.
With its commitment to delivering exceptional job search experiences, Jobomas continues to evolve and innovate, providing employers with valuable tools and resources to streamline their hiring processes.
Whether you are a local business in Hong Kong or an international corporation looking to expand your workforce, Jobomas offers the reach and features necessary to attract and connect with top-quality candidates from around the world.
4. Indeed Hong Kong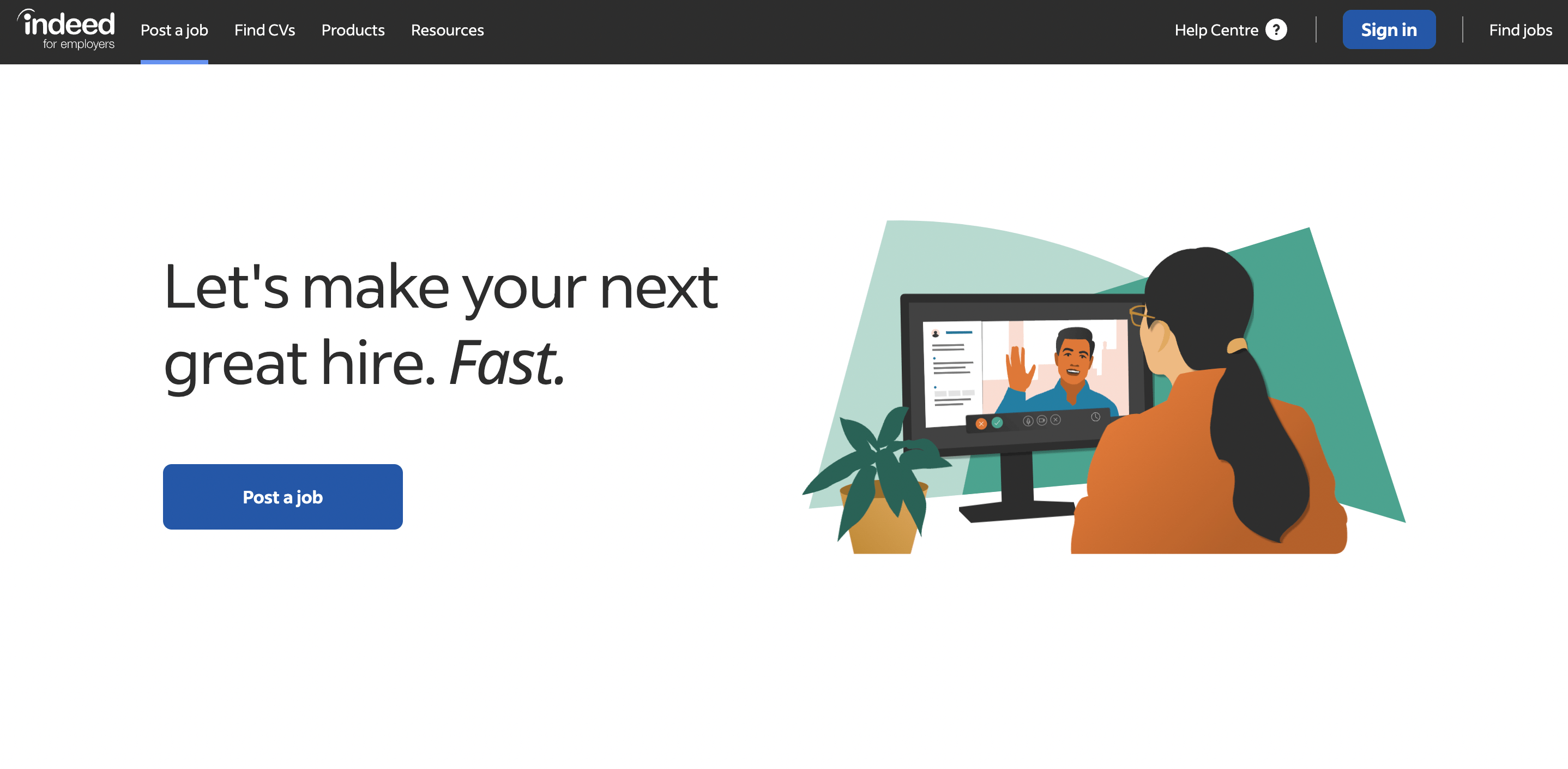 Indeed Hong Kong is a prominent global job board that provides a wide range of job posting options, including both free and sponsored (paid) listings.
With millions of unique visitors each month, Indeed Hong Kong has established itself as a go-to platform for job seekers worldwide.
The platform operates with a core principle of prioritizing job seekers, offering them free access to search for job opportunities, upload resumes, and conduct comprehensive research on companies.
Recognizing the significance of accessibility and inclusivity in the job market, Indeed Hong Kong stands out by providing free job search functionalities to individuals seeking employment.
Job seekers can explore a vast array of job listings across various industries, locations, and experience levels without any cost.
This approach enables a wider range of candidates to access diverse employment opportunities and find suitable positions based on their qualifications and interests.
In addition to free job search capabilities, Indeed Hong Kong empowers job seekers to create and upload their resumes, thereby increasing their visibility to potential employers.
By maintaining an updated resume on the platform, individuals enhance their chances of being discovered by recruiters who are actively searching for suitable candidates.
This feature enables job seekers to proactively showcase their skills, experience, and qualifications to attract relevant job opportunities.
Furthermore, Indeed Hong Kong recognizes the importance of informed decision-making for job seekers.
The platform facilitates comprehensive company research by providing in-depth information about employers.
Job seekers can gain valuable insights into company culture, values, employee reviews, and other relevant details, enabling them to make more informed choices regarding potential employers.
With its extensive reach and commitment to job seekers, Indeed Hong Kong has become a pivotal resource in the employment ecosystem.
Whether through free job searching, resume uploading, or researching companies, the platform remains dedicated to empowering individuals on their career journeys.
By providing these valuable services, Indeed Hong Kong strives to create a level playing field for job seekers, ensuring equal access to opportunities and supporting them in their pursuit of meaningful employment.
Also, if you like to know more about hiring top tech developers in Hong Kong, read this top guide "Hiring Tech Developers in Hong Kong: Best Practices and Strategies".
5. LinkedIn Hong Kong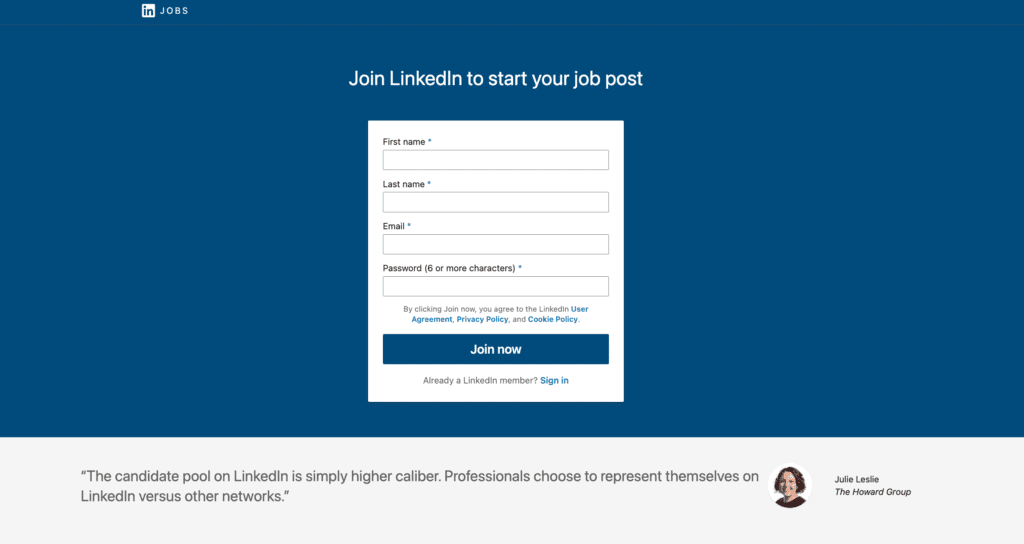 LinkedIn provides a comprehensive platform for employers to effortlessly post their open roles for free, enabling them to effectively target, prioritize, and manage qualified candidates.
With a streamlined process, employers can create job posts in a matter of minutes and gain access to the largest pool of professionals available.
One of the key advantages of utilizing LinkedIn for job postings is its free and sophisticated targeting capabilities. Even if individuals are not actively searching for new opportunities, LinkedIn's platform strategically targets job posts to relevant members based on their skills, experience, and professional interests.
This ensures that employers can reach a broader audience and connect with potential candidates who may not be actively engaged in job searches.
LinkedIn goes beyond traditional job boards by leveraging insights from the job post, the employer's company profile, and its extensive member base.
By utilizing these valuable insights, LinkedIn's platform identifies and matches the right candidates for each job posting.
This data-driven approach enhances the chances of finding the ideal candidates who possess the necessary qualifications and align with the company's requirements.
Furthermore, LinkedIn provides employers with tools to prioritize candidates and manage the hiring process effectively.
By leveraging the platform's features, employers can easily assess and compare candidates, making it simpler to identify top talent for further interviews and evaluation.
This streamlines the recruitment process, saving time and effort while ensuring that employers can focus on engaging with the most promising candidates.
In summary, LinkedIn offers a robust and user-friendly platform for employers to post their open roles and connect with qualified professionals.
By utilizing advanced targeting capabilities and leveraging insights from job posts and member profiles, LinkedIn ensures that employers can reach a wider audience and find the right candidates for their positions.
With efficient candidate prioritization and management features, LinkedIn simplifies the hiring process, facilitating meaningful connections between employers and job seekers.
6. Google For Jobs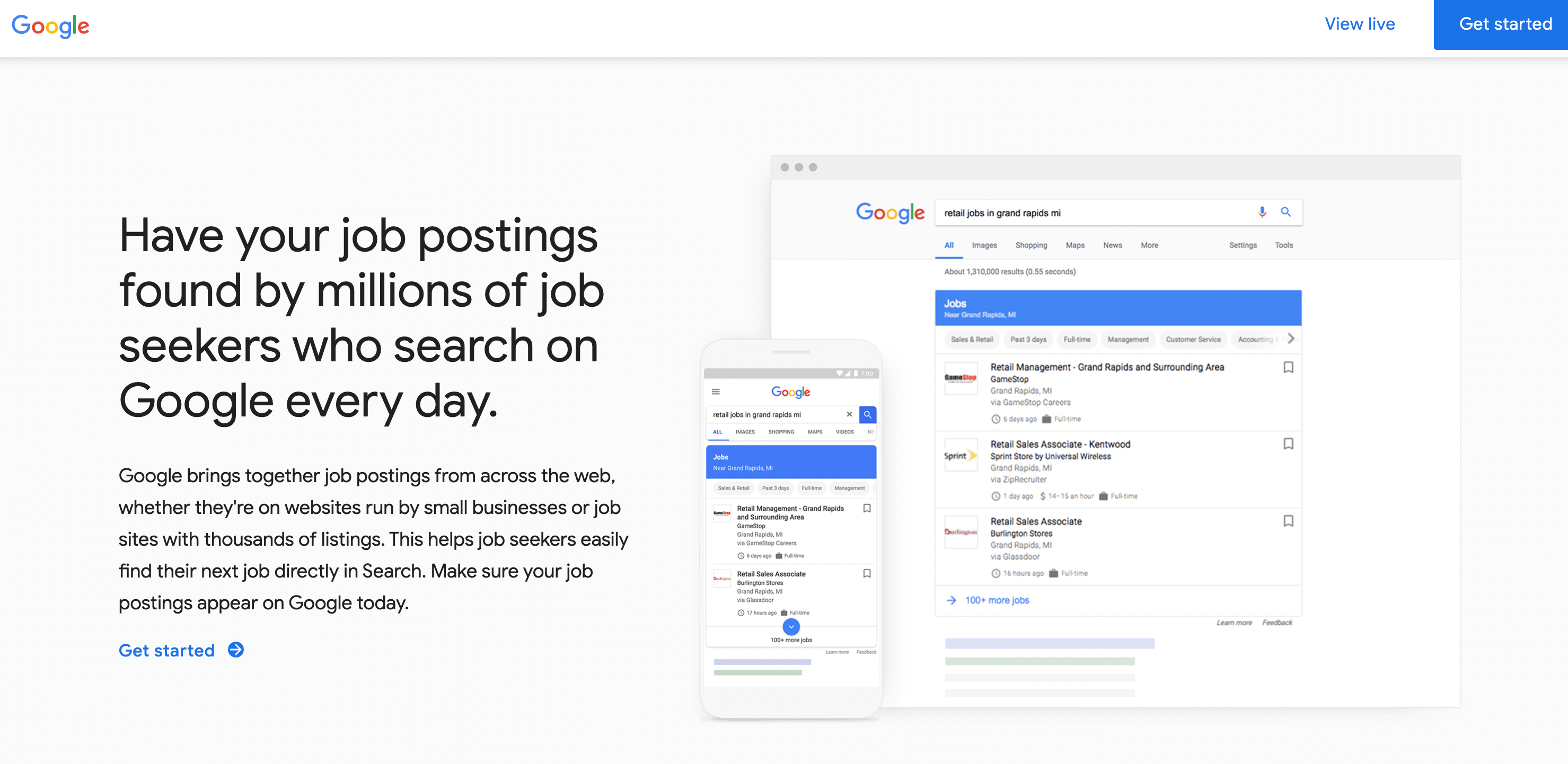 In today's digital era, reaching millions of job seekers who actively search on Google daily can significantly enhance your recruitment efforts.
Google, a global search engine giant, has developed a comprehensive platform that aggregates job postings from various sources across the web.
Whether these postings originate from small business websites or large-scale job sites with extensive listings, Google ensures their visibility and accessibility.
By leveraging Google's job search functionality, employers can maximize the chances of their job postings being discovered by relevant candidates directly through Google Search.
Don't miss out on the opportunity to have your job postings prominently displayed on Google and increase your reach to a vast pool of potential talent.
Conclusion
We have explored the top free job posting sites in Hong Kong, providing you with an extensive guide to streamline your recruitment efforts and connect with the best talent in the city.
With the dynamic job market in Hong Kong and the increasing competition to attract skilled professionals, leveraging these platforms is essential for employers and recruiters seeking to fill their job vacancies efficiently and effectively.
Throughout this guide, we have highlighted a diverse range of job posting sites that cater to various industries and job categories.
From industry-specific platforms like eFinancialCareers and JobsDB to general job boards like Indeed and LinkedIn, each platform offers unique features and advantages to help you find the right candidates for your organization.
By utilizing these free job posting sites, you can tap into a vast pool of job seekers actively searching for employment opportunities in Hong Kong.
These platforms provide user-friendly interfaces and advanced search options, allowing you to narrow down your candidate selection based on specific criteria such as skills, experience, and qualifications.
Additionally, many of these sites offer additional features such as applicant tracking systems, resume databases, and candidate screening tools to further streamline your hiring process.
In addition to the job posting sites mentioned in this guide, it's worth considering other avenues to enhance your recruitment efforts.
For instance, social media platforms like Facebook, Twitter, and Instagram can be powerful tools for reaching a wider audience and promoting your job vacancies. Read more on how to use social media platforms to hire better and faster in this guide "Mastering the Art of Recruiting: Leveraging Social Media Platforms".
Furthermore, engaging with professional networks and attending job fairs or industry events can also help you connect with potential candidates directly.
To maximize the effectiveness of your job postings on these platforms, it's crucial to optimize your job listings using SEO best practices.
Incorporate relevant keywords, clear and compelling job titles, and detailed descriptions to improve the visibility of your postings and attract the attention of qualified candidates.
Remember to highlight the unique selling points of your company and the benefits of working with you to stand out from the competition.
Lastly, don't underestimate the power of a strong employer brand and positive candidate experience.
Job seekers today are not only looking for competitive salaries and job descriptions but also value company culture, work-life balance, and growth opportunities.
By showcasing your company's values, achievements, and employee testimonials, you can attract top talent who align with your organizational culture and goals.
In conclusion, the top free job posting sites in Hong Kong provide invaluable resources and opportunities for employers and recruiters seeking to find the perfect candidates for their job vacancies.
By leveraging these platforms, optimizing your job listings, and building a strong employer brand, you can enhance your recruitment efforts and secure top talent to drive your organization's success in the vibrant job market of Hong Kong.
So, take advantage of this comprehensive guide and start posting your job openings on these platforms today.
If your company needs HR, hiring, or corporate services, you can use 9cv9 hiring and recruitment services. Book a consultation slot here, or send over an email to [email protected].
If you find this article useful, why not share it with your hiring manager and C-level suite friends and also leave a nice comment below?
We, at the 9cv9 Research Team, strive to bring the latest and most meaningful data, guides, and statistics to your doorstep.
To get access to top-quality guides, click over to 9cv9 Blog.
People Also Ask
How to hire in Hong Kong?
To hire in Hong Kong, identify job requirements, post on local job boards, leverage recruitment agencies, conduct interviews, verify qualifications, negotiate compensation, and ensure compliance with employment laws.
What is the salary range in Hong Kong?
The salary range in Hong Kong varies depending on factors like industry, job level, and experience. On average, entry-level positions may start around HKD 15,000 to HKD 25,000 per month, while mid-level roles can range from HKD 25,000 to HKD 50,000. Senior and executive positions can command salaries exceeding HKD 50,000 per month.
Where to hire in Hong Kong?
To hire in Hong Kong, utilize popular job boards like 9cv9 Hong Kong, Indeed, and eFinancialCareers. Consider using LinkedIn for professional networking and recruitment agencies like 9cv9 Headhunting for specialized roles. Additionally, explore local career fairs and advertise job openings on social media platforms for wider reach.
Was this post helpful?
Let us know if you liked the post. That's the only way we can improve.