Finding it difficult to hire and recruit in Singapore?
We hear you.
There could be many legit or fake job sites out there (perhaps taking your money and running away), with some being more user-friendly or cost-effective than others.
For these reasons above, if you want to hire talents effectively and efficiently in Singapore, you need to be methodical in doing your own research before posting your company's job vacancies on these job sites.
Or
You can save time by reading below on and feast on the fruits of our awesome research on Singapore's top job sites to post a job on in 2022.
But wait.
What if we tell you that there is a better deal out there?
A deal that consists of posting your job openings and job roles for Free.
Free?
That is right.
No money is needed to be paid.
No credit card details are required to be inputted.
Nor will your credit card details be saved in the website's database and be risked of being leaked out.
Read this article on a previous case of credit card leakage, and you will know what we are trying to say.
Benefits of a free job posting at a job portal
Honestly, we are unsure what to tell more about the key benefits of posting jobs at a job website that offers free job postings but here we go to elucidate some of the benefits.
1) It is free
Well, the sub-heading above says it all for itself.
It is free.
For Singaporeans, "kiasu-ism" is practically in our blood. Whenever there is any free stuff to be grabbed or collected, we put both hands up (plus legs to run to the free stuff).
So, if it is free, why not right?
2) Paid Job Postings might not be as good as they were advertised
Nobody in the world guarantees that paid services or products are as good as advertised.
Cue Manchester United.
Paying exorbitant salaries for footballers who fall short of their intended performance on the pitch.
And well, many others that you can search on the Internet review sites.
Similarly, some job portals might advertise their wonderful results, but you never know the results unless you try it… for a free trial basis.
At the very least, you won't be disappointed by a free posting offer since there was never money being forked out for the job posting.
Even getting 1 CV might make your time (and no money) worth it, which brings us to our next benefit.
3) High Return on Job Posting Investment
Return on Job Posting/Job Advertisement (ROJ) follows a certain formula below:
Quantity and Quality of Resumes received on the job website / (Time spent on posting jobs + Payment made to the job website for the job posting)
Since payment made is effectively zero, that means ROJ can be simplified to the below formula:
Quantity and Quality of Resumes received on the job website / (Time spent on posting jobs)
As long as you receive 1 good resume on the free job website, it is arguable that your ROJ might be positive since, in this digital era, the time spent on posting jobs on the job websites that offer free job postings will be relatively minimal.
4) No Credit Card is Required
Overcharging on the credit card?
Having a bill shock on your credit card bills?
Your credit card details being leaked (read the article here)?
Headache calling the credit card company to cancel your credit card?
If you like to avoid the above scenarios, then you are reading the right article at the right time and at the right place.
Your credit card details are too important and are sacrosanct.
Therefore, in our guide below, we have carefully curated all the websites and only written on those job websites that offer free job postings and do not require your credit card details to be inputted (for those free job postings).
Hooray for free things and, more importantly, the assurance of credit card security.
---
Hence, in this guide, we have tried our best to be objective in gathering data and inputting the job portal free job postings' user-friendliness and quantity of website traffic, amongst others.
We read many other articles on the internet, and to our disappointment, most of them are all copy-pasting information from each other without much thought and research efforts being put into it.
About us
Having more than 5 years of experience in recruitment in Singapore, 9cv9 has seen it all, heard it all, and done it all. In this article, the 9cv9 research team has condensed and distilled all our learnings in producing some of the best top job sites we have come across and evaluated for their free job posting services.
If you are a local or international talent acquisition executive, a founder looking for your first hire, or a recruitment consultant working at a headhunting agency looking to minimize your hiring costs and expenses,
Then this article is perfect for you to understand the best job websites to post a Free job in Singapore in 2022.
If, however, you are flushed with cash and ready to spend some money for getting higher quantity and better quality candidates, then do have a read at our complete guide to all the websites in Singapore where you can post your job roles on.
---
Top Websites that offer Free Job Postings in Singapore in 2022
In no particular order, the job websites are:
1. 9cv9
Who it's for: Technical or Non-technical roles, such as marketers, operations, HR, etc.
Website: www.9cv9.com/employer
Cost: Free for 1 job posting.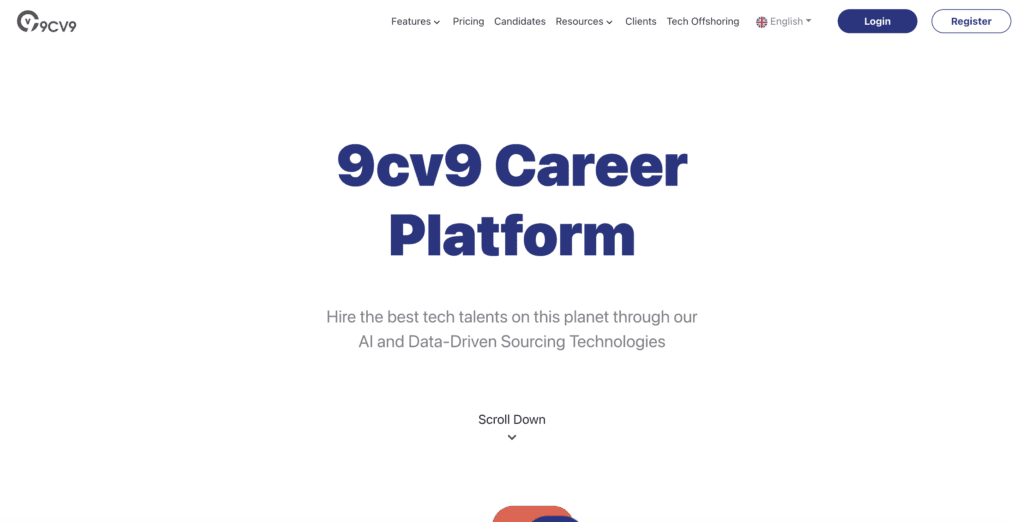 Of course, we must share our flagship job portal and applicant tracking system at 9cv9.
If you are hiring urgently and are looking for one of the best job websites to post a Free job advertisement, look no further than 9cv9.
(Humble brags coming)
9cv9 partners with some of the top job boards to also push your job advertisements at no additional costs.
Or, in other words, Free.
Some of the partner job boards are Neuvoo, Jobble, and Recruit.net.
9cv9 offers 1 free job posting with 3 visible candidates on your job postings.
Do try it today by posting 1 job for free.
If you are hiring for technical roles, then 9cv9 is well-equipped to do so.
9cv9 is also endorsed by Enterprise Singapore (of the Government of Singapore) for the latter's GTTA program. The GTTA program helps startups and companies hire offshore tech talents such as that in Vietnam. For more information on tech offshoring, please inquire here.
Further, 9cv9 is heavily reviewed and approved by third-party review sites as well. Don't believe? Have a read here at GroveHR on the 20+ most popular job posting sites in Southeast Asia.
2. MyCareersFuture
Who it's for: Companies hiring Singaporeans and Permanent Residents ("PR")
Website: https://employer.mycareersfuture.gov.sg/
Cost: Free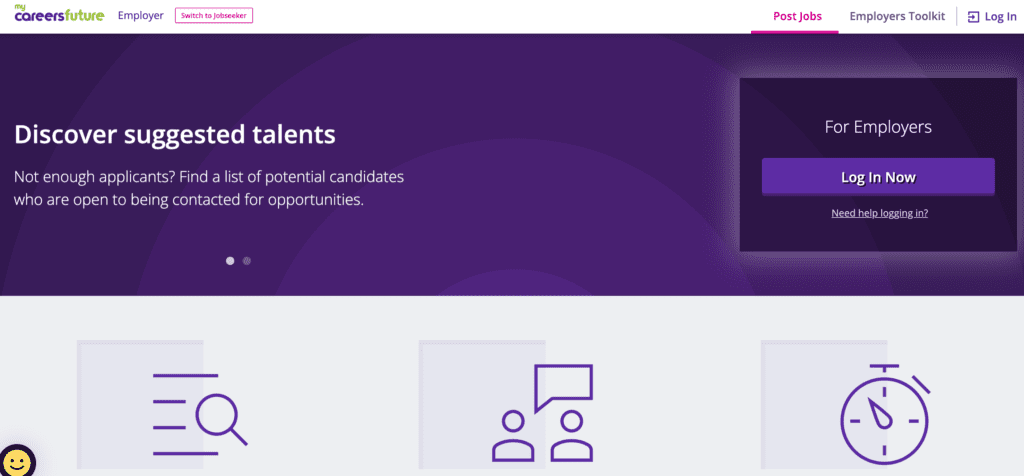 MyCareersFuture is a job portal maintained by the Government of Singapore and mainly caters to companies hiring Singaporeans and Permanent Residents ("PRs")
The good thing about MyCareersFuture is that it is Free.
Yeah. Free.
The only catch is you need a Singapore-registered company, as you need something called "Singpass" to log in and post jobs.
For more information on the "Singpass", read here.
The other not-so-good point (to some hiring companies) about MyCareersFuture is that MyCareersFuture only allows Singaporean and PR job seekers to apply for jobs on the portal.
If your company is looking to hire foreigners or expatriates, then posting on 9cv9 above would be recommended.
But that said, we think it is worth it to post on MyCareersFuture.
The team at 9cv9 hiring also uses MyCareersFuture frequently for free and finds that there can be good Singaporean candidates applying on that portal.
And again, it's free.
So just try it and let us know how the result is?
3. LinkedIn
Who it's for: General roles from non-technical roles to technical roles
Website: https://www.linkedin.com/talent/post-a-job
Cost: Free for 1 Job Posting.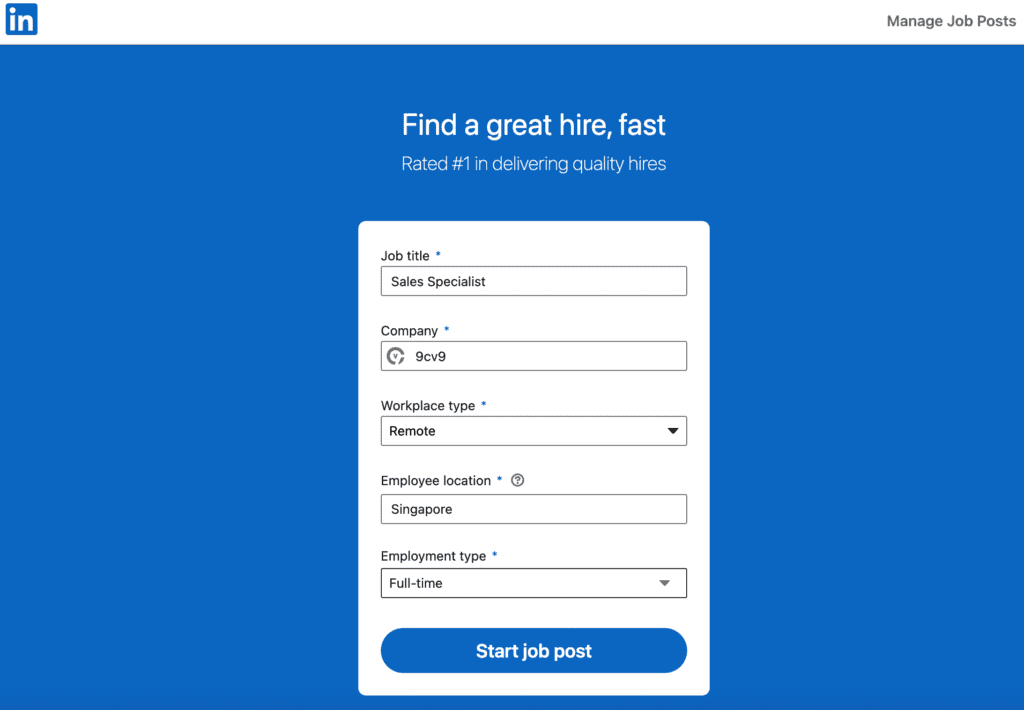 Well, LinkedIn for Hiring.
We will not go in-depth to elaborate on LinkedIn Jobs for hiring as we earlier have written on LinkedIn in our complete guide to all the job websites in Singapore.
LinkedIn offers all accounts the ability to post 1 job for free with limits on the number of applicants received depending on the age of your account.
We feel that the 1 free job posting per account would suffice to get suitable talents.
Do note for the 1 free job posting, there is a limit to the number of applicants, and once the limit is reached, LinkedIn will pause the job and remove it from its job list.
All you need to do is a simple hack.
Just close the job and re-post it to push your job up the job list on LinkedIn.
Easy.
Sometimes, LinkedIn might have a bug that LinkedIn cannot detect that you have closed your 1 free job.
In that case, just wait 3-5 days, and the bug will resolve by itself.
The team at 9cv9 has used LinkedIn to post jobs for our job openings, and we can vouch for its effectiveness and efficiency.
One downside to LinkedIn is perhaps it is a general job portal, and therefore, you might get applicants who are not relevant to your job posting. This means more time screening and filtering your applicant pool.
4. Glints
Who it's for: Companies hiring interns
Website: https://employers.glints.sg/
Cost: Free.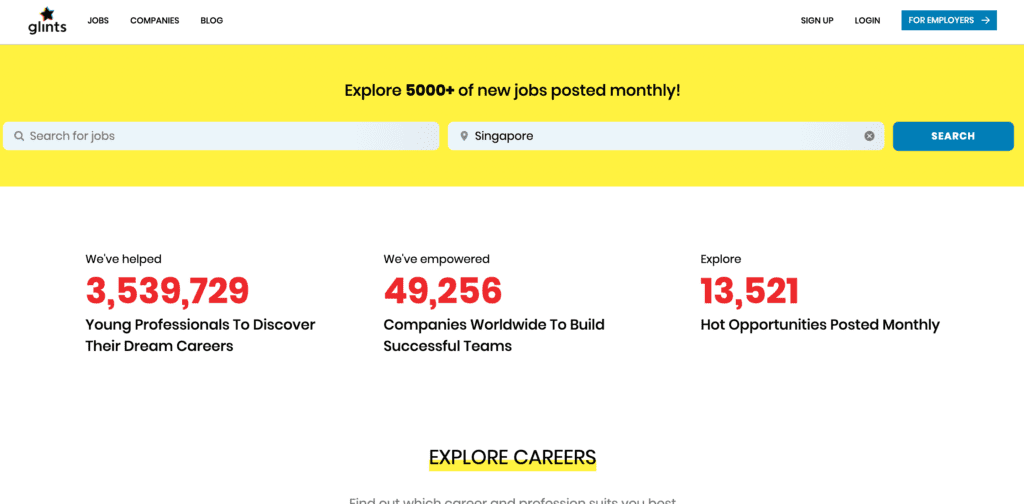 Glints is well known in Singapore as an internship portal when it first started out. While not too popular in Singapore, they are one of the most visited job portals in neighboring Indonesia.
According to SimilarWeb, Glints Singapore has around 70,000 website traffic in Singapore for the month of September 2022.
The jobs posted for Singapore are usually skewed towards hiring interns on Glints.
Every company can post a job for free on Glints and receive applicants.
In Singapore, the quantity and quality issue is a moot point, but so far, we have tried and found that there are definitely some amount of resumes you will receive on the website.
Going back to the "Benefit 3" written above, as long there is 1 CV that you will receive at the portal, we feel that it might be worth your time to check Glints out and post a job there.
We like that it is free, but job postings on their website have to undergo a review, and it might take some time before they become active.
5. Indeed
Who it's for: General roles from non-technical roles to technical roles
Website: https://sg.indeed.com/hire
Cost: Free.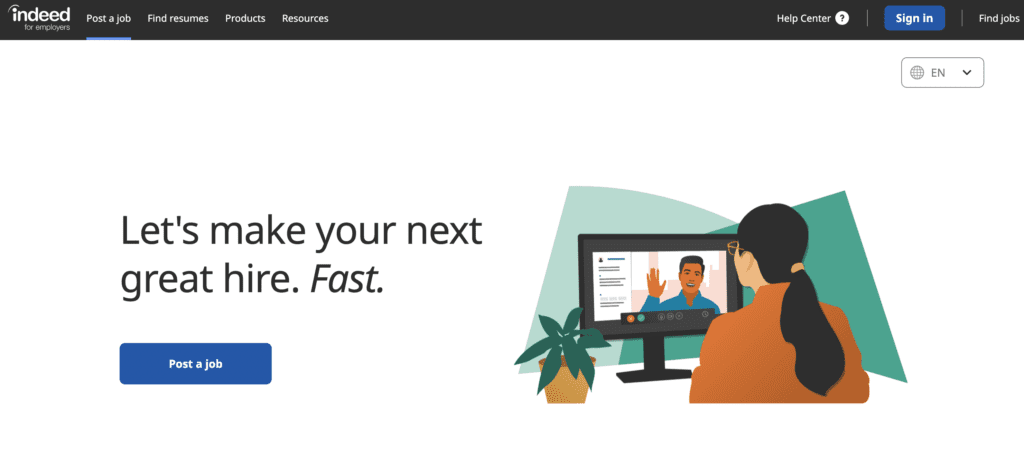 Arguably the number one job website in the world with over 564 million visits in the month of September 2022, Indeed has been the default job posting website used by almost any and every company in the world.
Almost half of its website traffic comes from the United States.
Its Singapore-focused website garnered about 2.2 million website visits in the month of September 2022 (See image below).
Of the 2.2 million website visits, those in Singapore made up around 58%, which means around 1.3 million visits from people in Singapore.
Not too shabby.
However, in Singapore, Indeed's branding might not be as strong as that of MyCareersFuture, which is a government-sponsored job portal.
Also, Indeed is a general job portal, unlike that of 9cv9, which focuses more on technical roles such as software developers, programmers, and engineers.
Notwithstanding, we feel that all hiring managers should give Indeed a shot, as they can post jobs for free.
If it is free, why not?

– 9cv9
All employers can post a job for free, but the quantity and quality of incoming job applications might be suppressed.
Summary
To summarize, we have written on the top 5 job websites in Singapore that offer free job postings.
Most of these job websites might limit the exposure, quantity, and quality of the applicants, but at the very least, you can comfort yourself by knowing that you did not spend a single cent on the job posting.
If however, you feel that the quality and the service received by these job websites are comfortable for you to proceed to a paid plan or service on the website, then we highly encourage you to take that step forward.
After all, a good applicant received can deliver positive results and bring your organization to the next level.
For other job websites that you can try using in Singapore to post a job, be it free or otherwise, then look no further than our complete guide to job websites in Singapore for 2022.
If you find this article useful, why not share it among your recruitment and talent acquisition counterparts, and also leave a nice comment below?
We at 9cv9 Research Team strive to bring the latest and most meaningful data, guide, and statistics to your doorstep.
Was this post helpful?
Let us know if you liked the post. That's the only way we can improve.