TDLR: Innovations Groups Philippines is a Scam Company, which does not pay its suppliers, and vendors and has questionable HR and Employment Practices for its workers and employees.
At 9cv9 Career and Job Platform, our team has encountered some of the best companies to work for, some not-so-good, some scammy, and some fraudulent companies.
With reports on job scams being rife, the 9cv9 Research Team has decided to take on the mantle of exposing scammy companies to help job seekers and employees to make the right decision on finding a safe, proper, and high-salaried job.
According to The Straits Times Singapore, job scams have been on the rise in this year with around S$781k lost for victims of the job scams (See image below).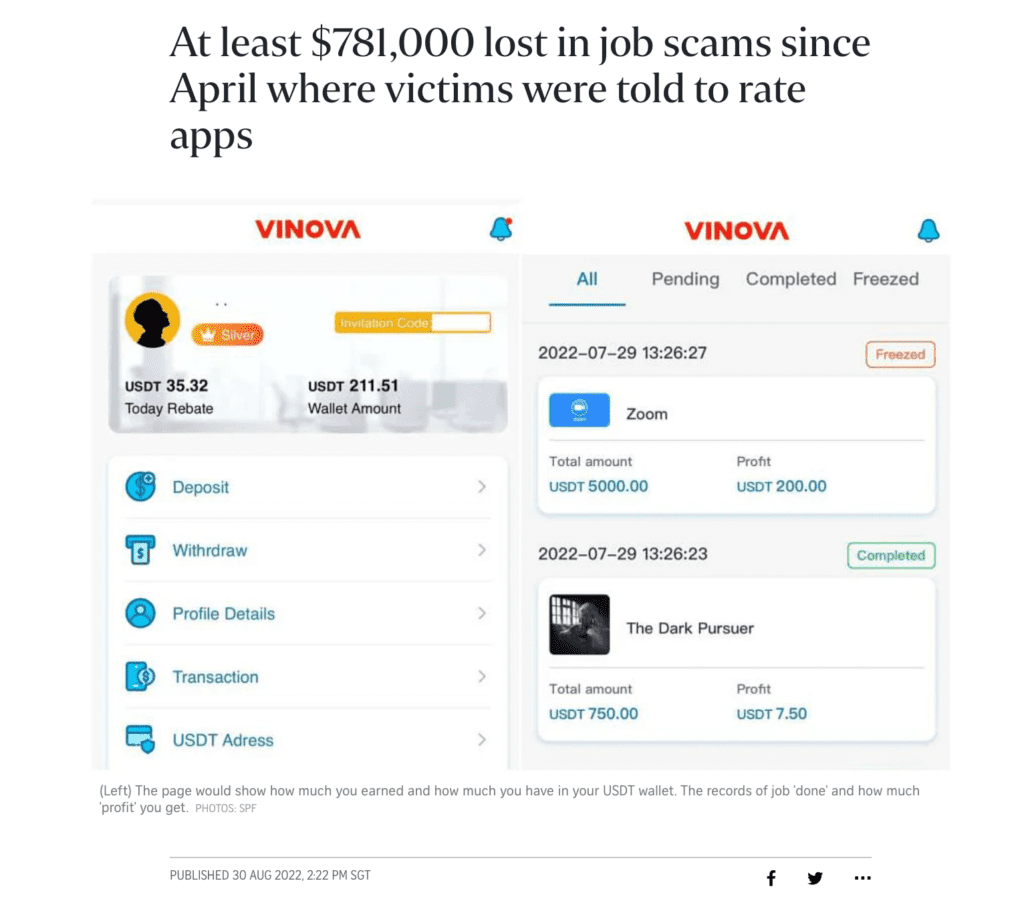 Therefore, it is incumbent on us 9cv9 as Asia's premier Career and HR technology company to help expose some of these scammy companies and in the process, to help job seekers and employees make an informed decision on their next company.
If you find this article useful, do remember to share it around your network to help more people.
Who or What is Innovations Groups Company?
Innovations Groups is a Chinese Gambling company that is reportedly based in Pasay Philippines.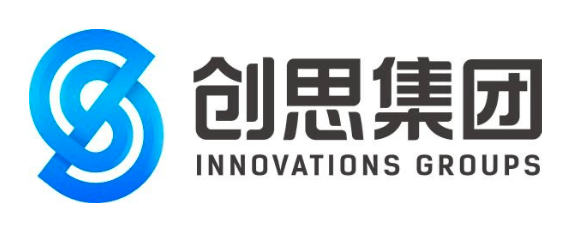 Their website can be found here.
On first look, their website seems very basic and does not show much insight and information about their company and the work culture in the company.
Below is a screenshot of their website and the job openings that they show on their website.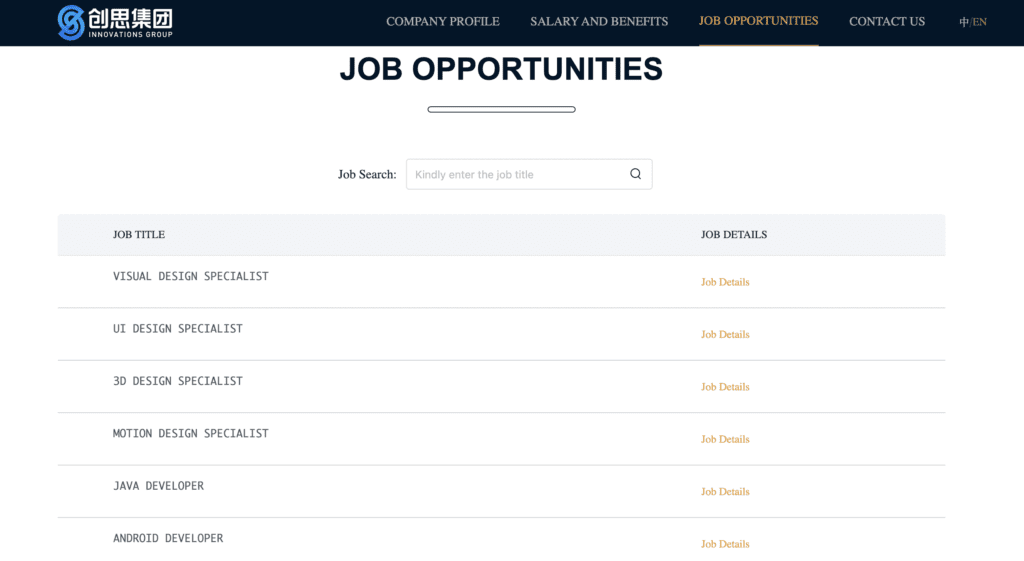 There seems to be quite a number of job openings.
We think that Innovations Groups is always hiring a lot of roles due to high turnover from their workers and employees leaving their organization (perhaps due to the discovery of bad working conditions or onerous employment conditions).
Also, we saw an interesting employment policy – that their workers and employees have to work 6 days a week with a 9-hour work shift.
This means in a typical month of 30 days, their employees have to work an extra 4 more days without a commensurate increase in salary.
This works out to be an 18% increase in work hours for an Innovations Groups employee.
Unlike most companies around Asia, which have a 5 days work week with Saturday and Sunday being rest days, employees in Innovations Groups have to work 6 days a week.
This leaves only 1 day of rest a week.
That sounds exhausting.
They might go under another name or logo to deceive jobseekers or vendors.
We find that they have used "Times Group" before and have stopped using it (perhaps due to some exposure by other parties for their questionable HR and Recruitment practices)
Below is a screenshot of another logo that they are using.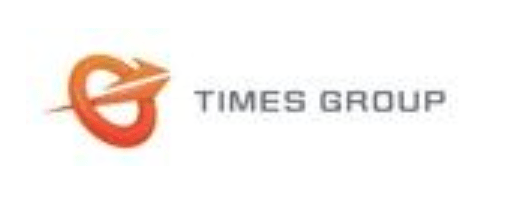 They might be shapeshifting into another logo, brand name, or hiring company. We highly advise all prospective jobseekers and applicants to do their own due diligence before applying to companies and before accepting job offers.
Glassdoor Reviews reveal deceits and possibly illegal employment practices
We take a look at the Glassdoor Reviews made by real employees about Innovations Groups (Times Group) Philippines.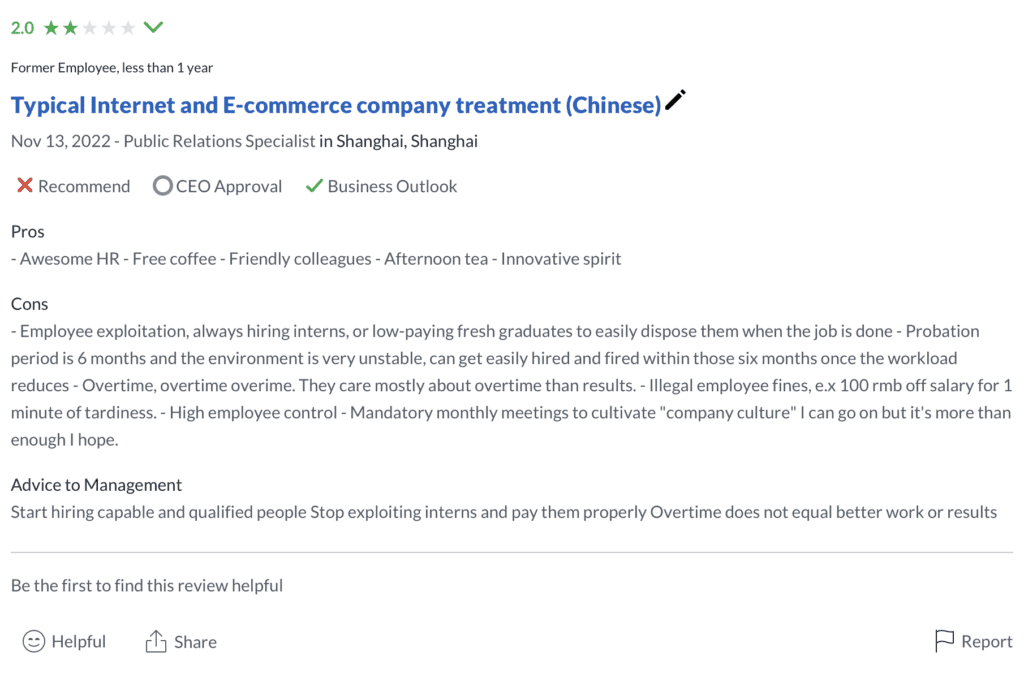 An employee who worked at Innovations Groups mentioned that the company is always exploiting employees, and low-paying graduates to get rid of them once the work is done.
Since the probation period is 6 months, that gives the company enormous power to do anything they want to terminate you in that 6 months. The reviewer added that if the workload reduces, then the employee will be terminated.
Also, there is no work-life balance in the company.
The directors and managers will force the staff to work long hours and overtime. We are not clear that overtime will be paid and possibly you will be working overtime for free.
There are illegal employee fines as well imposed on the workers and tech developers, with an 800 PHP fine being imposed for each minute of being late.
We highly recommend that the Department of Labor Employment in the Philippines look into this.
They have cheated many recruiting agencies
We got wind of a recruiting agency which is based in Vietnam and has been providing recruitment services to them.
The other recruiting agency got cheated and did not get paid for their services.
It seems this is prevalent in Innovations Groups' business practices – to avoid paying their vendors and suppliers.
When asked about why they do not make payments, Innovations Groups made a lot of excuses such as their finance team not computing the owed amount or feigning ignorance about a signed contract.
Below are screengrabs of conversations between the other recruiting agencies and our team.



Also, they have not paid our company the service fees that are rightfully owed as well.
We highly urge that if you are one of the recruiting agencies being approached or sought after to help recruit for Innovations Groups, you should immediately stop and seek payment or legal redress (if they did not pay you).
If you are one of the companies being defrauded by Innovations Groups Philippines, send us an email here at [email protected] to let us know.
The following are their known telegram IDs and mobile numbers. If you have been contacted by any of these members, please report them to the DOLE or to your nearby police post for immediate action.
@HR_LUCILLA
@HR_Jujii
@HR_JULI1
@HR_Rosie
@HR_Recruit
@HR_Lindaa
@HR_Kyrie
@hr_Akila8
@rubychen1001
@HR_Hujun
@HR_Elio
@jshr_monique
@HR_maggie
+639661542432 (MAggie) HR Director
+639772002451
+639569888494
+639665709921
+639054790015
+63921237236
+639054790069
P.S. Help to contact the numbers above to persuade them to return the money and salaries to affected workers and employees.
Innovations Groups uses Fake Profiles to Recruit
According to another source, the HR from Innovations Groups are anonymous and do not put their profile pictures on their messenging communication.
Below is a screengrab of one of their HR's telegram profiles.
We find that all of their HRs and contact personnel are using fake pictures and do not put authentic images on their media profiles.

They have also asked some candidates to provide sensitive information and documents immediately.

As shown above, applicants applying to Innovations Groups Philippines are skeptical about the company.
They will create new Telegram accounts upon being discovered
Innovations Groups' HR uses Telegram to communicate with their vendors and employees.
Upon being discovered by job seekers and other parties that they are using fake profiles, they promptly deleted their accounts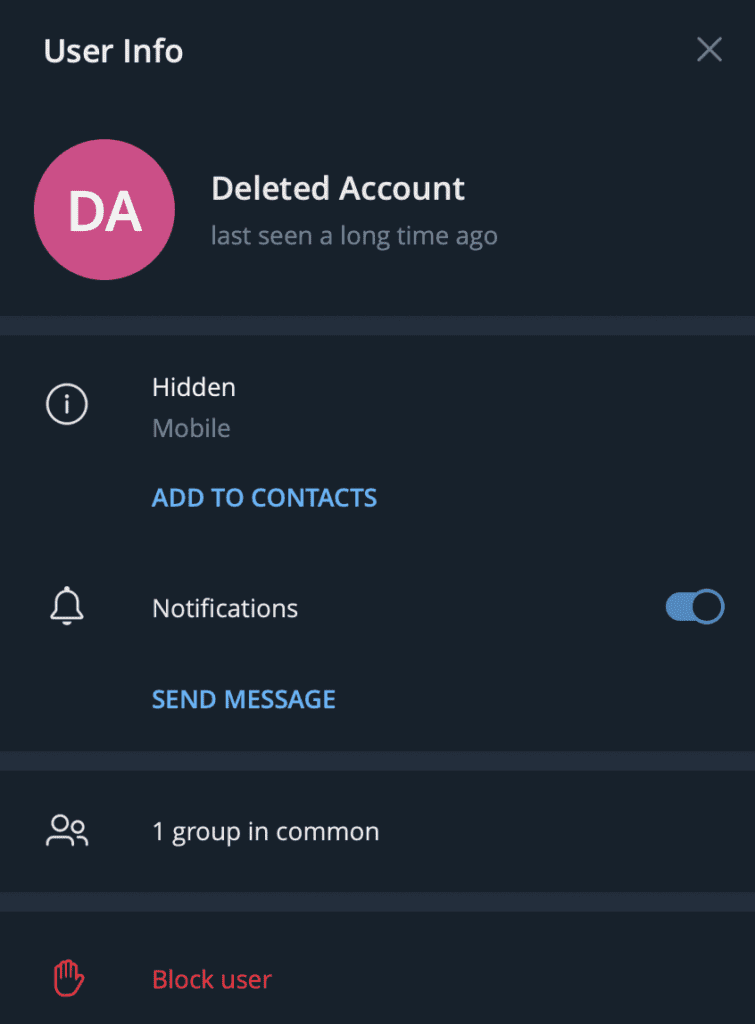 This allows them to shapeshift out of trouble and to continue to deceive and scam more people to join their company.
Their HR and employment practices are shady and Innovations Groups do not reveal much about the company and its inner workings.
There seem to be some fraudulent practices ongoing at their company.
According to another job applicant, he mentioned that Innovations Groups is working on illegal products and services.

Working on such illegal products and services can be detrimental to your career and in some cases, you might be found "contributing to their illegal activities" and thereby be sentenced to pay a fine, or to prison.
Do not risk it.
If you are applying to Times Group or Innovations Groups and/or have received a job offer from them, cancel it immediately and look for another job.
If you are working for Innovations Groups, then we advise you to start looking for another job in another company.
Good news.
At 9cv9 Job Portal, we have jobs and internships from over 3,500+ companies worldwide. Once you register and switch on your "Job Finding" switch at 9cv9, over 3,500+ companies can send job invitations to your profile and hire you.
Key Personnel Entangled in this Scam of Innovations Groups Philippines
HR Director Maggie Gao
According to LinkedIn, Maggie works as a Human Resource Director in Innovations Groups.
She was the one who also signed the recruitment contract and acted as the head of recruiting for Innovations Groups.
When we messaged her on LinkedIn, she immediately blocked us and gave no reply to our questions and comments.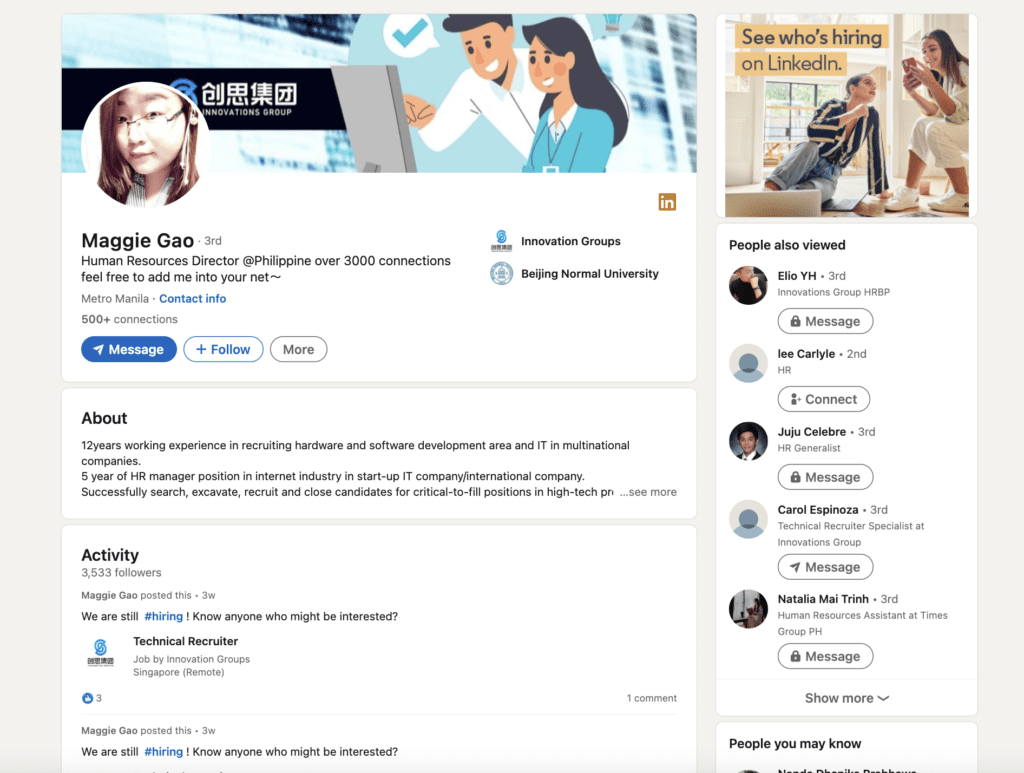 This is her profile picture on Telegram as of Nov 2022 provided by one other Recruiting agency that was scammed by her recently.

They have other recruiters working under them and shapeshifting around with fake telegram profiles and emails.
They forced Employees to pay their salaries to a "Training Fund"
We have heard from some reliable sources that Innovations Groups Philippines have forced their employees to deposit a certain percentage of their salary into a sinking fund, which will only be returned only if that employee stays for a certain amount of time.
When asked, the ex-employee interviewed said the sinking fund is implemented due to the "training" that the Innovations Groups company will be giving to the employees. As such, according to the HR at Innovations Groups, it is only "right" that the Innovations Groups company will withhold.
One of their employees came to us saying that he was forced to resign due to this onerous plan.
If you are one of the employees or staff being swindled by Innovations Groups Philippines, we recommend you can send us an email here at [email protected] to let us know.
Or if you know of any shady HR and Recruitment practices from any other companies, do let us know via an email to [email protected]
All correspondences shall be kept in strict confidence
Together, we will stop shady and unethical HR and employment policies.
Was this post helpful?
Let us know if you liked the post. That's the only way we can improve.