Do you know how many people pass the CV screening process and actually got an invitation for an interview?
Based on Glassdoor, each corporate job offer attracts 250 resumes, on average!
That is a huge number.
Among those candidates, only 4 to 6 applicants would be called for an interview.
The pandemic situation in 2020 also worsens the probability of job seekers to nail a job. Many people get fired which makes the competition for a job position much tougher than ever!
It is way harder to pass the first screening process, which is the CV screening stage.
But do not worry. We've got a list of how to write the best resume in 2020. In this article we will be sharing on:
Curriculum Vitae VS Resume
Most people misinterpret between CV and Resume.
They refer CV and Resume as the same document.
Both of them are documents which consist of your personal information, work experiences, skills, and awards. While both of them are your marketing tools to advertise yourself to hiring managers, they are still two different things.
Curriculum Vitae (CV) is the document which contains your entire career experiences. While resume is the document which consist of only relevant work experiences with the job you are applying for.
Simply put, you know now that CV will tend to be longer than resume does.
When it comes to applying for jobs, HR managers prefer shorter resumes. They want concise but clear resumes. So, if you are an experienced worker with more than one-year of working experience, a 2-pages-long resume would be acceptable. But, if you are a fresh graduate, a 1-page resume is enough.
---
Further readings
Common Mistakes in Writing Resume
You obviously want to give the best first impression to the recruiters. The most common way of giving the best first impression to the employer is through your resume.
Keep in mind that there are some deal-breakers that could make hiring managers dismiss your resume right away. Certainly, you don't want that to happen.
So, what are those? Make sure your resume does not contain anything on this list below:
1. Spelling and Grammatical Errors
Always proofread your resume after you have finished, and before you submit your resume to a job portal.
You can ask your friend or colleague to do you a favor by proofreading your resume. Or, you can utilize online proofreading services like Grammarly to check any misspelling or grammatical errors in your resume.
Also check out: 27 Proofreading Tips That Will Improve Your Resume
2. Too Long Resume
A very long resume is a turnoff for recruiters. There are so many resumes that the hiring managers have to read everyday and they won't want to spend most of their time on your resume.
Limit your resume to only 1-2 pages.
You should include relevant information that match the job you are applying for. If you are a fresh graduate who is applying for entry-level jobs, a 1-page resume suits you best.
3. Unprofessional Email Address
Admit it. Creating an email is easy. You only need 5 minutes or less to make an email with free email providers such as
Certainly, you have the time to make a new better looking email address that you can use for your application. An email contain your full name is recommended. For instance, [email protected] or [email protected]. Don't use emails like [email protected] or [email protected].
Profanities-laced emails are definitely not recommended to put on your CV/Resume.
4. Using Personal Pronouns
Words like "I", "my", or "me" are such deal-breakers. You might want to cut them off from your resume. You don't need to use any personal pronouns.
Just go straight to the active verb.
For example, instead of writing "I developed a new sales strategy that increase revenue as much as 67%", you can start straight from the word "develop".
Also read: Should I write my CV in first person or third person?
5. Repetitive Words in Job Descriptions
Put effort in your resume.
Add various verbs in your resume.
For example, if you have used the word "maximized" for 3 times in the whole resume, you might want to replace one of those or add other synonyms like increase or boost.
Show off the repertoire of your vocabulary by adding some action verbs describing your past experiences. For example, if you have led a project before, you can write these words "Supervised", "Oversaw", or "Headed"
Also read: Avoid repetition on your resume
What to include in my resume?
Now that you know the several common mistakes to exclude when writing a resume, we can move on to the next question: what are the key sections to include in a resume?
Personal Information
This section, which usually will be in the header, includes your name, career title, contact details, and domicile.
You can write your mobile phone number, email address, LinkedIn URL profile, or other significant social media profiles as your contact details. Just remember to keep it concise and clear.
You don't have to put things like your date of birth or marital status.
Executive Summary

The second section you need to include to write your best resume in 2020 is the Executive Summary. It is like the synopsis of your entire resume.
Make it compelling and captivating so recruiters are willing to read your full resume until the last section. Show your achievements during your previous work experiences so it will give a great impression of what you are capable of doing.
Remember to quantify every achievement to make it more credible. It will also help the recruiters to get a slight overview of your achievement. You can write the executive summary section after you have finished the work experience section.
It will be a lot easier.
Also read: Why and How to Include Numbers on Your Resume
Top Skills
List all your key skills after the executive summary section. This will highlight your capabilities in a concise manner. For your consideration, put more hard skills than the soft ones since it will give more impact to your resume.
Some key skills to list in the CV/resume are:
Active listening
Communication
Leadership
Collaborative
Management Skill
Problem-solving
Time management
Also read: 10 Best Skills to Include on a Resume (With Examples)
Work Experience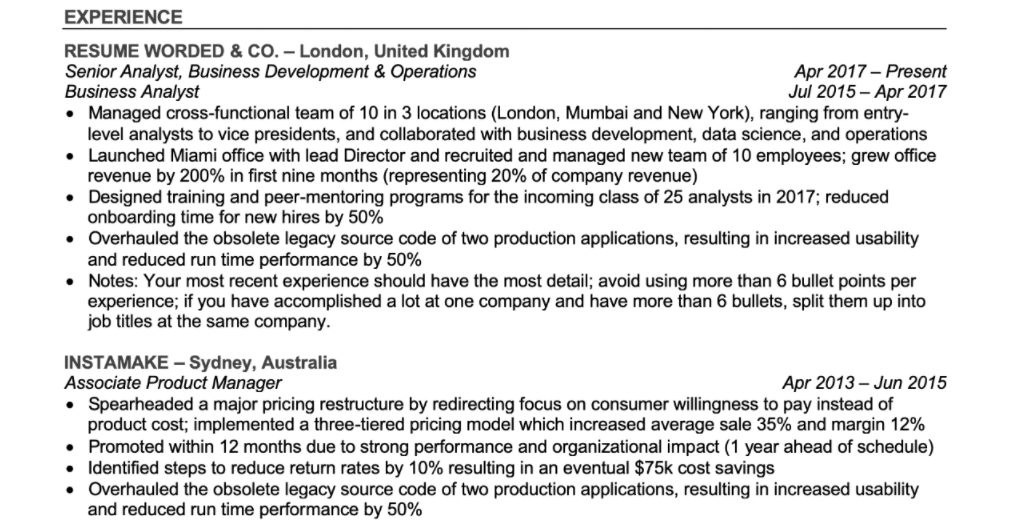 The work experience section may take the biggest space of your entire resume. Remember to write only the relevant experiences to the job you are applying for. For example, you have both marketing and operation work experiences but now you are applying to a marketing vacancy. So, only include those marketing experiences you have in the resume. Adding the operation work experience won't make your resume any better.
Brevity is appreciated.
It is better to list your job description and accomplishments by using bullets.
But don't make it too long. 2 lines are enough. Otherwise, it's just confusing. Don't forget to always quantify your accomplishments during your work.
Here's a pro tip: Use active verbs when you are describing the job description and the accomplishments as it will add more value to your resume and impress the recruiters. For example, instead of writing "Involved in content marketing campaigns", you can change the word "involved" into "researched" so the sentence turns into "Researched graphic content for marketing campaigns". Another example, instead of using "participated" you can replace it with "provided insights". That's one of pro-tips on how to write the best resume in 2020.
Also read: Resume Work Experience, History & Example Job Descriptions
Awards and Achievements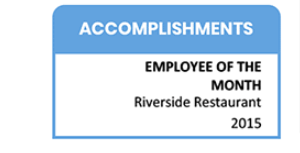 Tell recruiters that you have other achievements too. It could be "Employee on the Month 2015" or "The Best Head of Division 2020". List the awards that you have not mentioned yet in the work experience section.
Education and Certification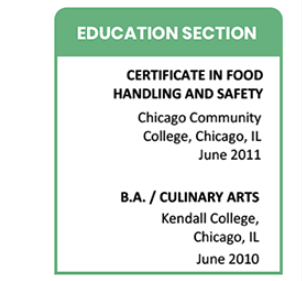 In this section, you can write both academic qualifications and other certifications too. List down your university, major, specialization, and graduation year. You can also add your GPA here to sweeten the CV/resume.
As for certifications, if you have taken a certification exam like Certified Financial Planner (CFP) or Certified Public Speaker (CPS), you can write it down in this section. Or if you have taken a certification course in Google such as Digital Marketing or Google Analytics, you can write those in this section too.
Make your Resume ATS-Friendly
You may be wondering what is ATS-Friendly? ATS stands for Application Tracking System.
So, before your resume is delivered to the recruiters, you need to pass this bot first.
Otherwise, recruiters will never see your resume. You have to make sure that your resume comply with the ATS requirements. You can check further about writing an ATS-Friendly resume here.
Some Additional General Tips to Write the Best Resume 2020
Feel overwhelmed with all the information? Well, it will be worth the effort.
We also have some more general tips for you to write the best resume of your own to land jobs in 2020.
Here goes the list:
1. Use reverse-chronological order
You might have already known the term "reverse-chronological". Yes, it means that you have to write your work experiences from your most current job. For instance, you were working from January 2019 until July 2020 in Company X, and now you are working in Company Y which was started from September 2020, then you have to list the Company Y first before the Company X.
General rule of thumb: List your most recent work experience at the top
2. Choose readable font
Use a simple font like sans-serif or serif fonts with a size of 11. If you prefer a smaller size, make sure to not use a font size which lower than 10. It is acceptable for you to use a font size of 12 or 14 to write your name or headings.
Sans-serif fonts: Arial, Arial Narrow, Verdana, Calibri, Century Gothic, Gill Sans, Lucinda Sans, Tahoma, Trebuchet.
Serif fonts: Times New Roman, Garamond, Book Antiqua, Bookman, Cambria, Century Schoolbook, Georgia, Palatino Linotype.
3. Provide Up to Date Contact Information
Make sure that you write a phone number and an email that are still active.
You certainly don't want to miss interview invitations just because you haven't updated your contact information. Keep in mind that you don't have to provide insignificant information like your marital status, birthday, race, or gender.
4. Don't Put "References"
You don't need to put references in your resume. It will take up spaces that you can use to write on another important things. If you do have one, you might want to consider removing them from your resume.
Better still, you should write your references in another document called the "Reference List", and send as an additional document attached to the back of your CV to the hiring manager.
Also read: How to Write a Resume Reference List (With Examples)
5. Tailor your Resume to fit the job position
One resume will not fit all job vacancies that you apply. Always consider to customize your resume to tailor with the job you are about to apply. You don't need to start writing your resume from scratch. Just replace and adjust some lines on executive summary, work experiences, and skills.
Conclusion on How to Write the Best Resume in 2020
So that are some tips from 9cv9 for you to make your best resume and nail that job you've been dreaming of!
You just have to write down all key sections but remember to keep it concise and clear.
Now that you have known how to write the best resume of your own, you will need a cover letter. Not sure how to start writing one? Here are some cover letter tips you can refer to.
Resume, check. Cover letter, check.
All are completed.
Next you can use them and nail jobs at 9cv9 Jobs and Career Platform.
Register and access lots of great possibilities! If you are looking for more useful tips on improving your CV or resume, there are 6 simple but useful tips for you to check in here.
---
References:
Admin. (2020, June 26). How to Write a WINNING Resume in 2020: Your Ultimate CV Guide. Retrieved October 20, 2020, from https://www.resumewriter.sg/blog/how-to-write-a-winning-resume-your-ultimate-cv-guide/
Suder, R. (2020, March 23). Top Resume Mistakes That Could Cost You the Job. Retrieved October 20, 2020, from https://www.topresume.com/career-advice/top-10-resume-mistakes-that-cost-you-the-job
Kurtuy, A. (2020, January 09). What Are The Most Common Mistakes In A Resume? [Examples]. Retrieved October 20, 2020, from https://novoresume.com/career-blog/common-mistakes-when-writing-a-resume
Was this post helpful?
Let us know if you liked the post. That's the only way we can improve.