TDLR: Why companies all over the world hire software developers in Vietnam? Because the software developers and engineering talents in Vietnam are arguably the most affordable (given their technical skills and coding output) in the world.
Are you an information technology recruiter, tech founder or talent acquisition executive looking to hire strong tech talents?
Then perhaps after reading this article, you might be convinced to start hiring some great tech talents in Vietnam.
Read on for our tips and tools to help you hire some of the world's best engineering talents in Vietnam.
That said, a caveat must be sounded out.
Before even venturing on to hiring, perhaps ask yourself if there is a need to hire rather than to outsource for your company.
Hiring vs Outsourcing?
If you are thinking to create a one-off tech development project, i.e., to build a static website to showcase your company's services, products or portfolio, then perhaps your company might want to consider an outsourcing model instead.
In an outsourcing model, you do not need to hire any software developers.
Instead, you will need to look for capable software outsourcing agencies and negotiate on the specifications and fees of the tech development cost with them.
In an outsourcing model, you do not employ nor own any of the software developers and probably will not contact any of them as well. The outsourcing agency will solely be responsible to liaise, to manage and to pay the software developers.
However, if you are looking to build a tech product startup or company, or even to establish in-house software capabilities, then hiring and employing software developers might be a good choice for you.
Hiring software developers confers benefits such as long-term stability and a better degree of control, both of which might produce better long-term results for your organisation.
If hiring is your final choice to go ahead with, then this article will be perfect for you.
Read on.
With over six years of hiring experience as one of the world's best IT Recruiters, and highly involved in hiring hundreds and thousands of IT programmers, our 9cv9 team has distilled important learning points into this guide on recruiting/hiring the best tech developers in Vietnam.
Here are our best tips and tools for your company to start hiring strong tech developers and ultimately, to save costs and maximise your coding outputs.
How to hire Software Developers in Vietnam in 2022
What or Who are Software Developers?
Before we get into the heart of this topic, it is customary to provide a brief overview on the term "Software Developer".
Software Developers are people who write software codes in order to create computer programs.
In practical terms, these are the people who code, create, develop and program websites, web applications, mobile applications, IT systems, computer programs, or even blockchain technologies.
And if you do not understand the above definition, do you remember a certain "Neo" or "Mr. Anderson" from the movie "Matrix" (see image below)?
He was a software developer before becoming "The One".
Before we venture further in dissecting and elaborating on how to hire a top software developer in Vietnam, it is helpful to be aware of some typical skillsets of a Software Developer in Vietnam.
As the role is technical in nature, it is crucial to get a sense of the technical skillsets.
Do note that as of the time of writing, these skillsets are relevant but can change due to the ever-evolving nature of the Software Developer Role in Vietnam. Also, the list below is non-exhaustive.
Key Skillsets of a Software Developer in Vietnam
A Software Developer in modern time can be either a Frontend, Backend or a Fullstack Developer.
A Frontend Developer usually concerns himself/herself with the visuals and the aesthetics of the IT software applications whereas the Backend Developer will focus on the logic, database, and server related parts of the IT software applications.
A Fullstack Developer is a combined role, comprising both the skillsets of the Frontend and the Backend Developers.
Key skillsets of a Frontend Software Developer
AngularJS
CSS
HTML
Jquery
ReactJS
VueJS
Key skillsets of a Backend Software Developer
.NET
C++
C#
Golang
Java
NodeJS
Python
Ruby
Ruby on Rails
Why Hire Software Developers in Vietnam?
With one of the youngest working population in Asia, and a sizable amount of its population being educated in universities, Vietnam is home to some of the best engineering talents in the world.
According to Tholons, in its Tholons Global Innovation Index 2020, it ranked Vietnam as 9th in the world, higher than Singapore.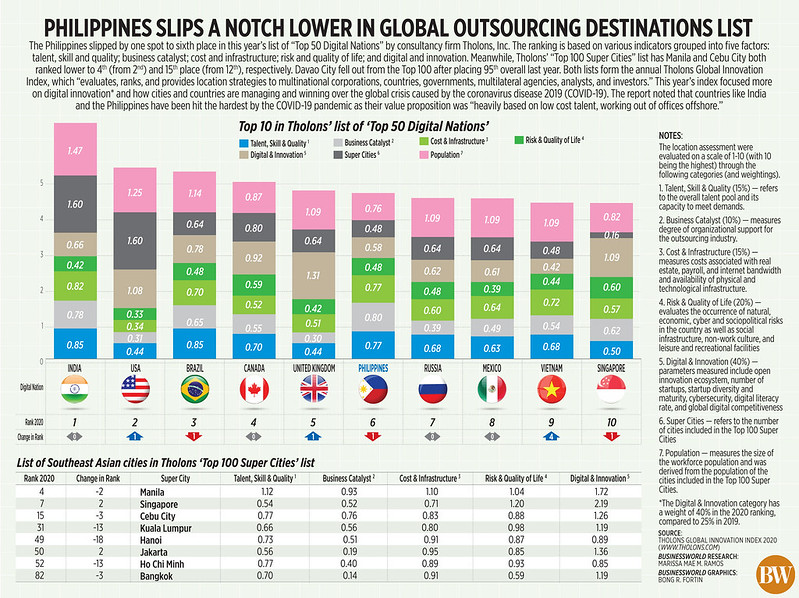 There are many advantages in hiring software developers and engineers in Vietnam.
Affordable salaries
Abundance of software developers
Top companies are already hiring in Vietnam
Strong tech ecosystem
Loyal and low turnover
Technical prowess
Humble and work hard for the organisation
Persistent in solving bugs and problems
Similar timezone
1. The salaries of software developers in Vietnam are low as compared to those in other countries
The cost of living is relatively low in Vietnam.
This translates to a lower range of salaries earned by Software Developers in Vietnam.
With an average salary of USD 2,000 per month for a top class software developer with around 3-4 years experience, Vietnam is considered a good place to build a software development team.
Comparing to the average salary of software developers in Singapore, which stands at USD 3,600 per month according to Glassdoor, that is around a 44% salary savings that hiring companies can reap by hiring in Vietnam.
At least if we are focusing on countries within the Asia's timezone (GMT+7 to GMT+9), then we can be pretty confident that the salary ranges are amongst the most affordable in that region.
2. There is an abundance of software developers in Vietnam
Supply of tech talents is crucial.
The more the availability of tech talents, the better bargaining power you have as a hiring manager.
Be it in terms of salary negotiation or to reduce the risk of incompatibility (the risks of not finding the right talent for your company in terms of technical fit and culture fit).
Based on 2019 report from the Ministry of Education and Training in Vietnam, there are around 480,000 IT professionals.
Comparing to Singapore, which has around 87,000 software developers (according to Linkedin), we can see that Vietnam has around 5 times more IT professionals in quantity.
As such, the abundance of IT professionals in Vietnam results in lower salaries on average and also greater ease in finding the right software developers in terms of technical and culture fit for your company.
3. Top Startups and Companies hire software developers in Vietnam
If you like to hire from a particular location, you sure do not want to be the first firm to plunge into it.
Having other companies pave the way before you in hiring software developers in that locale will go a long way in reducing your hiring risks.
Also, it will serve as an assurance that other companies, especially top and prominent companies would have already done their prior due diligence and research before hiring their Software Developers in that location.
The good news?
Some of the top companies already hiring in Vietnam include Sea Group, Grab, Razer, Gojek, Lazada, Tokopedia, J&T Express, Bosch, DXC Technology, VNG, Momo, etc.
These are big companies which are assured of the benefits of hiring in Vietnam given the risks involved.
Also, tech developers who are in strong hiring ecosystem will have better accumulated technical skill depositary which go to our next point of a strong tech ecosystem being present in Vietnam.
4. The tech ecosystem is strong in Vietnam
According to VNExpress, a local newspaper in Vietnam, the startups in Vietnam attracted an investment of $1.3 billion in 2021, which is four times the amount raised in the previous year.
The number of tech startups as of the end of 2021 is around 3,800, including 3 unicorns.
If we were to include the number of foreign tech startups with at least 1 tech developer in Vietnam (on an offshoring hiring basis or contractual employment basis),
Or even multinational companies which have huge tech teams in Vietnam, then this number could be easily 3-5 times more.
According to Statista, the total revenue of the software industry is USD 5.4 billion, with an increase of USD 0.5 billion from the past year.
For a comparison, these are the total revenue of the software industry of some of Vietnam's neighbouring countries taken from several sources:
The presence of a tech ecosystem is important to a developer's array of technical skillsets.
The richer the tech ecosystem, the better the availability of resources (help in fixing bugs, coding documentations, peer motivations, etc) that the software developer can access.
5. Software Developers in Vietnam are generally loyal
Software Developers in Vietnam do not job hop frequently as most of them prefer to stay with a company for a long period in their career.
From our experience as IT recruiters, we notice tech developers in Vietnam usually stay in the company for a length of time between 2 to 6 years.
The length of employment also depends on the company benefits, promotion pathways, frequency of salary increases and bonuses, etc.
Software Developers in Vietnam tend to value the esprit de corps or the 'brotherhood" spirit within the company.
Typically, Vietnamese developers will meet up with their colleagues for after-work activities such as drinking sessions or "Nhau", or for physical activities such as soccer.
An experience we had is playing in weekly soccer sessions with other tech developers in other companies in Vietnam. Some even form their own company soccer team to compete in friendly soccer tournaments.
All of these contribute to the strong bonding of the Software Developers within the organisation, and hence, generally Vietnamese Software Developers are loyal to the company.
According to Forbes, "Vietnam workers are expected not only to provide for their immediate families but also give support to their extended families".
Many Vietnamese Software Developers have strong attachment to their current company, preferring stability rather than change.
This is a strong benefit in hiring Vietnamese Software Developers as you sure do not want to hire a developer who will only stay in the job for a few weeks or months.
Having high turnover in your software development team brings about many problems, not least of which, the hassles and complication of handing over/taking over of the software codes.
6. Vietnamese software developers are technically strong
Most of the Software Developers we hire for our clients have nothing but rave reviews for their coding abilities.
According to an earlier article one of our directors wrote, Vietnam was ranked eighth in the world for science and 22nd in the world for mathematics.
In fact, Vietnamnet reported that "Vietnam is now in the 35-40th position in the world and tops ASEAN in terms of work published in international publications".
Topping ASEAN means besting traditional Maths powerhouses such as Singapore even.
Hence, the strong foundation they have had since their early schooling days set the stage for them to excel well in coding and software development.
7. Humble and work hard for the organisation
The Vietnamese developers we come to know of so far shun fame and glory, preferring to work behind the scenes to ensure the smooth continuity of the tech products of our clients.
Those who strive for eternal glory and aspire to be CTO or even Tech Lead are in the minority.
Most of the software developers we interviewed and encountered prefer to have a stable career and be in a technical role rather than taking on a management role.
They are humble, work hard for the company and are determined to support the management team to fulfill their organisation's vision and mission.
8. Tech Developers in Vietnam are persistent in solving bug
The developers we have worked with and hired for our clients are persistent in solving problems, and fixing bugs.
These are the people you will want on your side on the battlefield of software development.
We have worked with several Vietnamese developers who will go the extra mile of working overtime to fix a bug in the web or mobile application.
Even on weekends.
(Bonus point) 9. Almost Similar Timezone as Asian Financial Centres
There is a small but interesting reason why many founders, tech entrepreneurs and hiring managers from Singapore and Hong Kong have been looking towards Vietnam to hire Software Developers.
The timezone is almost similar to their local product teams.
If you are reading this guide and your company is based in Hong Kong, Singapore or even in Australia, Korea, and Japan, then your timezone is almost similar to those Software Developers in Vietnam.
It is efficient to work with the Software Developers in Vietnam, rather than perhaps from Pakistan, or India.
Now that you are cognisant of the benefits of hiring Software Developers in Vietnam, we can move on to the "how-to" part of this article.
Understand and Write the Job Description ("JD")
The first of many.
Understanding and writing the job description or the JD of a Software Developer is usually the first move to hire Software Developers in Vietnam.
The JD contains the job scope and responsibilities, the job requirements, qualifications needed, activities, and other pertinent information about the Software Developer job.
It also contains the company information, i.e., where the company is located, the work details, etc.
According to Indeed, 52% of job seekers say the quality of a JD is important to their decision in applying for a job.
In Vietnam, Software Developers do read the JD carefully before applying for the job. This is because (and in reference to the loyalty point stated above) the Software Developer prefers stability in his/her career and wants to make sure his/her next company and role is one that he/she will partake in for a long period of time.
Given the lack of propensity of job-hopping and looking for a new company every now and then, he/she will take extra effort in ensuring the next company will be the right one.
This means the JD written by the hiring manager should be giving off the right impression of the organisation.
Job Title
The job title is usually the first thing that the Software Developer job seeker in Vietnam will notice.
Writing a compelling job title that is succinct and short will attract the right Software Developer in Vietnam to apply for your job.
There are two strategies in writing a Job Title.
1. Specific (Recommended): In the Specific method, the job title is written in a way that focus on the key skillset of the Software Developer in Vietnam.
For example:
Java Developer
.NET Backend Developer
Ruby on Rails Software Engineer
Also, we might like to add that the English language is not the first or native language of the Vietnamese Software Developers.
Their native language is Vietnamese.
Hence, in the Specific Method, if your tech development team's mode of communication is in English, we recommend to write the Job Title and the JD in English.
Writing your Job Title and JD in English acts as a filter to exclude Vietnamese Software Developers who cannot read in English (and perhaps might have lacking skills in communicating in English).
This will exclude those Vietnamese Software Developers who might not fit well in terms of communication-fit with your organisation.
The Specific method is recommended as it is sharper, and more accurate.
The result of it would be receiving Software Developer applicants who are more likely to fit snugly into your JD, saving precious hiring time in filtering and screening candidates.
The downside to the Specific method is the chance of missing on the "Right" Software Developer applicant due to "perceived mismatch" (Applicants might not apply due to perceived impression that they do not meet the required skillsets) or the possibility to miss out on those who do not meet the technical skill requirements but excel in other areas, i.e., personality, soft skills.
One might ask, is writing a specific job title important?
According to Indeed, when they interviewed 2,000+ job seekers, they found that 36% of them use job sites to search for a job using the title of the job. Hence, they propose making the Job Title specific and straight to the point.
The 9cv9 team recommends this as well to get the right applicants applying for your Software Developer role in Vietnam.
2. Broad: In the Broad method, the job title is written in a way that aims to capture as many applicants as possible.
For example:
Software Developer
Software Tech Engineer
Tech Developer
Software Programmer
In the Broad method, you might want to try writing the Job Title and the JD in Vietnamese, to further broaden your reach of attracting more Vietnamese Software Developer candidates.
In the Broad method, this job title will attract all applicants, the good ones, the average ones, and the bad ones.
Hence, the hiring manager will be spending more time in filtering and screening.
However, in the Broad method, the hiring manager will not have the "perceived mismatch" issue.
In addition, the Broad method has the benefit of collecting data for subsequent Software Developer job openings in the company.
Job Scope
The job scope is important.
Vietnamese Software Developer applicants look to the job scope to understand what the role entails or the responsibilities to be undertaken.
Ideally, you should be writing the daily or monthly tasks required to be done by the Vietnamese Software Developer. This will allow the latter to understand the activities and working duties needed.
If you were to write something like "The Vietnamese Software Developer should code software to create web applications."
This sentence would not go down well, as it is too broad.
It is also not required to drill down super deep to be writing numbers for the Key Performing Indicators in the Job Scope.
Again, the job scope of a Vietnamese Software Developer role can be written in either a narrow or broad fashion.
A narrow job scope will mean that the Vietnamese Software Developer focuses on one of the following Software Development domains:
Frontend Development
Backend Development
Fullstack Development
Mobile Development
Blockchain Development
DevOps
A broad job scope will usually entails either some or all of the above domains.
Keywords to focus on when writing the Job Scope are:
Planning: Planning a software development is crucial to the success of the company. However, for a typical software developer, planning is usually not part of their job scope. The task of planning falls mainly on the Project Manager or in some instances, the Product Manager or Solution Architect.
Executing: The main key job responsibility of the Vietnamese Software Developer. Simply put, the Vietnamese Software Developer needs to code. Keywords to include in your JD are "Hands-on", "Working Experience", "Knowledge of…", "Experienced in", etc.
Measuring: Measuring the software development is a tricky process but typically, the Vietnamese Software Developer should report on his/her daily or weekly coding activities in a scrum meeting.
We have reviewed several job scopes written by top companies and list below some of the examples.
Sample Job Scope and Responsibilities Templates to hire Software Developer in Vietnam
Apply operational knowledge to solve customer and operational problems using software and automation.
Build platforms which are supporting analytics and execution systems used directly by the users
Build software, data sources, platforms and systems that utilise automation to deliver efficiencies and performance
Design and implement scalable applications and services and continuous integration and deployment
Develop and maintain various internal tools that manage a number of different aspects of the business.
Empower the team to work with development and cross-functional teams, influencing at a team level
Maintain and improve the code quality
Perform deployment and system set up for database, websites and display management systems
Perform hands-on analysis of the technical, data, and business functions and workflows
Perform quality assurance tasks including writing test cases, automated testing using scripts, testing, documentation and issues reporting
Perform requirement analysis and preparation of technical specification documents
Play a key role in software development
Responsible for user requirement analysis, functional specification, development, testing and implementation of application systems and customised software programs
Translate user requirements, business and industry needs into viable code and technical solutions
Troubleshoot network, hardware and operating system related issues
Work closely with teams to form good working culture and continuously adapt to different working environment
Work in a cross-functional and international team to deliver a holistic solution
Work with the team to define the architecture, design, development, code review, testing, and maintenance of applications
Work with Product Owners to define feature requirements and deliver a product that materially impacts the business and improves the end user experience.
Paint a Professional and Accurate Picture of your Company
Usually in the Job Scope, it is also a place to allow the hiring manager to share about the company or organisation.
Ideally, the hiring manager should paint a professional picture of the company such as talking about the vision, mission, and the working culture of the team that the incoming hire will be working with.
Also, the hiring manager can share more about the working hours, whether the role is working onsite at the company or working remotely, the equipment provided, or any key mentors that the Software Developer will be working with.
In this part, the hiring manager can also elaborate on the salary budget for the role, company benefits, such as employee staff insurance schemes, bonuses, company perks, etc.
In Vietnam, there is an idiosyncratic practice to pay a "13th month bonus" to the Software Developers. This is a fixed bonus irregardless of their performance or working behaviours in the company. The "13th month bonus" is usually paid out before the Tết holiday (their biggest national holiday) in either the month of January or February.
According to Indeed, 72% surveyed said it was crucial to see details about company culture in the JD.
Thus, do not miss out on attracting the best Software Developer in Vietnam to apply for your job by elaborating more about the company in the Job Scope.
Define the Job Requirements Clearly
In writing great job requirements, there are some principles to note.
For one, we refer to the Tripartite Guidelines on Fair Employment Practices ("TAFEP") from Singapore's Ministry of Manpower.
The TAFEP recommends that the hiring manager do not write or to avoid writing discriminatory words in the job requirements for age, gender, race, religion, spoken and written language, and nationality.
For example, try not to write "Christian/Buddhist/Muslim/Hindu preferred" unless for strict religion purpose that your company needs a particular religion.
In that case, writing the reason for that would be appreciated.
In writing a good job requirement, there are several parts to focus on.
The first focus entails the level of experience needed.
1) Experience
From an intern, to a fresh graduate, mid-level manager, and or even to a Chief Technology Officer ("CTO"), it is prudent to specify the number of years of experience needed for your software development role in Vietnam.
By stating an objective and quantitative number for the experience needed, you are able to reduce the number of unfit applicants and get only the right-fit Software Developer applicants to apply for your tech job.
For example, imagine getting applicants with less than 1 year experience when you need a leader and a highly experienced applicant for a Chief Technology Officer role.
The format for writing the experience field is usually written in number of years.
Typically, the level of experience goes according to the job level:
Intern: Less than 1 year of experience
Fresh Graduate: 0 – 1 year of experience
Junior: 1 – 3 years of experience
Mid-level: 3 – 5 years of experience
Senior: 4 – 5 years of experience
Director/VP: 5 – 10 years of experience
C-Level: Above 10 years of experience
In addition, as the Software Development role is technical in nature, it is crucial to include keywords in writing your "Experience" requirements such as "Hands-on", "Working Experience", "Knowledge of…", "Experienced in".
Working Experience in a Startup vs Corporate Company
For some hiring managers, it is important to list down the requirement whether the Vietnamese Software Developer has had experience in a tech startup versus that of a corporate company.
Why so?
Due to the differences in working environment and working culture between a startup and a corporate company, applicants that have prior corporate background might not fit seamlessly into a startup tech development environment and vice versa.
Given limited hiring and tech development budget, it is crucial to get this detail right – to hire the right Vietnamese Software Developer who has similar coding and working style between his/her past working companies and your company.
For example, if you are hiring a Senior Software Developer in Vietnam, you might want to include one of the following sentences into your job requirements:
Minimum 5 years of working experience as a Software Developer
At least 4 years of working experience in Software Development preferably in a startup environment where you have shipped high quality products to users
4-5 year working experience in Software Development is an advantage but not a must
Around 4 years of hands-on experience as a Software Developer in a corporate company
2) Education
For educational requirements, some employers might skip this as the Software Development domain is more practical rather than theoretical.
This means most hiring managers are looking for "hands-on" experience rather than a PHD in Computer Science type of a Software Developer.
That said, a degree usually signals some form of structured mindset capability and rigorous analytical training undertaken at the educational institution.
In that case, it might be relevant to input a certain level of education level.
In Vietnam, there are some top technical universities that the hiring manager might want to take notice of and to list down in the JD.
According to Edurank, these are the top 10 universities in Vietnam for the Computer Science major:
Hanoi University of Science and Technology
Ho Chi Minh City University of Technology
Vietnam National University, Ho Chi Minh City
Ho Chi Minh City University of Science
Duy Tan University
Vietnam National University, Hanoi
Hanoi University
VNU University of Science
Can Tho University
FPT University, Hanoi
For example, if you are hiring a Software Developer, you might want to include the following copywriting into your job posting.
Diploma in Information Technology, Software Engineering or Computer Science or equivalent required
Degree in Computer Science preferred from Ho Chi Minh City University of Technology
Degree or Diploma in Computer Science and relevant fields
3) Skillsets
Software Developer is a technical role with mandatory hard skills needed.
Period.
Hence, explicitly writing the skillsets in your JD is a crucial requirement in hiring the best Software Developer in 2022.
Of course, hard skills without soft skills would result in an incomplete JD.
The hiring manager should consider a blend of hard skills and soft skills in this portion.
We highly recommend inputting relevant soft skills into the JD as well to attract the right candidates for your Software Developer role.
Hard Skills of a Software Developer in 2022
Android
AngularJS
Apache HTTP Server
Async
Backbone.js
Bootstrap
Bottle: Python Web Framework
Bower
C, C++
CakePHP
Chai
Chef
Clojure
CMake
Codeception
CodeceptJS
CodeIgniter
CoffeeScript
Apache Cordova
Crystal
D3
Django: Python Framework
Docker
Dojo
Drupal
ElasticSearch
Electron
Elixir
Ember.js
Erlang/OTP
ExpressJS
Falcon
Fish
Flow
GNU Compiler Collection
Git
The GNU Fortran Compiler
Go
Godot Engine
Grunt
Haxe
Immutable.js
InfluxData
Jasmine
Java
Javascript
Jest
jQuery
Julia
Knockout.js
Kotlin
Laravel
Less
Liquid
lodash
Lua
LÖVE
Backbone.Marionette
Magento
Markdown
Matplotlib
Meteor.js
Mocha
Modernizr
Moment.js
Mongoose
Next.js
Nuxt.js
nginx
Nim
Node.js
Nokogiri
npm
Padrino
pandas
Perl
Phalcon
Phaser
Phoenix
PHP
PostgreSQL
Pug
Python
Ramda
React
React Native
Redis
Redux
Relay
RequireJS
Ruby
Ruby on Rails
Rust
Sass (Syntactically Awesome StyleSheets)
skimage
Sinon.JS
Solidity
SQLite
Symfony
Twig
TypeScript
Underscore.js
Unity
Vagrant
Vue.js
Vulkan
webpack
WordPress
XSLT
Yarn
.Net
Soft Skills of a Software Developer in 2022
Adaptability
Communication
Critical Observation
Critical Thinking
Desire to learn
Determination
Flexibility
Innovative
Listening
Logical Thinking
Negotiation
Passion
Presentation
Problem-Solving
Resilience
Resourcefulness
Storytelling
Verbal Communication
Visual Communication
Willingness to learn and improve
For example, you might want to include the following copywriting into your job posting:
Awareness of "Clean Code" and clean coding practices
Familiar with at least one (1) of the following JVM based languages such as Java and/or Kotlin, Web application languages such as HTML, CSS, JavaScript and/or TypeScript, Mobile development languages such as Kotlin, Swift and/or Dart
Familiar with Design Patterns
Familiar with different persistence storage technologies such as RDBMS and No-SQL
Great communication skills and can articulate complex, technical concepts to non-technical audience
Have a strong sense of ownership on your deliverables and love making stepwise changes to improve the product over a period of time
Knowledge of Source Code Management tools such as Git
Test Driven Development and ability to design Unit, Integration and Functional tests
You have a passion for building products that delight customers
You approach your work with a strong product mindset
4) Certifications
The Software Developer role is technical in nature.
Hence, it is sometimes crucial but not always to include some proof of technical mastery requirements.
This can be either writing the educational requirements (as mentioned above) or writing on the certification requirements.
However, again do note that Vietnamese Software Developers might not have the time to attempt on these certifications as they spend most, if not, all of their waking time coding and solving bugs.
Also in Vietnam, there is not a single acclaimed private institutions offering bootcamps or coding certifications as of 2022 (to our knowledge).
Most of the Software Developers in Vietnam prefer taking certifications from globally recognised companies such as Amazon Web Services (AWS) or from Scrum Alliance.
For a Software Developer role, some of the certifications that the hiring manager might want to include are:
Certification Requirements for a Software Developer Role in 2022
The more certifications you list, the better it is to narrow your requirements and to get in highly qualified applicants.
However, do note that the pool of applicants will be smaller and you might miss out on applicants who excel in other areas, such as great culture fit, but do not meet your certification requirements.
in our opinion, hiring managers rarely stipulate certification requirements when hiring Vietnamese Software Developers as the former recognise the fact that experience in coding and a good portfolio are more important.
Also, these certifications can be attempted while working on the job at your firm so we recommend to be judicious in writing them, and list those that you think are really crucial to the role.
With that said, we collate some of the Job Requirements we have analysed in hundreds and thousands of JD to list them down below.
Your company can cherrypick on the relevant Job Requirement keywords and phases for your JD.
Sample Job Requirements to hire Software Developer in Vietnam
Diploma in Information Technology, Software Engineering or Computer Science or equivalent required
Degree in Computer Science preferred from Ho Chi Minh University of Technology
Degree or Diploma in Computer Science and relevant fields
Excellent understanding of Software Development concepts
Minimum 2 years of experience in Software Development preferably in a startup environment
At least 4 years of working experience in Software Development in a corporate company
Have proven work experience in Java Development
Proven work experience in developing on Unix/Linux environments
Familiar with at least one (1) of the following JVM based languages such as Java and/or Kotlin, Web application languages such as HTML, CSS, JavaScript and/or TypeScript, Mobile development languages such as Kotlin, Swift and/or Dart
Familiar with Design Patterns
Familiar with different persistence storage technologies such as RDBMS and No-SQL
You have experience with building Ruby on Rails applications
You have experience with building multi-tenant SaaS applications
You have experience with frontend frameworks like ReactJS
You have experience with ElasticSearch
You have worked with applications that handled and scaled huge amounts of data for online and offline data use-cases
Knowledge of Object-Oriented Programming and SQL
Knowledge of Source Code Management tools such as Git
Awareness of "Clean Code" and clean coding practices
Test Driven Development and ability to design Unit, Integration and Functional tests
Strong hands-on experience in C#, .Net Technologies
Solid hands-on experience with AngularJS, ReactJS
Strong communication, analytical and creative skills
Strong creative and analytical skills
Creative detail-oriented, proactive and result-oriented
Organised and detail-oriented
Able to work independently and meet deadlines
To be able to handle multiple projects within stipulated deadlines and working closely with different stakeholders
Enjoy constant learning and working with new technologies
Post the Job Description on Job Portals
Now that you have a good, concise and sharp JD written on your hands, what is next?
You will need to post or write that JD on Job Portals or platforms to start attracting applicants into your hiring pipeline.
Before we list down the top job portals in Vietnam, we like to also write below the cities that most of the tech developers in Vietnam reside in.
Ho Chi Minh City: Arguably the biggest city of commerce in Vietnam and the most business-friendly city, Ho Chi Minh City contains the largest proportion of Software Developers in Vietnam. According to 9cv9 database, it was estimated that 65% of all Vietnamese Software Developers reside in Ho Chi Minh City.
Hanoi: The capital and government seat of Vietnam. Hanoi has some prominent universities focusing on the Computer Science major, and has produced good engineering talents in recent years. According to 9cv9 database, it was estimated that around 25% of all Vietnamese Software Developers reside in Hanoi.
Da Nang: A breathtaking beach-city and resort on the east coast of Vietnam, Da Nang has recently made a name for itself as a rising IT hiring location in Vietnam. According to 9cv9 database, it was estimated that around 10% of all Vietnamese Software Developers reside in Da Nang.
In the remaining of this guide, we will share some top job portals in Vietnam that is well-renowned and proven to attract top Vietnamese Software Developers.
We like to disclose at this point, we are the owner of 9cv9, and are linked to 9cv9 Tech Hiring Job Portal so the list below will inevitably mention us as well.
That said, we try our very best to be objective and impartial in selecting top job portals for your software development hiring needs.
Top Job Portals in Vietnam for Hiring Software Developers in 2022
9cv9: Using a myriad of modern recruiting technologies and having over 6 years of employer branding experience, 9cv9 has proven to be effective in showing your job advertisements to the right Software Developers in Vietnam. Post 1 job free now at the portal now.
Indeed: General Job Board operating worldwide.
Glassdoor: General Job Board operating worldwide.
Linkedin: General Professional Networking Site operating worldwide.
ITviec: ITviec is a focused job board showcasing only IT jobs in Vietnam. Does not have a free option to post a job.
TopDev: A recruitment network and ecosystem in Mobile & IT fields.
TopCV: Originally a CV building website, they have since branched out to allow companies to post jobs. TopCV is more a general job website rather than a focused IT job website.
Vietnamworks: Arguably Vietnam's largest job board, Vietnamworks charges a fee for companies to post jobs on it. Also, this is a general job website and not a focused IT job website.
Careerbuilder Vietnam: The rival of Vietnamworks, Careerbuilder offers a wide assortment of job posting features on its website. However, Careerbuilder is a general job website and not a focused IT job website.
Careerlink Vietnam: Said to have over 30,000 jobs on its job website, Careerlink offers companies job posting features in both IT and non IT jobs.
NhanlucIT: An IT jobs website targeted at Vietnamese hiring managers. English hiring managers might find it hard to access and understand the job posting process at this website.
Jobsgo: Mobile recruitment platform to help job seekers. It is not a focused IT job website.
ITnavi: An IT jobs website that is focused on IT jobs.
Jobstreet Vietnam: Part of Jobstreet Group, Jobstreet Vietnam allows companies to post a general job posting.
Devwork Vietnam: An IT jobs website that is focused on IT jobs.
Fiverr: Focusing on Freelance IT Software Developers. Might be able to find a couple of Vietnamese Software Developers here
Upwork: Focusing on Freelance IT Software Developers. Might be able to find a couple of Vietnamese Software Developers here
Utilise Headhunters and Recruiting Firms
Sometimes, posting your well-written JD on the above job portals might not be sufficient.
Why?
Top Software Developers are few and far between. They would have many recruiters queuing up to get their signature and these top Software Developers generally do not have the time, and the need to apply for the Software Development job on the job portals.
Some top Software Developers are passive applicants. This means that they are not looking for a new job at the moment, but perhaps, a well-craft Software Developer job offer from headhunters might entice them otherwise?
In addition, headhunters and recruiting firms have in-house screening capabilities to help separate the "wheat from the chaff" in your Software Developers applicant pool.
When searching for a headhunting agency, we highly recommend to find one that is specialised in finding software developers.
These are the agencies who will usually label themselves as "IT Recruiters" or "IT Recruiting Agency".
Top Headhunters in Vietnam for Hiring Software Developers in 2022
Summary
In this article, we have shared the top tips and tools available for your firm to hire top Software Developer in Vietnam.
Hiring in Vietnam can be very different from hiring in other countries and other locations, with differences in hiring processes, habits and culture.
At the start of this article, we have shared a few advantages on why companies all around the world look towards Vietnam to hire Software Developers.
We then elucidated on the nook and cranny of writing a clear broad or narrow job description, which includes the job title, job scope, job requirements.
In Vietnam, we emphasize that Software Developers take extra effort to understand the hiring company so a well-written JD is essential.
Once you have a well-written JD, the next step is to post on job portals to start getting inbound job applications.
However, we note that some top Software Developers do not exert time and resources to apply for jobs as they would have many IT recruiters on their heels.
In that case, we highly recommend using IT headhunters and IT recruitment firms.
If you find this article useful, why not share it among your recruitment and talent acquisition counterparts, and also leave a nice comment below?
We at 9cv9 Research Team strive to bring the latest and most meaningful data, guide and statistics to your doorstep.
Was this post helpful?
Let us know if you liked the post. That's the only way we can improve.