Key Takeaways
Revolutionize Performance Management: Discover the latest advancements in 360-degree feedback software tools to revolutionize how your organization approaches performance management in 2024.
Tailored Solutions for Success: Explore a curated list of top-rated tools offering tailored solutions for seamless performance assessments, employee development, and organizational success in the evolving professional landscape.
Stay Ahead with Cutting-Edge Technology: Stay ahead of the curve by incorporating cutting-edge technology. Uncover the power of these 7 amazing 360-degree feedback software tools to elevate your approach to employee feedback and performance evaluation in the coming year.
---
In the dynamic landscape of today's business world, staying ahead of the curve requires more than just intuition; it demands strategic decision-making backed by cutting-edge tools.
As we dive into 2024, the role of performance management in shaping organizational success has never been more crucial.
One pivotal component of this landscape is the integration of 360-degree feedback—a multifaceted approach that provides a comprehensive view of an individual's performance from multiple perspectives.
For more information about 360 Degree Feedback Software, read our top guide: What is a 360 Degree Feedback Software? Everything You Need to Know.
As organizations strive for excellence and continuous improvement, the selection of the right technology becomes paramount.
To aid you in this journey, we present a deep dive into the realm of performance management solutions.
In this blog post, we unveil the seven top and amazing 360-degree feedback software tools poised to redefine the way businesses evaluate, nurture, and elevate their workforce in 2024.
Setting the Stage: The Evolution of 360-Degree Feedback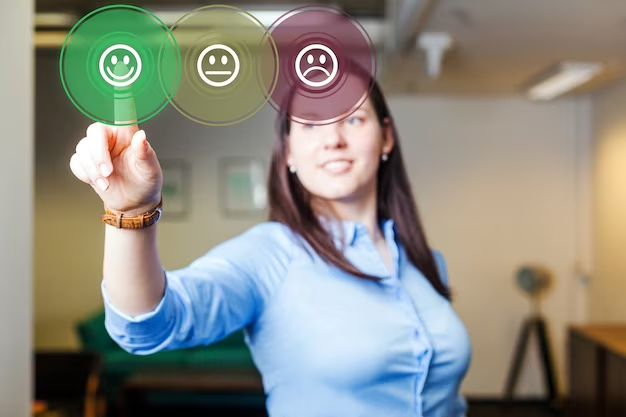 Before we embark on this exploration of the latest and most advanced tools, let's take a moment to reflect on the evolution of 360-degree feedback.
Originally conceptualized as a performance appraisal method, this approach has morphed into a comprehensive strategy for talent development, fostering a culture of continuous improvement within organizations.
In the early days, feedback was predominantly a top-down affair. However, as workplaces evolved into collaborative ecosystems, the need for a more holistic evaluation process emerged.
Enter 360-degree feedback—an approach that gathers insights from an employee's peers, subordinates, managers, and even clients, providing a panoramic view of their performance.
The Imperative of 360-Degree Feedback in 2024
In the current business climate, where adaptability and responsiveness are non-negotiable, the significance of 360-degree feedback cannot be overstated.
This methodology not only identifies individual strengths and areas for improvement but also fosters a culture of openness and collaboration.
As we stand on the threshold of 2024, organizations are keenly aware that investing in the right 360-degree feedback software is not just a strategic move but a necessity for thriving in an era of rapid change.
The Quest for Excellence: Unveiling the Top 360-Degree Feedback Software Tools
Now, let's turn our attention to the heart of this exploration—the seven top and amazing 360-degree feedback software tools that are poised to shape the performance management landscape in 2024.
Each of these tools has been carefully selected based on their innovative features, user-friendly interfaces, and proven success stories.
From enhancing user experience to providing in-depth analytics, these tools are designed to empower organizations to make informed decisions, nurture talent, and drive productivity.
Join us on this journey as we unravel the intricacies of each software solution, offering you valuable insights that will aid in your quest for the perfect fit for your organization's unique needs.
As we delve into the features, benefits, and real-world applications of these software tools, envision the transformative impact they can have on your performance management strategies.
Whether you are a small startup or a global enterprise, the following pages will serve as your guide to navigating the evolving landscape of performance management in 2024.
Embark on this journey with us and discover the tools that will not only meet but exceed your expectations, setting the stage for a year of unparalleled success and growth.
Welcome to the future of performance management—welcome to the era of the 7 Top and Amazing 360-Degree Feedback Software Tools for 2024.
Before we venture further into this article, we like to share who we are and what we do.
About 9cv9
9cv9 is a business tech startup based in Singapore with a strong presence all over the world.
With over seven years of startup and business experience, and being highly involved in connecting with thousands of companies and startups, the 9cv9 team has listed some important learning points in this overview of the 7 Top and Amazing 360 Degree Feedback Software Tools For 2024.
If your company needs recruitment and headhunting services to hire top employees, you can use 9cv9 headhunting and recruitment services to hire top talents and candidates. Find out more here, or send over an email to [email protected].
Or just post 1 free job posting here at 9cv9 Hiring Portal in under 10 minutes.
7 Top and Amazing 360 Degree Feedback Software Tools For 2024
1. Startquestion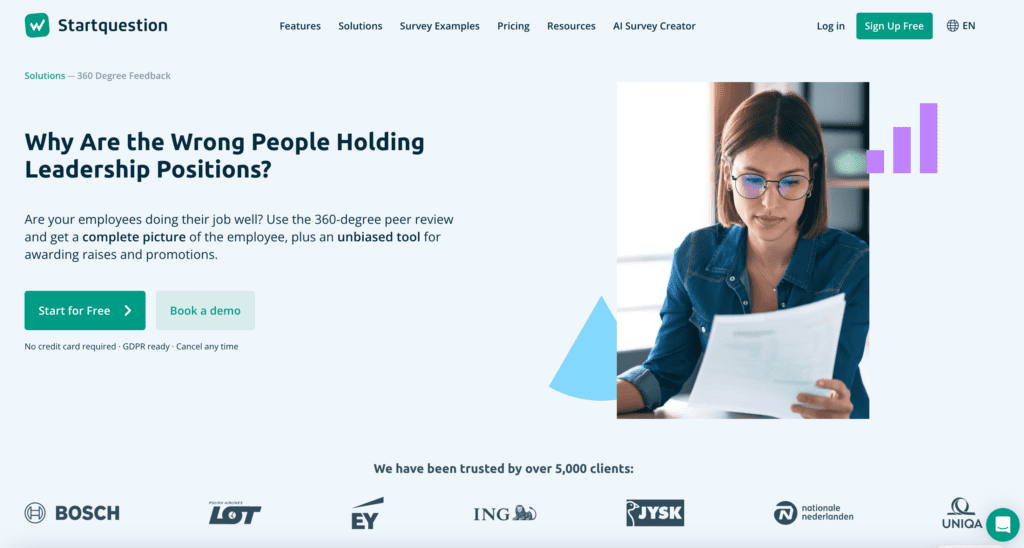 Startquestion emerges as an advanced survey software solution meticulously crafted for entities across diverse sectors, including businesses of varied dimensions, freelancers, nonprofits, and educational institutions.
Positioned as an indispensable tool for comprehensive research endeavors, Startquestion facilitates the creation of online questionnaires tailored for the exploration of insights pertaining to employees, clients, and the broader community.
Distinguished by its multifaceted capabilities, Startquestion boasts a suite of key features that transcend conventional survey software functionalities.
Encompassing the realms of email marketing, question branching, custom survey URLs, customizable templates, multi-channel distribution, and robust data analysis tools, the software establishes itself as a versatile and indispensable asset in the domain of survey research.
Within the purview of corporate identity and branding, teams utilizing Startquestion wield the ability to seamlessly incorporate company or project logos into their questionnaires.
This strategic inclusion serves to fortify brand identity and engender a sense of familiarity for respondents engaging with the survey.
The platform further extends its customization prowess through built-in graphic templates, empowering users to personalize various elements of the survey design, including questions, titles, answers, progress bars, frames, background photos, messages, and buttons.
To enhance the survey-taking experience, Startquestion introduces the functionality of filter questions, governed by transition logic and rules.
This innovative feature ensures that respondents are presented with queries germane to their specific circumstances, thereby fostering relevance and engagement.
Noteworthy among its array of offerings is Startquestion's provision of an external domain for surveys, affording businesses the capability to conceal the questionnaire's footer, thereby presenting a polished and seamless interface to participants.
Survey distribution is executed with precision through methods such as email dissemination and website popups and icons.
The collected results, systematically organized through filtering and segregation, culminate in a visually compelling presentation format.
Features that elevate the efficacy of Startquestion include:
Automatic Sending of Questionnaires:

Streamline the survey distribution process by sending questionnaires to all participants with a single click.
Mitigate the risk of spam by dispatching survey invitations through the SMTP mail server.

Adaptation of Graphic Design:

Tailor the questionnaire design to meet specific requirements.
Customize the layout, appearance of questions, and the invitation to enhance the participant experience.

Ready-to-Use Survey Templates:

Expedite the creation of professional 360-degree Peer Assessment questionnaires.
Leverage templates crafted in collaboration with HR industry experts for efficient adaptation in organizational research.

Access to Results and Reports:

Harness the power of collected feedback through analytical tools.
Generate sophisticated reports, including spider charts for individual employee research, and facilitate team result comparisons.
Prepare reports tailored for 180/270/360-degree surveys or download raw data for further analysis.
In summary, Startquestion emerges not merely as a survey software but as a comprehensive research enabler, catering to the nuanced needs of organizations navigating the complexities of employee and stakeholder feedback in the evolving landscape of 2024 and beyond.
2. Worktango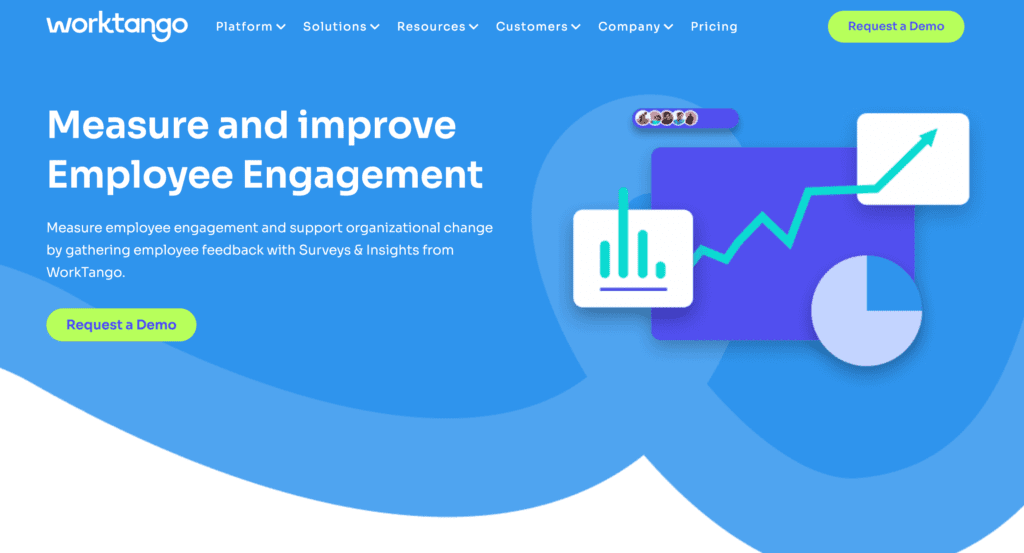 WorkTango, formerly known as Kazoo, has positioned itself as a formidable Recognition & Rewards solution, intricately designed to amplify and incentivize key values and behaviors within organizations.
This sophisticated platform employs Social Recognition, Incentives, and Rewards to fortify company culture, foster better alignment, and cultivate an environment where employees feel profoundly appreciated and engaged.
Key Features:
Public/Private Recognition:

Empowers users to engage in recognition in any direction, whether public or private, with or without associated reward points.

Global Rewards Engine:

Boasts a comprehensive catalog, offering a diverse array of incentives on a global scale.

Custom Recognition:

Facilitates the implementation of peer-nominated awards and automated milestone celebrations, tailoring the recognition experience to the unique dynamics of each organization.
WorkTango's User Base:
WorkTango collaborates with organizations ranging from hundreds to hundreds of thousands of employees, primarily concentrated in North America.
Employee Engagement Measurement and Enhancement:
WorkTango serves as a catalyst for measuring and enhancing employee engagement, supporting organizational change through its Surveys & Insights module.
Features:
Configurable Surveys:

Allows organizations to tailor one annual engagement survey or unlimited bi-weekly pulse surveys to meet specific needs.
Offers customization options for questions, branding, and language, aligning with the unique characteristics of each organization.

Validated Engagement Survey Methodology:

Saves time with pre-validated engagement survey methodology and questions straight out of the box.

Benchmarking:

Enables the measurement and comparison of engagement metrics against benchmarks, identifying strengths, weaknesses, and areas for improvement.

Seamless Employee Experience:

Ensures a frictionless experience for employees without the need for additional accounts or apps.
Delivers surveys via email, SMS, or kiosk to include every employee, regardless of their location or working method.

Confidential Response Employee Promise:

Encourages honest feedback by assuring confidentiality.
Facilitates the easy upload of employee attributes into the platform to streamline survey processes.

Real-Time Actionable Insights:

Presents intuitive, real-time dashboards that are easily interpretable and shareable, containing powerful insights and trends.
Offers role-based dashboards tailored for executives, HR leaders, and managers.
Facilitates the comparison and ranking of employee feedback across all organizational facets to identify high-potential areas or areas requiring attention.

Real-Time Sentiment Analysis:

Extracts real-time sentiment and themes from employee comments.
Enables the identification of themes and the understanding of employee sentiment through qualitative feedback.

Anonymous Conversations:

Fosters deeper insights by allowing responses to employee comments through confidential, anonymous conversations, ensuring every team member feels heard.
In summary, WorkTango emerges as a comprehensive solution, seamlessly blending recognition, rewards, and employee engagement measurement tools to cultivate an environment of appreciation, alignment, and continual improvement within organizations.
Its global reach and commitment to confidentiality position it as a pivotal player in shaping the future of organizational dynamics.
3. Motivosity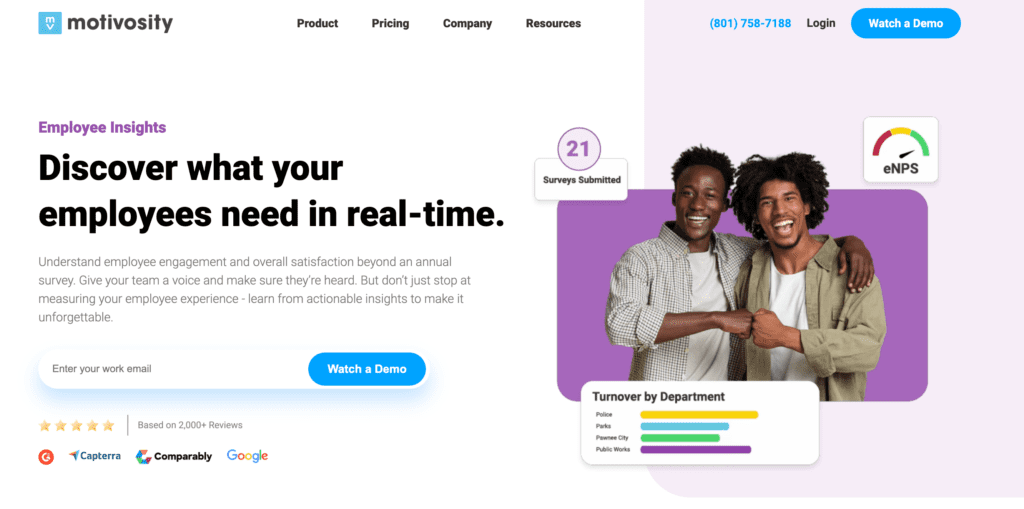 Motivosity stands as a pioneering force in the realm of employee engagement platforms, dedicating itself to the cultivation of managerial skills and the fostering of exemplary workplace cultures.
Positioned as a comprehensive solution, Motivosity equips managers at all hierarchical levels with the essential tools required for success and the effective support of their team members.
From facilitating personalized 1 on 1s and Collaborative Agendas to offering robust features in Coaching and Succession Planning, Motivosity ensures a seamless alignment with employees, fostering relationships centered on growth and development, and providing quantitative insights into manager performance and interactions.
Elevating Organizational Dynamics:
For companies seeking to elevate their organizational dynamics, Motivosity proves invaluable in various aspects:
Employee Reward and Recognition:

Offers a platform for companies to effectively reward and recognize employees, fostering a culture of appreciation.

Connecting In-Person and Remote Teams:

Bridges the gap between in-person and remote teams, facilitating cohesive collaboration and communication.

Improving Manager Relationships:

Provides the tools and insights necessary for improving manager relationships with their teams, fostering a collaborative and growth-oriented environment.

Actualizing Company Values:

Transforms company values from mere slogans on the wall into lived principles, aligning the workforce with the organization's core beliefs.
Key Features:
Employee Net Promoter Score (eNPS) and Pulse Surveys:
Enables organizations to gauge employee sentiment through regular eNPS assessments and pulse surveys.
Utilizes anonymous feedback mechanisms to obtain unfiltered insights into team satisfaction.
Presents consumable reports for easy trend identification, benchmark comparisons, and informed decision-making to enhance employee engagement.
Customized Surveys for Seamless Employee Input:
Eliminates the challenges of gathering employee input by integrating customized surveys directly within the platform.
Streamlines the process of creating quick and tailored surveys for specific teams, departments, or the entire organization.
Enhances the ease with which organizations can collect valuable insights from their workforce.
User Testimonials:
The impact of Motivosity is best reflected in the sentiments of its user community, comprising over 2,000 reviews across authoritative platforms such as Capterra, G2 Crowd, and Google Reviews.
With an impressive average rating of 4.8/5 stars and an outstanding 95% utilization rate, Motivosity's efficacy is validated by the very individuals it aims to serve.
Rather than relying on their claims, we invite you to hear directly from the Motivosity family about their experiences and insights, providing a genuine testament to the platform's effectiveness in enhancing employee engagement and organizational dynamics.
Choosing Motivosity is not just a decision; it is a strategic investment in the well-being and success of your employees.
4. VantageCircle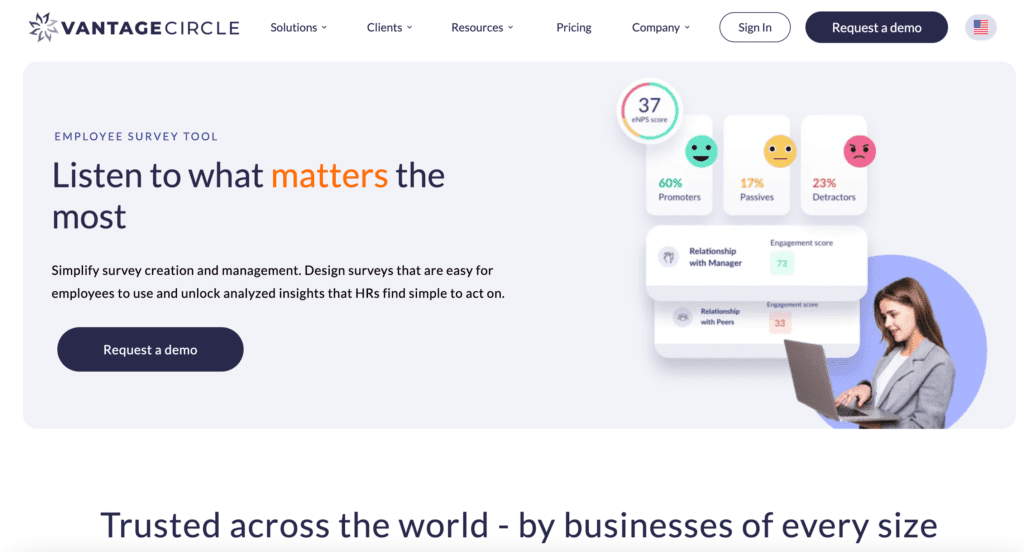 Vantage Pulse emerges as a distinguished Employee Survey Tool, engineered to meticulously gauge the efficacy of organizational engagement strategies.
Departing from conventional survey methodologies, Vantage Pulse introduces an expedited and anonymous survey process, ensuring swift and candid responses from employees.
It leverages the eNPS (Employee Net Promoter Score) format to enhance the accuracy of feedback, setting it apart as a tool of unparalleled precision.
Among its array of features are an admin dashboard, feedback loops, data-driven trend analysis, and an extensive repository of questions spanning over 30+ categories, all accessible seamlessly across multiple platforms.
User Base:
Vantage Circle caters to the needs of medium and large businesses worldwide, seeking to elevate employee engagement through comprehensive strategies encompassing Reward and Recognition, Corporate Benefits and Perks, 360-degree feedback, and Corporate Wellness initiatives.
Unveiling the Power of Vantage Pulse:
Simplify and Enhance Survey Management: Vantage Pulse simplifies survey creation and management, facilitating the design of user-friendly surveys that yield actionable insights for HR professionals.
Real-time Anonymous Feedback: Vantage Pulse serves as a potent employee pulse survey tool, enabling the collection, measurement, and actionable response to real-time employee feedback while preserving anonymity.
HR professionals leverage this tool to analyze trends, identify factors influencing turnover, predict behaviors, and ultimately enhance employee retention.
Key Features:
Balancing Insights with Simplicity: Vantage Pulse delivers real-time insights through benchmarks, visualizations of trends, and dynamic metrics on a singular, intuitive dashboard.
The enhanced 5-point Likert Scale offers a nuanced understanding of employee sentiments, spanning from 1 (least satisfied) to 5 (most satisfied).
Precise eNPS Insights: Deviate from conventional one-question eNPS models with Vantage Pulse, which assigns an eNPS to each question. This approach provides granular insights into employee sentiments about specific focus areas, distinguishing between Promoters, Detractors, and Passives.
Engagement Score Metric: The Engagement Score metric gauges the positivity of employee sentiments based on their responses. Organizations can benchmark themselves against industry standards and visually track progress over time.
Participation Scores: Detailed, question-by-question Participation Scores offer insights into user engagement across surveys. HR professionals can identify unanswered questions and utilize tailored recommendations to enhance future survey response rates.
Flexible Survey Options: Vantage Pulse provides flexibility in survey length, allowing organizations to choose between short-length or more comprehensive surveys, placing control firmly in the hands of the user.
Smart Heatmap Visualizations: Leverage smart heatmap visualizations to gain insights into critical organizational areas. Uncover patterns, identify areas for improvement, and pinpoint excellence, refining analysis with multiple filters and categories.
Curated Questions Across 11 Categories: Carefully curated questions span 11 crucial categories, probing into areas from recognition to peer relationships. This design ensures a comprehensive exploration of employee sentiments.
Contextual Feedback with Conversation Feature: Introducing context into feedback, the Conversation feature enables post-survey communication, fostering anonymous dialogue between employees and HR professionals to address areas of concern promptly.
Benchmarking for Proactive Intervention:
HR professionals can strategically compare scores to benchmarking standards, proactively addressing potential issues before they escalate, and ensuring continuous improvement within the organization.
In essence, Vantage Pulse stands as a sophisticated tool, not merely for survey administration but as a strategic asset empowering organizations to decipher, respond to, and elevate the very pulse of their workforce.
5. 15five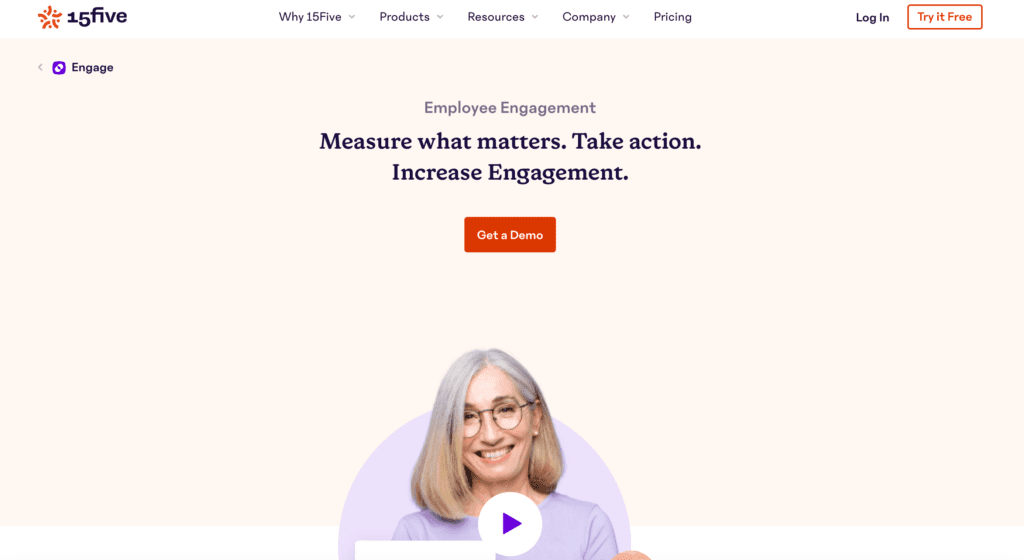 15Five stands as the pinnacle of holistic performance management, providing HR teams with an all-encompassing platform solution designed to elevate manager effectiveness, drive high performance and engagement, and bolster employee retention.
Positioned as a transformative force, 15Five offers user-friendly software and comprehensive manager training, empowering HR leaders to continuously gauge engagement and performance while equipping managers to instigate meaningful change.
Trusted by HR leaders across more than 3,400 companies, including industry giants like Credit Karma and Pendo, 15Five serves as a linchpin, transforming talent into a formidable driver of growth.
User Base:
The user spectrum of 15Five comprises HR Leaders, Managers, Directors, VPs, and C-level executives within progressive organizations committed to fostering a culture of continuous improvement and elevated performance.
Key Features:
Comprehensive Engagement Insights: Navigate the intricacies of engagement at the company, department, or team level with 15Five's platform. The data can be dissected and analyzed according to various demographics, offering a nuanced perspective on both victories and challenges. Users can compare progress over time and benchmark against industry standards.
Customizable Surveys for Targeted Insights: Flexibility is at the forefront of 15Five's survey capabilities. Users can deploy surveys to the entire organization or target specific groups. The platform offers best-practice templates and science-backed standardized surveys covering areas such as engagement, manager effectiveness, DEI initiatives, eNPS, and more.
Actionable Insights and Expert Guidance: Recognizing that insights are meaningful only when translated into action, 15Five provides executive advisers to assist in crafting engagement strategies. Additionally, in-house coaches are at the disposal of teams, offering specialized training to empower managers as drivers of engagement within the organization.
In summary, 15Five transcends the conventional boundaries of performance management, evolving into a strategic partner for HR leaders and managers alike.
By seamlessly combining sophisticated software solutions with expert guidance, the platform not only measures but actively propels organizations toward a future of sustained growth and employee excellence.
6. Bizneo HR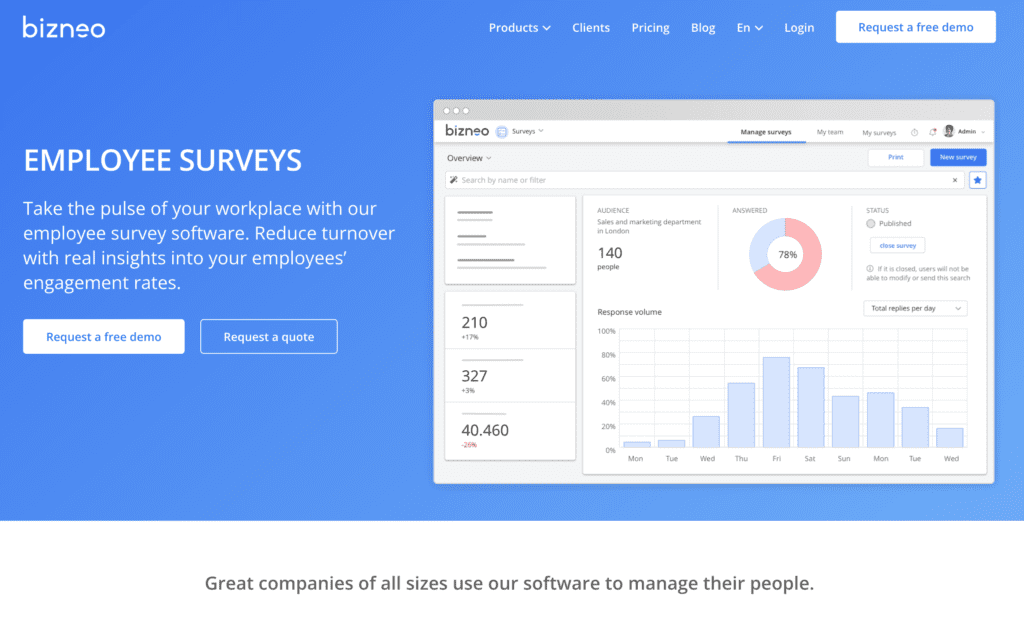 Bizneo HR's appraisal system stands as a strategic tool meticulously crafted to not only identify but also develop and retain top-tier talent within organizations.
This cloud-based, mobile-friendly application transcends conventional approaches, offering a seamless platform for designing processes and forms that yield consistent, actionable feedback.
Launching 360º feedback reviews becomes an effortless endeavor with a streamlined three-step process.
What sets Bizneo HR apart is its holistic approach, seamlessly integrating with the suite's other modules, including Training, Applicant Tracking, and Absence Management.
Notably, this technology is trusted by high-performance companies such as Adecco, Burger King, Schindler, Cortefiel, and AirEuropa.
User Base:
Bizneo HR caters to companies that aspire to streamline and economize operational processes across the employee lifecycle.
This holds true irrespective of their size, existing technological infrastructure, or internal intricacies.
Key Features:
Versatile HR Surveys and Questionnaires: The platform provides a comprehensive array of HR surveys and questionnaires, offering insights into various facets such as employee engagement, Employee Net Promoter Scores (eNPS), psychological risk assessments, recruitment satisfaction ratings, onboarding and offboarding experiences, pulse surveys, motivation and loyalty metrics, job analysis tools, needs analysis tools, training evaluations, and burnout monitoring.
Confidentiality and Anonymous Surveys: Bizneo HR prioritizes confidentiality through anonymous surveys and grouped results. Overwhelmed by choices? The platform offers consultancy services to assist in designing tailored surveys.
Workplace Satisfaction Metrics: The platform measures over 20 workplace satisfaction metrics effortlessly. Best-practice workplace survey templates delve into critical aspects impacting employee engagement, including cultural fit, manager relationships, compensation, development opportunities, work-life balance, physical work environment, teamwork, and performance appraisals.
eNPS as a Benchmark: Employee Net Promoter Scores (eNPS) emerge as a pivotal metric, offering a comprehensive overview of employees' experiences. This real-time measure allows organizations to gauge the impact of HR initiatives on employee loyalty, motivation, and performance.
In essence, Bizneo HR transcends the boundaries of traditional appraisal systems, emerging as a comprehensive solution that not only identifies top talent but actively contributes to their development and retention.
Trusted by industry leaders, it stands as a beacon for companies seeking to optimize their HR processes and enhance the overall employee experience.
7. Spidergap 360 Feedback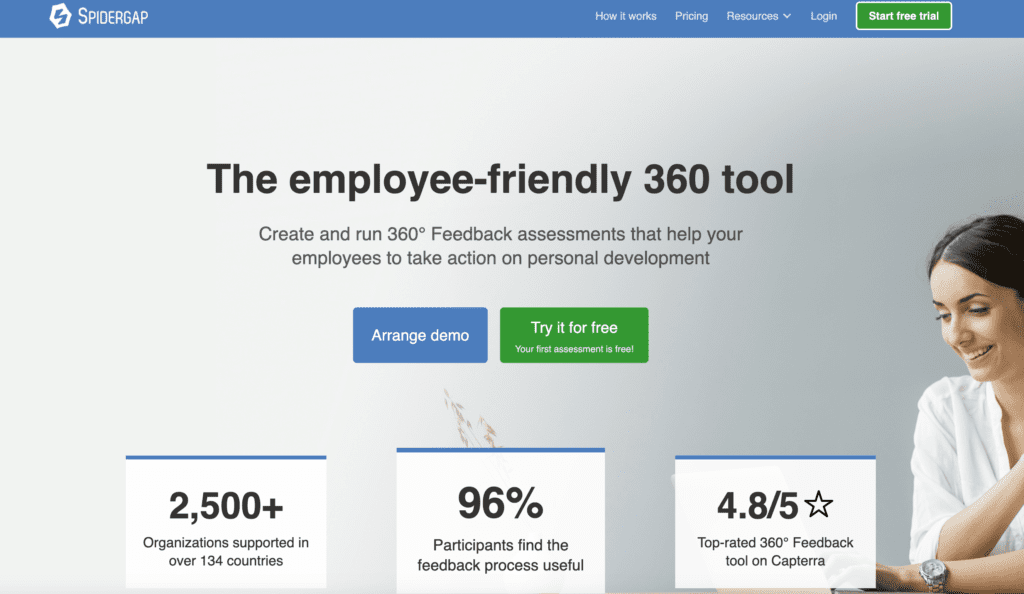 Welcome to Spidergap 360 Feedback, a pioneering force in the realm of 360-degree feedback, setting itself apart as the premier choice for businesses in pursuit of profound insights that catalyze both personal growth and organizational triumph.
Their commitment to revolutionizing this feedback landscape is underscored by a dedication to flexibility and customization, ensuring a tailored approach that seamlessly aligns with the unique needs of your organization.
As a testament to their global impact, Spidergap proudly stands adopted by over 3000 organizations spanning 134 countries. Moreover, their steadfast commitment to data security is evident through their ISO 27001 certification and GDPR compliance, ensuring the highest standard of protection for your valuable data.
User Base:
Spidergap caters to organizations aspiring to harness the full potential of 360 Degree Feedback, utilizing aggregated individual feedback reports to foster both personal and professional development.
Expert Guidance Every Step of the Way:
Recognizing the challenges inherent in introducing new tools and processes, their team of experts stands ready to support you at every juncture. This includes:
End-to-End Checklist with Best Practices:

A meticulously crafted checklist, encompassing best practices, ensuring a seamless integration of 360° Feedback into your organizational processes.

Setting Strategic Goals:

Collaboratively setting goals for how 360° Feedback will strategically support and enhance your organization.

Free Calls and Support:

Access to free calls and continuous support from their 360° Feedback experts, ensuring a smooth implementation and utilization process.

Impact Reviews:

A structured review process to gauge the impact on your employees, followed by insightful sessions with their experts to distill lessons learned.

Demonstrating ROI:

Assistance in demonstrating the return-on-investment to your team, providing tangible evidence of the value Spidergap brings to your organization.
User-Friendly Reports:
When your employees receive their feedback, clarity on areas needing attention is paramount. In contrast to many 360 tools that inundate users with complex reports, Spidergap prioritizes user-centric design.
Collaborating with HR directors, managers, and employees, they have meticulously crafted reports that are not only easy to understand but also impactful.
Explore if They are a Good Fit:
Engage with Spidergap in a brief 10-minute conversation to determine if Spidergap aligns with the unique needs of your organization. If not, rest assured, that they'll provide thoughtful recommendations for alternatives.
Experience a Trial Run:
Embark on your first 360° Feedback assessment with us, offered completely free of charge. This trial run allows you to experience the power of Spidergap firsthand.
Customize the Feedback Process:
Choose from their best practice templates or tailor them to fit the specific nuances of your organization. Flexibility is key, and Spidergap ensures the feedback process aligns seamlessly with your unique context.
Collect and Leverage Feedback:
Monitor and manage the feedback process effortlessly at any scale. Ensure participants receive ample feedback and, more importantly, put that feedback to effective use within your organization.
Review the Impact:
Utilize their impact survey to gauge the usefulness of the process for participants. This critical feedback loop allows you to continually refine and enhance the 360° Feedback experience, ultimately demonstrating the return-on-investment to your team.
In summary, Spidergap is not merely a tool; it's a comprehensive solution designed to elevate your organization through user-friendly processes, expert guidance, and a commitment to delivering impactful insights that drive growth and success.
Conclusion
In conclusion, as we navigate the dynamic landscape of workplace dynamics in 2024, the significance of comprehensive and intuitive 360-degree feedback software tools cannot be overstated.
The seven remarkable platforms discussed in this exploration stand as beacons of innovation and efficiency in the realm of performance evaluation and employee development.
As organizations increasingly recognize the pivotal role that constructive feedback plays in shaping a culture of continuous improvement, these tools offer a diverse array of features catering to the unique needs of businesses across various industries.
From streamlined performance assessments and actionable insights to user-friendly interfaces and data security assurances, each platform brings its distinctive strengths to the table.
Spidergap, recognized for its flexibility and customization, emerges as a transformative force, enabling organizations to tailor their feedback processes to align seamlessly with their unique organizational structures and goals.
As we propel into 2024, these 360-degree feedback software tools stand as catalysts for organizational growth, equipping HR leaders, managers, and employees alike with the tools needed to navigate the complexities of performance evaluation and professional development.
Whether you're aiming to enhance employee engagement, align individual goals with organizational objectives, or foster a culture of continuous improvement, the diverse array of features offered by these platforms ensures that there is a tool to suit every organizational need.
In this ever-evolving landscape, staying at the forefront of performance management technology is not just an option; it's a strategic imperative.
The 360-degree feedback software tools presented here not only meet the current demands of the professional landscape but also anticipate and adapt to the future needs of organizations striving for excellence.
So, as you embark on the journey of selecting the ideal 360-degree feedback software tool for your organization in 2024, consider the unique features, strengths, and overall alignment with your organizational goals.
The right tool has the potential not only to streamline performance evaluation but also to catalyze a transformative culture of growth, engagement, and success.
Choose wisely, and may your organization thrive in the era of enhanced performance management and employee development.
If your company needs HR, hiring, or corporate services, you can use 9cv9 hiring and recruitment services. Book a consultation slot here, or send over an email to [email protected].
If you find this article useful, why not share it with your hiring manager and C-level suite friends and also leave a nice comment below?
We, at the 9cv9 Research Team, strive to bring the latest and most meaningful data, guides, and statistics to your doorstep.
To get access to top-quality guides, click over to 9cv9 Blog.
People Also Ask
What is the meaning of 360-degree feedback process?
The 360-degree feedback process is a comprehensive performance evaluation method where an individual receives feedback from various sources, including peers, subordinates, superiors, and self-assessment. This holistic approach provides a well-rounded perspective for personal and professional development.
What is an example of 360-degree feedback system?
An example of a 360-degree feedback system is Qualtrics. It enables individuals to receive feedback from multiple sources, fostering a holistic view of their performance. Customizable surveys, real-time analytics, and actionable insights make it a prominent tool in performance management.
What is a 360 tool?
A 360 tool is a performance evaluation instrument that gathers feedback from multiple perspectives, including peers, supervisors, subordinates, and self-assessment. It provides a comprehensive view of an individual's skills and behaviors, aiding in personal and professional development.
Was this post helpful?
Let us know if you liked the post. That's the only way we can improve.